We asked collectors, jewelry makers, gallerists, and curators for tips on the types of pieces they select for travel and how they transport them safely 
When renowned jewelry collector Susan Grant Lewin packs for a trip, she always takes rings. Lewin doesn't typically wear earrings or brooches, and she usually doesn't pack more than one necklace, but she can't go anywhere without her first love: rings.
Select jewelry that's very portable
Lewin often travels with silver rings by New York maker Biba Schutz and Swiss maker Luzia Vogt. "They are easy to travel with—I just throw them in my bag," she says. "To me, these are perfect travel rings because they are so comfortable and uncomplicated." She also loves to take along a handful of other rings, selected for their simplicity. They are by Roxana Cervantes Barajas, from Mexico; Susanne Klemm, from the Netherlands; Anita Münz, from Austria; and France Roy, from Canada.
Store pieces at hand or someplace secure
Lewin keeps the rings, wrapped in tissue paper and bubble wrap, in her handbag or in the hotel safe.
Over the last several years, Lewin has donated hundreds of rings by many of the most important contemporary jewelry artists to the Yale University Art Gallery, the SCAD Museum of Art, and Cooper Hewitt, Smithsonian Design Museum.
Wrap jewelry to keep it safe
What do other art jewelry lovers take with them when traveling? We asked collectors, jewelry makers, gallerists, and curators to share the pieces they pack and how they transport them. Brooches are the most popular, bracelets the least. Most are packed in boxes with tissue paper or bubble wrap, but a couple of necklaces hit the road nestled in a bowling ball bag.
Ann McEldowney loves to travel with a Pierre Cavalan brooch that was a gift from her sister, Mia McEldowney, an influential gallerist and curator who died in 2013. She owned the MIA Gallery, in Seattle, which featured studio art jewelry as well as ceramics, paintings, and other artwork, many by artists from the Northwest. The Cavalan brooch, made in 1993, includes found objects—enamel badges, a black four-leaf clover, screws, and a pair of tiny hands—along with imitation stones. McEldowney adores the variety of elements in the brooch, and wearing it keeps her sister's memory close.
Pin brooches to garments, then pack them
McEldowney also loves to pack a brooch by Slovak artist Karol Weisslechner made of two silver disks, one with a cracked pink and blue surface, the other with an amethyst attached to it. For travel, she pins her brooches to a dress or jacket, wraps them with bubble wrap and tissue paper, then packs it all in her suitcase. The clothing adds an extra layer of protective cushion. Art jewelry, for McEldowney, is "a wonderful way to collect contemporary art in a small form, and it's art that I can enjoy and see and have with me," she says.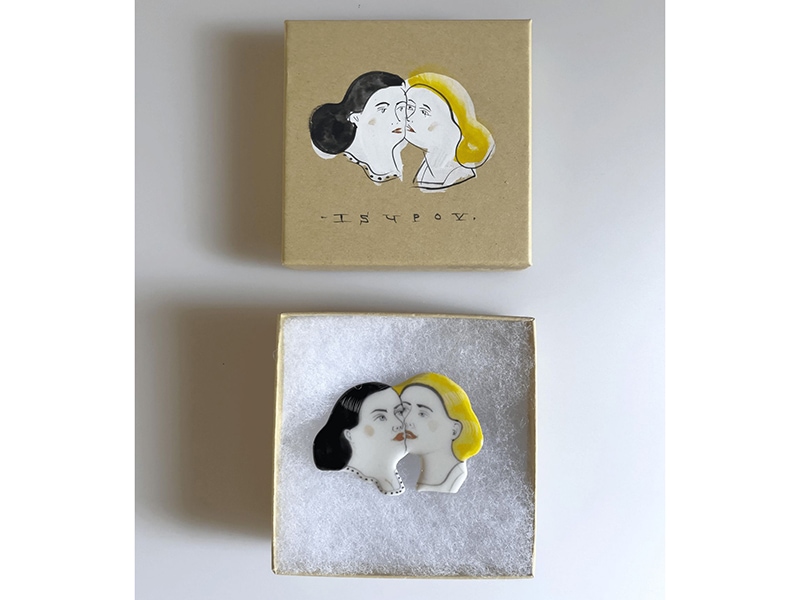 Nothing's too precious to wear or to bring along—just pack it with care
Emily Banas also packs brooches for trips. "I'm having a lot of fun with them. They are really nice to layer, to mix and match," says Banas, who is assistant curator for decorative arts and design at the RISD Museum.
At the moment, Banas is obsessed with a brooch of two women's faces by Russian ceramic artist Sergei Isupov. Though it's breakable, "I maintain nothing is too delicate or precious to wear every day or to travel with if you pack it correctly," Banas says. "I'm queer, and I really love the image of the two women together." While images of women have been depicted in jewelry for centuries, two women together in an embrace "is not something you see," she says. "As soon as I saw it, I knew it was really special for me."
Another favorite brooch for travel is by Philadelphia-based jeweler Luci Jockel. Her work combines typical jewelry-making materials with animal remains, such as honeybee wings and bones, to commemorate the lives of the creatures. Banas's brooch, titled Repair, is fashioned from a deer skull, with sterling silver accents that resemble staples. She likes to pair it with an antique silver brooch.
Pack jewelry in its original packaging
Banas packs the brooches in the boxes they came in. A colorful jewelry roll from a company called Maine Handiwork (Banas is from Maine) has a slot for another brooch, along with a strip of mesh where she keeps her favorite earrings.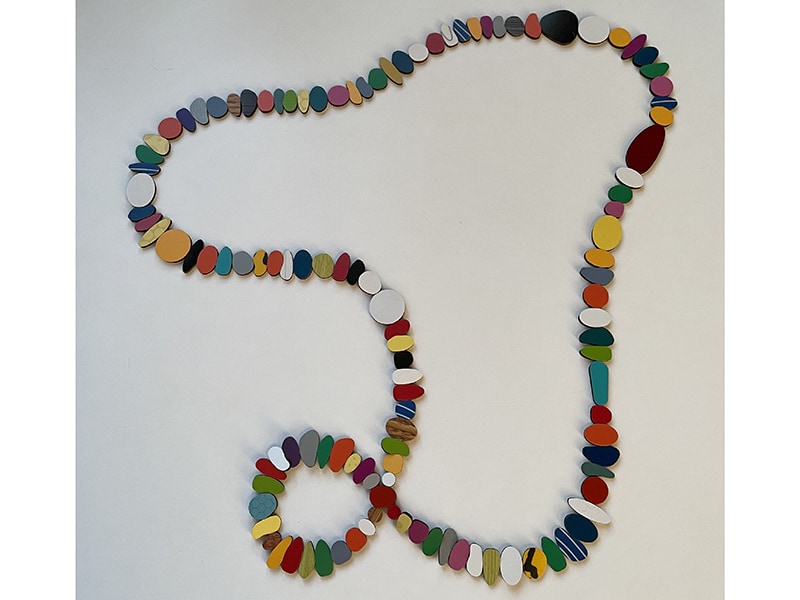 Cushion jewelry between layers of clothing
Bonnie Levine's necklace by Rebecca Hannon "travels with me everywhere," says Levine, who is chair of the board of Art Jewelry Forum. "Because I love color, this piece makes me so happy, and it feels very fun and playful." Hannon, who is based in Canada, made the necklace using laminate and steel cable, so it is flat and flexible. Levine packs it between layers of clothes, or in a small box or pouch.
When jewelry maker Steven KP travels, he can usually be found wearing a reddish-brown heart brooch by Estonian jeweler Urmas Lüüs. The piece, part of Lüüs's Heart series, is cut from Soviet-era enameled industrial cookware as a symbol of hope and love amid hardship. "It's very wearable, and a beautiful conversation starter," KP says.
On his shoulder, KP often has his sentinel moth brooch by Australian jeweler Andy Lowrie, whose series Sentinels & Spectres examines talismans and themes of protection and fragility. The brooch is made from sterling silver that is oxidized and powder-coated so it appears deep black. Two sets of wings seem to flutter on the body. Many of Lowrie's moth brooches are very colorful, but KP commissioned a black one to go with his black and white wardrobe. The piece "is a meditation on a vulnerable species," KP says. "To make an heirloom out of something so fragile and temporary in its existence is, I think, gorgeous." He has a second moth brooch on order, so "I'm going to have a little colony to wear together."
Make sure boxes stay securely closed
KP packs the brooches in boxes, wraps them in tissue paper, and secures the box with a rubber band.
He also brings along one of his own pieces, usually a draped knot brooch carved of red oak from his series Partially Undone Knots, which was exhibited at Gallery Loupe in 2022. The brooch travels in the box he made for it from the same piece of wood it was carved from. The piece, he says, is "a physical reminder to occupy your body, with all the kinks and turns you might want undone."
Select versatile pieces that work with many different clothes
Francine Baker, who collects with her husband, Bill, enjoys bringing along earrings by US jewelry maker Nikki Couppee that feature a cluster of clear faceted acrylic gems. "They are nice to wear in the evening, and add sparkle to whatever outfit I have on," she says. A necklace by Israeli maker Yael Krakowski, made of resin and silver, is easy to pack, and the mix of colors—mustards, greens, and reds—pairs well with various outfits.
A new piece that the Bakers plan to take on upcoming trips is a multi-piece necklace that is a representation of the COVID pandemic made by married artists Cynthia Toops and Dan Adams. Several small mosaics, made from polymer clay, can be attached to the beaded necklace, which is glass and sterling silver. One is a face covered by a removable mask that says, "for you, for me." Another mosaic opens to reveal a sewing kit for making masks. "This ensemble is so meaningful and represents an eventful time in our history. I enjoy sharing the collection with others, as well as wearing selected pieces," Francine says.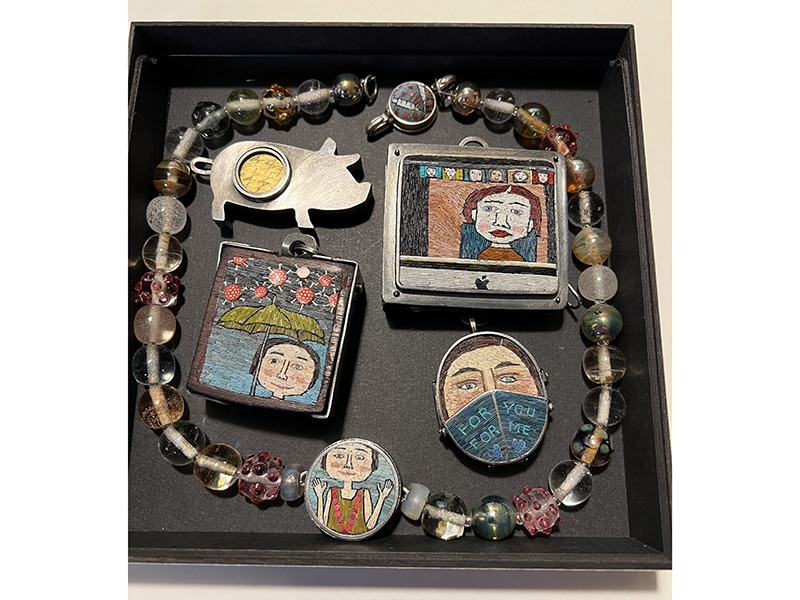 Look for creative packing solutions
Jewelry maker Shamaka Thompson has found the perfect bag for packing her long wood necklaces: a leather bowling ball bag she found at a thrift shop. Its sides are reinforced with pieces of iron, providing a protective nest for her pieces, which consist of long, curved loops of ash wood. After the wood is submerged in water under high pressure to make it pliable, Thompson bends it into shape and paints it.
Thompson also loves to bring along earrings by US maker Kimber Harris-Wiegand, acquired by bartering during a Baltimore Jewelry Center holiday sale at which both artists were showing their work. "I love the size and the colors, which have an ombré effect," Thompson says.
Of course Thompson can't embark on a trip without a favorite pair of her own earrings, one of the first she ever made. They are delicate loops of curved wood, painted red. She intended them to have a different shape, but the wood split, forming an oval. She was able to split the wood for the companion earring, giving it a similar shape. "These are inspirational, because a lot of the time when you have an idea as an artist, sometimes the wood has a more organic idea that I agree with," she says.
Bring lightweight pieces with presence
Patti Bleicher usually takes one versatile brooch when she travels. A favorite, by Munich jeweler Doris Betz, is composed of lavender hostaglass—a transparent plastic—sewed with iron thread onto a circular base of oxidized silver. "I love the materiality of the hostaglass and the way she uses it," says Bleicher, the owner of Gallery Loupe, in Montclair, NJ. "And I like that the brooch has scale and makes a statement, but it's still very light. It's easy to wear, and it goes with everything."
Tiny earrings from Australian jeweler Laura Deakin's Dishonest Pearls series often come along on Bleicher's trips, too. To make the earrings, the artist uses fake pearls to create a luster that mimics real pearls.
Select flat jewelry
Each year when she goes to Schmuck, Bleicher makes sure to pack a Noam Elyashiv necklace made of slim sterling silver rectangles of various lengths. "It's not heavy and it's flat, so you can just fold it up," Bleicher says. "I love that the work is quiet, minimal, and so smart."
Note: The go-to travel piece for the writer of this article is an elegantly curved bracelet made of oxidized sterling silver by jeweler Reiko Ishiyama.