November 2023, Part 2
Art Jewelry Forum is pleased to share the news that members of our community find noteworthy. Is something missing? The success of this compilation of compelling events, news, and items of interest to the jewelry community depends on YOUR participation. If you're a member of AJF at the Silver level or above, you can add news and ideas to this bi-monthly report by going here. If you aren't a member, but would like to become one, join AJF here.
Listings gathered with assistance from Carrie Yodanis.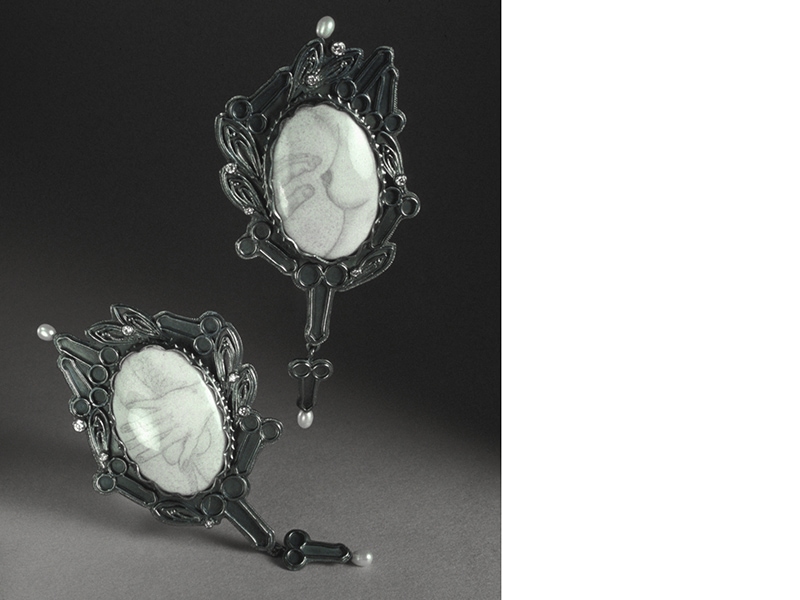 TOUCHING. MOVING. ELOQUENT. AJF LIVE WITH KEITH LEWIS, NOVEMBER 29, 12 P.M. EST
You'll meet one of the most influential jewelers in queer and identity politics in the US as we celebrate the publication of the new book, Dead Souls: Desire and Memory in the Jewelry of Keith Lewis, by Damian Skinner. During the event, we'll raffle two books, hot off the press! Keith Lewis teaches at Central Washington University. His jewelry deals with sexual identity, memory, loss, and jewelry as polemic. It is an act of remembering and witnessing. Access this online event in one of three ways: Purchase a ticket for $20. Buy your ticket here. OR become a new member or renew at $50 or above and receive all the benefits of membership, PLUS a complimentary ticket to the event. OR become a new member or renew at $150 or above and receive an AJF Collectors Pin PLUS a complimentary ticket to the event. Join or renew here.
---
AJF LIVE WITH KHANYA MTHETHWA, RESCHEDULED FOR DECEMBER 14, 12 P.M.
If you registered for the original October 25 event, you're automatically registered for December 14.
Mthethwa won the $20,000 Susan Beech Mid-Career Grant to support a project that mixes African jewelry with technologies of the fourth industrial revolution. The project will demonstrate the use of 3D-printing to reimagine the designs of indigenous cultural objects. Mthethwa will fabricate highly refined pieces of jewelry and ornaments. She is an award-winning jewelry designer born in Kwa-Zulu Natal who currently works as an academic at the University of Johannesburg, South Africa.
Free and open to all. 
Register here
.
---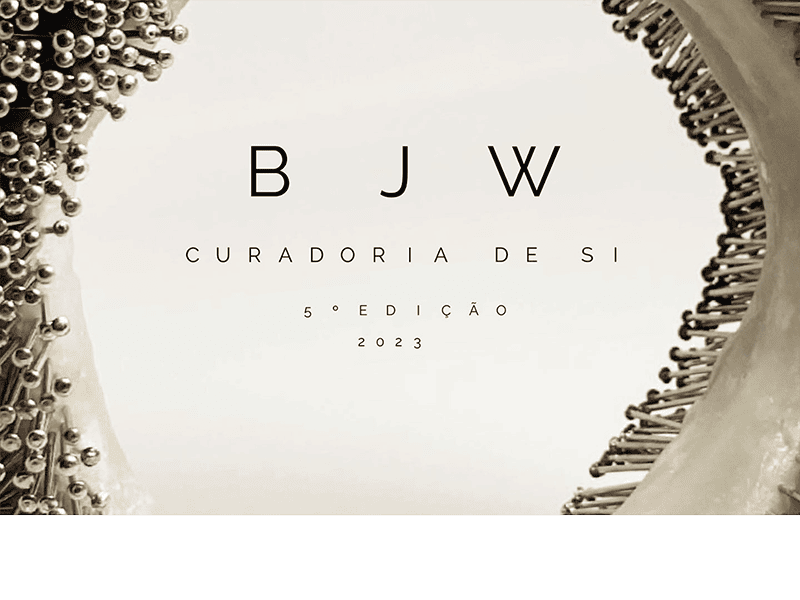 EVENTS
We have a dedicated page for them. Go here to see the list.
---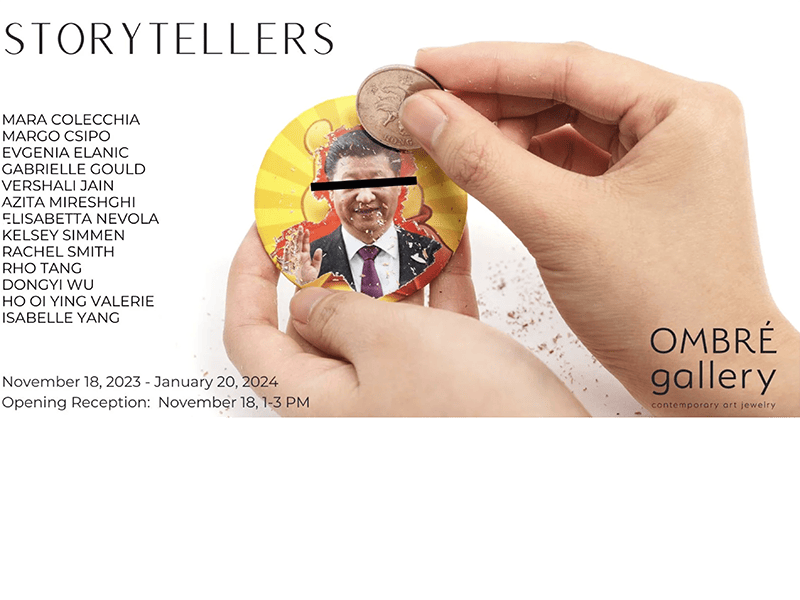 FEEL LIKE SEEING A JEWELRY SHOW?
Find these listings and many, many more on our dedicated exhibition page:
The Rock and Bead Show, at Galeria Reverso through November 24
Heejoo Kim: Lunar Blossom, at Galerie Noel Guyomarc'h, through November 25
Green Power Plant: Janna Syvänoya, at Platina through December 2
Luci Jockel: Lifting the Veil, at Gallery Loupe through December 3
Maria Hees, at Galerie Door pop-up in Heusden, Netherlands, through December 3
Alexander Blank, at Four November 10–December 9
Encounter, at Galerie Rosemarie Jäger through December 10
Alliance, at Espace Borax December 2, 3, 9, and 10
A Handful of Flowers: Jess Dare, at Gallery Funaki November 18–December 23
Soul to Soul: Gigi Mariani and Jeemin Jamie Chung, at Thereza Pedrosa Gallery through December 26
FROM OUR MEMBERS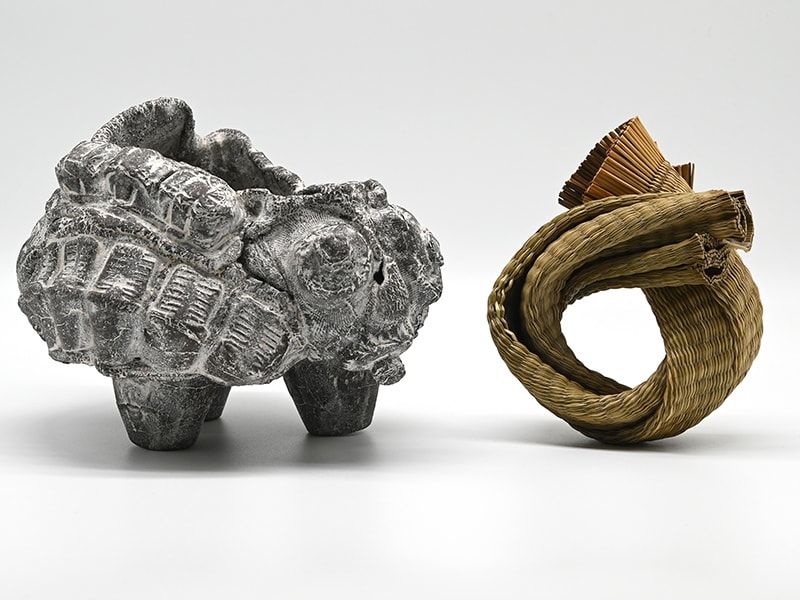 GALERIE ROSEMARIE JÄGER HOSTS THE LAND OF THE RISING SUN
On display: jewelry and metal works by Takayoshi Terajima and ceramics by Ayaka Terajima. In Japan, ceramic-making and metal-working look back on centuries of tradition and mastery, though jewelry in the Western sense didn't enter the Japanese arts canon until the 20th century. Through December 10, 2023. Info.
---
MOBILIA PRESENTS JEWELRY BY ASAGI MAEDA AT THE MORIKAMI MUSEUM
Maeda is a passionate metalsmith who meticulously constructs miniature sculptures that are also jewelry. Fashioned from wood, Plexi, resin, enamel, silver, gold, and semiprecious and precious stones, the work is engraved and enameled by the artist with thoughtful narratives about family and society. See the work at the Morikami Museum and Japanese Gardens, in Delray Beach, FL, through April 7, 2024. Additional info from Mobilia.
---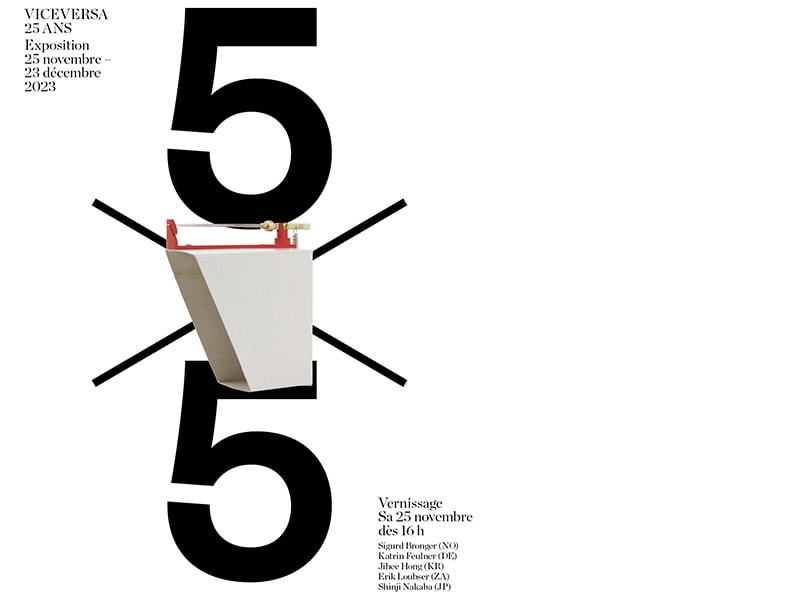 GALERIE VICEVERSA CELEBRATES 25 YEARS!
November 25, 2023, will mark the gallery's anniversary—congratulations! In celebration, an exceptional jubilee exhibition will feature five international artists, including the Norwegian Sigurd Bronger, virtuoso jeweler, engineer, and Dadaist, who will have a retrospective next spring at Die Neue Sammlung. There's also Shinji Nakaba, the Japanese maker who hand-carves cultured pearls under a microscope; the talented Korean artist Jihee Hong; the South African artist Eric Loubser, who flirts with the absurd; and German designer Katrin Feulner, who transforms industrial elements into wearable drawings. Info.
---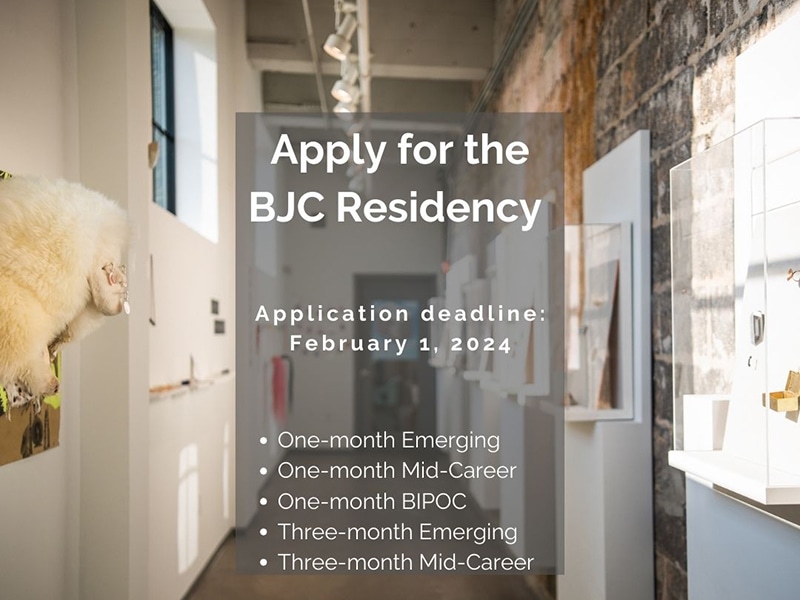 APPLY FOR THE BJC'S 2024/2025 ARTIST RESIDENCY PROGRAM
The Baltimore Jewelry Center offers a number of different residency opportunities, including a one-month mid-career artist residency, a three-month residency open to both emerging and mid-career artists, a one-month emerging artist residency, and a one-month BIPOC artist residency. Learn more about the program and required application materials here. Deadline: February 1, 2024.
---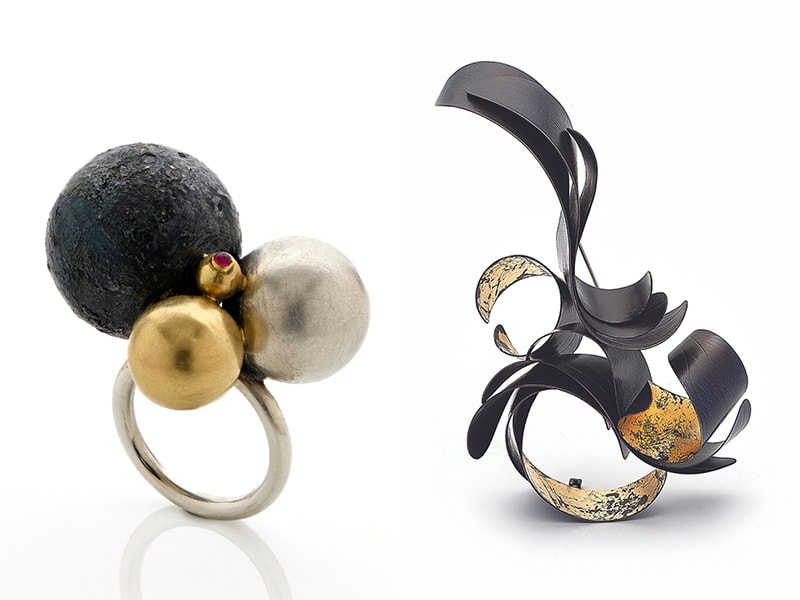 AT THEREZA PEDROSA GALLERY, AN EXTRAORDINARY CONVERSATION BETWEEN TWO ARTISTS
Soul to Soul | Gigi Mariani & Jeemin Jamie Chung brings together two artists with completely different cultures—Italy and South Korea—ages, and thoughts. In this emotional and cultural confrontation, the artists opened up, analyzing the differences and similarities between their societies, working methods, educational systems, emotional reactions to events, life experiences. They created points of contact that unite them despite all the differences. Each work encapsulates the very essence of our human feelings, showing how, regardless of cultural differences, the most intimate and profound essence of our humanity is unique and universal. Info. Through December 26, 2023. If you can't make it to the gallery, send an email here to receive a digital presentation of the exhibition.
---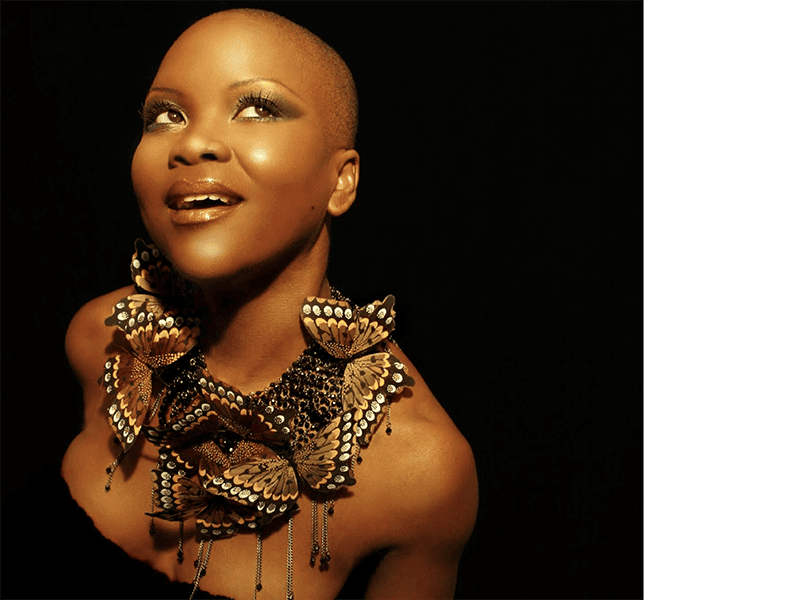 THE JEWELRY JOURNEY INTERVIEWED COLETTE HARMON
The artist is originally from Guyana and studied in Toronto. She told the podcast how a spontaneous haircut sparked her creativity and paved the way for her future business, what the difference between an artist and a designer is, and her work on a research project with George Brown College psychology students. Listen here.
---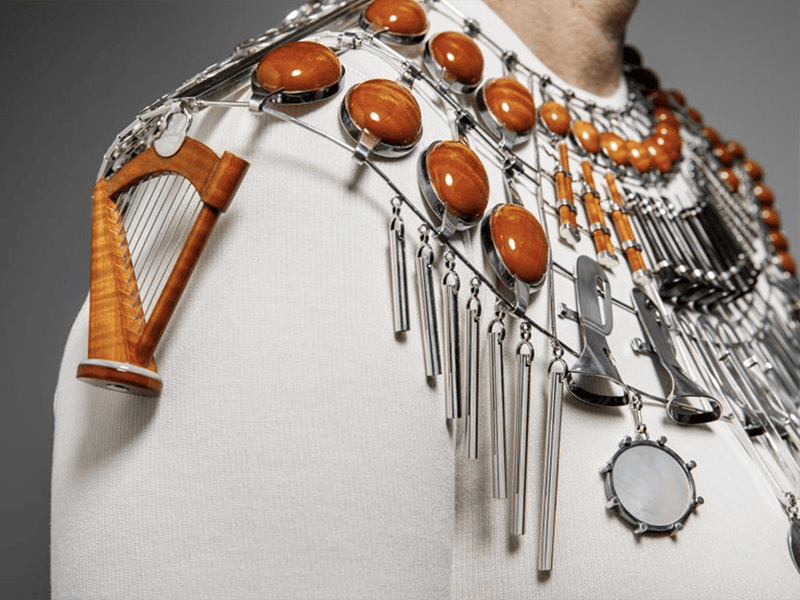 FELIEKE VAN DER LEEST WINS THE FINN ERIK ALSOS MEMORIAL PRIZE—CONGRATS!
The AJF member won the award in conjunction with the Annual Crafts Exhibition at Norway's National Museum. Her jewelry piece is designed as a full orchestra with an audience. The wearer is the conductor. See the piece under many angles here. "The use of materials is advanced, and the craftsmanship is sophisticated and technically complex," stated the jury. "But it is the humor that carries it all, in a subversive setup and with a wealth of playful references." More.
---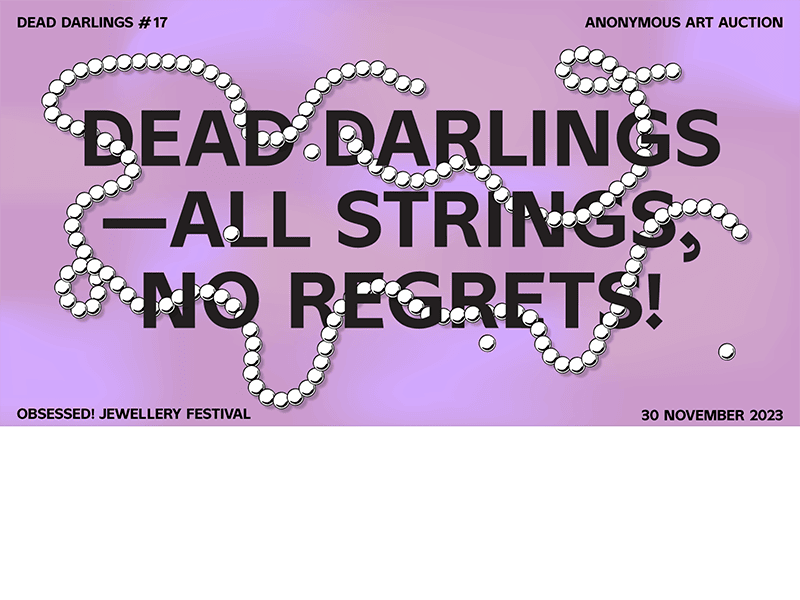 AUCTION: "DEAD DARLINGS—ALL STRINGS, NO REGRETS!" NOVEMBER 30, 2023
The auction gives artists and makers the opportunity to anonymously highlight an artwork they'd like to apologize to before setting it free to find the true love it has always deserved! See all 50 selected precious darlings in the online catalog. Can you guess which one is by AJF member Ted Noten? (By the way, Ruudt Peters and matt lambert—who has written for AJF—also have pieces in the auction.)
---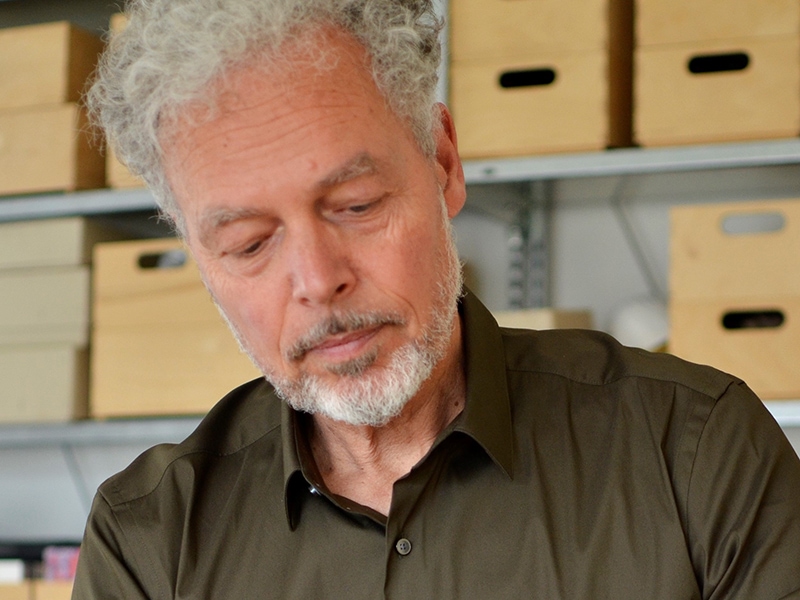 WORKS HAVE BEEN SELECTED FOR SCHMUCK 2024
The curator, Norman Weber, selected 60 works by artists from 30 countries from more than 600 applications. Weber shares insights into the selection process in this interview and talks about the fascinating diversity and creativity of the works submitted. Congrats to the selected artists: Silvie Altschuler, Miriam Arentz, Miki Asai, Lynn Batchelder, Nicole Beck, Michael Berger, Alexander Blank, Marta Boan, Anna Börcsök, Maria Cecilia Capisano, Gorgery Cheung, Margo Csipo, Helene Dal Putte, Annette Dam, Bárbara D'Ambra, Patricia Domingues, Hilde Dramstad, Anja Eichler & Jürgen Eichler, Sharon Fitness, Sara Gackowska, Samuel Gassman, Lydia Hirte, Juan José Ibáñez Piqueras, Meiri Ishida, Empar Juanes Sanchis, Da Ye Kim, Yoojung Kim, Unk Kraus, Typhaine le Monnier, Emily Lewis, Laura Leyt, Peter Machata, Lital Mendel, Kristina Merchant, Yutaka Minegishi, Itto Mishima, Juliana Molina, Thanh Nguyen, Iris Nieuwenburg, Yael Olave Munizaga, Jiun-You Ou, Rowan Panther, Fumie Sasaki, Misato Seki & Eri Arano, Maya Shochat, Azin Soltani, Anna Talbot, Takayoshi Terajima, Ketli Tiitsar, Tanel Veenre, Andrea Wagner, Zhipeng Wang, Maria Ignacia Walker Guzman, Florian Weichsberger, Daniel von Weinberger, Arek Wolski, Jun Jin Wu, Eighteen Yuan, Yasmin Zehavi, Kun Zhang, Reinhold Ziegler.
---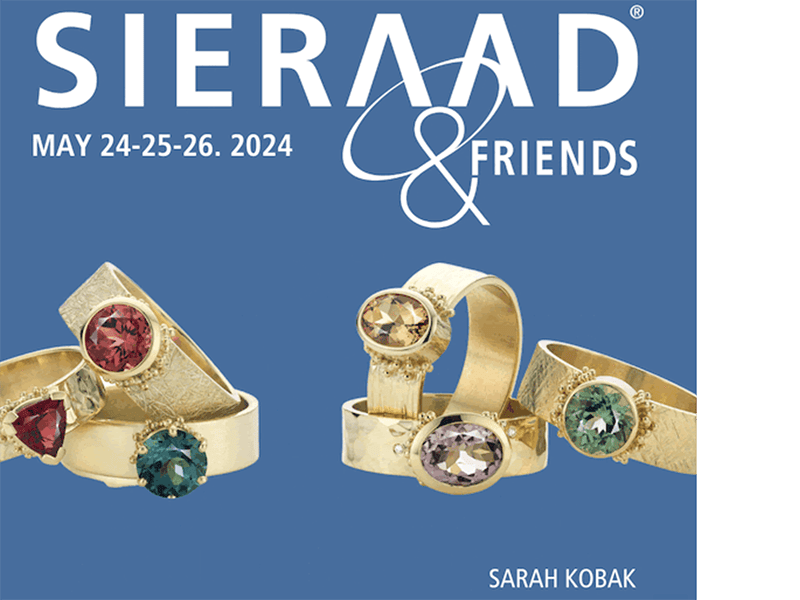 SIERAAD TO CHANGE FORMAT, NAME, AND LOCATION
After more than 20 years in Amsterdam, in 2024 the event will move to Buren, which is between Utrecht and 's-Hertogenbosch, in the Netherlands. The decision was dictated by high costs, which only increased after the pandemic. The organizers are going with a smaller scale, keeping it to some 30 jewelry designers. The new name is Sieraad & Friends, reflecting the fact that many of the participants have become friends over the years and many visitors are friends of jewelry. Info.
---
SDSU IS ACCEPTING APPLICATIONS FOR ITS JEWELRY & METALWORK MFA
The SDSU MFA supports diverse research interests, which range from innovations based on traditional/historical foundations to conceptual/digital processes. Technical support and well-equipped facilities enable access to a broad range of materials and processes. Scholarships and graduate assistantships are available for all incoming first-year students. Deadlines for Fall 2024: Cal State Apply, December 1, 2023; portfolio, January 12, 2024. Info.
OTHER NEWS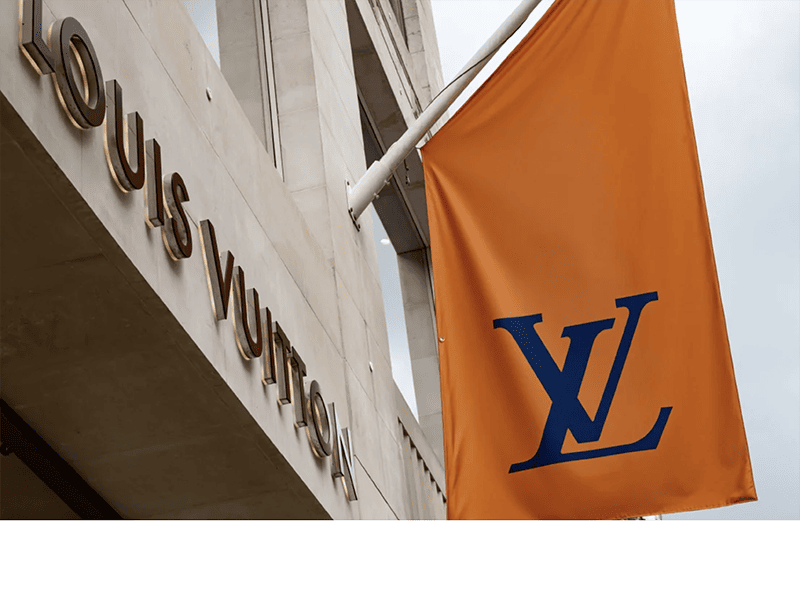 CENTER FOR CRAFTSMANSHIP TO OPEN IN PARIS IN 2025
Founded by luxury conglomerate LVMH, the Institut des Métiers d'Excellence training program aims to spark interest in more traditional professions such as gem sculpting. Plans include hiring 22,000 specialized craftspeople in lesser-known design fields, from shoemaking to eyewear manufacturing. Young people are the target audience because many don't know about these professions. Anyone will be able to attend, with the promise that you'll "learn a physical gesture, whether you're a novice, a member of the public, or a researcher in craftsmanship." More.
---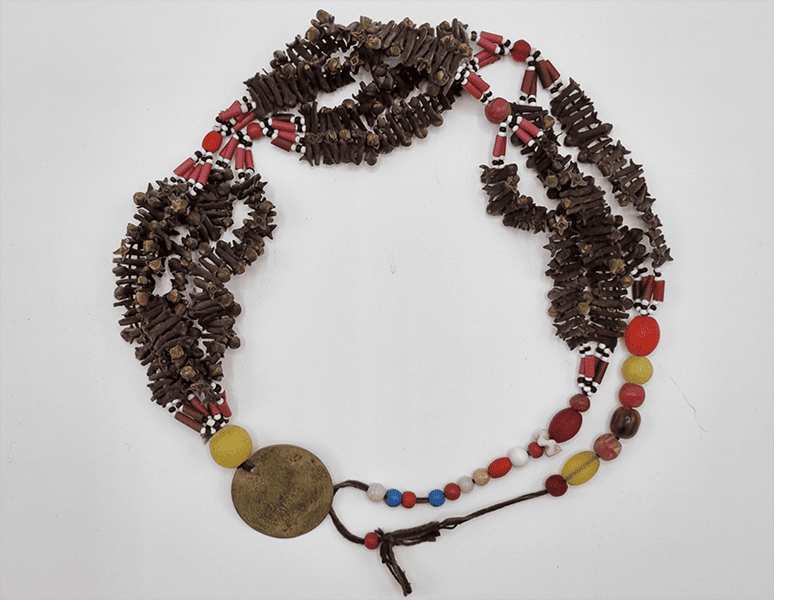 SCENTED ADORNMENT IN NORTH AFRICA AND SOUTHWEST ASIA
Sigrid van Roode discovers redolent objects of wearable fragrance in the cultures of the Middle East. More.
---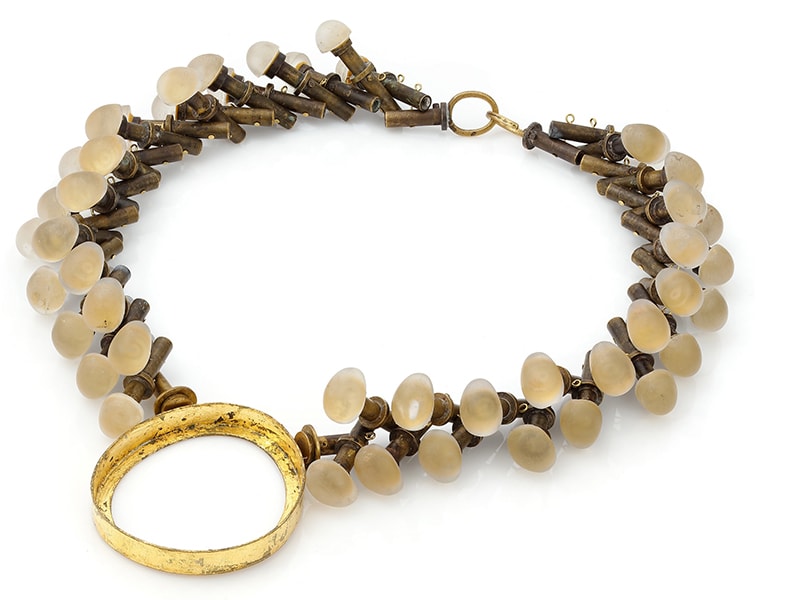 SHARAREH AGHAEI WINS AT ROMANIAN JEWELRY WEEK
Beating several hundred others who submitted works from dozens of countries, Aghaei, whose necklace is titled The Right One, won the Grand Award of the Romanian Jewelry Week. The work was made for the 31st International Jewellery Competition QUALITY and was also awarded in Legnica. It captivated the jury with the idea and precision of its execution, as well as the surprising idea of the aesthetic use of fragments of an old jewelry tool. Info.
---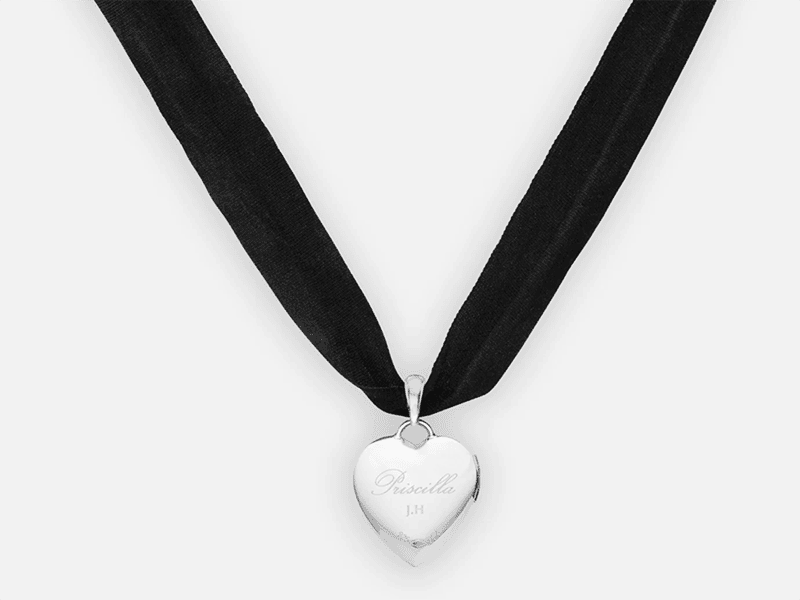 DOES COOL MOVIE MERCH REALLY EXIST?
The film studio A24 thinks so. It's selling a yawn-inducing necklace tied to Sofia Coppola's newest movie, Priscilla. Before wedding Elvis Presley, the 14-year-old Priscilla Beaulieu wore a heart-shaped locket tied on with a black ribbon. The necklace now exists in a new form produced by Jess Hannah Révész. She was approached by the creative director of A24 in June. The locket is A24's first foray into fine jewelry. The silver bauble sells for $400 on A24's website. You'll find it in solid gold for $1,280 on Révész's website. More.
---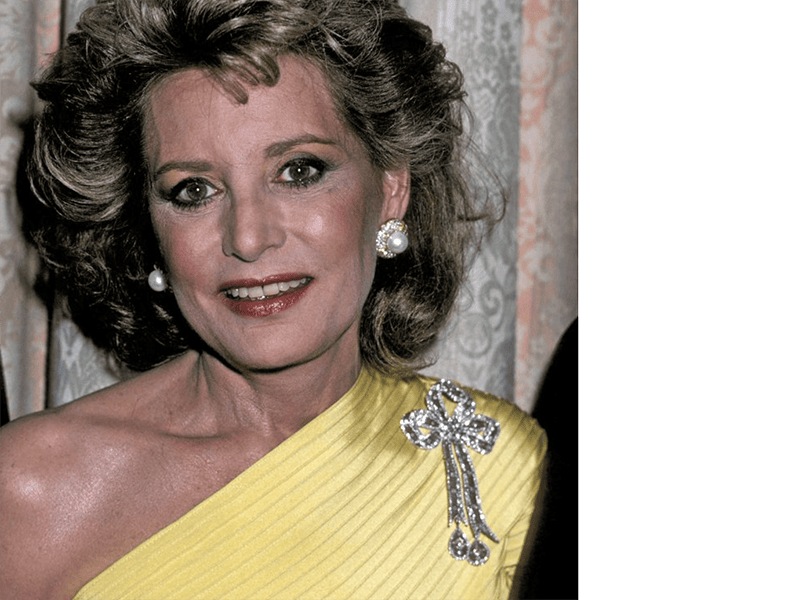 BARBARA WALTERS'S ESTATE DRAWS $5 MILLION AT AUCTION
Bonhams put artworks, jewelry, and objects on the block on November 6, 2023. Walters's Harry Winston diamond engagement ring from Merv Adelson sold for $699,000; three JAR gemset earrings made for Walters fetched between $203,700 and $229,100; and a Belle Époque diamond bow brooch that Walters wore to Elton John's 60th birthday bash went for $35,840. More. Proceeds will go to charities important to Walters.
---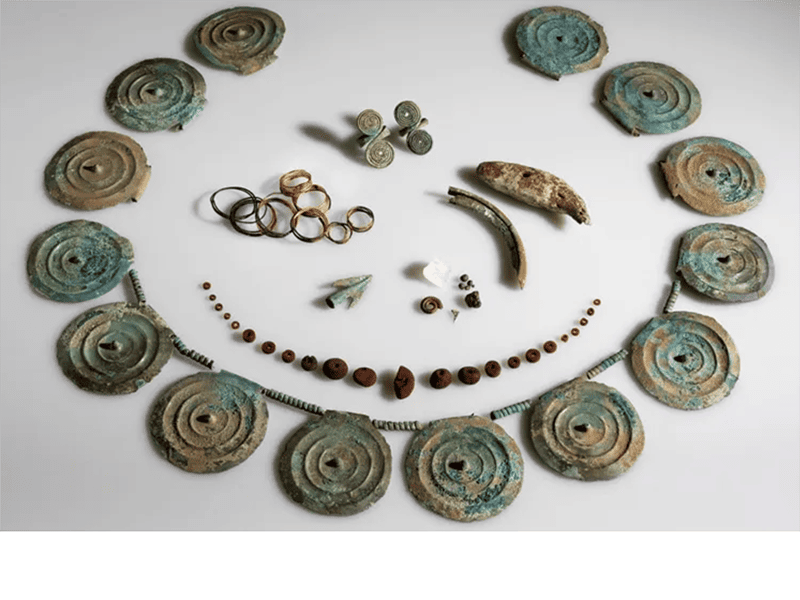 BRONZE AGE PEOPLE WERE COLLECTORS, TOO!
A metal detectorist in Switzerland found a load of "typical costume" jewelry from the Bronze Age buried in a carrot field. Archeologists concluded the pieces likely belonged to a "rich woman with a passion for collecting." Time to get your own metal detector! More.
---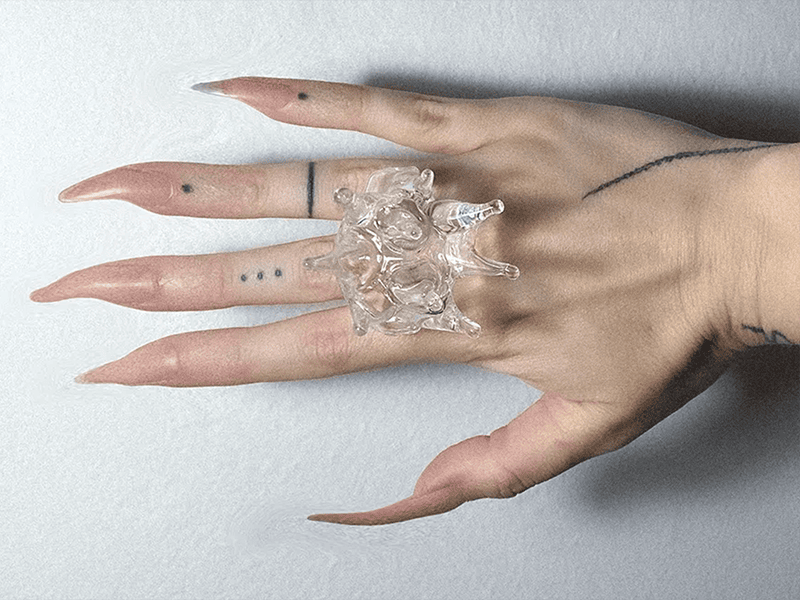 MAKER SEARCHES FOR THE UNCONVENTIONAL
… and definitely succeeded with the photo styling! Pia fell in love with flameworking and ended up creating an ecosystem of objects influenced by the anatomy of spiders, the mythological universe of nymphs, and the tropical flowers of Argentina. More.
---
WHO CAN CLAIM BILLIONS IN JEWELS AND GOLD?
In 1708, the San José, a Spanish galleon, sank off the coast of Colombia with a haul of treasure that could be worth upward of $20 billion today. The plan to bring the shipwreck to the surface is fraught with conflict. More.
EVENTS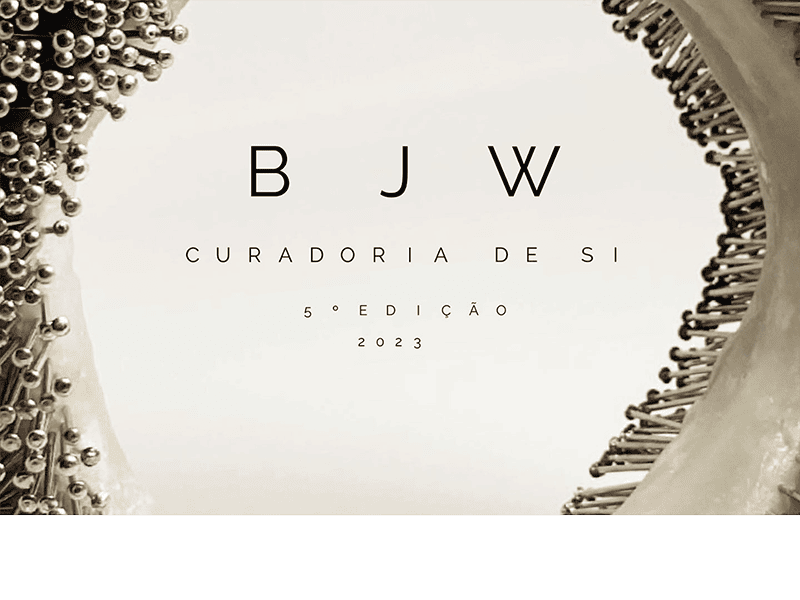 BRAZIL JEWELRY WEEK: NOVEMBER 23–26, 2023
This annual event in São Paulo brings together jewelry artists to exhibit contemporary Latin jewelry creations to the public, works that use the body as a support for artistic manifestations. The jewelry creates dialogues to renew, reinvent, and experiment with new materials, techniques, and concepts in the act of adorning oneself. Info.
OPPORTUNITIES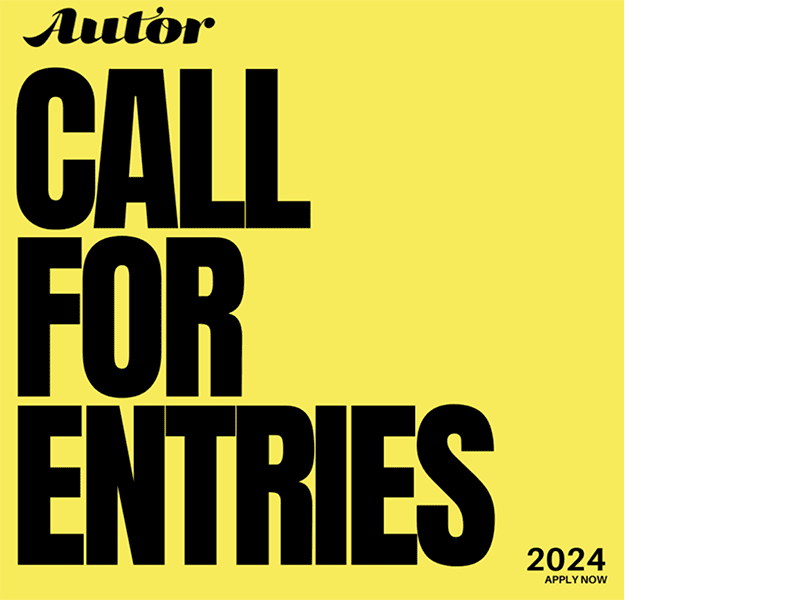 CALL FOR ENTRIES: AUTOR
With its 21st edition, Autor will celebrate 15 years of continuous activity. The fair will take place May 18–19, 2024, in Bucharest, Romania. Deadline: February 15, 2024. Info.
---
CALL FOR ENTRY: LEGNICA JEWELLERY FESTIVAL SILVER 2024
Empathy is the theme of the International Jewellery Competition, the main event of the Legnica Jewellery Festival SILVER 2024. Participation in the competition is free. Artists cover only the shipping costs. Deadline: January 20, 2024. Info.
---
OPEN CALL: PRECIOUS COLLECTIVE
The ambition for the exhibition Past Present Future is to showcase a holistic and identified concern for sustainability within the field of art jewelry. This will be evident with works that demonstrate sustainable action within making and material. Works submitted must be art jewelry. If you're selected, three of your works will be exhibited, one each for the categories Past, Present & Future. Deadline: November 21, 2023. Info.
© 2023 Art Jewelry Forum. All rights reserved. Content may not be reproduced in whole or in part without permission. For reprint permission, contact info (at) artjewelryforum (dot) org