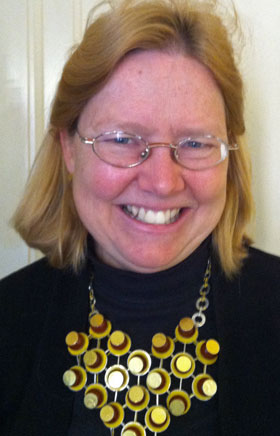 I have asked Marion Fulk to contribute to the ongoing series of Collector's Choice. She is a new member of the board at AJF and an impressive contemporary jewelry collector from Little Rock, Arkansas.
My favorite piece of jewelry is the necklace I wore to my wedding in November 2009.
The wedding was a low-key affair: five of us, counting the judge, in his chambers in the Pulaski County courthouse in Little Rock. We also kept it quiet until the day, when we sent email invitations to about 200 of our closest friends inviting them to drink champagne with us later that afternoon.
It was a special event and I needed a special piece.
Jennifer Trask made the necklace. She has a multi-syllabic name for it. I just call it The Wedding Necklace.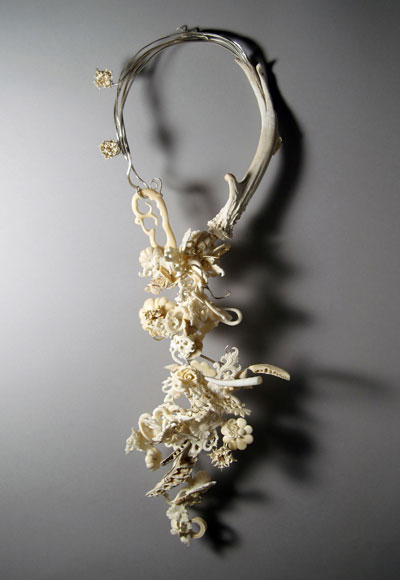 When she started work on it, she (probably) didn't know I was going to buy it. It was the first big piece of a new body of work for her and one day she sent me an email picture of it, still unfinished: 'Look at what I'm working on.' And I decided it was mine, right then. It wasn't actually finished until the day it had to be shipped. About a week before the wedding, she said something like, 'I decided I didn't like it the way it looked, so I tore it all apart. Don't worry, I'll finish it.' Thankfully she did finish it and it wasn't lost in shipping. I wore it on my wedding day, with a black velvet dress and it looked fabulous. I still pull it out for very special occasions and it still looks fabulous.
The necklace is made of carved bones, pre-ban ivory, an antler, snake vertebrae, jawbones and various found objects, all connected to a silver frame. It's off-white, very long and fairly heavy, but from a distance it looks lacy and light and frothy. Up close, while it is lovely, it's much more ferocious and formidable and challenging and not at all a frilly lightweight piece of bling.
It's all of these things that together make the wedding necklace my favorite piece – and that's a hard choice for me to make. The materials are interesting and unusual, as is the combination of them all. It appears to be one thing, until you look closely and see much more. It's extremely well constructed; it's easy to wear. It makes a statement and it symbolizes and reminds me of an important occasion. Further, it's the work of an important American artist who is my friend – and jewelry is a connection between wearer and maker. The people who have seen it have been amused and enlightened by it and it always makes me smile. Enough said!