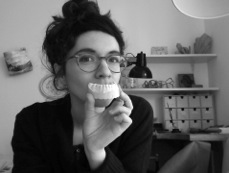 Missy Graff: Please tell me about your background. How did you come to be a jeweler?
Carina Chitsaz-Shoshtary: It is quite probable that I would have become a musician if I did not have terrible stage fright. My father is an Iranian guitarist for classical and Spanish guitar. We had lots of weekends of music making, dancing, and singing together with friends and family when I was young. On the weekdays, I was with my mother and mainly occupied myself by drawing, painting, and building all kinds of small objects from different materials. My passions for music and creating things developed simultaneously.
Immediately after school, I had some interviews for painting classes at the Academy of Fine Arts in Munich. The professors I talked to told me that I was too young, and I should pursue an apprenticeship before applying again. It was by chance that I took an apprenticeship as a goldsmith. I think it was more the scale of the work that made me like the idea than the jewelry itself. Even after the apprenticeship, I wasn't sure which class at the Academy of Fine Arts to apply for, jewelry or painting. My first interview with Otto Künzli was highly inspiring, and that made me fall in love with contemporary jewelry.
How has your work changed or developed since your graduation from the Academy of Fine Arts in Munich in 2012?
Carina Chitsaz-Shoshtary: Luckily, I had some projects running that kept me from thinking too much after graduation. It wasn't easy though, mainly because I didn't have my own studio yet. I was working on the small balcony of our flat in Munich during the summer and in the even smaller bathroom during the winter. This did not help me to feel very creative and wasn't good for my self-confidence as an artist, either.
I am so excited to have my own studio now. It may be comparable to the feeling one has when they first move out of their parents' house. They have to figure out which values and rules apply and which might not. You have a lot of freedom while studying at the Academy. There is no one telling you what to do. However, I often felt the pressure of wanting to live up to something. This can be a motivator, but it can restrain you, too. I feel freer now, and I am looking forward to seeing what this will do to my work in the near future.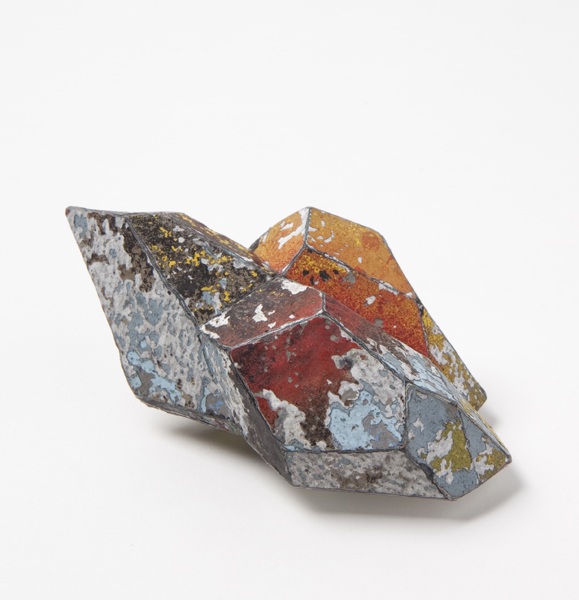 I understand that much of your work uses paint scraped off of graffiti walls. How did you come up with the idea of using this material?
Carina Chitsaz-Shoshtary: I was on my way to the cafe where I was working when I first found pieces of graffiti on the ground. I was immediately drawn to their great painterly quality. I collected the colored sheets for a while and started to experiment with them, but it took me more than a year to seriously start working with the graffiti paint. The richness and beauty of the material was both a potential and a danger. You could easily take a piece, make a hole in it, add a nice string, and it could work as a piece of contemporary jewelry. But, this would have had little to do with me. I wanted to conquer the material, to bring out its qualities, but not without translating it into my personal artistic language.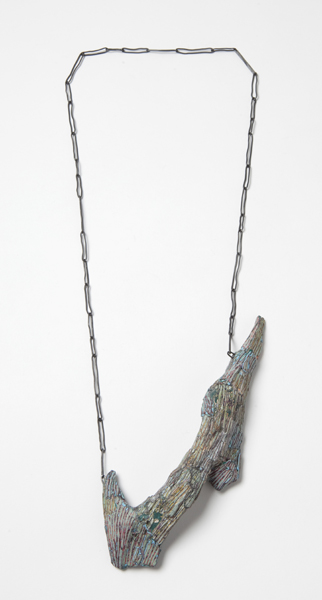 What is the graffiti culture like in Munich? Do you consider yourself to be part of it?
Carina Chitsaz-Shoshtary: No, I am not a part of the graffiti culture, not in terms of the graffiti makers (writers) at least. They have their very own rules and codes, and I am not really familiar with them. All of my material comes from the same (legal) long wall, which is situated near our former apartment. I watched the writers sometimes while they were working, and on a few occasions had a chat with one of them, but I never revealed what I was doing. The writers, I think, would also not usually reveal to outsiders that they spray graffiti, because it could get them into trouble and because it is an underground community.
Normally, the writers come at night to spray on the property of others. In this way, they are creating and destroying something at the same time. Ironically, I feel similarly toward them. I prefer to collect the material from the ground, but if I am in urgent need and there is none to be found, I will go with a scraper and a hammer after dark to collect materials.
Do you know who, in particular, is responsible for the graffiti that has been incorporated into your jewelry?
Carina Chitsaz-Shoshtary: Anyone can place a graffito on this wall, and the people I saw doing it were quite diverse, from some youngsters that scribbled something in a few seconds to the highly skilled and professionally equipped artists who worked on one graffito for several days. As the material I work with is compounded of countless layers, it also must have been countless people that worked on building the material.
The effects you achieve in Karma Chroma are very different than in What's Left of Krypton. What are your different approaches to using this material?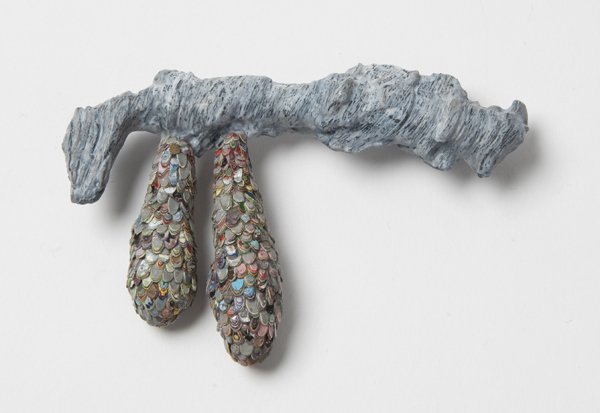 The Krypton pieces are hollowly built. The new work has a hard core inside, often made of wood. I now carve patterns inside the graffiti sheets or cut out small sequins. For me, this is a further transformation of the material, and the origin is becoming less clear. The surfaces resemble organic textures, such as bark, fish scales, or coral. Wood is sometimes now a part of the composition, too. I like the idea of combining a material that is grown in the forest with one that is grown in the city.
These seemingly small changes gave me the possibility of not only creating more organic-looking shapes from the graffiti, but also making bigger or smaller pieces. I was previously technically restricted in size and shape.
How do you see your work developing? Do you plan to continue using graffiti paint as a material?
Carina Chitsaz-Shoshtary: I am working intuitively and emotionally, so I do not think ahead too much about how my work could develop. It is a flowing process. One piece leads to the next. I like creating the best when I experience it as a playful and exploring process, and I still enjoy experimenting with the graffiti.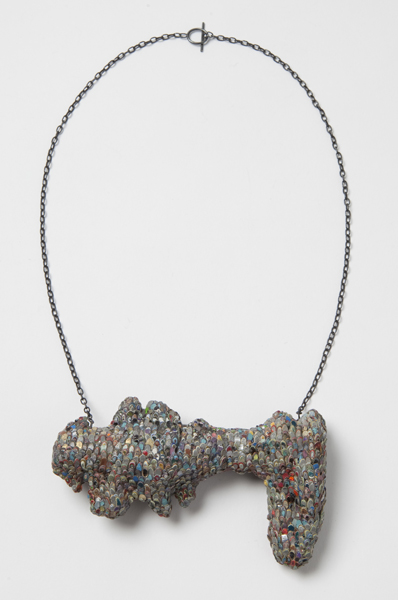 Which artist's work have you been most excited about recently?
Carina Chitsaz-Shoshtary: The work of Andy Goldsworthy. Reconnecting to nature is something I am looking for in my life, and it is one of the reasons why we left the city. Andy Goldsworthy is able to collaborate with nature in a seemingly effortless, elemental way, and by looking at his pieces, I feel this powerful recollection of being a part of nature myself.
What have you seen, heard, or read lately that you would like to recommend?
Carina Chitsaz-Shoshtary: The documentary called The Artist is Present about performance artist Marina Abramovic. The novel Birds without Wings by Louis de Bernieres. The Harry Potter audio books read by Jim Dale. A concert of the Munich-based band Les Gitanes Blondes together with the Israeli clarinetist Giora Feidman.
Thank you.