Show and Tell: Calder Jewelry and Mobiles
November 5–December 20, 2013
Salon 94, New York, New York, USA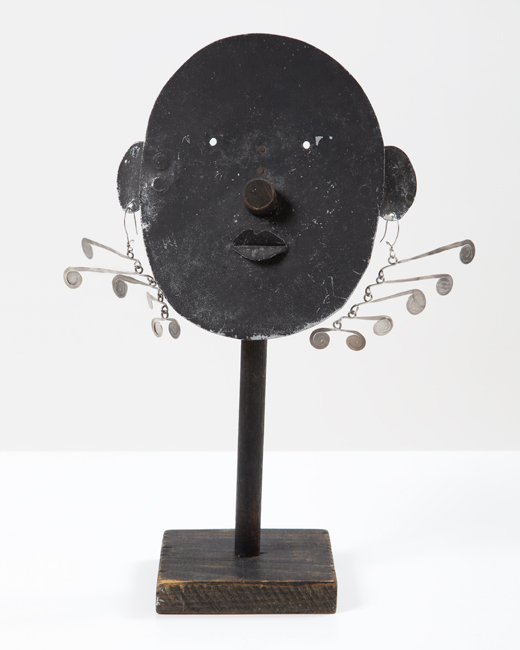 Hand-hammered jewelry was a mainstay of Calder's practice. Throughout his career, he created more than 2000 necklaces, brooches, bracelets, and earrings from brass or silver wire, in which he exercised aesthetic strategies related to his standard works, from wire tabletop sculpture to large mobiles and "stabiles." One of the few sculptors whose jewelry was celebrated by a major American museum, it was granted a dedicated exhibition at the Metropolitan Museum of Art in 2008.
Engaging with jewelry represents a challenge for artists not sensitive to its potential for embodied meaning. The added humor and intimacy of Calder's jewelry can create an even greater contrast with lofty works. In this instance, it was particularly tricky to strike the right balance between whimsy and weight. And one must remember that although the jewelry is titillating, it isn't trivial. The exhibition ambitiously matched relatively sober sculptures, assemblages, paintings, and photographs with Calder's quirky modernism. Could such marriages work? Granted, discourse upon thorny existential issues wasn't anticipated, but the paired artworks should be expected to invigorate one another, their affiliation offer new theoretical insight as well as aesthetic awareness.
Ambience contributed to the initial impact of the exhibition, as you are virtually transported upon entering the posh environment of Salon 94—the antithesis of a white-box gallery. A gently oscillating Calder mobile hung high above the curved staircase located in its soaring entrance foyer, embraced by a sensuously undulating, smoothly planished, solid, wooden banister, reflective of the spiral, one of Calder's favored motifs. A chair by Italian designer Carlo Mollino, designed in 1951, around the same time as the mobile, stood nearby. Situated in a historic townhouse, the open, bright, and airy salon-gallery looks out upon a gloriously landscaped back garden, replete with tastefully arranged sculptures. Additional furniture by Mollino dotted the exhibition space. As a matter of fact, one was immediately greeted by a spectacular Mollino wall unit covering much of the glass partition that looks out onto the garden, its shelves loaded with Calder jewelry. Placed prominently on a central shelf of the bookcase were two bejeweled, life-size, black metal masks on wooden bases, the stated motivation for invited artists to "riff" on Calder's jewelry and display scheme. Originally fabricated by Calder for his one-person show at the Marian Willard Gallery in 1940, each head sported pierced ears from which dangled huge, mobile-like silver earrings.
Huma Bhabha is a notable sculptor who was granted a solo exhibition, Unnatural Histories, at MoMA P.S.1 in 2012. She is memorable for "neo-primitive," pan-cultural assemblages that denote both ancient civilizations and a post-apocalyptic future. Assuming the form of monstrously grotesque figures, they are typically constructed from detritus, metal wire, Styrofoam, clay, and animal bones. Bhabha channels the monumentality of totemic figural sculpture from the Easter Islands, tribal Africa, ancient Egypt, Greece, and Gandhara (an early kingdom in Northern Pakistan/Afghanistan), as well as Giacometti, with achingly poetic results. Untitled with Crown and Sunnyside (both 2013) are simple pieces, conceived with specific Calder jewels in mind, and the elements merged comfortably, if not brilliantly. This was disappointing, since Bhabha's piquant sculptures derive their strength from a certain grandiosity, and these would not be particularly compelling examples of her work were it not for the jewels. In Untitled with Crown, a frontal female nude stands a mere 42 inches (106.7 cm) high. Roughly carved from cork, it is painted entirely black. The placement of a Calder brass crown upon her head, inferring regality, somewhat makes up for its lack of stature. Nevertheless, I expected more, in this instance, from such an inventive artist, than to create a structure that would regard the Calder jewel so predictably. Bhabha's other offering is more metaphoric. Sunnyside assumes the form of a small horizontal "pit" made from clay, wood, wire, paper, and graphite, with an inserted brass brooch suggesting a sunburst—a bit of sunshine in a distressed landscape? Or the yolk on a rotting fried egg (sunny side up!)? Each sculpture attempts to be playful, with the latter's ironic stance more in keeping with Calder's jocularity. Nonetheless, I was left yearning for Bhabha to merge Calder's allusiveness with her arresting capacity for vigorous expression through decay and decomposition.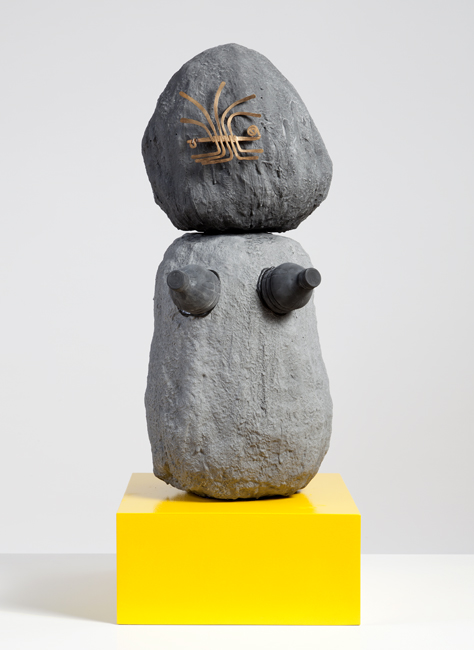 More meaningfully layered was the offering by Matthew Day Jackson, a multi-faceted artist whose practice combines painting, sculpture, video, photography, installation, and performance, often expressed with caustic irony. Some of his most biting constructions are wittily eerie narratives told through eccentric combinations of disparate elements. Jackson contributed a small, dark, two-part sculpture, suggesting a human form, to Show and Tell: Calder Jewelry and Mobiles. Constructed of scorched wood, yarn, and steel, it evokes dystopia in a manner similar to Bhabha's and Liden's quiescent characters. Although the figure was naked for my visit, a thumbnail showed it festooned with a sizable Calder necklace of brass-mounted pendant shards hung from its mound-like "hips," somewhat like a hula skirt. For Jackson, the more absurd the entity, the more acerbic the message. And this intrusion of Calder's caprice added a sanguine twist to the gritty posture of the figure — the loony positioning of the necklace inspired.
The works that melded most fluently with Calder's were photographs in which the jewels were not only preconceived elements of the finished composition but also an integral part of the process. David Benjamin Sherry specializes in analogue film and printing techniques to create photographs of landscapes that appear otherworldly as a result of visionary manipulation of form and color. For this exhibition, Sherry produced two gelatin silver prints and six C-prints. The photographs serve as backgrounds for groupings of Calder jewels scattered upon abstract images in a manner reminiscent of "rayograms" by Man Ray or photograms by László Moholy-Nagy.
Mickalene Thomas distinguishes herself with sexually charged, collaged paintings of African-Americans, usually women, that recall late nineteenth- and twentieth-century genre paintings by artists as diverse as Gustave Courbet, Edouard Manet, Pierre Matisse, Romare Bearden, and David Hockney. Like Huma Bhabha, Thomas was recently celebrated with a solo exhibition. Mickalene Thomas: Origin of the Universe appeared at the Brooklyn Museum of Art last year. For Show and Tell: Calder Jewelry and Mobiles, Thomas photographed two statuesque, partially clad, African-American men, and one androgynous persona, wearing huge necklaces, bracelets, and brooches by Calder within a brightly colored, sumptuously patterned, and densely decorated, domestic environment typical of her paintings. Just as she reinterprets iconic landscape paintings, such as Manet's Le Déjeuner sur l'herbe (1862-3), by replacing the familiar luncheon party with nude black females, in the four Calder photographs, Thomas uses his potent jewelry, along with dramatically theatrical makeup, to evoke deification along with decadence. Thomas's romance with place, expressed through jewel-like surfaces, and often actual collaged beads and sequins, illustrates a greater comprehension of jewelry's expressive potential than most of the other artists in the show. By photographing Calder's jewelry in such staged tableaux, Thomas is, in fact, also aligning her pictorials with the probing image studies of jewelry in situ by Lauren Kalman and Maisie Broadhead.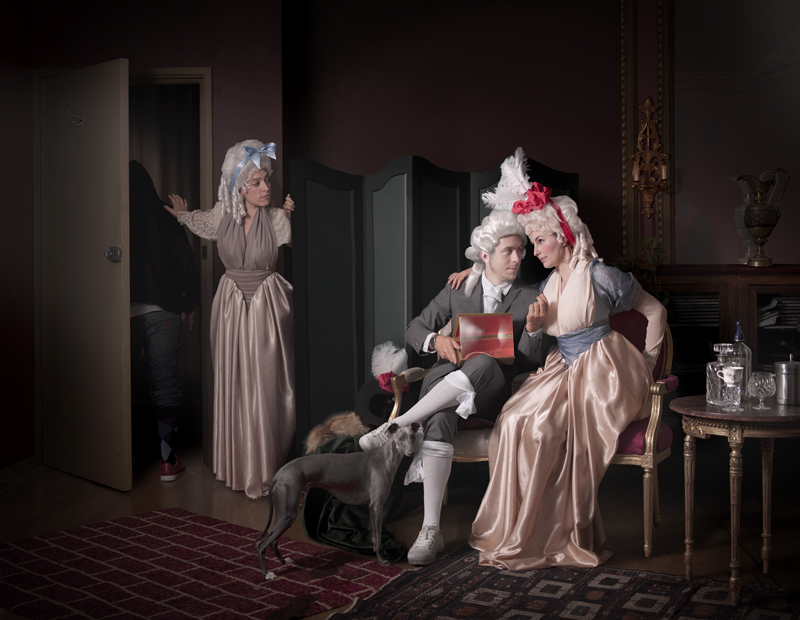 Some of the participating artists share an ideological affinity with Calder. Mark Handforth, known for huge, site-specific sculptures, was one such contributor. His brass rod and teak tabletop sculpture Wire Diamond (2013) was presented devoid of jewelry when I visited, although the press release states that a pair of earrings was hung from its angular ends. Like Calder, Handforth often utilizes industrial metals. Wire Diamond is a diminutive variation of the giant coat hanger that has graced the MCA Plaza in Chicago since 2011 and strongly references Calder's bent wirework from the late 1920s, seen in almost everything from his wire portraits to the Circus. But, Wire Diamond lacks the pizzazz of both Calder's wirework and Handforth's own monumental sculptures.
Other than having completed a residency at Atelier Calder in Saché, France, in 2005, a connection between Mexican artist Abraham Cruzvillegas and Calder eluded me. His imposing "autoconstrucción"—Self portrait as a childish junkie living at the corner of Orizaba and Zacatecas Streets just after WWII (2012)—is representative of an ongoing journey to depict place through the chaotic agglomeration of handcrafted and industrially-produced objects, both complete and in bits, pristine and grubby. It is a powerful assemblage of spent plastic crates, iron wire, a wooden bow, rubber sandal, and broken furniture. Nonetheless, it seemed out of place within this context and affirmed the desire for more evocative works in general.
As to the Calder jewels themselves, Salon 94 presented a stellar array of more than 40 examples. The Jealous Husband (c. 1940), an important brass necklace in the collection of the Metropolitan Museum of Art and photographed on Angelica Huston in 1976 for The New York Times Magazine, was supplanted by Curliques [sic.], a variation created the same year in silver. Harps and Heart (c. 1937), a large, kinetic brass necklace that is gloriously reproduced in the 2007 tome Calder Jewelry, had pride of place, as did an early brass spiral necklace from around 1932 that was worn by Mary, the artist's daughter. Several more seminal necklaces were on view, including a rare example composed of hammered silver tabs and repurposed red cord (c. 1940).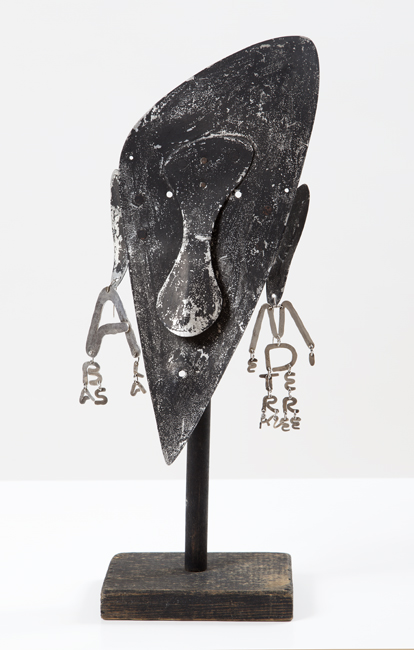 Linking artists can lead to engaging, insightful, and stimulating results. In 2011, American design maven Murray Moss commissioned British milliner Stephen Jones to create a hat for an 1827 marble bust of Lady Belhaven in the collection of London's Victoria and Albert Museum. It was intended for the actual statue's head, but needless to say, the museum wouldn't allow the sculpture to be compromised. Thus, the union was digitalized by Materialise, a Belgian firm, and rendered in epoxy resin through a 3D-printed copy that was installed alongside the original, balancing Victoriana with the up-to-the-minute. This alliance is jarring. It exploits the "wow" factor essential to a successful engagement while maintaining a cogent dialogue between the interfaced works. A symbiotic interaction between two artists was achieved not only by the comparable quality of the individual works, but also the compatibility of each object with its partner and the creation of a revelatory third entity through the union.
The frustration of Show and Tell: Calder Jewelry and Mobiles was that the works by such clever artists, for the most part, served as props. When Calder fabricated the masks to display his jewels, he perceived them solely as display apparatus, not necessarily artistic statements, while the members of this exhibition, working within their own theoretical frameworks, emerged conceptually hamstrung. When they viewed the jewelry simply as add-ons, the results were lackluster associations that didn't lead one to view either the jewelry or artworks in alternative ways, revitalizing one another, or offering new awareness. With some exceptions, the pairings came across as superficial gestures. Calder's jewelry might have been better served presented alone, leaving the other artists free to contribute more dynamic work.