During the last days of annus horribilis 2020, Lucy Sarneel died silently in her house in Amsterdam, too young at the age of 59.
Since I visited her last exhibition, PLUS (at Galerie Marzee), in October 2020, the accompanying booklet has been on my desk, looking at me, right next to my screen. It has that intriguing cut cross in the center of the pink cover—subtle, barely visible, sometimes the shadow makes it a star, sometimes I see a plus, more often a cross, knowing the beautiful dahlia behind it. Lucy's last exhibition is hushed, the world seems silent, roads cross, crosses curl, become flower, star, are thrown off balance. It shows her energy and zest for work that she still granted us this farewell exhibition despite her illness. Only recently did I hear that she cut all the crosses in the cover of the booklet by hand, while her energy was already waning. But she wanted to do it herself; that was how she was. She wanted everything exactly as intended.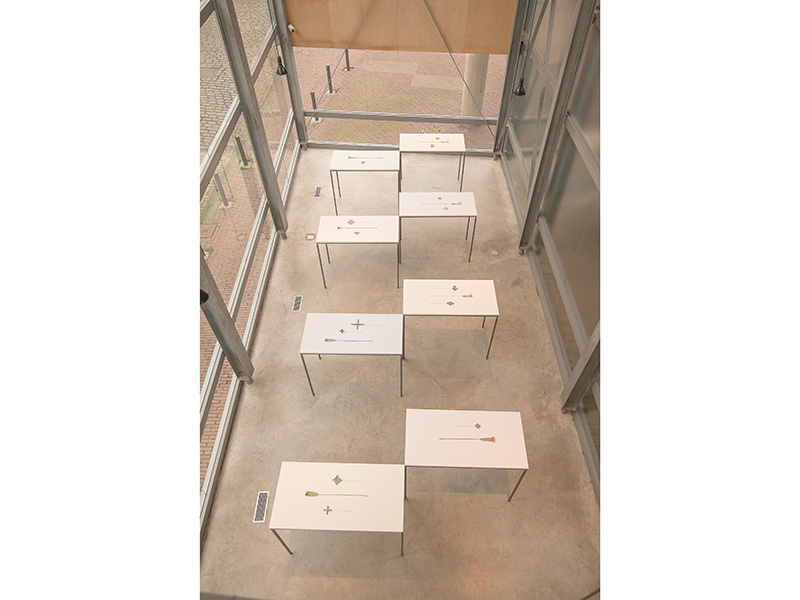 Everyone who knew her will remember Lucy as a beautiful and warm woman, an outstanding inspiring artist, a wonderful teacher, and always positive despite setbacks. Lucy taught for some years at the Gerrit Rietveld Academie, and from 2016 until 2020 at Alchimia, Contemporary Jewellery School in Florence; the last time she went to Florence was in the summer of 2020. Besides that, she was a guest teacher at various international schools. Like everything she did, she took teaching seriously and enjoyed dealing with young artists to the fullest.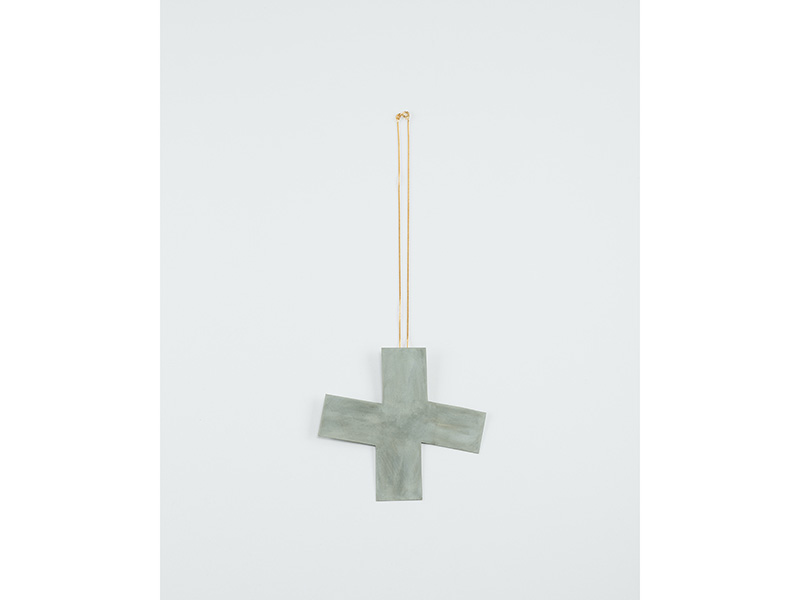 Her artistic handwriting was not only determined by her materials and use of color, but also by her robust designs—from her first sculptural objects to her last calm PLUS and Hang-On pendants. Her work was full of joie de vivre, with references to nature, flowers, gardens, corals, stones, folk art, and everyday things, a tub, spoon, car, ladder, or a daily offering simultaneously referring to a ritual and to city waste left on the sidewalk ready to be picked up for someone to use.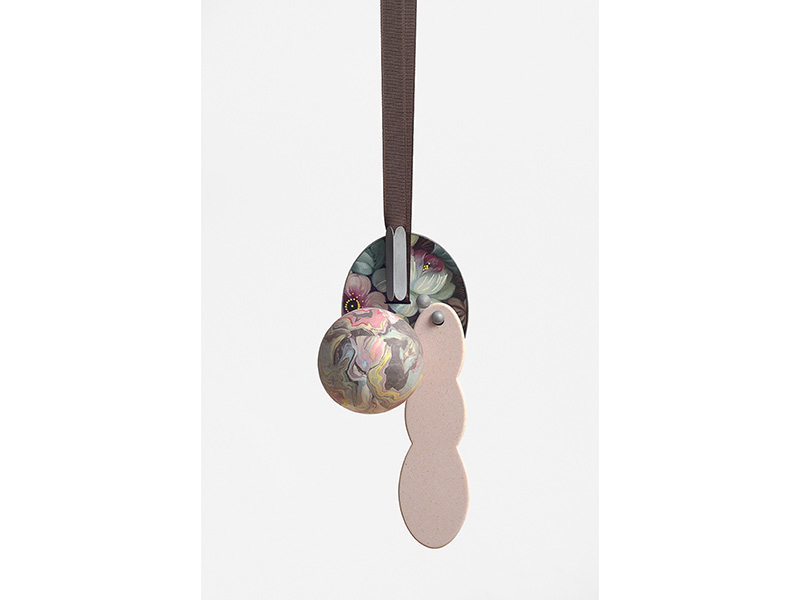 Things, everyday things, were a huge source of inspiration to her. In an interview with Meredith Turnbull, she talked about the discovery of the contents of an old sewing box when she was a little child. These revelations of objects from the past that have become obsolete but somehow still express their functionality are probably known to many people who are receptive to the outside world, cultures, and history, the way that Lucy was. By integrating objects in her jewelry, she wanted to connect past and present: "The past runs through the present and the present becomes the past in a flash of time."[1] However, it's not only the past but also other cultures at which we can look with the same amazed, though recognizing, eyes. Her studio is filled with remarkable everyday things, baskets, a small broom, fans, painted shells, and other odd things that she took from her journeys. Over the years she became more and more aware of the social life of things, and how her jewelry was part of this encompassing world of objects that can be used, handled, worn, and hung up to become part of your daily life. She hoped her jewelry would end up like this in people's lives and homes.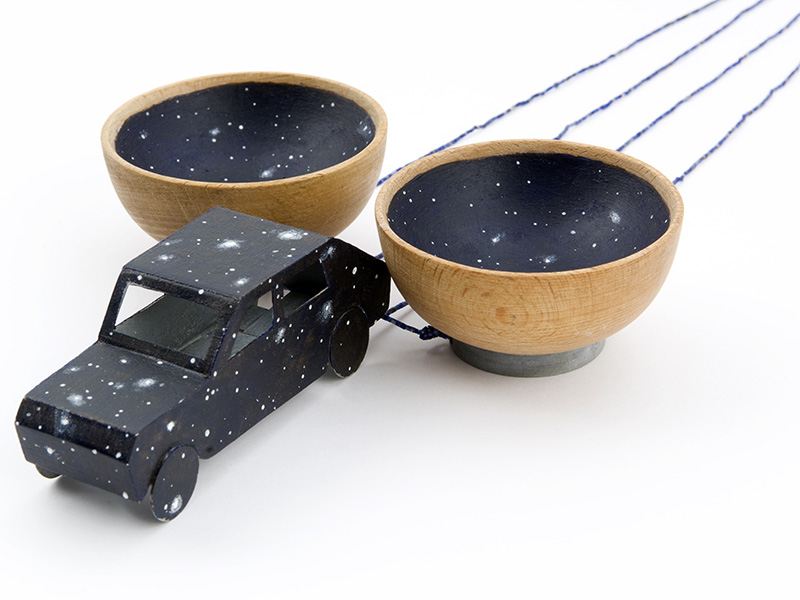 Lucy was modest; she didn't feel a need to compete with the male egos in the international jewelry scene. That honored her although it may have harmed her, too. Unlike other makers, she did not publish a striking monograph on her work. Instead, she made four booklets: Mind Flights (2002), Soulmates (2012), Private Territory in Public Space (2017), and Plus (2020). They were made entirely in-house, expressing her sensitivity to material (in her choice of paper), color, and composition. These were not grand overviews, nor monographs, but intimate editions in which her husband, Jelle Kampen, played an increasingly important role as a writer about her work.
Born in the southernmost city of the Netherlands, Maastricht, and raised in a small village close by, Lucy started her studies in 1982 at the Academy of Arts in Maastricht. The education she received there was rather conventional, if not old-fashioned. Although goldsmithing was magical in her view, after some years she knew the skills and there was nothing more to learn—at least not in Maastricht. Lucy wanted to work on a larger scale in a more liberal climate. And so she enrolled in the jewelry department of the Gerrit Rietveld Academie in Amsterdam, which was led by the famous Onno Boekhoudt. Lucy had seen his work in different exhibitions, for instance at Gallery Ra, and had come under its spell.
The situation in the Amsterdam jewelry department was totally different from that in Maastricht. Boekhoudt was focused on making objects, interested as he was in the sculptural potential of the discipline. Making jewelry was not done at the department. The atmosphere under the regime of Boekhoudt and sculptor Ger Zijlstra was quite rigorous. In her third year in the department, Lucy resolutely told her teachers that she wasn't interested in their crits anymore. From that moment on, they ignored her, but Lucy could do her own thing.
In this period, she learned that she was good at creating atmospheres, contexts, and environments using painted walls and floors, and that she wanted to make objects and jewelry—either this, or that she felt was too one-sided. Later on, she discovered that she could actually combine object-making and jewelry. Also, her need to apply figuration became clear at that time. Her graduation work included some objects with recognizable elements, such as a house with a steep roof, stairs, and wings.
Lucy wanted to communicate with her work, and she literally expressed this in some of her early jewelry, where there is a suggestion of writing by using many layers of wafer-thin paper that could hold stories. The titles, such as Memories (1990) and Spelled Sentences (1990), also refer to writing and storytelling. Figuration, symbolism, and narratives were the tools closest to her heart, and they turned out to speak a universal language—something she was looking for.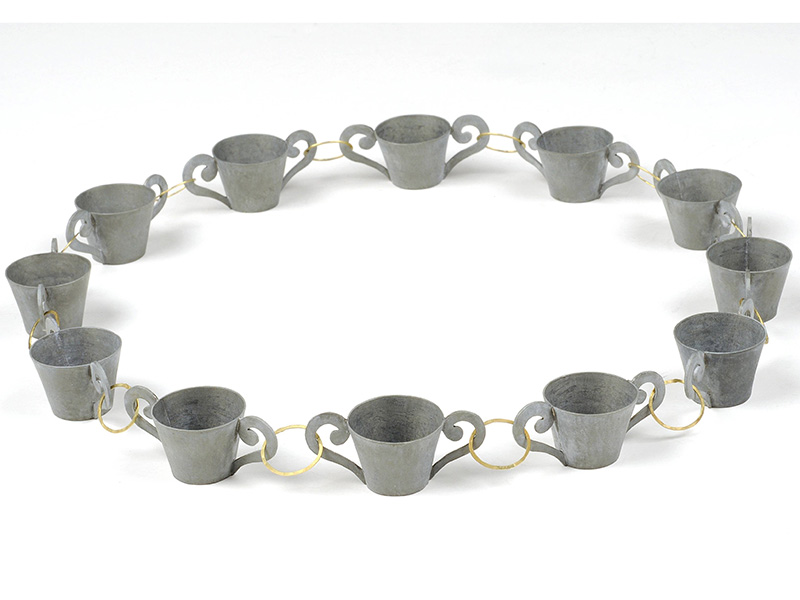 Using this visual language was quite a daring thing in the Netherlands of that time. Although around 1990 the sharpest edges of modernism had been buffed off, and the most fundamental discussions about the appropriate design (abstract) and material use (industrial) had disappeared, Dutch jewelry was still characterized by a rather rational and cramped attitude. At the Museum Het Kruithuis, in Den Bosch, director Yvònne Joris (1950–2013), inspired by her American journeys and connections, tried to introduce other views on jewelry to the Netherlands. In 1991, her exhibition Beauty Is a Story brought together 14 American and European storytellers in jewelry, including Manfred Bischoff, Daniel Kruger, Kim Overstreet & Robin Kranitzky, and Joyce J. Scott. Lucy was one of only two Dutch jewelers included in the show. In a newspaper review of this exhibition, I wrote: "The period of austere, sleekly designed abstract jewelry in aluminum, plastic (…) now seems to be closed for good." And about Lucy: "Lucy Sarneel's work is far removed from that of many of her colleagues in the exhibition. Her formal language and use of materials are sober and put into perspective. She gives the public space for their own interpretation and even supplementation. You could put something in the box-like shapes on some necklaces, you could write something on the blank papers of Spelled Sentences. The links made of rolls of paper, in yet another piece of jewelry, suggest a story, a text. Pleasant about her work is the absence of technical virtuosity or the pursuit of perfection. She does not need it; her works stands up well in the midst of the abundance of the others."[2]
Forced by the atmosphere at the jewelry department, Lucy only started making jewelry after graduating. Interestingly, she soon started exploring jewelry's symbolic meaning, as a sign of power. Her first piece of jewelry was the necklace Desideria. The robust object consists of four steel crowns, divided by 16 tubular beads made of paper rolled in lead. This reflection on the power of jewelry was acquired by Museum Het Kruithuis (now Design Museum Den Bosch) early in Lucy's career.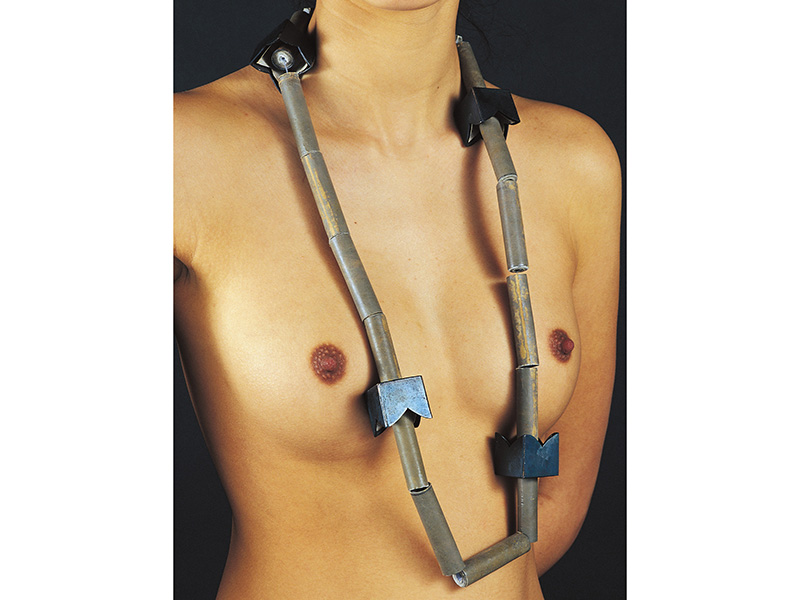 For some years, Lucy found inspiration in the Renaissance and in historical jewelry typology such as insignia of knighthoods, badges of honor, and chains of office. Yet she always put these in perspective, as exemplified in her beautiful Crafts Chain (1993). This chain combines Lucy's love of objects and jewelry. The chain is an ingenious constellation of handmade objects: a hatchet, compass, plumb bob, French curve, and ruler, connected to a simple golden chain with thin round links. During this period, she created the first settings for her jewelry, such as the Badges of Distinction (1991–1992), with their symbolic brooches kept in a zinc cabinet, responding to reproductions of Renaissance portraits. Later she made other settings, such as boxes for steel flowerlike brooches (around 2000) and wall objects for hanging a necklace (around 2008).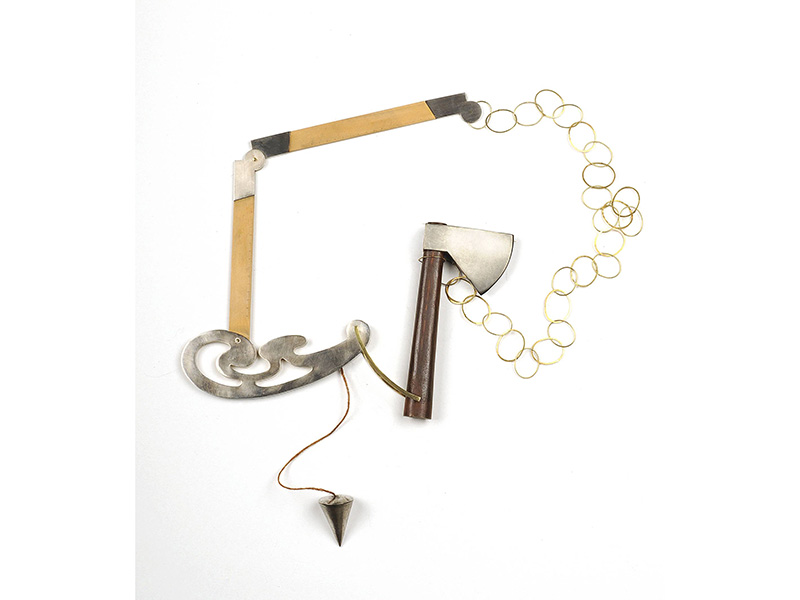 Although Lucy was already using zinc in 1990, she also used rust-colored steel, polished steel, gold, and silver, but by 1997 zinc had become a predominant material in her work. Early on, she explained her love of this material for rather symbolic reasons: "It is a protecting material, used in construction for roofs, and also to protect steel from corrosion. It is also in your body as a mineral and there it helps with respiration."[3] However, around 2009 this symbolic meaning had become less important to her; now her attraction stemmed more from its lively grayish color, come about through a special treatment she had developed, using etching, milling, and acids. The material is silver-colored, but without shine, without luxurious connotations, not jewelry-like, rather everyday-ish. But isn't the everyday universal? The material gave her freedom precisely because it isn't associated with luxury and value. There's a gloom in it, but Lucy could render the material lively like the glinting sea or the Dutch cloudy skies. She called it: "..a gloominess full with a zest for living."[4] The zinc offered a perfect ground for colorful additions of beads, painted surfaces, and patches of antique textiles.
Textiles entered Lucy's work around 2003, when she became interested in the diminishing folk cultures of the Netherlands. By buying and using old fabrics, she wanted to dwell on this vanishing. Once our country was rich with a variation of regional costumes, which varied from province to province (Friesland to Zeeland), from village to village (fishermen to agricultural), and from religion to religion (Protestant to Catholic). Textile was an important part of regional costume, and Lucy became very interested in fabrics from the fishermen's island of Marken, near Amsterdam. She collected fabrics and started using them in her jewelry, inspired by the knowledge that textile and needlework were important facts of life for women in the past. Creating parts of the costume, fixing and embellishing them, combining fabrics, and making something beautiful—it was all part of their daily life. There were special costumes for specials days such as Pentecost and Queens Day. Weddings (the official notice of marriage, civil marriage, and religious marriage) and mourning (deep, half, and light mourning) had different stages expressed in clothing, embelishments, and jewelry. Lucy considered the fabrics, embroideries, ribbons, and small tassels of knotted yarn or beads as jewelry. When she was preparing new work for the exhibition Gone with the Wind, in 2008, she wrote about these decorative details: "Small jewels of symbolism of the different stages of life: homemade and embroidered expressions of the spirit of life."[5] In 2016 she added a new and impressive chapter to this body of work when she was invited by an artists' collective to participate in a project called The Spakenburgse Diva's. The objects Lucy made for this project are outstanding proof of her imagination and her ability to cross boundaries by making objects that can be worn.[6]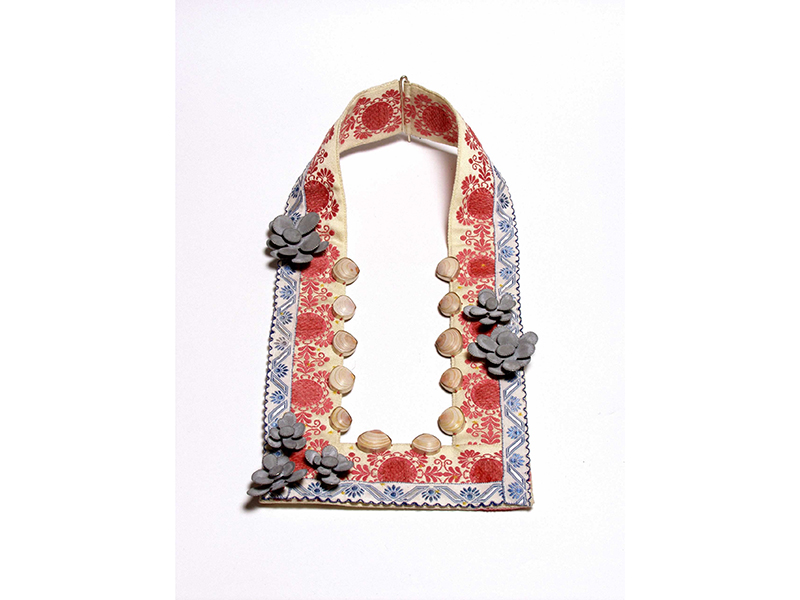 Lucy was very clear about how her work should be understood. She could be critical—also toward herself. It had to be pure and stay pure; she had already learned that from home (her father was a painter and sculptor). She could talk nicely about the spark, the magic behind the workbench, and how it came from deep within herself. She loved to see things grow in her hands, to do everything herself—the monk feeling, as she called it. When Lucy talked about her work, it was about energy and about her lengthy work process that may have gone against time, but she found that all the more interesting. She said about the craftsmanship of her work: "It is important that I put so much attention and concentration into it. You give a certain energy to a thing. You can see that a lot of work has been done on it. It is richness, fullness, individuality. It's about the thing becoming a being, it's going to talk back. You are still working on it but the thing becomes its own, it talks back. It is like the process of life: being receptive to what is coming your way, building up and letting go."[7] Lucy was building until the very end. She was already seriously ill when she installed her last exhibition, PLUS, together with Jelle, in October 2020. After that she got even sicker, more miserable, but letting go took a lot of effort.
A quotation from Jelle's text on the funeral card: "Lucy discovered that a cross, usually marking the end of life, meant so much more. So, plus: merge, but also upgrade. Elements that really applied to her life. To bind, join, add, positivism, extra, all meanings of a cross or a plus."
Lucy gave us a lot: beautiful and inspiring jewelry, and wonderful ideas about materials, making, decorating, embellishing, and objects.[8] When I open my drawer with jewelry made by Lucy, it radiates and invites me to touch it. Each piece has a story and I treasure the small gifts she gave me, just as I treasure our conversations in her studio or elsewhere, always warm, interested, and engaged. I will never forget her radiant smile, which I encountered so often over the decades. She was such an integral part of the Dutch (and international) jewelry scene. How we will all miss her. Her jewelry will continue to remind us of her boundless energy—a gift she left us forever.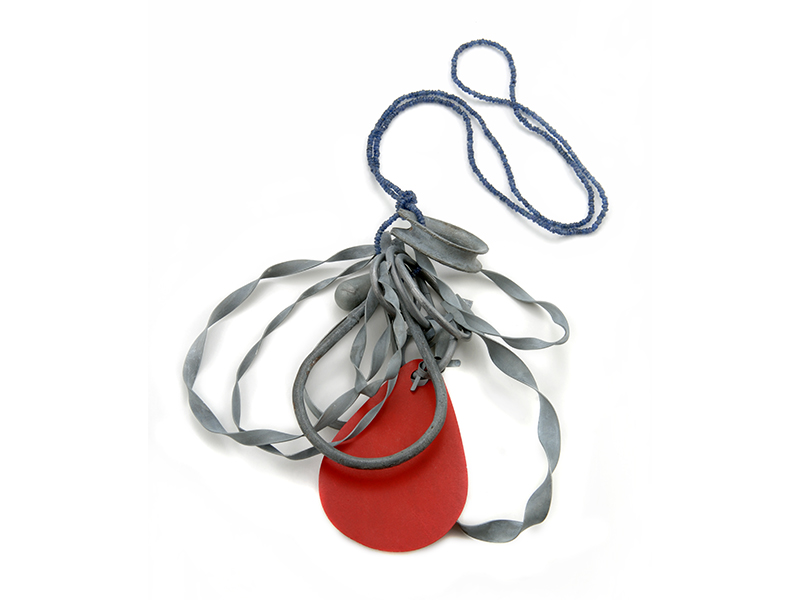 My thoughts are with her husband, Jelle Kampen, and their daughters, Niki and Anna.
---