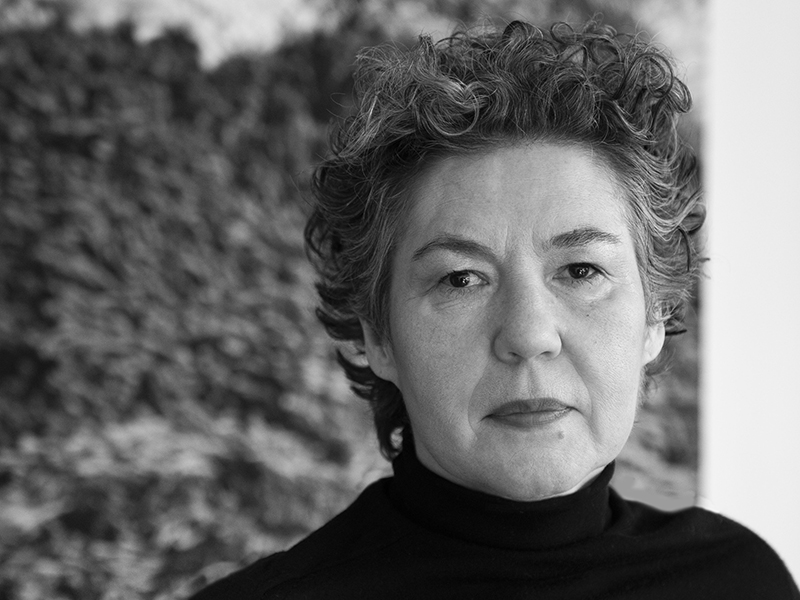 San Francisco, California, USA—Art Jewelry Forum (AJF) is pleased to announce that the largest art jewelry cash award in the US, the Susan Beech Mid-Career Artist Grant, has been awarded to Iris Eichenberg, known as an ambassador for her field and for her teaching, lectures, and workshops at renowned art schools and programs. The two finalists for the award are the Brazilian maker, educator, researcher, and writer Ana Passos, and the Dutch historian Esther Doornbusch.
The grant will support Iris Eichenberg: Where Words Fail Me, a mid-career retrospective that will present some 40 works documenting the German artist's development from her groundbreaking 1994 graduation show at the Gerrit Rietveld Academie onward. The retrospective will be exhibited at the Museum of Craft and Design, in San Francisco, in 2022, and will include key examples of jewelry, objects, and installations, some of which have never been seen in the US, alongside several new statements created specifically for this show. A 40-page, fully illustrated catalog with contributions from Ben Lignel, Davira Taragin, and JoAnn Edwards will accompany the exhibition. Eichenberg will receive a cash grant of $20,000 to produce the project.
Eichenberg heads the Metalsmithing Department at the Cranbrook Academy of Art, in Bloomfield Hills, MI. Her work is in the collections of the Cooper-Hewitt, the Museum of Arts and Design, the Rijksmuseum, the Metropolitan Museum of Art, the Stedelijk Museum, Schmuckmuseum Pforzheim, the Fonds National d'Art Contemporain, and the Museum of Fine Arts, Houston, and held by private foundations including the Stichting Francoise van den Bosch and the Rotasa Foundation. Eichenberg has also received awards from the Netherlands Foundation for Visual Arts, Design and Architecture, the Amsterdam Fund for the Arts, the Herbert Hofmann Prize, the Gerrit Rietveld Academy Award, and the European Ceramic Center in Den Bosch.
The distinguished jury for the Susan Beech Mid-Career Artist Grant consisted of grant founder and jewelry collector Susan Beech (United States); internationally recognized maker and academic Daniel Kruger (Germany); and curator Emily Stoehrer, the Rita J. Kaplan and Susan B. Kaplan Curator of Jewelry at the Museum of Fine Arts, Boston (United States).
Susan Beech: "Iris has done it all in her 30-year career: an innovative jeweler, teacher, and mentor. She has moved the field forward in so many ways and is richly deserving of this award."
Dr. Emily Stoehrer: "Eichenberg is a recognized leader in the field of art jewelry. This project celebrates her career and immortalizes her achievements through a museum exhibition and publication. The work's exhibition in a design and craft context further elevates it and contextualizes it outside the field of art jewelry, thereby expanding its impact."
Daniel Kruger: "Eichenberg has an overwhelmingly impressive oeuvre. There is a great humanity in her work … enabling one to engage with the works on many different levels, intellectually and sensually, cross-culturally. The retrospective exhibition … really should travel."
JoAnn Edwards, executive director of the Museum of Craft and Design, which will hold Eichenberg's retrospective exhibition: "Iris Eichenberg's influential role in the field of contemporary jewelry, metalwork, and conceptual art, combined with her fearless approach using non-precious materials and unfolding issues of gender and identity, places her squarely at the Museum of Craft and Design's long-standing core beliefs. We are thrilled to present this first comprehensive and moving mid-career survey honoring Iris Eichenberg."
Iris Eichenberg: "An award is like a hug given to your work, and in these times of COVID we know how badly we are impacted by the absence of hugs. How our bodies turn inside and stiffen. A mid-career award when you are 55 and enduring COVID is even better, thank you!"
The objective of the Susan Beech Mid-Career Artist Grant is to recognize a mid-career artist who has made a substantial contribution to the field and to provide resources for the artist to develop and implement a significant jewelry-related project that s/he would not otherwise have the ability to undertake.
About AJF
Art Jewelry Forum is a nonprofit organization spreading awareness and increasing appreciation of art jewelry worldwide since 1997. Its diverse community of artists, collectors, critics, educators, galleries, historians, makers, and writers is united by a passion for art jewelry. AJF advocates for art jewelry through an ambitious agenda of education, conversation, and financial support. It commissions critical writing that sets the standard for excellence in the field, and publishes artjewelryforum.org, an Internet resource for original content on art jewelry.