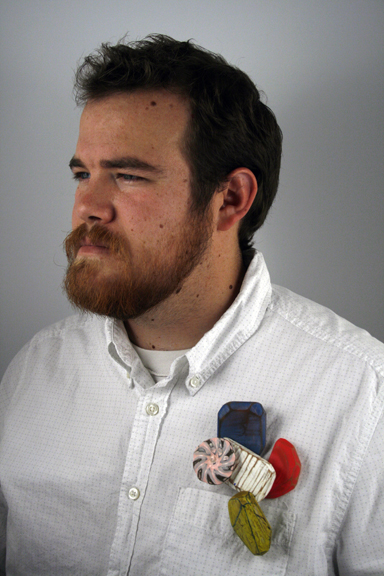 For me, the shift came when I began electroforming vessels rather than hammer-forming them – and spray-painting rather than enameling, due to structural problems and kiln-size limitations. From there, it was only a matter of time before the metal itself became secondary to any material that might solve the problem. Knowing that I would soon be out of the academic context and setting up a studio in my home only hastened the transition. This puts the death of my 'metalsmithing' career somewhere in the fall of 2007, when I finally traded electroforming for foam and composite resin. Oh, I may dabble in copper still, fabricating elements for the foam and composite resin pieces, but I tend to bury them under layers of paint and epoxy resin to the point of being unrecognizable. I am very aware that this is a decades old debate in our field and that jewelers working in alternate materials have been well accepted. But again, the language we use in our field – and what is chosen to be held up as the shining example – can be a powerful tool to marginalize that work which still falls outside of metalsmithing.
As a result, the last couple of SNAG conferences have left me with a strange, disassociated feeling. Thankfully this year there were a few shows and many notable jewelers who've also decided to stop worrying about neat little linguistic lines and just make challenging work. Transmutations: Materials Reborn, curated by Susan Kasson Sloan and shown by the Houston Center for Contemporary Craft, featured work in plastics, though I didn't know this on my first round. The work spoke more to me about form, color and experimentation than of what we tend to expect with the word 'plastic.' Any exhibition that typically addresses 'new' materials
– and in particular plastics
– tends to look like someone raided the costume department of some low-budget sci-fi movie, but without all of the camp and whimsy that might actually make it palatable. Here, there was new work from personal favorites Natalya Pinchuck, Masakoi Onodera and Masumi Kataoka. There were also many artists I wasn't yet familiar with, like Lin Stanionis, Rebecca Hannon and Susanne Klemm, whose work I'd either never gotten to see in person or had simply never encountered, which was such a wonderful surprise at a SNAG conference.
With regard to current student work, only a few jewelers have stayed with me. This doesn't mean that the student work this year was necessarily uninteresting, simply that I had become so oversaturated I've come to notice the names that didn't shake loose with time. These two students – Rachel Timmins who is a graduate student at Towson University, Maryland and Nick Mullins, a graduate student at the University of Illinois, Champaign-Urbana – were not only a nice change from the current, frenzied mining of historical ornament, but also a break from the dry, humorless, autobiographical work that seems to be the loudest counterpoint on offer. At Extremities: Exploring the Margins of the Human Body, juried by Andy Cooperman, I found two pieces by Rachel Timmins: I Want To Be A Gold Lobster With Blue Puffs and I Want To Be A Unicorn. Both pieces were exhibited with photographs to show how they looked when worn – of particular importance for her work, given how both were activated on the body, highlighting their absurdity. Rachel's work is fun as well as fearless, proving that the two aren't mutually exclusive and her use of textiles and metal interchangeably speaks to her commitment to her work over material loyalty. Nick Mullins had several pieces in No Boundaries, the SNAG juried student exhibition at the Glassell Junior School Building at the Museum of Fine Arts, which was juried by Brigitte Martin and Lena Vigna. Nick's work is clumsy in the best way – the forms are large and awkward, hacked from wood and other found materials. Treated roughly, they come off feeling urgent as if they were made in a sort of frenzied play session resulting in objects that are fun and self-effacing.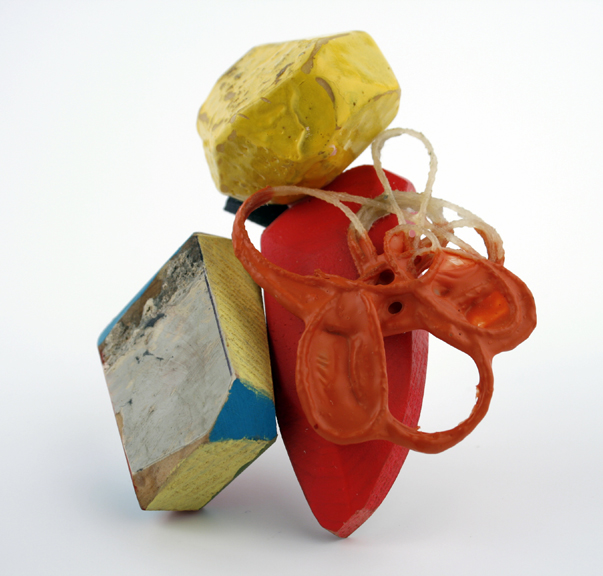 So where does this leave me in terms of my identity crisis? What do I have left to identify with and what is lost to me? Handwork and the inception of a tactile object is still a source of solidarity for us as makers, even when some of us feel wholly removed from the vast majority of work being made. To be situated in a place between definitions, ahead of language as it struggles to keep up, can be a very satisfying thing. Though I may never be able to fully explain what I do for a living to a casual acquaintance on a bus ride or in an elevator, there's something exciting about that striving to encapsulate what is happening with contemporary jewelry making. The nebulous state we find ourselves inhabiting can be frustrating, but change is a beautiful and messy thing. You only need to look at the current political climate for a gross magnification of our field's current polarized state. Paradigm shifts aren't just inevitable, they're necessary.