Beauty of the Beast
January 24–May 10, 2015
Museum Arnhem, Arnhem, The Netherlands
Taxidermy—the process of skillfully conserving dead animals or pieces of animals—is a difficult theme for any art form to tackle because of the obvious emotional, political, scientific, and environmental issues it brings up in this century. Pets, industrial farming, wearing fur, genetic manipulation, depletion of nature, and the diversity of species (bye-bye, bees!): this long, sad list reflects the ambivalent attitude of humans who wield destructive power while professing a great admiration for beasts.
Curator Eveline Holsappel structured the show along three rooms. "Curious creatures" is set up as a 19th-century Wunderkammer; "Serene beauty" displays jewelry in glass cases; and "Fables and fantasies" holds large-scale installation works. A fourth central space contains the huge sculpture Gyre by Kate MccGwire.
The recent comeback of taxidermy since its heyday in Victorian times is dominated by female artists. There is a switch from testosterone-laden manifestations of the "trophy kill" to empathic and provocative sculptures and jewelry adressing controversial issues. In 2004, Dutch artist Tinkebell's handbag My Dearest Pinkeltje, fabricated out of the fur of her cat—which she allegedly had killed herself—caused a tsunami of hate mails from animal lovers. Tinkebell's work addresses the maltreatment of animals by the meat industry; the controversy it caused led to discussions in Dutch parliament. Reid Peppard's Double Rat Headdress, Rat Coin Purse, and Fox Handbag show dead animals in painfully contorted poses, but set up in functional pieces. The earliest jewelry in the show—a set of earrings from 1890 with stuffed hummingbird heads cast in resin—find its contemporary counterparts in Märta Mattsson's brooch Beetle Juice and the Salamander Bracelet by Ted Noten: enshrinements in resin and acrylate!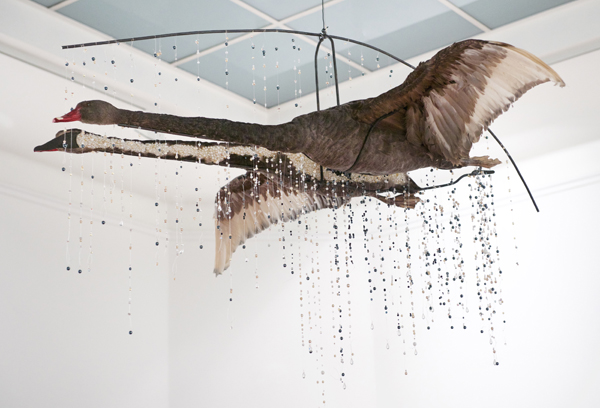 A sharp contrast to the many colorful and intricately worked pieces is the deadpan honesty of Lisa Walker's Necklace, a sheepskin with a hole cut into the middle. It shows the pure beauty of animal material in an archaic form dating back to the origin of the human race. Displayed in a glass box inside a museum, it underlines unintentionally and ironically how far we are removed from our natural habitat! Cecilia Valentine's necklace Fur Is Alive is a 3D-printed tubular cage with a mouse running around inside when worn. The piece is equally eloquent in its message without needing any extravagant embellishments.
Attendees wore some strikingly powerful pieces to the opening. A local designer wore a tight necklace of shiny, white, symmetrically arranged birdskulls on a black fur background. They looked like 3D-printed objects but were real skulls that had been painstakingly collected at her parents' farm. It celebrated the circle of life with this resurrection as jewelry. Tangled into blond hair at the right side of a beautiful face sat a lifesize bird hairpin. It evoked the iconic, terrifying scene of Tippi Hedren being attacked by seagulls in Hitchcock's movie The Birds. When they trigger these flashes of recognition, dead animals are fascinating adornments.
A synergy occurs when beasty jewelry is worn on a living body. In that instant, fascination, compassion, and fear prove to be a powerful concoction. We seem to be the masters, at liberty to wear them as trophies, but we are intricately, fatefully, and by nature's laws bound to our fellow beasts. In my mind's eye, I picture the mighty Gyre sculpture by Kate MccGwire winding through the living hell of an animal-testing lab of the pharmaceutical industry. I see Märta Mattsson's insects and the flock of transformed birds by Julia de Ville; the Idiots; Benjamin Lignel and Kelly McCallum's birds perched on eroded tree stumps in a cut-down Amazonian rain forest. The Arnhem exhibition addresses issues and conjures up many associations: Dare yourself to go.