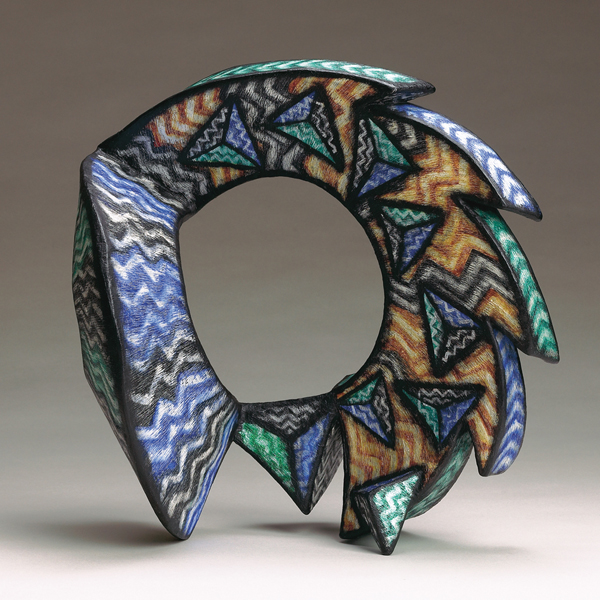 Marion Fulk: I understand that the jewelry you donated, called Gifts From America, was part of a larger overall exhibition celebrating the 250th anniversary of the Hermitage.
Helen Drutt: Initially, allow me to correct a misconception—I did not donate all of the gifts to the State Hermitage Museum Foundation. Gifts From America is part of a larger program sponsored by the Hermitage Museum Foundation (USA). In this particular instance, the exhibition bearing this title was drawn from gifts donated from my family collection as well as from patrons and artists in celebration of the 250th anniversary of the State Hermitage Museum. The gifts included works in all media—jewelry among them.
What other collections were on view at the same time?
Helen Drutt: Other special exhibitions which opened at that time were Dada and Surrealism, from the permanent collection of the Israel Museum, Jerusalem; Francis Bacon and The Art of the Past, in cooperation with the Sainsbury Centre for Visual Arts, UK; Gifts to the Czars (permanent Hermitage collection); and a major impressionist collection drawn from the Shchukin and Morozov impressionist and post-impressionist collections, now in the Hermitage. Selected works of jewelry from the Hermitage collection, which included recent contemporary acquisitions of Bruno Martinazzi and Friedrich Becker, were also on view. Other exhibitions drawn from the Hermitage collections included the relocation of their permanent collection of Matisse paintings… all of the modern and contemporary works were housed in the General Administration Building on Palace Square, which had been redesigned by Rem Koolhaas, a distinguished Dutch architect.
How was this exhibition born? What is the backstory of how an American educator/collector/dealer arranged for an exhibit in Russia?
Helen Drutt: I was invited to deliver two lectures in December 2012, following the visit of the chief curator to my Philadelphia home. After the lectures, Dr. Mikhail Piotrovsky, director of the Hermitage, requested a meeting. During that time he informed me that his curator wished to exhibit my dining room as an example of American studio furniture after the Second World War. Remember, there is an embargo on loans between American and Russian museums. But loans from private collections are permitted. In addition, the discussion led to the applied arts department, which would like to embrace the 20th and 21st century. I suggested that I could acquire two or three donations. Never did I expect it to become an initiative that contained 74 objects. The curator and I banded together. I am essentially an educator and I tracked the provenances for the museum; Matthew Drutt served as coordinating curator since his Russian is fluent. Together, we installed the exhibition.
How many pieces are in the show? Who is represented?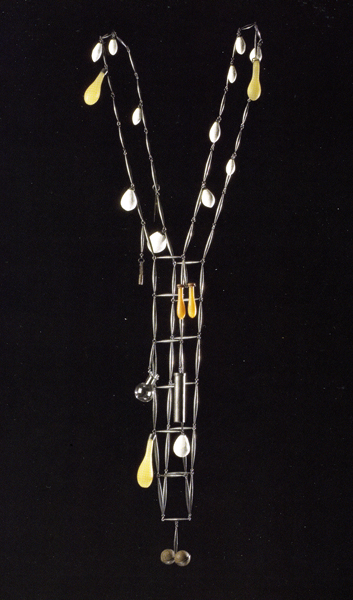 Helen Drutt: There are 74 works in the exhibition, donated by 43 patrons and artists. Artists represented are as follows:
Jewelry
Giampaolo Babetto, Gijs Bakker, Jamie Bennett, Helen Britton, Doug Bucci, Sharon Church, Georg Dobler, Sandra Enterline, Kyoko Fukuchi, Elizabeth Garrison, Toni Goessler-Snyder, William Harper, Kim Overstreet and Robin Kranitzky, Nel Linnsen, Kadri Mälk, Eleanor Moty, Breon O'Casey, Ritsuko Ogura, Judy Onofrio, Pavel Opocensky, Joe Pillari, Debra Rapoport, Marjorie Schick, Olaf Skoogfors, Peter Skubic, Art Smit, Vaughn Stubbs, Giorgio Vigna, J. Fred Woell, Nancy Worden
Hollowware
Helen Shirk
Furniture
George Nakashima
Ceramics
Jill Bonovitz, Mark Burns, Nancy Carman, Claudi Casanovas, Anne Currier, Val Cushing, William Daley, Viola Frey, Wayne Higby, James Makins, Graham Marks, Judy Moonelis, Walter O'Connell, Rudolf Staffel, Robert Turner, Paula Winokur, Robert Winokur
Textiles
Françoise Grossen, Ted Hallman, Lewis Knauss, Rise Nagin, Michael Olszewski, Warren Seelig, Deborah Warner
Did other collectors and artists donate pieces to the show, or were they all purchased by you?
Helen Drutt: It was a serendipitous collective effort achieved via the casual conversations and chance that embraces artists and private collectors.
Is there an overarching concept behind your choices? What themes were you focusing on?
Helen Drutt: There was no theme… Quality was the essential core of the collecting and acquisition process. These works would enter the permanent collection of one of the world's major institutions and establish a standard for the modern and contemporary collection to develop in the future.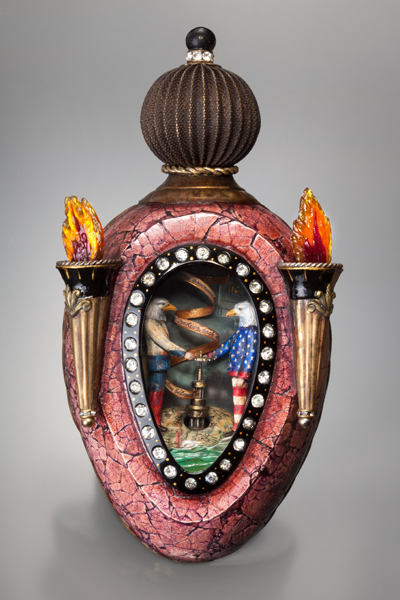 Are some or all of them being donated to the museum? How many will be staying in Russia?
Helen Drutt: All of the gifts will remain as part of the State Hermitage collection and constitute an entrance of 20th–21st century applied arts into the department.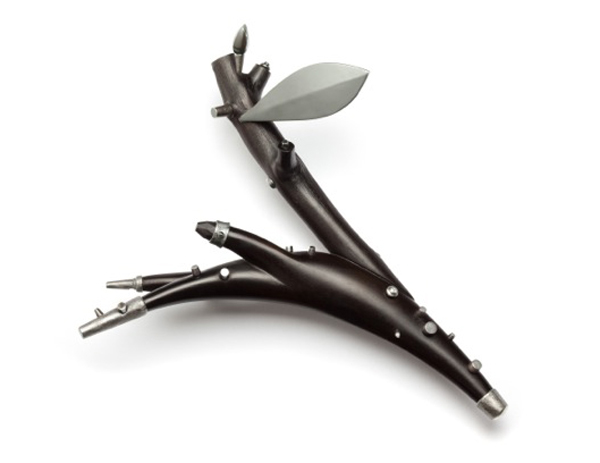 Helen Drutt: Of course I am concerned with human rights violation—however, as you know, one of my primary interests is in facilitating important works in our field into the permanent collections of major institutions throughout our world.
The Gay, Lesbian Film Festival was held in our hotel during the second night of our residence. There was an enthusiastic and welcoming audience. In addition, many of the artists and arts administrators whom I met were not heterosexual—there was, throughout, a congenial atmosphere.
Gifts from America celebrates the hand and the survival of the creative spirit in a mechanized society. Russia and America are two countries at opposite ends of the globe whose relationship can be nurtured by ensuing dialogue. Mutually curious and respectful of each other's achievements in art and culture, our nations can further their relationship through an exchange of political, social, and cultural events. We can only hope that the artworks offered here serve to further our common goal of realizing world harmony.
When did the show open, who attended the opening and how long will it be on display?
Helen Drutt: The exhibition dates are December 2, 2014–March 8, 2015. The American Ambassador John F. Tefft travelled from Moscow, and countless artists and students in our field also travelled from Moscow to attend the opening and to participate in planned panels. Curators from Great Britain and the USA (Metropolitan Museum of Art, National Gallery of Art, Wash. DC who travelled for the 250th celebration made private appointments to review "Gifts From America."
Are any related or companion shows planned?
Helen Drutt: There are two exhibitions under discussion for the future. The current economic climate may delay their fruition.
Will this show travel to any other museums after it comes down at the Hermitage?
Helen Drutt: The exhibition will not travel.
Thank you.