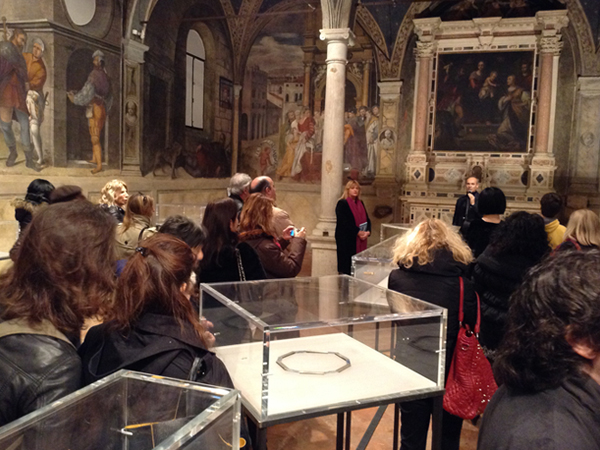 Bianca Lopez and the Jewelry Art and Design of Manhattan
March 26–April 26, 2015
Oratorio di San Rocco, Padua, Italy
Who says that tradition and novelty can't stay together?
This exhibit could somehow be proof of a good neighborly relationship between two apparently contrasting realities and, in my opinion, a very good opportunity to show by example how some schools—such as the Bianca Lopez school in New York—are involved in the complex process of bringing up and fostering young designers in order to tie art to fashion and to business.
What impressed me more, when I received the invitation, was its fashion idiom. The image chosen to advertise the event was extremely appealing and funny: an "irreverent" model, chewing gum with an open mouth, flaunts colored crystal jewels as if to say, "I am proud to be so fashionable!" (The catalog speaks the same visual language.) Such a provocative statement led me to expect a different kind of setting up and organization, something Padua had never experienced. I was thrilled about this.
I also knew the exhibition would take place at the Oratorio di San Rocco in Padua, and the sharp contrast between the (antique) location and the exhibition theme was an additional tease. The building, which is situated in the historical center, was decorated between the early 1500s and 1542 with a cycle of fresco paintings by two artists from Padua, Gualtiero Padovano and Stefano dall'Arzere, both followers of the style of Domenico Campagnola. The floor-to-ceiling depictions (landscape scenes, domestic interiors, architecture, and grotesque decorations) and the high wooden ceiling provide an—almost overbearing—environment for contemporary exhibitions. Because of this, the Oratorio is a regular—and highly prized—destination for contemporary jewelry exhibitions.
Nearly one year ago Bianca Lopez teamed up with Alberta Vita—a designer from the Padova goldsmithing school (Istituto Pietro Selvatico), a pupil of Francesco Pavan, Giampaolo Babetto, and Giuliano Reveane, and one of the Bianca Lopez school's teachers—and started talking about rocking the boat in a provincial city like Padua. The challenge was to bring a breath of fresh air to the city, to show their Italian counterparts how lively the American jewelry scene is, and, above all, to promote their strategy for building effective bridges between school education and professional careers. Padua, once famous for its Gold School, is now in the grip of a dreamy indolence occasionally ruffled by dedicated jewelry events. This would have been a precious occasion to show how things are going abroad, how many opportunities young designers have, how convincingly strong the bond with the fashion world can be. This, at least, was the theoretical plan.
The Bianca Lopez Studio of Jewelry Art and Design in Manhattan welcomes anyone—from beginners to advanced students—and puts equal emphasis on teaching its students the craft of jewelry making and the skills to develop their own business as jewelry designers. The school was founded by Bianca Lopez in 2009, and her background may explain the importance given in the curriculum to business development: Lopez received her education from both the Parsons School of Design and the Fashion Institute of Technology and then went on to train with a host of prominent American designers such as Sandra Boucher, Maurice Galli, Anthony Lent, William Manfredi, and Omar Torres, design director of Van Cleef & Arpels, Bulgari, and Elsa Peretti. (She also apprenticed with jewelry artists such as Cecilia Bauer, Valentin Yotkov, and Fred de Vos.)
At the school, in addition to the classes in which Bianca Lopez and other instructors teach technical skills, the students can benefit from individual business incubator programs. What is provided depends on the specific needs of each artist or designer: This may concern advice on strategic planning for new and ongoing businesses, collection evaluation, design development, sourcing materials and manufacturers in the US and abroad, creation of budgets, pricing lines, identifying the market, finding new markets, identifying specific retailers, marketing plans, ad campaigns, social-media marketing, press work, sales representation, and one-on-one advice. Students can approach jewelry either the conventional way, and target the art jewelry gallery system, or look for representation in luxury goods store around the world. The philosophy underneath is incredibly complete and, if compared to an Italian education system that is disconnected from market and job connection, can reasonably be billed a model to be followed.
These were the main points on which the exhibition was going to be built up. Curators Alessandra Possamai Vita, Bianca Lopez, and Alberta Vita originally conceived the event as a provocation: a Harley-Davidson would be set in front of the altarpiece of the Oratorio di San Rocco, straddled by a lady biker wearing a Peppercotton T-shirt. Beautiful models would directly present the work to visitors. High-tech showcases, panels with fashion shots of jewels … in short, a scenography built around the contrast between the overbearing frescos and the contemporary jewels.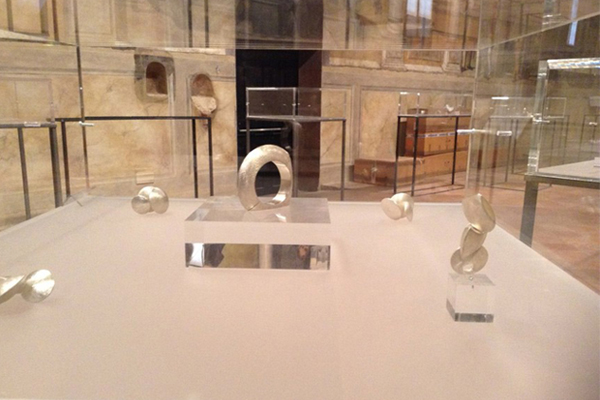 Well, things often don't go the right way. The three women in charge of the event had to downscale their ambition. The Municipality of Padua only provided very limited funds for the event (they eventually had to shoulder some of the costs themselves), and when I finally arrived in front of the Oratorio, full of expectations, I got a big slap in the face.
After having overviewed the room it was clear to me I was in front of a very "traditional" exhibition. I couldn't believe it. The first impression was such a disappointment. I didn't get what the invitation promised, I didn't even see the exhibition advertised (the exhibition poster was not ready for opening day).
On display were approximately 100 artworks by eight designers, seven of them trained by Bianca Lopez in the last 10 years. The designers selected by the curators were chosen for their acquaintance with fashion and, except for Peppercotton, which actually follows fashion's seasonal model and distribution network, all were meant to somehow bridge the gap between contemporary jewelry and fashion jewelry because of their careers and artistic inclinations.
The next step is to understand how fashion was highlighted. Let's now have a look at the artworks on display.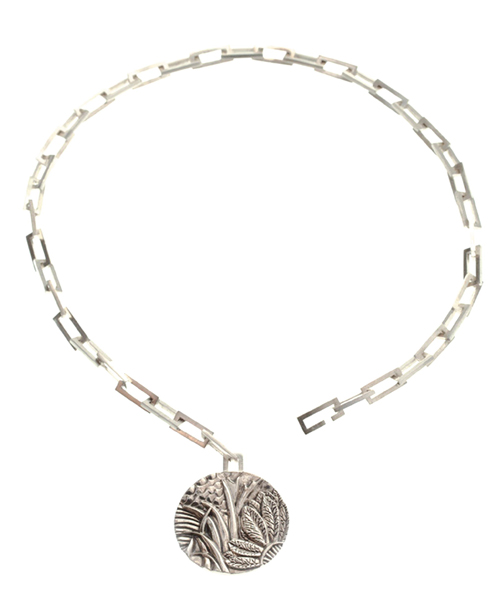 At the entrance, the Bolivian Manuela Arnal offered to the viewers her personal interpretation of nature. There were two different types of jewels by her: The first on show, characterized by hints of an Art Nouveau style, were two necklaces with pendants made by lost wax casting technique. She models shapes directly with her finger, so as to emphasize the need to bound the inspirational idea to her subconscious. The result was somehow delicate and graceful.
Her enamel necklaces in a naïve-like style, constructed from overlapping blotches of brightly enameled copper, looked as if they were made by another hand. The colors and shape evoke a form of accidental spill, in contrast with the darkness of the stones used for the chains. Bianca Lopez talks of her as an immensely skilled author with a strong artistic background, now experiencing a cathartic period. Lopez points out that Manuela has found her voice and has all of the tools and skills needed to execute any design she may want. She is also intent on selling and will be among those represented at Lopez's Studio gallery shop, as well as at other retailers.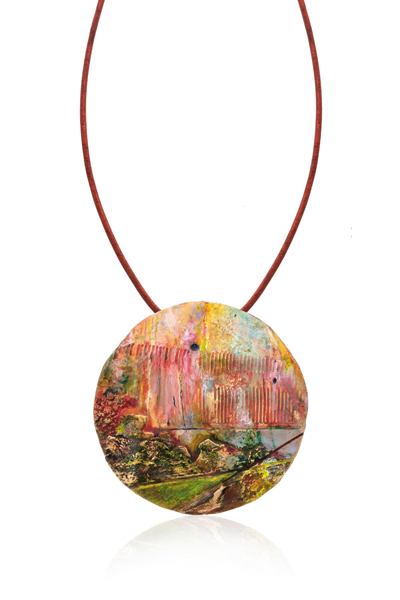 The next showcase protected works by Diane Hulse from Chicago. Her art pieces are explosively colorful. What mostly fascinates her is the mystery hidden behind nature's gifts. In a continuous quest for unusual materials, she assembles resins, plastic, odds-and-ends. Hulse draw inspiration from the abstract, colorful work of German artist Gerhard Richter, and her own research on refraction of light on different surfaces is ravishingly beautiful (the pieces on show come from a larger collection that spurred the interest of fashion editors at publications such as Vogue). She will be ready to show this fall. Bianca Lopez is working with her very closely on the business side as well as in workshops.

Vivian Saade, a graphic designer and visual artist, continuously challenges herself in the exploration of contemporary aesthetics. She is literally captivated by new media and technologies. Her designs seem to profess that "less is better," and are related to the Dutch industrial design movement of the 70s and to the minimal and graceful lines of Georg Jensen or Agnete Dinesen.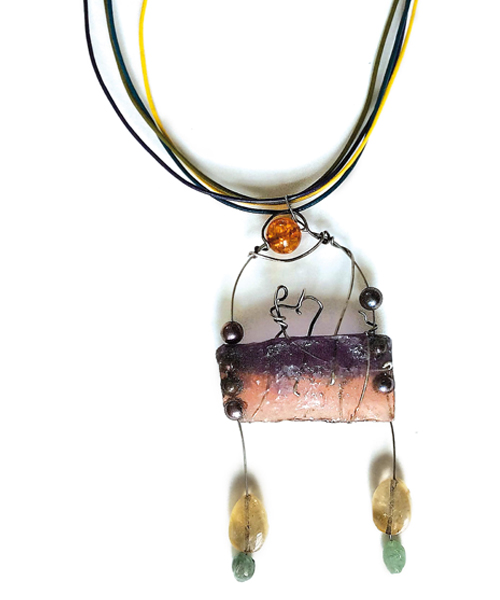 At the end of the first row of cabinets, Mary Zayman jewels were on display. Inspired by the natural world as well as by dreams, emotions, and memories, she strives to underline the evocative meaning of jewels. Art is a sparkle, a bridge between an idea and its coming to life. So her work, made of silver, steel, resins, pearls, and precious stones, becomes an instrument of happiness and a reflection of our feelings. The work presented here—Lopez told me[1]—is rather different in shape and materials from the collection she hopes will get into New York stores this fall, or from her previous collection of colorful rings.
The central line of display cases hosted works by Alberta Vita and Elena Thiveou. The formal tidiness of their work make them a likely pair. Geometry's precision and clean lines have always appealed to Alberta Vita. Her latest research is on the movement of stones in her jewels and on the manipulation of delicate materials such as sheets of mica and cyanite. For the last two year she has been living between Padua and New York, where she has gained a completely new perception of what surrounds her. She has started to introduce some depth in her more recent series showing us outlines of Manhattan, its corners and tunnels. Being faithful to her style means letting the metal speak, rather than being decoration.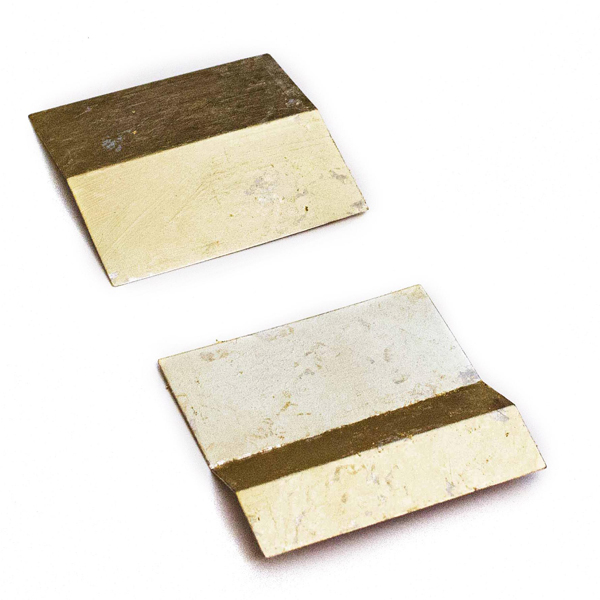 Elena Thiveou's works were masterpieces of perfection. She studied at Hunter College in New York and at the Wimbledon College of Arts in London. She is a pupil of Cecilia Bauer and Bianca Lopez, from whom she learned the granulation technique. The jewels on show were incredibly beautiful and unexpectedly contemporary, especially if you know the source of her inspiration: Achaean shields and Cretan double-headed axes. Thiveou is a cofounder and owner of one of the jewelry stores, Deca, in Manhattan. She has been selling here for the last few years.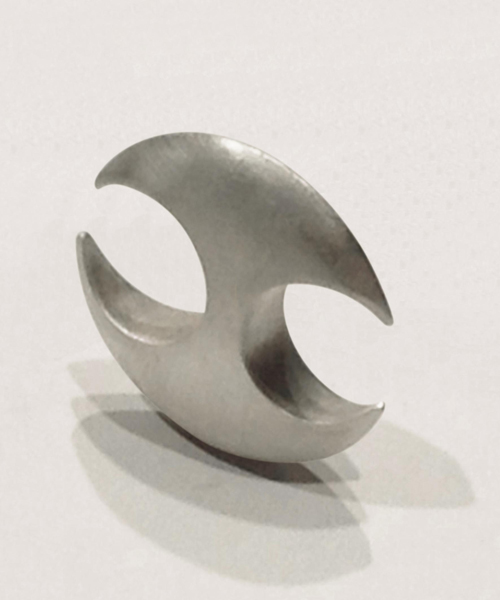 If Bianca Lopez Studio nurtures a great variety of artists and designers, the designers above broadly fall into the studio jewelry/contemporary jewelry category. If, like Zayman, they have retail lines—work that probably more closely aligns with the production methods (or visual idiom) of fashion—they left these at home.
The one notable exception was Patrick Culpepper and Aurelia Cotton, alias Peppercotton. When they met at the Rhode Island School of Design, their respective backgrounds were in painting and apparel design. Color is their main inspiration. Wearability, freshness, simplicity, and versatility are the natural consequence of careful and accurate research on shapes and appearance. They use Swarovski and vintage Bohemian crystals carefully arranged in nylon tubing that each time acquire different glares and shades. All the pieces are, in fact, completely hand made by them. This can be considered a brand-new language, made sometimes of excess and sometimes of elegance: The choice depends on the wearer. Aurelia and Patrick's work is highly appreciated among the fashion innovators and, as can be read on their website, they are followed by the famed stylist Lori Goldstein, current fashion editor of Elle magazine. She also styled them in Japanese and Italian Vogue. The brand has also been featured in magazines such as Vogue Russia, Interview, Harper's Bazaar, and the designers' studio was featured on Refinery29 last fall.
Well, Peppercotton are the incarnation of something singularly dissimilar from what we consider falling into the jewelry category; their work and their marketing strategies underline their unmistakable, strong connection with the fashion system. We are used to perceiving contemporary jewelry as a form of art, communication, symbol, as a statement that strives to steer away from the vagaries of mood and trends. It is on the other hand clear that good marketing and strategy based on a well-focused advertising campaign makes all the difference!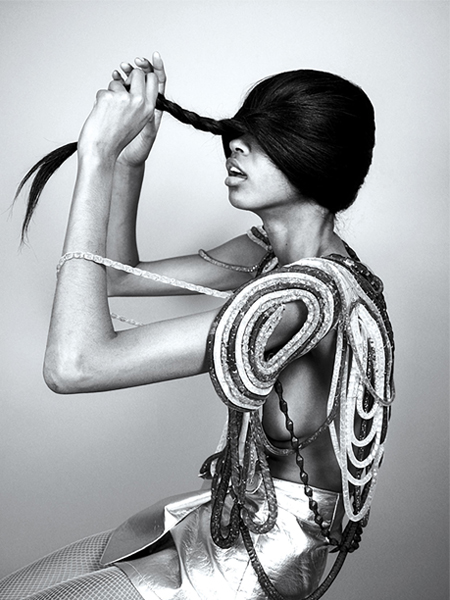 I asked Bianca Lopez to explain to me the "magic" behind Peppercotton's success. There are no miraculous potions, she says, but hard work, constant dialogue, and a firm sense of the company's final goal. She points out that for a jewelry startup to find business counseling can be very discouraging, because information and resources are not as visible, accessible, and affordable as they are in other industries. In the last five years she has provided the two young designers with all her support and knowledge in order to assess their company's various needs. The authentic design and the high quality of the products are the basis—but just the basis—of good results. She focuses on the fact that "it is important to keep in mind when describing the success of small businesses, that the challenges do not end upon experiencing success."[2]Continuous growth has to be nurtured with a precise and efficient costs policy, always maintaining the high art and fashion quality of the piece. Lopez recommended and introduced them to all the companies to which they contract out prototyping, serial production, and finishing processes, thus allowing them to increase output and selling opportunities. Staying on the business means never giving up growth, quality, innovation, experience, and vision.
The design duo underline the central role of Lopez's permanent support in their brand's path to success, while listing all the technical and business support they received at the school through encounters with professionals stone setters, model makers, casters, finishers, CAD designers, but also … with their future accountant and lawyer. "She's been unbelievably helpful every step of the way, even on an emotional level. […] We wouldn't be where we are today without Bianca." [3]
In the end, the exhibition did not "rock the boat" and one guesses that a larger wallet would have helped turn this into something a little more spectacular. This probably has to do with the misleading choice of the Peppercotton image to advertise the show. If the message of the exhibition was intended to highlight fashion, I don't think it was totally achieved. However the curators' guiding principle was to show the possible steps to building up an effective career, whether as contemporary jewelry makers or as designers.
Interviewing the organizers and some of the participants has been useful to understanding the commercial aspect of their program. The organizers' original intention was to showcase an educational approach that focuses on building up businesses. I do believe that they have a good success rate, and, at any rate, that bringing business skills in art's educational mix should be embraced by all the institutions designated to educate the future generation of artists. But, apart from Peppercotton—who really are designers with design backgrounds—all the other exhibitors—who have goldsmithing and silversmithing backgrounds—presented ONLY their research works and not their commercial ones. This choice, probably dictated by the need to show to a "traditional" audience something more "usual," misrepresented the exhibition's original message a little.
Fashion/design and contemporary jewelry can occasionally yield similar results, but they have different masters. Fashion is a complex system ruled by business; contemporary jewelry is a complex system still mostly governed by peer recognition.
I really would have liked to see what they show in their New York shops as well!
Index Image: Announcement card, Bianca Lopez and the Jewelry Art and Design of Manhattan, 2015, photo: Paul Rowland, for the Peppercotton PSYCH campaign
---
[1]
In an email conversation between the author and Bianca Lopez, May 21, 2015.
[2] In email conversation with Bianca Lopez on her involvement with Peppercotton, June 15, 2015
[3] In email conversation with Aurelia Cotton and Patrick Culpepper on their involvement with Bianca Lopez, June 15, 2015.