Trigger: Gender as a Tool and a Weapon
September 27, 2017–January 21, 2018
New Museum, New York, New York, USA
Body adornment, and jewelry in particular, play a significant role in signifying one's gender, status, sexuality, and even ethnicity. Yet it's rarely discussed or seen in large-scale exhibitions outside regional craft-based museums. (There are of course the outliers like the Beyond Bling exhibition at LACMA.[1]) I was therefore surprised, entering Trigger: Gender as a Tool and a Weapon, at the New Museum, to see craft on full display, from the large tapestries of Josh Faught to the fibrous installation Cave of Secrets, by Liz Collins. Most startling of all was seeing the appearance of jewelry. Yet this revelation should not have been a surprise, because of jewelry's low ranking in the hierarchy that is fine arts, partially based on its gendered stereotypes.[2] Jewelry's reliance and connection to the body makes it an obvious tool for challenging gender, cultural, and sexual paradigms. While there were many pieces in the show that dealt with body and its ability to be adorned and augmented, the focus of my interest was on the two Anicka Yi sculptures tucked away in a corner on the second floor, illuminated by the bright blue/white neon light of Sable Elyse Smith's wall text, Landscape III.
Yi's two pieces—I'm Every Woman I Ever Met, made of Plexiglas, vacuum-sealed peanuts, and pearls, and Table for One (at the sad café), made out of vacuum-sealed pearls and a Philippe Starck chair—are poetic, sterile, and intimate in their display next to the large neon sculpture by Smith.
In I'm Every Woman I Ever Met, the strip of vacuum-sealed peanuts and pearls is draped over a circular piece of Plexiglas mounted on the wall. Because of its staging, the viewer has to bend down to see the pearls and is confronted by sterile vacuum-sealed plastic acting as a protective coating locking in the pearls and legumes for freshness. The poetics of the pieces speak to a body not present, but referenced either in anticipation of unlocking the treasures inside or as a locked-away memory forever sealed to preserve its potency. Pearls and peanuts, apart from their alliterative connection, are connected by their residence in hard shells, valued by humans, albeit for different reasons and levels of enthusiastic consumption.
In Table for One (at the sad café), the viewer is presented with another strand of sealed pearls draped over the clear acrylic of a Philippe Starck chair. The pearls in tableau are the traditional white, in a long strand similar to the lengthy pearl necklaces worn by flappers in the 1920s. Standing alone in the corner next to Smith's neon words, the piece almost seems out of place, but where else would this plastic sterilized object live if not next to the neon glow of an illuminated sign?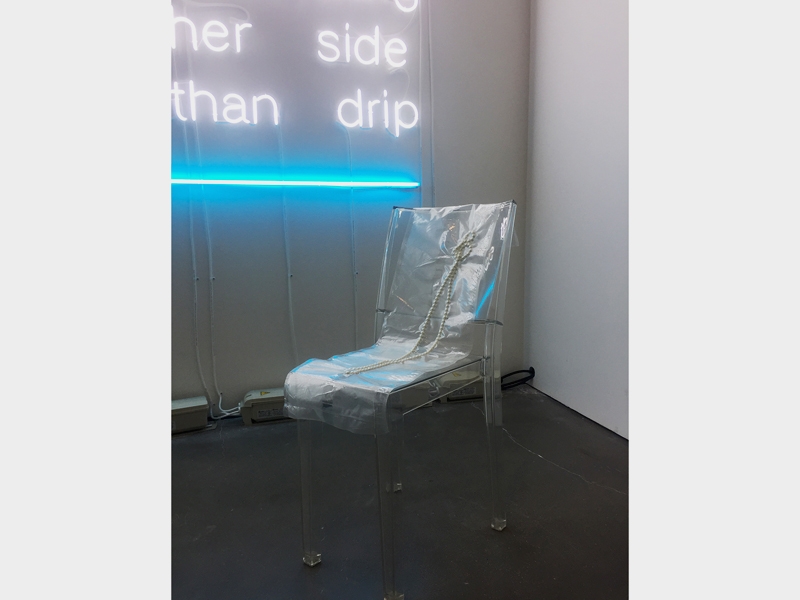 More so than in I'm Every Woman I Ever Met, the signifiers and allusions seem more present in Table for One (at the sad café). Viewers are confronted not only with an empty pearl necklace devoid of its human, but with the emptiness of the gendered status symbol that is the pearl necklace. The plastic sterility more obvious in this context confronts viewers with the last time they sat in a similar Starck chair, possibly at a café or some other public setting—the illusion of community broken by the uncomfortable one-size-fits-all mass-produced furnishings. Its sadness does not reside in the absent body but in the prepackaged and sterilized uniformity that we have come to expect from our "public" interactions.
The absent body and our need for human interactions and connection are laid bare in Yi's two pieces. While Yi is known for her conceptual sculptures encapsulating the tactile quality of scents, her deft use of jewelry successfully connects the viewer to the subtleties of the human body and touch. Her work presents us with an interaction that cannot be static or sealed. As Johanna Burton, the curator, states in the catalog essay, "One aspiration of Trigger is to revive a sense of linguistic and social histories within complex terminology that is often employed without a second thought, and to point toward the new capacities of emergent vocabularies."[3] Yi's arguable success in imparting a bodily history so elegantly lies in her creation of "new vocabularies" in how we see adornment and its relationship to the human body. This relationship points to a future where more curators and gallery directors seek out jewelers and artists working with ideas of the body. Adornment, through its historical vocabulary of body, can give rise to a new language and voice, adding to the emerging vocabularies of gender and identity.
---
[1] http://www.lacma.org/art/exhibition/beyond-bling. Accessed October 9, 2017.
[2] Pat Kirkham and Judy Attfield, The Gendered Object (Manchester, New York: Manchester University Press, 1996).
[3] Johanna Burton, "Irreconcilable Difference," in Trigger: Gender as a Tool and Weapon (New York: New Museum, 2017). Exhibition catalog.