The dimensions of the wall showcase—33 meters long, 3 meters high, and 90 centimeters deep —are quite unusual. This is the place destined for jewelry exhibitions in the relatively new venue of the CODA Museum in Apeldoorn, Netherlands. The museum houses an important collection of contemporary Dutch and international jewelry that reaches back to the 1960s and is continuously extended with new acquisitions. But, there is no permanent display of jewelry, only this imposing wall with huge glass windows used for temporary exhibitions, which terrifies the person in charge every time.
Invited to exhibit their extensive collection of contemporary jewelry, Paul Derrez and Willem Hoogstede, collectors for more than 40 years, decided to accept this huge space as a gift because it enabled them to "dig up" their complete collection, which is stored safely and functionally, but not in a very attractive way. They managed to include about 500 pieces in the showcase. Approximately 150 pieces were not selected mainly because they could not be presented inside the vitrine in an obvious way, and making them understandable would have required more mediation than the curators were comfortable with. Another reason to omit pieces had to do with quality. In their view, it is fair to the artist to only show their best work in public.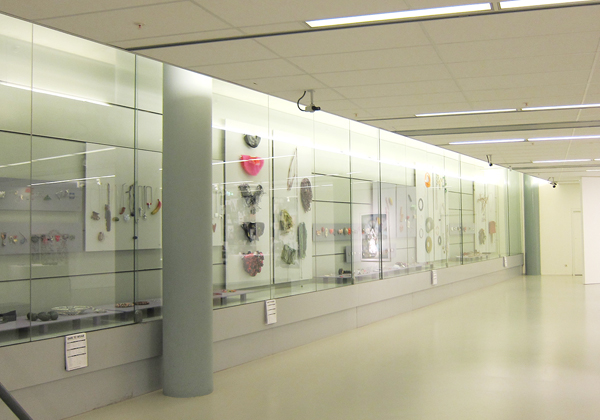 Various ways to present their collection were discussed, including a historical and an artist-focused presentation, but in the end they decided to go for the most personal angle: how the pieces are worn. Different groups were made according to the place on the body where you usually wear jewelry—hand, arm, neck, breast, and lapel— after all, the desire to wear jewelry is at the root of their acquisition policy. In addition to that, there are also some panels dedicated to one artist. The rest of the decision-making was based on taste and intuition. Pieces were combined because of shape and color, and sometimes, material. The set-up is inviting, and the grey panels offer some rest to the eye, which is highly necessary when confronted with such an abundance of work.
The exhibition's title Dare to Wear perfectly expresses the attitude of Paul Derrez and Willem Hoogstede, who have always enjoyed wearing pieces that could be described as extreme. Both confirmed wearers of contemporary jewelry, they became the ambassadors of the newly emerging jewelry from the get-go, in the 1970s. There is probably not a single day that they don't wear a piece of jewelry. Willem Hoogstede's professional occupation occasionally came into conflict with the message of certain pieces of jewelry. As a teacher at a primary school in one of Amsterdam's "difficult" neighborhoods that houses a large community of deeply religious people, Hoogstede did have to compromise sometimes. But as a matter of fact, abstract pieces –especially worn by men—invite conversation as much as explicit works do, and these collectors never get weary of engaging in it.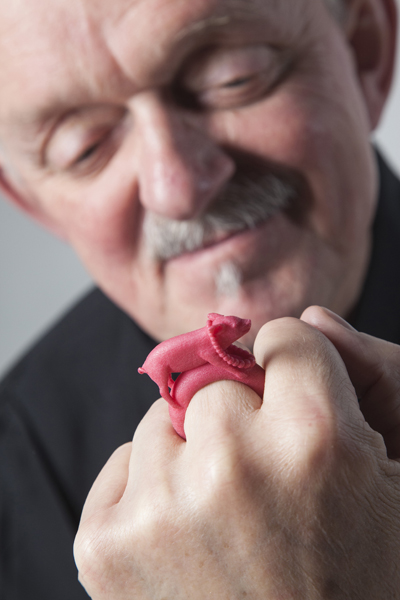 The character of this collection of international jewelry can be classified as typical Dutch. There is a preference for abstract and conceptual work, for work made in series, and for experimental and cheap materials, flavored by an inclination to pieces that express some sort of exaggeration (I will come back to this later). The interaction between a piece of jewelry and the wearer (and viewer) has always highly interested Derrez and Hoogstede. Jewelry made in editions forms an important part of the collection, such as the Serie-Sieraad jewelry previously mentioned. The Serie-Sieraad project, which ran from 1973–1975, was a typical Dutch jewelry phenomenon that shows the strong connection between contemporary jewelry and the fine art movements of those days. In the same period, Galerie Seriaal (1969–1974), a fine art gallery in Amsterdam, editioned multiples by fine artists with the aim to make art available for people with a moderate income, calling it a "revolutionary shop." Galerie Sieraad embraced the same democratic ideal of "jewelry for all" when it started Serie-Sieraad, which consisted of jewelry that was easy to reproduce and cheap. The ease with which the jewelry was produced turned out to be a pitfall, however, as Appenzeller and Martin had to do most of the production themselves. They managed to present the collection at all locations of De Bijenkorf, the main Dutch department store, but sales were not very successful. This kind of abstract jewelry, made from plastic, steel, and semi-finished industrial material, was simply too exceptional for those days.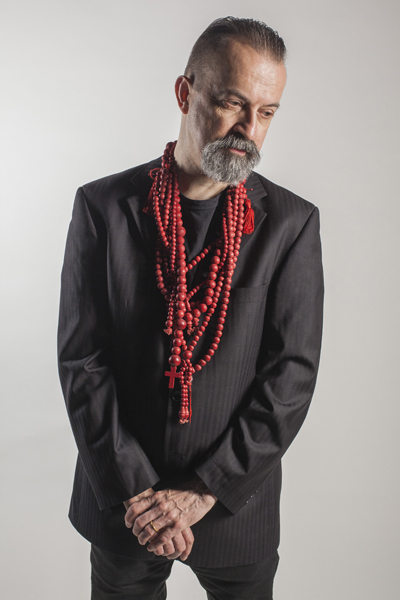 In the 1980s, flexible materials became an important characteristic of Dutch and British jewelry. There are some quite exceptional textile and wood Wearables by LAM de Wolf, made in the early 1980s, and also some large, bold, and colorful body pieces from Kai Chan and Marjorie Schick, and shoulder pieces by Susanna Heron, Beppe Kessler, and Geoff Roberts. The love of exaggerated shapes and ideas can be seen in the work of figurative artists such as Wolf von Waldow, Bussi Buhs, and Petra Hartman, and also in the sculptural acrylic bangles by Peter Chang, the wallpaper brooches by Otto Künzli, and the early papier-mâché bracelets by Marjorie Schick (1960s). The Derrez-Hoogstede collection is not characterized by good taste. It takes the viewer into other realms. It surprises or disturbs. It stirs one's imagination and thoughts—just as Paul Derrez's Risky Business (1994) and Tits and Pieces jewelry (2000) did with their obvious sexual references.
Some artists are well represented in this collection. Gijs Bakker and Emmy van Leersum are among them, while Esther Knobel and Otto Künzli might be called key artists. The collection contains legendary pieces—jewelry icons such as Künzli's Gold makes you Blind bracelet (1980) and Bakker's Dew Drop (1982)—next to jewelry of younger artists, such as Noon Passama, Constanze Schreiber, Anne Achenbach, Réka Fekete, and Clarisse Bruynbroeck.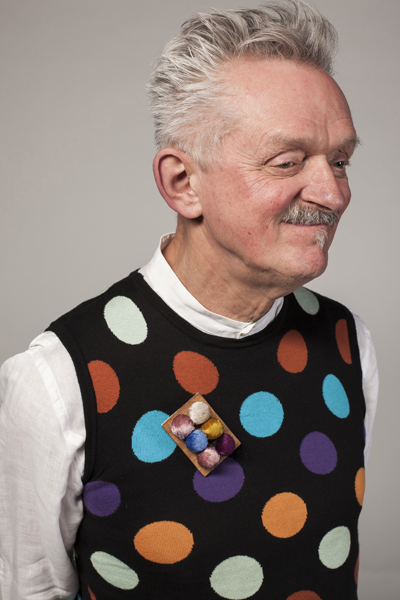 Derrez and Hoogstede mainly acquired jewelry from their own gallery, which is fair enough. They were close to the fire and helped keeping it burning. Although the gallery also represents author jewelry with a unique character, this type of work is less well represented in the private collection of the gallery director. It would seem that the sympathy of the collectors stayed with good statements in rather cheap materials (plastic, nylon, steel, textile, paper, copper, rubber, wood, ceramics, and iron). Notwithstanding this, Derrez and Hoogstede acquired very good examples of jewelry by Sigurd Bronger, Warwick Freeman, Karl Fritsch, Lisa Walker, Georg Dobler, Margaret West, Daniel Kruger, Peter Bauhuis, and Mirjam Hiller. Gold and diamonds are probably the least present materials in this private collection, which could be seen as a statement in itself—jewelry has nothing to do with intrinsic material values, uniqueness, or brilliance, but everything to do with its power to establish a relationship with the wearer and viewer as a trigger for thoughts and personal values.
In my view, the collection is very honest, personal, and unique. It remains true to the couple's initial ideals and interests in contemporary jewelry while being firmly rooted in Dutch abstraction and plainness. Intriguing are the couple of anonymous pieces in the collection. They must have a story, but apparently it is lost. Also intriguing is the absence from the collection of certain notable Dutch artists, such as Manon van Kouswijk. According to the collectors, this is just bad coincidence, and she is on their wish list. Collecting, after all, is the work of human beings with all its charm and oddities … Christmas is coming soon.