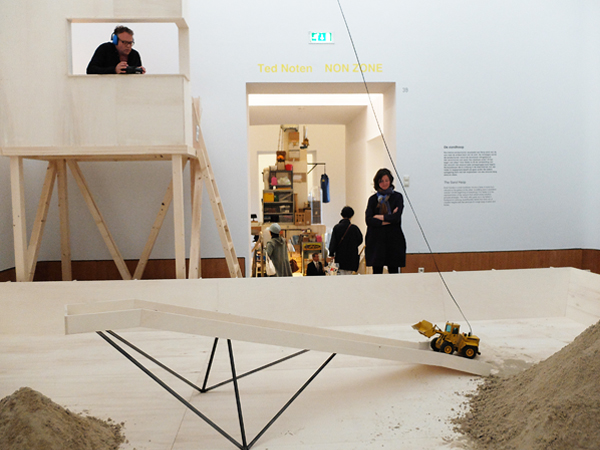 Ted Noten: Non Zone
June 13–October 18, 2015
Museum Boijmans Van Beuningen, Rotterdam, the Netherlands
Two years ago, Ted Noten had his Framed exhibition at the Stedelijk museum's-Hertogenbosch in Den Bosch, the Netherlands. When organizing this show, which involved Noten choosing a collection of art works by other artists, he sent a request to Sjarel Ex, the director of Museum Boijmans Van Beuningen. The request was written on a postcard showing Pieter Bruegel the Elder's painting of The Tower of Babel, a 16th-century gem in the museum's collection. What the card said was: Can I get this painting on loan for my exhibition? NO, the director answered simply by texting. Noten decided not to include a copy of the painting in his exhibition, but instead presented a pile of 5,000 postcards, addressed to the museum director and printed with a copy of the original handwritten request, embodying a longing for something you can't get. For months the director received these postcards—hundreds of them—diligently sent by visitors to the exhibition in Den Bosch.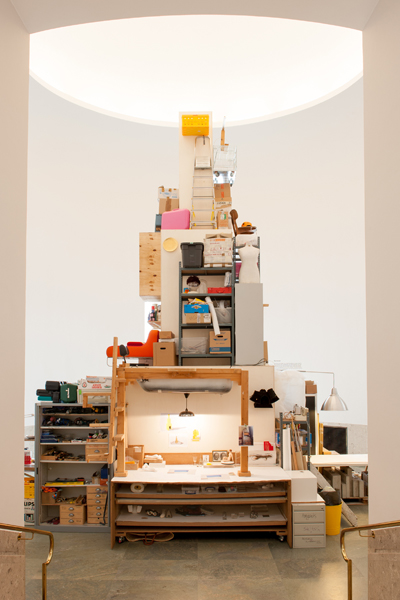 Noten has just unveiled his own The Tower of Babel in the vicinity of the famous painting, only a few museum rooms away, under the motto "if the tower can't come to me, I come to the tower." The tower, 7.5 meters tall, is built from the contents of his studio, and it is a beautiful tower that balances chaos and order in a subtle way. Noten emptied his entire studio in order to create a tabula rasa. By building something here, emptiness is created elsewhere. To him, Bruegel's painting represents the ambition and impossibility of artists to reach for heaven, the utmost, for the unattainable.
Noten's Tower reminded me rather of an altar, towering high up in the circular hall. Maybe the circular shape of Museum Boijmans's hall added to this religious association. One recognizes in the tower parts of Noten's installations, presentations and projects, prototypes, models, drawings, sketches, photos, and it includes the The Tower of Babel postcard among furniture, boxes, benches, and storage systems. It is an impressive construction, and confusing at the same time. It is clear what the tower means to Noten; he is looking for the emptiness, the studio as a non-zone instead of the studio that dictates his days, and his work. Only then are you able to reach deeper layers in yourself, and in your art, he says. But what does he want us to see? Are these the leftovers of an artist in crisis, a romantic with an extremely good eye for detail? Is this the next Noten-act in his extended programming, born out of a sheer need for visibility? Or is the artist trying to brush up his artistic skills? But art without questions is non-art, and this tower is a mesmerizing work of art.
Before nearing the tower, the visitor stumbles across a huge sandbox that fills an entire museum room. In the box, or arena, an electric remote-controlled frontloader moves a large heap of sand from one corner to the other. The machine will only work on Sundays, and is controlled by volunteers who registered for the assignment during an interview with the artist broadcast on Dutch national radio (he received more than 100 requests). The volunteers have their own control station, high up in the room, with a steep ladder to enter it, protective clothing, a hard hat, a radio, a poster of a pin-up girl, and of course, a joystick. This work reflects the work of the artist, Noten states, the pointlessness of what the artist is doing. But it is also a comment on the meaninglessness of what we are all doing in society, the wasting of money on projects that never finish, the breaking down and building up, again and again. Yet artists need this very much, says Noten: "As an artist you have to do many useless things to get to deeper art. You need certain emptiness; the word 'output' that is now so in vogue in discussions about art, doesn't work. You need more aimless moments to get somewhere."
The third room in the show is Noten's Treasure Room. Here are exhibited some 30 iconic pieces by Noten, not borrowed from collectors all over the world, but exact 3D-scanned and 3D-printed scale copies in paper. These are copies of one-off pieces and 3D-printed series, such as the Miss Piggy ring. These may be copies, but they are highly original, unique (one-off) copies: They are made using a rather complicated and outdated 3D-printing method in paper, sponsored by a company in Dublin, Ireland—one of the few that is still able to apply this method. After printing, the 3D reproductions were all dyed "Noten yellow." The 30 works are presented in three showcases, and bear paper labels reminiscent of archives and old ways of storing objects.
These pieces have a very special beauty of their own—a special paper materiality that adds a new quality to the work. Imagine the Rat trolley, three dimensionally, in paper. It is missing the original shiny acrylic and the plastic of the handle, but the possibility of actually touching all shapes, the body of the rat, and this brittle material make it a totally new work. The room questions ideas about original and copy, and society's demand that artists be original in a new way. In the same room, a six-minute-long animation, made by Eva Verheul, together with Jaap Dekker and Floris Regoort, is projected on the floor amidst the showcases. It is a fascinating movie that unites fragments of Noten objects to fully formed pieces, and shows sperm swimming through and between objects and in space. All done in Noten yellow, like the book that is published on this occasion (and that will be reviewed separately).
"I'm in a crisis," Noten yelled when people started flocking into his exhibition. "What are you going to do the next four months in your empty studio?" people asked. "Holiday," he replied. Noten has again reached a junction, and he does not know what it will bring, or if it will lead to something. He refrains from thinking in terms of output and profit, or planning. He needs a time out.
If cleaning your studio can result in this outburst of creativity, then this tabula rasa, this non-zone, must be the start of something new and awesome. After sweeping clean, and taking stock, he is ready to face the emptiness. Now people will ask: But is this jewelry? Is it art? What is it? Well, I don't know, actually, and I don't care. It is space, it is breathing, it is air, it is generosity, it is energy, it is a big gesture, and it is a look inside the creative process, which can lead to anything.