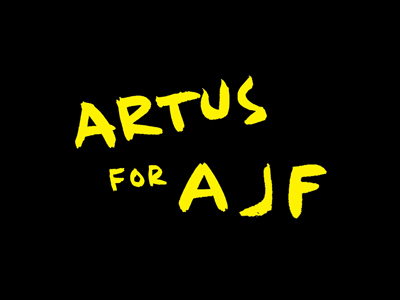 Expanding AJF's editorial scope is one of our goals, with a view to fighting the field's insularity by bringing more generous scoops of culture to our readers. On and Off: Jewelry in the Wider Cultural Field thus marks a notable shift from previous AJF publications: Half of the book's 30 essays are clearly looking beyond the borders of jewelry practice and dissemination, and concern phenomena that are related to jewelry but have human affairs as their principal subject.
AJF's editor, Benjamin Lignel, looked far and wide for illustrations that would do justice to the complex jewelry-mediated social interactions discussed in the book, and found the perfect match in Artus de Lavilléon, an artist—and reckless skateboarder—whose social commentaries are normally found in French newspapers.
Artus relies on pop culture—and his own huge photographic archives—for visual references. He then uses text as a disconnector in order to create absurd or uncanny situations: The results are diary-like musings fueled by their author's discomfited, often emotional take on life's contradictions. The ambiguity of the six artworks used in On and Off proved an excellent foil to the real-life situations described in the book: Like them, Artus's images seem to thrive on unspoken agendas, and call for unscripted developments.
Artus not only endorsed the book project with enthusiasm, but he also agreed to help fund it: The result is a set of two silkscreens, printed in Paris under Artus's watchful eye in a limited edition of 99 copies each. For the edition, Benjamin and Artus selected two images: the illustration created to introduce the chapter named "sex," and On and Off's back cover. They both circle around themes that are present in the book (identity, emotional commitment, sexuality, domination), but do it in very different ways: You, dear reader, will need to pick which one is meant for you. "Something is Wrong" on the left or "The Early 21st Century Guide to Counter-Intuitive Sexual Semiotics" on the right. Just click the title of the one you prefer to go to the purchase page.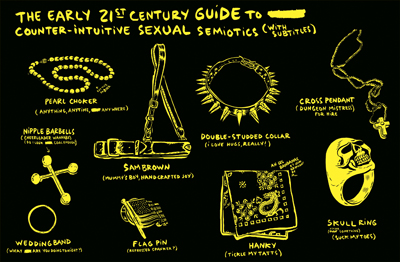 Artus's work can be seen on http://artusdelavilleon.com/en/.
Purchase your prints in the AJF Bookstore. Use coupon code "FREE COPY" to receive the book On and Off: Jewelry in the Wider Cultural Field as a gift with each purchase of an Artus print. All proceeds from the sale of the edition support Art Jewelry Forum's publication schedule.