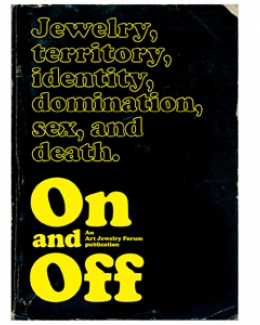 On and Off: Jewelry in the Wider Cultural Field
Jewelry will meddle in human affairs. It will bear witness to transfers of authority, seal alliances, stand proud over your scholastic achievements, or discreetly signal that, no, not tonight, thank you very much. And of course, human affairs will in turn inform the conception, intended use, and abuse of jewelry. Contemporary work, in particular, is defined by the range of cultural references that it brings into the foreground and its willingness to tackle contentious issues.
On and Off is a collection of 30 short essays on jewelry in the wider cultural realm, reflecting AJF's mission to report on contemporary practice. AJF's fifth publication depicts the ongoing conversation between incorporated social norms and creative agendas, exploring those phenomena that inform and complicate jewelry's history—sex, domination, self-identification, territory, and death.
About half of the essays focus on individual works, while the other half engage with jewelry's agency in the social, political, and private spheres. The collection as a whole invites some of the meatier subjects of human affairs to the jewelry table: cultural appropriation, social engineering, political propaganda, or jewelry-mediated empowerment.
With essays by:
David Beytelmann, Nigel Borell, Cécile Bulté, Monika Brugger, Susan Cohn, Anna Conticello, Liesbeth den Besten, Rutger Emmelkamp, Julie Ewington, Mònica Gaspar, Stephen Knott, Marthe Le Van, Baptiste Lignel, Jillian Moore, Stephen Mulqueen, Elisabeth Murphy, Kevin Murray, Kerianne Quick, Suzanne Ramljak, Amina Rizwan, Damian Skinner, Emily Stoehrer, Timothy Information Limited, Namita Gupta Wiggers, and Marilyn Zapf.
And illustrations by:
Artus Lavilléon
Specifications:
Paperback with flaps, 151 pages, full color illustrations
ISBN: 978-0-9864229-1-1