Winfried Krüger is showing his most recent work at Galerie Marzee after receiving the Marzee Prize four years ago. This prize also allowed him to produce a monograph with Arnoldsche documenting his progress as a progressive jeweler for the past 50 years. He is an important jeweler and it is wonderful to have this beautiful book about his work. He is a man of few words, but we got a few out of him.
Susan Cummins: You have just worked with Arnoldsche to publish a beautiful new monograph. How did that come about?
Winfried Krüger: I was awarded the Marzee Prize in 2011. It comprises a publication and a solo exhibition at Galerie Marzee. After that, the head of the Pforzheim Jewelry Museum, Cornelie Holzach, approached me and asked if I would like to show my work in Pforzheim. As I didn't want to round up my jewelry from private collectors and museums, I gathered everything that I still had after 52 years of jewelry making. I had it all rephotographed by Petra Jaschke, and my former student Jasmina Jovy created a concept and layout for publishing it at Arnoldsche.
Why did you title it No Title?
Winfried Krüger: That was our working title and it stuck.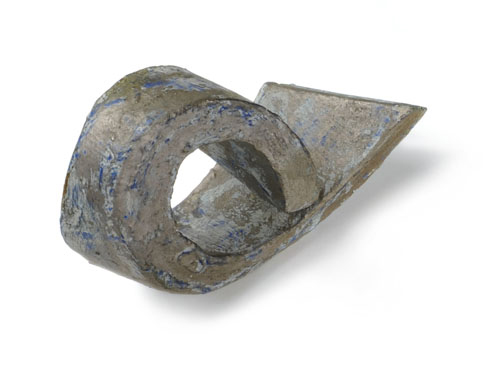 Your generation really developed the idea of a new kind of jewelry for contemporary times. Can you tell us the story of how that happened for you?
Winfried Krüger: Since my early youth I never considered taking up anything other than an applied art occupation—I had always made drawings and sculptures. While I was learning the goldsmithing trade, it soon became clear that I would not pursue a commercial career in that field. I wanted to realize my own ideas. And I studied at the School of Design at Pforzheim University, of course.
Which of your contemporaries do you feel share your ideas about this new jewelry? Can you describe what you all have in common?
Winfried Krüger: Peter Skubic, Onno Boekhoudt, Manfred Bischoff, Robert Smit, and many more… In the 1950s and 60s, there was a breakthrough in art, a liberation from the limitations of the past.
How does making jewelry fit into your overall practice of making art?
Winfried Krüger: Jewelry making and painting are complementary. One doesn't work without the other. In March 2016, the gallery owner of Maurer Zilioli Contemporary Arts will put together an exhibition with drawings of jewelry makers at Villa Stuck in Munich. Some of my works will be on display there.
Your use of found objects goes back a long way in your jewelry. Why do you prefer using found objects to making things yourself?
Winfried Krüger: By reinterpreting, reworking, and using new manufacturing processes, the found objects are removed from their ordinary context and are transformed into self-made objects. Read more on pages 132–133 of the book.
I noticed that some of the very largest and most outrageous pieces of yours were made in the 1980s. I believe this is true of other artists as well. Do you think your jewelry, as well as that of others, has gotten more conservative lately?
Winfried Krüger: Well, I guess that is an effect of our times. However, the fight for contemporary jewelry has perhaps gone on too long and has not been sufficiently noticed by the public.
You have been showing with Marie-José van den Hout at Galerie Marzee for more than 20 years. How have you influenced each other?
Winfried Krüger: It was Marzee who understood and recognized that relatively new generation of jewelry makers, whom she showed in her newly opened gallery. I have now been in contact with Marzee for 33 years—my first show there was a joint exhibition together with my painter friend R. R. Odenwald, and then there were two more. The fourth exhibition, Karambol 33+, will be a joint exhibition with R. R. Odenwald again. Painting and jewelry making are symbiotic and spur each other.
What have you been reading, seeing, or hearing that has inspired you lately?
Winfried Krüger: I have been making observations that will not result in jewelry but in drawings.
Thank you.
Translated by Anna Helm.