Born in Germany and now living in the UK, Simone ten Hompel is known for her metalwork that navigates the metaphorical depth of everyday vessels such as spoons and plates. Currently a Reader for Metal, Jewellery and Silversmithing at London Metropolitan University, Simone has exhibited metalwork internationally, given lectures on craft and metalsmithing, and participated in curatorial projects. She has shown with Gallery S O for many years.
Olivia Shih: Could you talk about your education and how you came to adopt the language of metal?
Simone ten Hompel: My first experience of working in metal was at the age of six. My father would take me into his workplace, and a lovely gentleman who worked in the metal workshop maintaining the machines in the company showed me how to make toys out of welding rods and flowers from tin cans. At home, Dad would build things out of wood. I learned how to use sharp tools and long saws. He warned me not to hurt myself, knowing how my mother would react. He would say, "If you hurt yourself with these tools, I will deny everything and know of nothing," so I worked carefully and had great fun with all his tools.
In primary school, it became apparent that I am an excellent dyslexic. In response, my parents found a school with workshop facilities for wood, metal, and ceramic, so alongside my formal schooling, I did an apprenticeship as a metalsmith. I knew I wanted to continue working with metal and went to the Fachhochschule Düsseldorf, where I did a degree in jewelry and silversmithing. Then I worked for half a year in Switzerland, while I was applying to the Royal College of Art, London. I graduated with an MA in metalwork and silversmithing.
When school was not my strength, working with the hand was a sensual counterbalance and allowed me to express myself most freely and without the constraints of dyslexia. Somehow I understood that this form of communication was like a language, which I then adopted. Metal is my first language.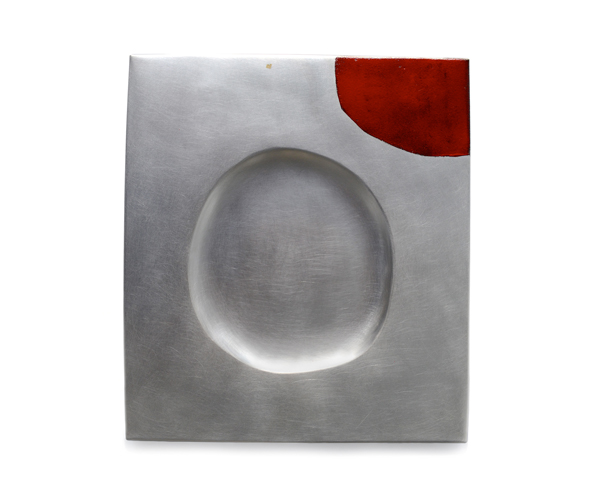 With its limited color palette and interplay between emptiness and fullness, this series reminds me of wabi-sabi, the Japanese aesthetic of imperfection, impermanence, and incompleteness. Do you know about this aesthetic? Are you inspired by it, or would you align your work with different ideals?
Simone ten Hompel: My work for Three Dimensional Traces at Gallery S O could be described under the principles of wabi-sabi; however, I arrived to this point in my practice though a natural process of making, testing, and exploring the stuffness of metal. My formative years of seeing, playing, and experiencing my environment of the 60s and 70s in Germany are a deeper source, and a more natural one, which I draw from consciously and tacitly.
In particular, this series was a response to the space that is Gallery S O. It is not only the room—a long, narrow brick-walled space with warm colors and natural overhead light—but also a response to conversations, debates, and discussions with Felix and Christopher from the gallery. Traces are manifested in the work, through color, shapes, forms, and applications of enamel and keum-boo, which are translations of my memories. These memories, however, are not merely my own, but they invite the viewer to look for their own personal memories of traces, whether the traces be about life, about symbols, or simply the leftover mark, long forgotten and fading in materiality.
Each piece relates to the next, whether it be through quality of line or geometric forms. As a series, the pieces almost seem to be conversing with one another on matters of emptiness and memories. Is working in series important to you?
Simone ten Hompel: Yes. With more than one piece, it is possible to illuminate the context that the body of work is talking about. Like in a piece of writing, where sentences and paragraphs amount to a chapter, Three Dimensional Traces stands for one chapter. In other chapters, I have explored notions of spoons (a spoon installation from this series is currently part of What is Luxury? at the V&A Museum, London), and of containment in the State of Bavaria Applied Art Prize series Preserve. In all of these works, metal expresses a multitude of feelings in sensuous articulation.
This series relies heavily on the color of metals: silver, gold, copper, and various subdued patinas. However, the work Already Absent breaks this pattern with a puddle of luscious red. Why the distinction?
Simone ten Hompel: As a maker, I see the group in its entirety, and therefore I find it hard to make this distinction. All pieces explore their own particularities, and somehow color in the whole series is a main factor. Red is a color that comes from metal; embedded in enamel, trapped under flux, it happens to manifest its appearance more boldly in Already Absent than in other pieces.
Spoons, bowls, and plates are often referenced in your work. What draws you to these everyday vessels and utensils?
Simone ten Hompel: Just that—their everydayness. We have a familiarity with these objects, but when they are made by hand and with the intention to draw various issues to the fore, they transform away from the everyday.
Could you name a few artists whose work inspires or excites you?
Simone ten Hompel: Living in London and travelling frequently, I have the opportunity to see a multitude of exhibitions, and a range of culturally diverse landscapes. No one artist or event singularly is driving my practice. I believe more so that my work is solving "the good problem" eloquently.
Have you seen, heard, or read anything of interest lately?
Simone ten Hompel: Although I don't like to single out one event, I enjoyed Magnificent Obsessions: The Artists as Collector (Barbican Gallery, London) and in particular the contribution from Sol LeWitt.