"Stay curious, and a pure idea will automatically come to you."—Sigurd Bronger

Known for his juxtapositions of contradictory objects— such as a heavy-duty metal clamp holding a goose egg —Sigurd Bronger trained as a goldsmith but found his calling in constructing wonderfully absurd contemporary jewelry. In this interview on the occasion of his exhibition at Galerie Ra, we talk about how craftsmanship allows him freedom and how a fateful visit to Galerie Ra in 1979 changed the course of his career.
Olivia Shih: This exhibition is titled In Between, a concept that you capture through juxtaposing clamps and jigs with unexpected objects, such as a goose egg. Could you talk a bit more about this choice of title?
Sigurd Bronger: It has been 10 years since I had a solo exhibition at Galerie Ra, in Amsterdam, so for this exhibition I constructed different carrying devices that relate to the concept of "in between." Many of the carrying devices have a construction that holds the material "in between," and other pieces contain spaces in between the material itself. Some can be placed in between functional jewelry art and object.
In a previous interview, you said that you do not consider jewelry to be "decorative stuff." How do you define jewelry? What draws you to it?
Sigurd Bronger: For me, there are two different genres or categories in jewelry art: first, what we call goldsmith art (in Germany, this is jewelry design); second, contemporary jewelry (art). The first category is purely about decoration and very often has a commercial approach. It is often produced in multiples and series. The second category is more conceptual—often based on an idea that has been investigated and researched. It is not about decoration; it is an idea about an object that can be worn on the body. Very often a unique piece of work and one-of-a-kind. I would place my work in the latter category. I like to investigate an idea and to construct an object that can be worn on the body or be seen as an interesting object on its own.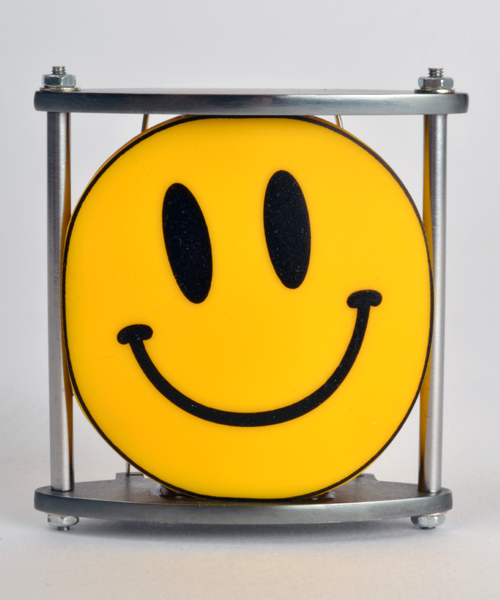 Many art jewelry students are now educated in colleges and graduate schools, but your education began with goldsmithing and, later on, an apprenticeship. How has a solid background in craftsmanship influenced your work?
Sigurd Bronger: To be trained in craftsmanship is vital to succeeding as a jewelry artist. For me, craftsmanship is essential. It gives me the total freedom to complete my idea in my work. Consequently, craftsmanship gives my work a very personal expression. This is why my work is very unique. I developed my own visual language through craftsmanship and my own methods. I never follow trends.
Your signature work is known for its generous dosage of readymade and surrealism, coupled with a sense of absurdity. Do you approach everyday life with a similar humor?
Sigurd Bronger: Yes! Very often I do. I look around and often find myself in absurd situations. Each new absurd experience teaches me more about myself—through how I react and how I behave.
Like Nick Dong's Evaluation Kiosk and Dukno Yoon's kinetic wings, your work often incorporates elements of scientific or medical instruments. What is it about these elements that interests you?
Sigurd Bronger: There is a certain kind of aesthetic and eeriness about these scientific and medical instruments that I like. They are very often handmade tools that were thought about and constructed for a very specific purpose. They often come in boxes that were made especially for each tool. Like in a Japanese tea ceremony, each instrument was carefully removed from its box and put together to conduct a specific task.
Could you describe a day in the studio for you?
Sigurd Bronger: I wake up at 4:45 a.m. to take a 30-minute walk with my two dogs in the woods close to where I live. I have a short breakfast before I take the ferry, a 20-minute ride, to the Oslo city center, where my studio is. My day starts at 7 a.m. in the studio. I often have a plan for the day. If I have a project, I concentrate on what I have to do. Other times, I stay curious, and a pure idea automatically comes. When I work on a certain piece, I make a few trial pieces before I am satisfied with the result. This can take months. At 4 p.m., I leave my studio. Take the ferry back to my home. Take my dogs for an hour-long walk in the woods. During the walk, I reflect over life, the day behind me, and the future.
You approached Galerie Ra seven times before they decided to exhibit your work. Could you share with us your struggles as an artist who makes art jewelry?
Sigurd Bronger: My first encounter with Galerie Ra in 1979 opened my eyes to what contemporary jewelry art could be. There was work by Jan Pijke (Dutch), Leomat (Dutch), Onno Boekhout (Dutch), Peter de Wit (Dutch), Caroline Broadhead (UK), and of course others. I realized then that this was the way I wanted to work in the jewelry field. After thinking about what I had seen at Ra, I knew that if I ever were to succeed in this field, I would have to have a gallery behind me, to promote and sell my work. I also realized at that moment that it must be very hard to make a living from producing this kind of work. I became so obsessed with the thought of getting into Ra that my only aim was to make good work, work that Ra would be willing to exhibit. This was not easy! Over the years I went to Amsterdam to show Paul the work I had produced in my studio in Oslo. He was very polite and said that the work did not fit in his gallery, and I just had to continue working.
This happened seven times over a period of four years. The last time I went to show my work, I really did not want to show it because I did not want to be rejected anymore. But of course I ended up in Ra, and I said to Paul that I had no work with me. And of course he knew I had. Lucky me! He accepted my work and sold them all over a period of time. I'm lucky to have gone through this hard struggle when starting my artistic career. My collaboration with Ra over the years has been vital to my success. I still see how important it is to have a gallery behind one's work.
Have you heard, seen, or read anything of interest lately?
Sigurd Bronger: The Anton Cepka exhibition at the Neue Sammlung! Munich was a fantastic experience. I knew Anton's work but had never seen it in real life. Also, I went to Antwerp and saw the work of my hero: Panamarenko. There was this comprehensive exhibition in the M UKA Museum, and I spent the whole day there. His work is incredibly inspiring. I've also read a great article titled "The Craft of Surgery" by Roger L. Knebone, professor of surgical education. The article is from a book edited by André Gali, Jørn Mortensen, and Ann Jones, Museum for Skills (ISBN 978-82-999335-0-6).
Thank you.