Previously, Shypertt co-owned Velvet da Vinci
As jewelry manager at the Museum Store, she concentrates on stocking wearable art jewelry
She strives to have a wide range of prices to encourage young buyers and convert them into collectors
Elizabeth Shypertt's journey and reach though the art jewelry world is wide and varied. She's been an artist, a curator, a gallerist, and a SNAG board member. Across these various roles, Shypertt's biggest contribution has been championing and advocating for the field of art jewelry.
In her current role, Shypertt is the jewelry manager for the Museum Store at the Museum of Craft and Design, San Francisco. Take a minute to check out their shop online if you aren't able to see it in person. It has such an exciting range of artwork—from the fun and whimsical to the intriguingly modern. (Visit it here.) The museum itself occasionally showcases jewelry exhibitions, which is always an exciting way to connect the general public with art jewelry. Although there aren't any upcoming jewelry exhibitions currently planned at the Museum of Craft and Design, that could change, says Shypertt. Let's hope so, and soon!
Jessica Hughes: Talk about your role as jewelry manager. Besides jewelry, the shop also features other accessories, items for the home, stationery, and stuff for kids. Do you strategize with other department managers to decide what to sell?
Elizabeth Shypertt: I started at the museum about two years ago and work about two to three days a month. My main focus is finding well-made work that will sell in a museum environment. I want the jewelry in the museum store to be a cut above the jewelry in other local museum stores, but still accessible to customers. The store manager and I work closely together, but I make the selections and decisions about the jewelry we show.
Are the artists showcased in the shop also part of the museum's exhibitions, or do you find these artists independently?
Elizabeth Shypertt: The artists that we show regularly in the Museum Store are ones I have selected. However, when there is a large group exhibition that includes a jewelry artist, I try to get some pieces from that artist to have on sale during the exhibition. We are currently showing some necklaces by yétúndé ọlágbajú, who is in our current exhibition, Fight and Flight.
Tell us a little bit about some of your favorite pieces or artists featured in the shop.
Elizabeth Shypertt: I hate to play favorites! Everyone was carefully selected by me, so how can I say I like anyone better than another? But I really love Olga Mihaylova's beaded work. The intricacy fascinates me, and I have no idea how she can work with such small elements and yet make really durable pieces.
Another artist to note, and one of our newest, is Saoirse Byrne. She has taken the craft of cordage and is making some truly beautiful and wearable necklaces. One of the first ones she ever made used a very old and sparse handkerchief of her grandmother's. By applying the technique of cordage, which is centuries old, she made the handkerchief into a strong and wearable necklace that she wears to keep the memory of her grandmother close.
In transitioning from curating as co-owner of Velvet da Vinci to curating for the Museum of Craft and Design's shop, how has your process and jewelry consideration changed?
Elizabeth Shypertt: At Velvet da Vinci there was more of an emphasis on getting good work regardless of whether it was wearable or not. At the museum I concentrate specifically on wearable art jewelry.
As collectors, we want it all. What jewelry do you find resonates the most with the general public in the museum's shop? Any advice for artists hoping to have their work featured in a museum shop?
Elizabeth Shypertt: I could be wrong about this, but it seems to me that the customers at the museum are exclusively looking for gifts and wearable pieces. My advice to artists wanting to sell in a museum store is to do their homework and see what the store emphasizes, then suggest work that is different from what is already being shown. This will give customers an alternative. And, as with galleries, too, if the work is wearable, make sure it can truly be worn. We hate to get pieces back that have broken.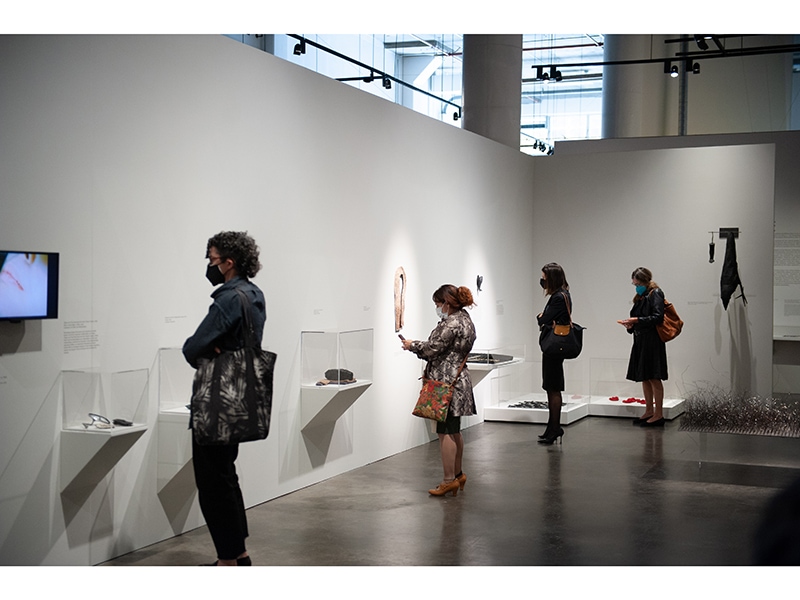 One of the Museum of Craft and Design's recent jewelry exhibitions was Where Words Fail, Iris Eichenberg's mid-career retrospective. Were you involved in that exhibition? Was any of Eichenberg's work for sale during the show? (Iris Eichenberg: Where Words Fail was made possible, in part, by the Susan Beech Mid-Career Artist Grant, which Eichenberg won in 2021.)
Elizabeth Shypertt: I was not involved in the exhibition. There is a whole department in the museum for that, and most exhibitions are booked a few years in advance. Iris did make a group of brooches specifically to be sold in the Museum Store during her exhibition, which was great!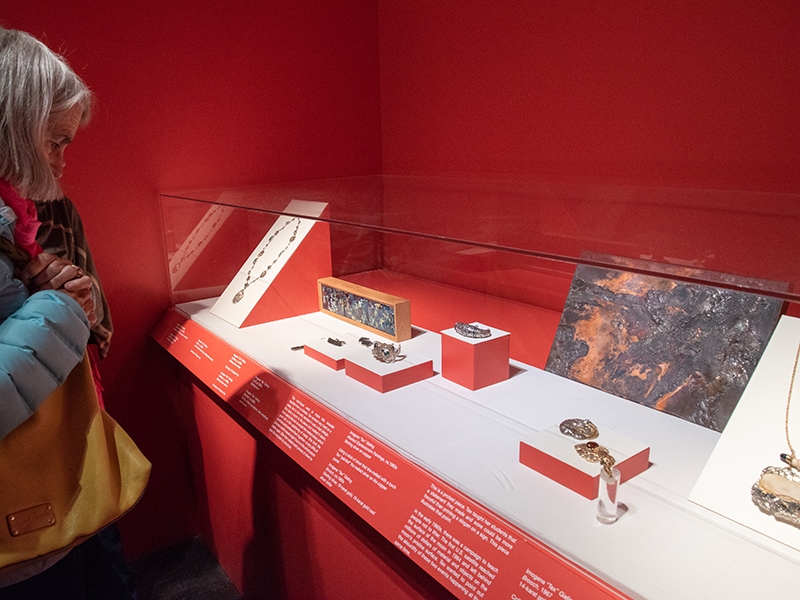 I did, however, curate a retrospective exhibition of Tex Gieling's work in 2018.[1] It was very well received, but that was before I started working for the museum, and none of her work was for sale.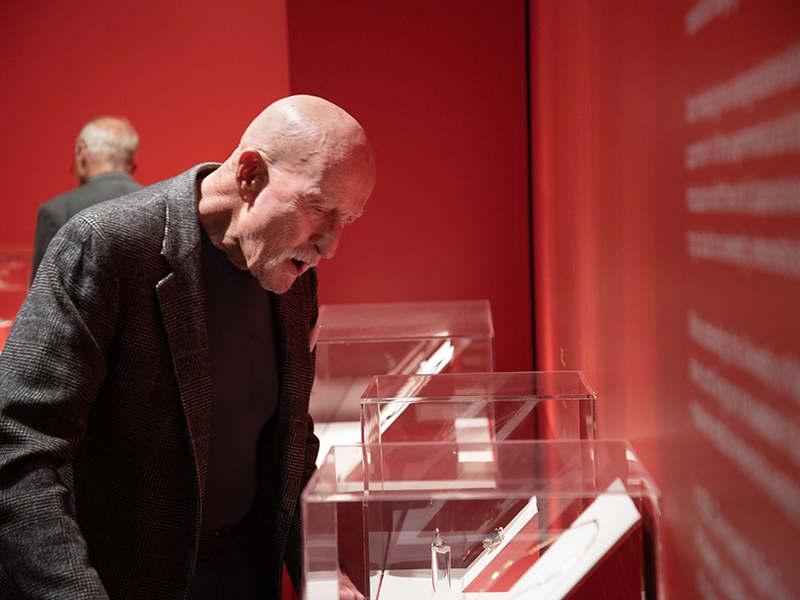 When the Jewelry Journey podcast interviewed you, you discussed the importance of jewelry exhibitions in museums and their impact with the general public. Now that you are even more connected into this world, are you able to see that impact? Have you seen any shifts in the acknowledgment or popularity of jewelry as art?
Elizabeth Shypertt: This is a difficult question. I don't think that jewelry is on museums' radar as art, at least contemporary jewelry. Of course, there are exceptions, but in general painting and sculpture are [viewed as] one thing. Jewelry is [seen as] another. I don't know how to get museum curators to look at contemporary jewelry as art, but until we can, museum shows of art jewelry will be few and far between.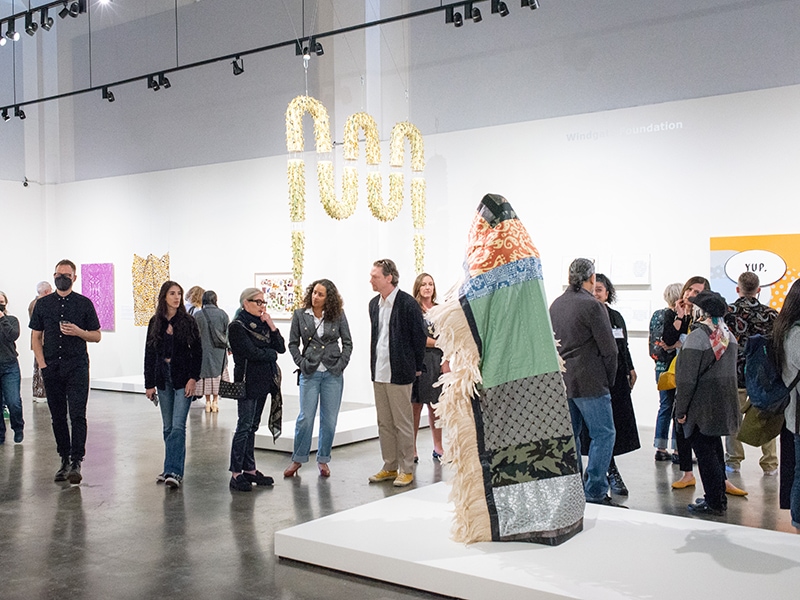 You have such an impressively active career in the field of jewelry, as an artist, a gallerist, a juror, a curator, a board member, a collector, etc. Why do you think it's so important to share your love of this art with the world? What impact do you think jewelry can make to our culture?
Elizabeth Shypertt: Jewelry has been around as long as we have been standing upright (or close, anyway). I do think that, generally, people like to adorn themselves, and jewelry is an especially good way to do this.
But I'd like to talk specifically about art jewelry. A big part of my role as a gallerist was [teaching] the public about art jewelry and why a pair of earrings cost $300 when they could buy a pair at Macy's for $25. Some people got it, some didn't. I feel that, on the whole, art jewelry is unappreciated and misunderstood. The general public does not understand the education and work that goes into making a piece of art jewelry. There is a disconnect between the consumer of, for example, clothing and jewelry. I remember women coming into the gallery asking for earrings to go with a dress they had bought for a daughter's wedding. The dress easily cost upwards of $2,000 and they would probably wear it once. But then, looking for earrings that they could wear over and over, they would balk at spending $250.
I have wealthy friends who, if they are going to buy a piece of jewelry, go to Tiffany & Co. without realizing that the piece they buy is probably one of many, whereas a piece of art jewelry, if not unique, is one of a very few. But Tiffany has a cachet with the general public that art jewelry doesn't.
I have always tried to encourage buyers to become collectors because artists need patrons. And I feel that we really need to encourage younger people to buy art jewelry to make them into collectors. Because of this, I try to have a wide range of prices at the Museum Store to encourage young buyers.
Do you have any new pieces in your personal collection that you'd like to tell us about?
Elizabeth Shypertt: As I get older, I buy less and less (of everything, not just jewelry), but sometimes I just can't help myself! I do try to have at least one piece of jewelry made by each of the artists I show at the museum. I've asked them to have their work at the museum both because I think it will sell to our customers, but also because I love it.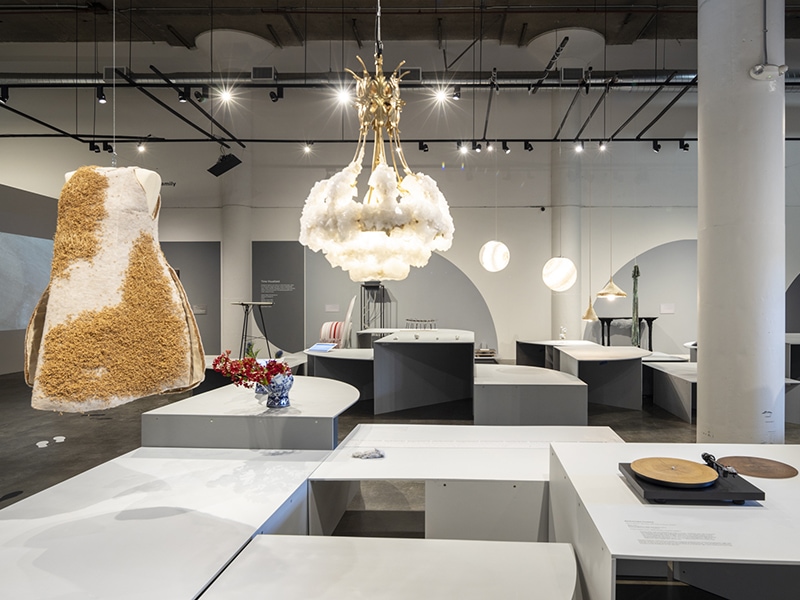 Please share something interesting that you've seen, read, or experienced recently.
Elizabeth Shypertt: I just finished reading Nina Totenberg's memoir, Dinners with Ruth. A fascinating must-read!
© 2023 Art Jewelry Forum. All rights reserved. Content may not be reproduced in whole or in part without permission. For reprint permission, contact info (at) artjewelryforum (dot) org
[1] Gieling founded the metal arts departments at the University of California, Berkeley in 1956 and ar San Francisco State University in 1965.