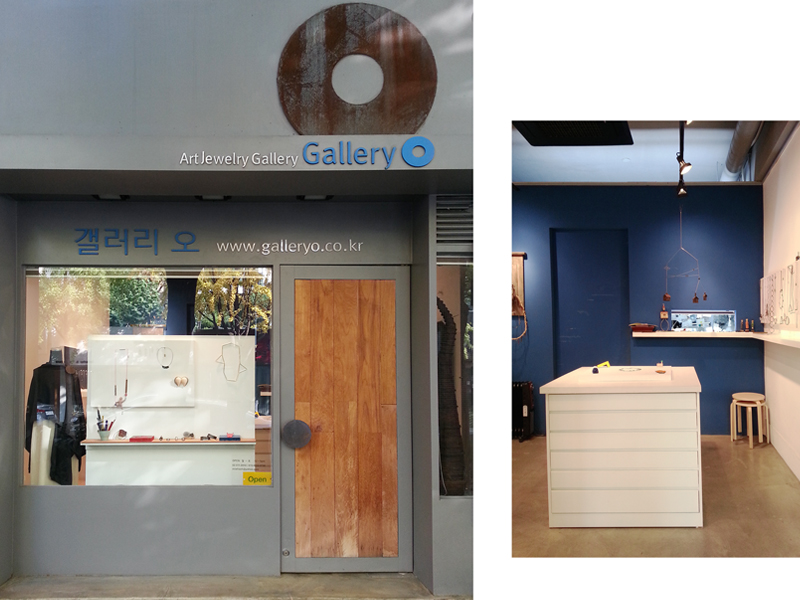 Founded in 2001, Gallery O is a leading gallery in South Korea for local and international contemporary jewelry. Its founder, jewelry artist Miwha Oh, holds degrees in metalsmithing, museum studies, and gemology, and has applied her extensive education to raising the visibility of contemporary jewelry in South Korea.
Olivia Shih: Could you share your educational background with us? How has this background influenced your work and your vision for Gallery O?
Miwha Oh: I earned my BFA at the Parsons School of Design, and my MFA from Cranbrook Academy of Art. I also hold a certificate in museum studies from Harvard University and a certificate from the Gemological Institute of America (GIA)
When I first came to Seoul in 2000, I noticed that while there were a number of talented artists in the art jewelry industry, there was nobody working to make their work accessible to the potential audience. Besides artists' solo/ group exhibitions, there was no established community that aimed to spread this internationally recognized genre of art in South Korea.
I think my background as an American-educated artist has helped me immensely in managing Gallery O. Since I am an artist myself, this allows me to identify potential artwork for the gallery's collection. In addition, it is clear that my background in museum studies at Harvard heavily influenced Gallery O. During my time at Harvard, I learned what various types of museums do and how they are run. Since then, I have applied this knowledge to direct Gallery O as a leading educator of art jewelry in South Korea.
Could you talk more about your role as an educator of art jewelry in South Korea? Do you teach classes or host lectures at Gallery O?
Miwha Oh: I acted as a part-time professor at Seoul National University and Kookmin University from 2000 to 2007, teaching aspiring metalsmiths. My lectures focused on artist responsibility and expectation. After that, I was an occasional guest-lecturer at these universities, teaching graduate seminars on gallery management. I stopped teaching shortly after that. I stopped because I wanted to be more present at Gallery O. In order to stay true to our gallery's mission, it was imperative to interact fully with each customer who finds the courage to pop in.
While the experienced customers have come to understand the gallery to a high degree, many new customers ask the most elementary questions. Thus it became clear that I must explain our artwork accordingly to their level of experience. I do not hire employees on purpose, because I feel the need to be there personally to encourage my customers to grow. Being there for them is my way of teaching them the art.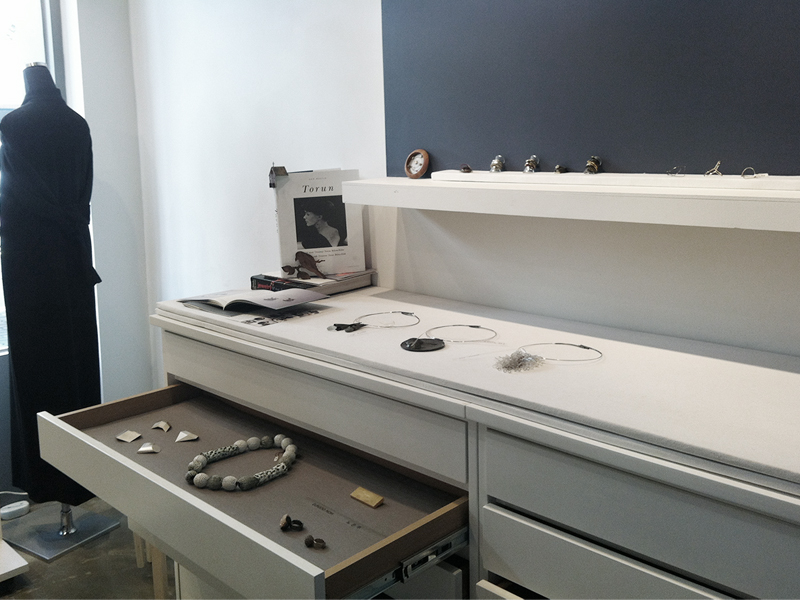 What is the story behind the name "Gallery O"? Was there an event that sparked your decision to open a diverse and international art gallery for art jewelers?
Miwha Oh: The "O" in Gallery O stands for my last name, "Oh." As such, I feel a strong sense of responsibility in running the gallery and realizing its mission. Furthermore, the letter "O" represents the shape of a traditional ring.
At first, my customers found art jewelry to be fascinating yet understandably difficult to wear because of how different it was from other types of jewelry. But over time they overcame this "fear." I removed the boxed cases usually found around artwork in traditional galleries to make it more accessible. I also found it effective to gauge each customer's level of "experience" with art jewelry upon his or her entrance and recommend artwork accordingly. To the beginners, I offer the most easy, affordable artwork and aim to educate them and engage their familiarity with art jewelry in the process. I found it important to maintain a wide price range of products in my collection.
At its inception, Gallery O revolved around my own work, aside from a small collection of jewelry from some of my favorite Korean and American artists. Since then, I've expanded the gallery's collection to include South American and European jewelers. Whenever I bring in artwork from other artists, I focus mostly on originality, accurate price, and craftsmanship of materials, so the wearer can feel comfortable and unembarrassed while wearing it. For Gallery O, this has always been a good benchmark for quality.
As a gallery owner, could you share a few criteria you use when selecting new talent for the gallery?
Miwha Oh: Gallery O's mission is to spread understanding of and appreciation for art jewelry in South Korea by recommending the right piece of art to each customer in a way that best matches his or her interest. When customers visit Gallery O, they not only get to explore the work on display, but also witness the design and manufacturing process in a small room behind a set of curtains, thereby getting a close feel of what Gallery O represents.
As a gallery owner, I always seek new talents who can create work with unique concepts and a professional level of craftsmanship. I also very much seek high-quality limited productions. I bring a wide range of prices to ensure that Gallery O's mission reaches as many potential collectors as possible. I believe that a gallery's job is to collect and represent the quality art work of its field and, most importantly, to help the audience feel connected with the art work.
How do you find new artists to represent? Do you find their work in magazines, online, or in person at exhibitions?
Miwha Oh: I try to travel as often as I can without disturbing the gallery's operations. Before planning the trip, I contact artists through AJF, Klimt02, Metalsmith magazine, Google, and word of mouth from artists I already represent. I look for artwork that matches the concept of Gallery O. Another way I find new artists is during my visits to art jewelry exhibitions in South Korea. This happens less often because exhibitions are not too frequent.
I prefer the first method, as I am able to access international artists who are rare in Korean exhibitions. I also get to talk at length with the artists before representing their work.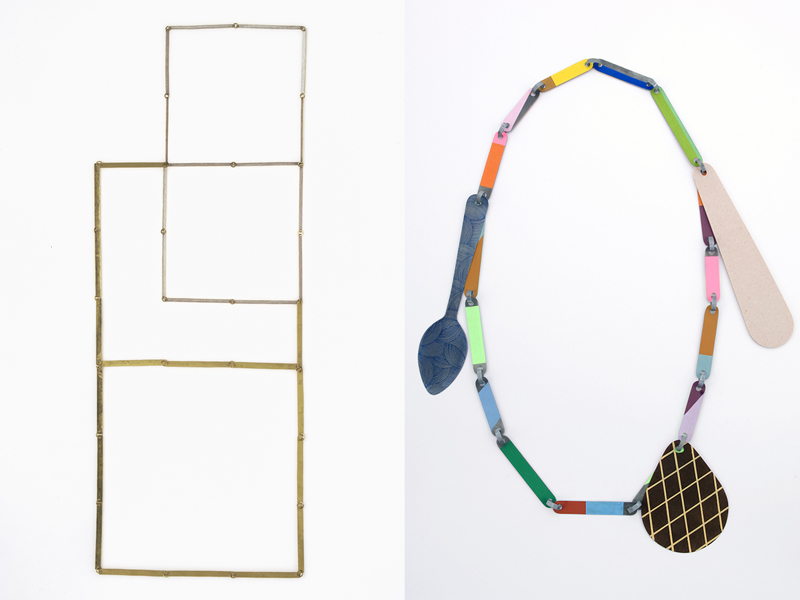 Do you think there are certain trends in South Korean contemporary jewelry? What sets South Korean jewelry apart from its European or American counterparts?
Miwha Oh: I think we are too early in the history of Korean art jewelry to be able to locate a trend. It's a growing industry here, albeit still very small. Traditionally, Korean artists were limited to portraying concepts and themes such as nature or emotion. But today, many Korean artists are foreign-educated and have a global understanding of the industry. Each one of Gallery O's artists possesses an individual style that has little to do with his or her country of origin.
At Gallery O, there is a balanced demand for domestic and international artists. This is a positive sign that Korean customers have been able to embrace different artwork.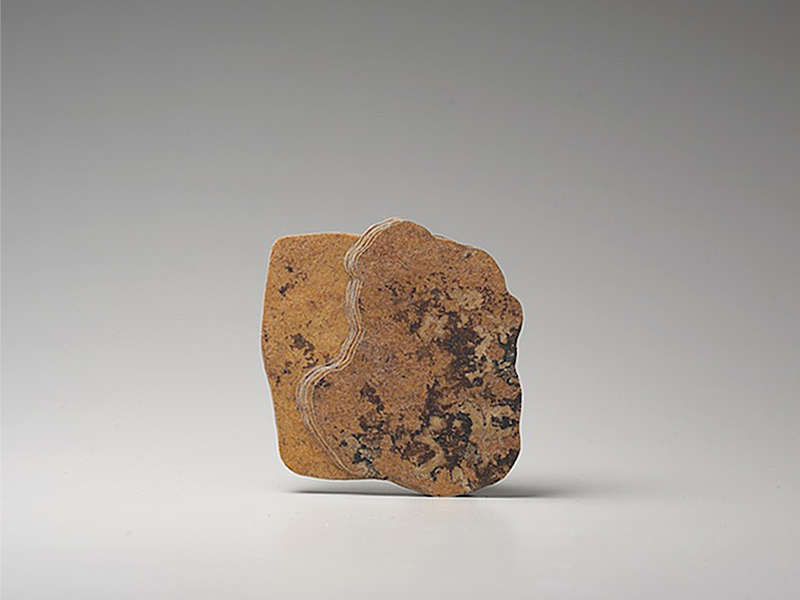 Many countries in East Asia have more conservative markets when it comes to jewelry materials. Jewelry artists like Rebecca Hannon and Svenja John typically eschew traditional precious metals and stones, opting instead for alternative materials that range from plastic to Formica, and you represent both at Gallery O. Why did you decide to represent these artists?
Miwha Oh: We go beyond selling artwork that the customer is already familiar with. We challenge them with new concepts, new shapes, new styles, and new ideas. This is our way of introducing art jewelry to Korea.
East Asians find it strange to pay money for jewelry without precious metals and stones. There is a widespread notion that valuable artwork needs to be made of expensive material. We are currently working to break this mindset.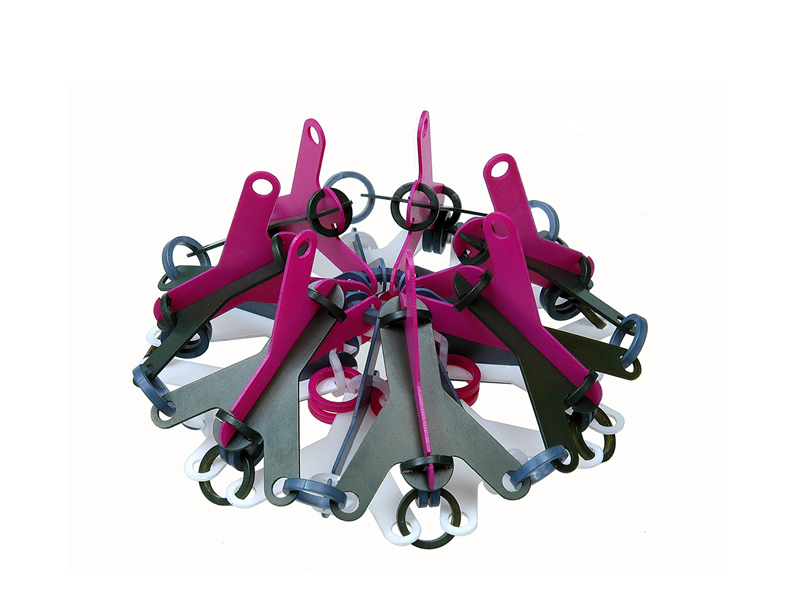 South Korean jewelry artists have received numerous accolades recently, including the AJF Artist Award, which was won by Seulgi Kwon in 2014. Do you think there is a growing collector base in South Korea? What type of person ventures into Gallery O?
Miwha Oh: While more and more South Korean artists are deservedly being recognized for their talent in the global art jewelry community, the collector base is disproportionately small. I think part of this is due to the fact that the industry's history here is quite short. We may still be in the stage of introducing art jewelry to Korea rather than at the stage of spreading it.
I try to encourage our more seasoned customers to consider becoming collectors. Those who do so find great joy and meaning in their newfound hobby.
What type of person ventures into Gallery O? It's an interesting question. Many tend to appreciate paintings and/or sculptures. "Cultured" is also a good answer. I think anyone who is artistically curious ends up loving our gallery.
In the near future, do you have any plans to bring more visibility to contemporary jewelry in South Korea?
Miwha Oh: Gallery O was recently selected to represent Korea early next year in an art jewelry exhibition held by the National Gallery of Victoria in Australia. We are currently preparing for this occasion.
In addition, one South Korean art jewelry collector will be opening an art jewelry museum in two years. We plan on directly supporting this effort, as our mission statements overlap.
Finally, next year, we plan on holding the first art jewelry exhibition of our own. We plan on working with foreign art galleries and museums to showcase both Korean and non-Korean artists.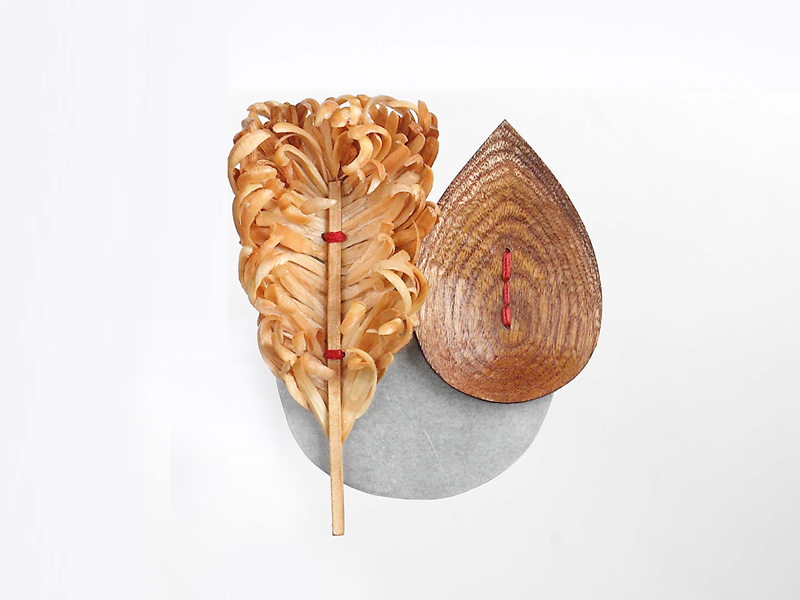 Have you heard, seen, or read anything fascinating that you would like to share with our readers?
Miwha Oh: What distinguishes art jewelry is that it tells a story. Roughly 20 years ago, when I was still in the US as an artist, an American couple contacted me to discuss in person a customized order. When they came to see me, they requested a ring for the husband and a brooch for the wife but specified that the ring somehow be attachable to the brooch. I agreed. A few days later, the couple left satisfied with the completed order.
Months passed, until one day I got a phone call in the middle of the night. The wife who had requested the order months ago explained that she had an important event coming up and begged me to pray for her and her husband. I agreed and have since never heard from her.
As an otherwise stranger to this couple, I suspect that my artwork played a role in their dilemma. This to me is the beauty of art jewelry. It possesses meaning that goes beneath the surface.
Thank you.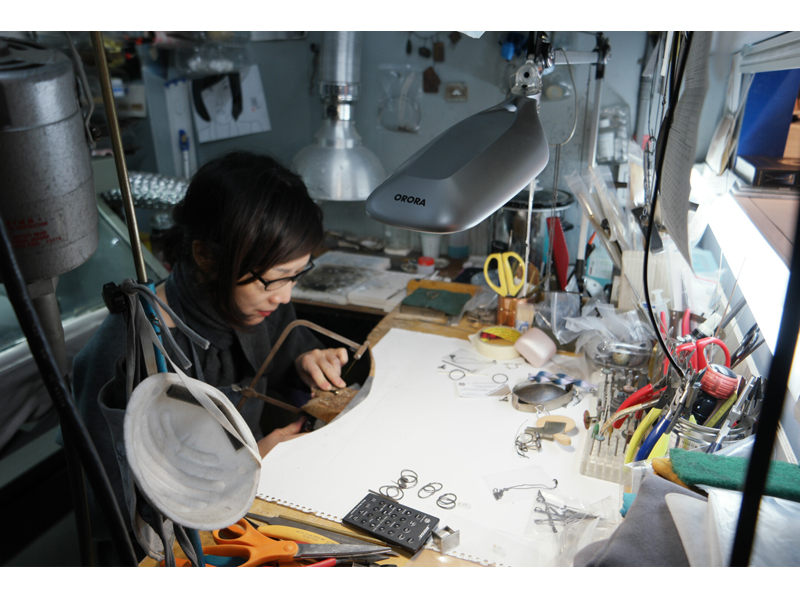 The work in Gallery O ranges from US$50 to $10,000.