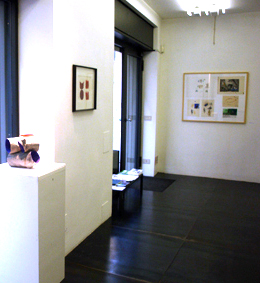 Kellie Riggs: Please explain how your gallery functions as a cultural association.
Ellen Maurer-Zilioli: We are living between north and south, between Germany and Italy. From the beginning, I was interested in some sort of cultural exchange. I wanted to bring Italians in exhibitions to Germany and vice versa, artists from Northern Europe to Italy. Art is international, and so it is a tendency in our activity. For example, we've gladly joined with the German General Consulate in Milan and with the Goethe Institut to exhibit a formal show and to expand its public range. And another point: I prefer to work long range, composing projects that we can propose to public institutions. That works better if you're an association.
Kellie Riggs: The title of your gallery indicates that it is for the contemporary arts, yet you include contemporary jewelry. Do you make a distinction between fine art and art jewelry, or do you consider them as one?
Ellen Maurer-Zilioli: In my opinion, it is not correct to automatically speak of art when you talk about contemporary jewelry, but of course there is always an interaction between them. For our exhibitions, I only take positions where it is absolutely necessary to underline the artistic impact of jewelry as art. I am an art historian and have been active for many years in the state museums of Munich, so I will always keep this connection and try to combine and interweave artistic and jewelry positions, design and crafts.
Kellie Riggs: Where do you see an overlap?
Ellen Maurer-Zilioli: As stated before, it is not automatically guaranteed that jewelry is art, but I am mainly interested in this discourse. The overlap of art and jewelry is indicated by quality, forceful and consequent aesthetic language, long-term development, deep content and reflection, maturity, and convincing congruence between message and form. In the end, all those arguments give us some orientation for understanding art in general if it is still possible, and it has to reflect or to be in relationship with the contemporary cultural and social situation.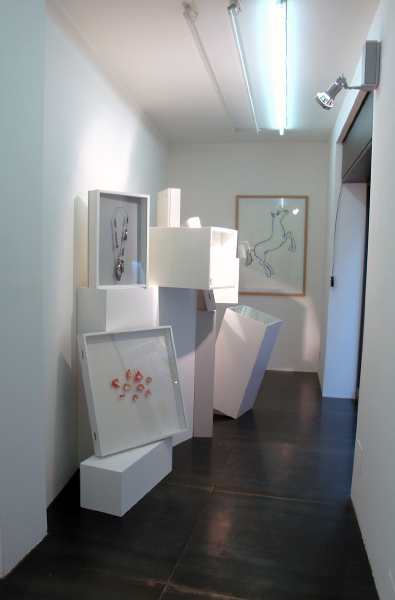 Ellen Maurer-Zilioli: I have experienced art museums and the art public reacting with irritation and disgust when a gallery shows jewelry with other genres usually considered as art. The Kunstmuseum Wolfsburg and a few others have written requesting to be deleted from our mailing list. Their dispute is that we are showing design and jewelry. Another example was a very famous German gallery owner who told an artist that wanted to exhibit with us that we only work with jewelry. I could tell you a lot of those stories. People don't even register what one is really doing. They simply open a drawer or a category to put you in, usually with the intention to disqualify your work, for concurrence, for reasons I won't ever know.
Kellie Riggs: Regarding these stories, do you think this type of thing happens too often, where people in the art world just don't know about contemporary jewelry? In this sense, do you see your gallery as unique?
Ellen Maurer-Zilioli: Yes, people in the art world don't know anything about artistic jewelry and do not recognize it as art. But I am not alone. There are other galleries working like me. It is possible, but perhaps it is harder.
Kellie Riggs: Can you talk more specifically about exhibitions you've hosted that included multi-disciplinary genres and/or artists?
Ellen Maurer-Zilioli: We opened the gallery with fantastic objects by Peter Bauhuis combined with a photographic series by Oliver Haas. It was one of the best shows. Therese Hilbert showed alone. Then there was an exhibition by the photo artist Antje Hanebeck with jewels from Karen Pontoppidan. A really perfect marvelous exhibition that was completely misunderstood in Italy. Too far away from classics and conventions. We organized an important solo show for Otto Künzli and for Giampaolo Babetto. When we had the exhibition Piccole Sculture (Small Sculptures), we included jewelry by Therese Hilbert beside well-known and historical Italian sculptors like Martinazzi, Bruny Sartori, and Valeriano Trubbiani. There are many possibilities for creating correlations between different fields in art.
Kellie Riggs: How has your former position at Neue Sammlung at the Pinakotek der Moderne in Munich influenced or shaped the gallery in Brescia?
Ellen Maurer-Zilioli: It has influenced us a lot. Actually, without this former experience, I would never have been in contact with jewelry art. Even in Munich, jewelry art had to grow, develop a network, gain knowledge, and form spaces. I learned a lot from Otto Künzli and Therese Hilbert. I am actually a pupil of theirs, perhaps I can say a master student. And thanks to the engagement of Prof. Hufnagl from Die Neue Sammlung and the Danner Foundation, I was introduced to the field.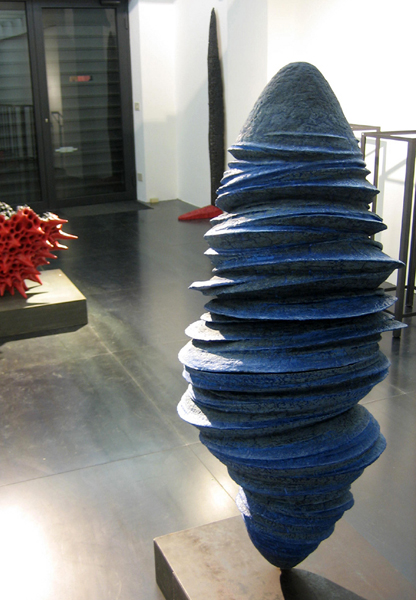 Ellen Maurer-Zilioli: Brescia was chosen for practical reasons. My husband was born there, had his business there, and we own property. But the town is horribly conservative, extremely provincial, and close-minded. Now I am used to it, but I was really shocked in the beginning. It is not interesting for me to work in or out of Brescia. I am there for personal reasons. That is all.
Kellie Riggs: Last spring you exhibited 4 Padovani e un Torinese, featuring the work of five Italian goldsmiths and art jewelers. Has your gallery had an impact on Italy in any way, or do you think Italy remains largely unaware of its jewelry history?
Ellen Maurer-Zilioli: In general, I think Italy is one whole small town, provincial, and back-minded, but I am convinced that my gallery work has an impact. Participating in different roundtables, evenings, and other manifestations between Rome and Milan, I know that people were observing us, and they understood the quality, the high level of our artists, even if after it all they cannot really follow us. But the younger generation was impressed and loves our dedication. One of the worst aspects of Italy is that young people don't often speak other languages, so the world is partly closed to them. What that means is that even impulses from the outside are not welcome. This, of course, is a generalization that should be taken with carefulness. And another thing, in Italy it is rarely quality or talent that selects a career, but community and friendship instead. Not professional artistic position, only cousinhood. That limits all activities quite a bit.
Kellie Riggs: This might be a little loaded, but what do you think needs to happen in order for contemporary art jewelry to make more of a cultural impact? Are we on our way?
Ellen Maurer-Zilioli: This would a long comment. I have very clear ideas, but you need partners to realize all this. First of all, more marketing—what I mean is more community, more relationships, more cooperation, more links and blogs and discussions about style, quality, schools, identity, the future, and so on. We are on a good path, but it could be much, much better.
Thank you.