Susan Cummins: Maya, can you tell me about your background? Your place of origin? Your schooling? How you became a jeweler?
Maya Kini: I was born and raised in the Boston area, the fourth of five children by parents from vastly different worlds. My mother is Italian American from New England, and my father emigrated from India in 1957 to get his PhD. He decided to stay in the US after meeting my mother. From a young age, I was given jewelry by visiting Indian relatives—bangles, anklets, and fine gold chains. Adornment begins at a young age in India and evolves into a complex language of beauty, wealth, and status.
I studied sculpture and literature at Reed College and eventually wrote my thesis on the translation of Catholicism and its earliest dispersion into New Spain. I received my degree in Spanish literature in 2000. In 1996, I was introduced to jewelry making in Mexico, and that seed developed into further study, apprenticeships with other jewelers, and eventually an MFA in metalsmithing from Cranbrook Academy of Art. I received my degree in 2007 under the guidance of Gary Griffin (2005–2006) and Iris Eichenberg (2006–2007). Currently, I operate my own small studio that focuses on commissions, multiples, and one-of-a-kind pieces.
I love the relationship between jeweler and patron—this sustained tradition of knowing where a piece of jewelry comes from and whose hands have crafted it. There are few objects with which we adorn ourselves that allude to both ritual and beauty. Jewelry has captured this unique place.
As an instructor at the University of California–Davis Craft Center, can you talk about the program and give us an example of a project you like to assign to your students?
Maya Kini: My husband and I moved to Sacramento in 2007. He is the director of a housing-policy organization, so proximity to the capital is important. I wanted to stay involved in the jewelry world and discovered the UC Davis Craft Center in 2008, after our daughter was born. It is a laidback place, separate from the art department and accessible to the students and staff at UC Davis and to the greater community. I have a wide range of students, from geneticists to ecologists to artists. The Craft Center offers the usual assortment of applied arts with some great access to glass fusing, casting, lampworking, blacksmithing, and furniture making. I teach lost-wax casting. Typically we begin by carving rings and creating texture. I try to introduce students to the advantages of casting for creating complex surfaces, incorporating found objects, and tempting serendipity—letting go of one's original intention and discovering the potency of the mistake. Beginning casting is a particularly good medium to illuminate this aspect of making.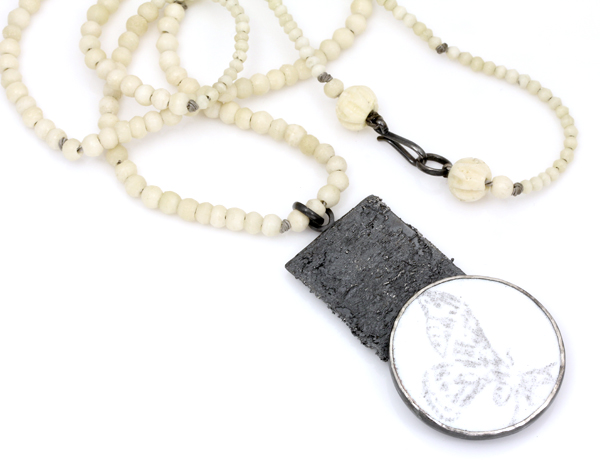 Maya Kini: This show developed out of my thesis work at Cranbrook and a series of objects my Indian grandmother carried with her in her purse. There were mundane objects—dentures, bobby pins, and handkerchiefs—and also ornate gold jewelry. Essentially, she had all of the jewelry she owned in her purse at the time of her death. I imagined what an archaeologist might do with such an archive, and so I studied it, cataloged it, and eventually wrote a series of short stories based on these objects. I then attempted to develop a language based on these cataloged objects to make jewelry. While the resulting pieces were largely unsuccessful, that was the first time I cast silk, and I fell in love with the texture and the process of casting. I decided then to focus on the silk and its translation into metal. In that process, I discovered the palette, textures, and forms that I had been looking for.
How did the idea for this show develop?
Maya Kini: We visited India in 2009–my first visit there as an adult. We went to a government silk factory where the workers take the silk through the entire process, from boiling the cocoons to spinning the thread, dying the thread, weaving the silks, and embellishing them with the zari (metallic thread). While on that trip, my aunt gave me a pile of saris woven in the Indian city of Benares in the 1960s. The saris were made of silk georgette with silver embroidery. They had belonged to my grandmother, but the silk was now so fragile that they could not be worn without tearing.
The saris sat in my studio until I had the idea to cut out small sections with the silver embroidery, back them with wax, and take them through the lost-wax process. The resulting pieces often emerged looking more moth-eaten than when they had gone into the molds. But, I found that the silver woven into the original sari material did not burn out in the mold. Instead, it became embedded into the casting. This was a lovely discovery, for it meant that there was part of the original cloth in the new casting. It fell in line with how I think about the process of casting in general, which is a way to generate something imperfectly related to the original rather than a perfect copy.
The sculptor Rachel Whiteread (who uses casting to illuminate the space between things, or the space we don't often consider) says this of the process of casting:
A cast of an object traps it in time, eventually displaying two histories–its own past and the past of the object it replicates. The perfect expression of this is the death mask. It captures all the physical accretions of the human face soon after that face has completed its living existence but before rigor mortis accelerates it towards disintegration. It remains in the world to remind us of the dead as both portrait and memorial, a replica of an object in its own right.
For me, the silk is material—strong, soft, and lavish. The metal is a neutral space where the texture and embellishments on the silk can come alive and be preserved, and the story relates these materials back to the people they will outlive.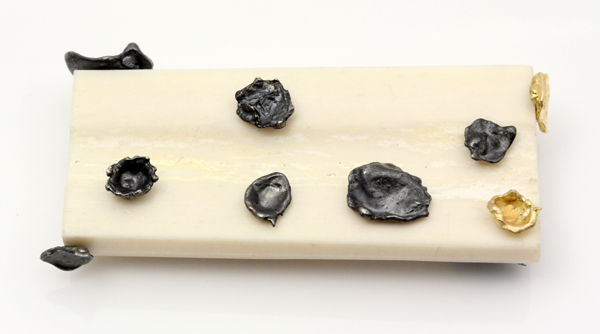 Maya Kini: There is one piece in the show called Regeneration made from a slab of bone with all of these bits of metal that were made by pouring molten metal into water. The metal bits appear to be growing out of the bone like lichen. That piece may be the most succinct at expressing a cycle of generation, decay, and transformation. My general perception of material, especially metal, is that it is not static. Why do we work with metal? Perhaps, ultimately, because it is a sustainable material. And what does that mean? That we are always beginning in the middle, starting a new piece with the scraps of another, stringing together shards of many works to make a new thing. It is with this absurd hope that the things we make might persevere that our hands stay busy, skirting the edge of the scrap yard, the rim of the crucible.
Can we as humans connect with the life of an object? Explain.
Maya Kini: I love this last question. In my studio, I have a poem by Jorge Luis Borges called "To a Coin." In it, he describes throwing a coin from the deck of a ship, imagining the unconscious but parallel destiny of the coin alongside his own:
…I felt I had committed an irrevocable act,
Adding to the planet
Two endless series parallel, possibly infinite;
My own destiny, formed from anxieties, love and futile upsets
And that of that metal disc
Carried away by the water to the quiet depths…
We exist alongside all of these objects that will define us in our deaths—the things we wear, the things we carry in our purses, our books, our music, our art. We are intimately connected until we die, and then the objects go on. They connect to another person, develop new meaning, new significance. For me, it is difficult to imagine the things I have collected existing beyond my own lifetime, and yet, as a metalsmith, I know that they will. Like Borges in his poem, I have a little bit of envy and a little bit of remorse for the unconsciousness and the longevity of objects.
Thank you. That was a lovely ending.