Maureen Faye-Chauhan is an Australian jeweler who creates sophisticated geometric structures that play with optical illusion, light, and volume. Influenced by the rural Australian bushland and Asian culture and philosophy, her work marries the use of technology with precision hand work to create jewelry of steel forms and patterns. Her current solo show, Concurrence, is on exhibition at Gallery Funaki in Melbourne, Australia.

Bonnie Levine: Please tell me about your background. How did you become interested in making jewelry?
Maureen Faye-Chauhan: I can't remember a time in my life when I didn't enjoy making things.
After high school, I spent two years at an art and craft teacher training college, where I had expected to specialize in the textile arts. However, by the end of the second year I found I enjoyed both metalwork and photography more. I was a rather impatient young woman at this time, but also practical, and I decided it would be constructive to focus my further studies on metalwork as I knew that working with metal would help me counteract this impatience and assist me in becoming a more considered individual. As all who work in this discipline know, hasty unconsidered shortcuts most often create more work.
At this point I transferred to a gold and silversmithing degree at Melbourne's RMIT University, but had to stop my studies after one year for financial reasons. I continued making basic silver and gold jewelry in a home studio and spent every Sunday for about three years at an art/craft market outside our city's art center with my partner at my side selling my wares, until our second son was born and it became necessary to take a break from making, which ended up lasting about three years. During this time I became disenchanted with the jewelry I was seeing around and almost gave up on making. Australia had a huge influx of imported beautiful and cheap silver Asian jewelry and I realized that I couldn't compete with this. I knew that if I was to continue working in the jewelry field I would need to up my skill level, and when my second son started school, I also went back to school.
I spent the next seven and a half years at Monash University, under the gentle guidance of Marian Hosking, who is listed as one of Australia's living treasures/masters of craft. Through Marian, I learned to use my practice as both a medium of exploration and a vehicle of expression. She gave me the permission to be myself and to find my own voice, all the while promoting diligence, excellence, and passion through her own practice. I also had the privilege of three years tutorage with jewelry artist Mascha Moje, who helped kick start my making brain after the long break I had had, and taught me the stringent critical techniques required to keep making strong work. She also stressed the idea of learning from each body of work and of letting each piece guide you to the next.
When I left Monash University, it was 2008, and I have spent the last seven years making work and learning new skills, while helping my now long-suffering partner build a beautifully spacious home studio, de-institutionalizing myself in the process.
I've read that you live in a hand-built house in semi-rural bushland outside of Melbourne. What's it like to live there, and what do you do in your spare time? Does living there impact or influence your work in any way?
Maureen Faye-Chauhan: Absolutely! Our house is made of mud brick and recycled wood, and works in harmony with its surroundings. The outlook is scattered Australian gum trees among clumping native grasses; it is a dry and subtle environment. In fact, after returning from a trip to central Australia last October, a good friend remarked, "I always thought you lived in the desert, but now I realize you don't." The color palette of the bushland is quite muted, and in spring we get very small native flowers and orchids popping up everywhere; in summer there are tiny little lizards and insects scattering everywhere. In autumn, Janak (my husband) and I love to go with friends on fungi expeditions. I read the other day that there are 250,000 species in Australia. My phone's camera is full of images of different varieties of shape, color, and form.
I find that after living here for so long, my vision has become keyed in to seeing the finer details and happenings that occur around me. I am constantly watching the light coming through the linear tree trunks and flowering grass heads, the movement caused by the wind, and the shape of leaves and other debris on the ground.
Back at the studio, I endeavor to bring some of these elements to the work I produce, along with the quietude that working alone in this type of environment brings.
Your jewelry forms are complex structures of repeating geometric patterns. Light, volume, and negative space seem to be important elements. Can you tell us how you create, develop, and build these elaborate pieces? Does technology play a role? Does mathematics play a role? How about nature?
Maureen Faye-Chauhan: I have been researching the historic use of symbols and patterns for years. In my early market days I had a range of "charms," which included a Viking love charm, an African clothing symbol, and some Greek goddess symbols. Then in my university years I developed an interest in the way Arabic artisans used geometric pattern as a language. To become a little more contemporary I began to study post-war abstract art and became enamored with the moiré effect in Op Art, which I then began working with. I started off layering geometric pattern within resin, but soon wanted to create more three-dimensional environments. This naturally led me to 3D software, and I have spent a part of the last decade learning various programs in an effort to learn how to create what I want to create. I now mostly use Rhinoceros and some of its third-party applications.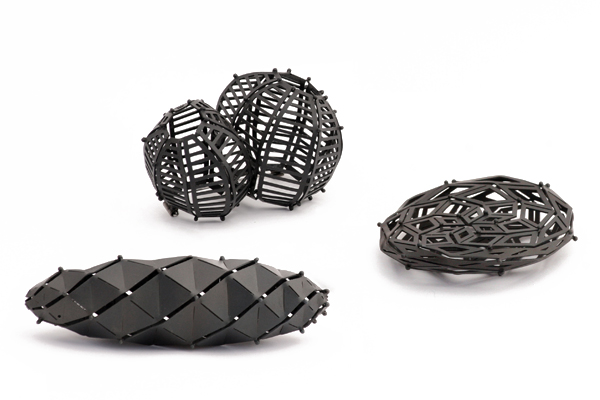 Algebraic mathematics doesn't do much for me; I prefer the language of symbols. Geometry for me is numbers in space. There is a great book called The Language of Pattern, by Keith Albarn, Jenny Miall-Smith, Stanford Steel, and Dinah Walker, which in one part discusses how the trace of a moving dot in space becomes a line, a moving line becomes a plane, and a moving plane leaves a trace that becomes a form.
I am not a very linear learner, and start out with an idea of a form that I want to create and then have to go about working out how to create it. I might use a technique from one application to do one thing and then move on to another application for the next part, and then head back to the original platform for the next. This is probably not the simplest way of doing things, but perhaps this technique adds to the vitality of the finished works.
I also bring the unfolded forms out of the computer halfway through this process to get a feel of them in the material world. I make numerous paper models, which is a little tedious but necessary, for to work well in context with the body it is crucial to understand how the actual shape and volume of a piece actually feels in the hand. At a later stage I also construct black and white printed acetate models, which is essential for understanding the play of light, pattern, and interaction between both positive and negative space within certain forms.
When the artwork design process is completed, they are laser cut and once back in the studio I start re-forming them using my TIG welder. Some parts come together fluidly and some require brute force. I learned early on that stainless steel doesn't always fold together as easily as paper.
Your current show at Gallery Funaki, Concurrence, is your first solo show—congratulations! Tell us about what you're presenting. How does the idea of "concurrence" relate to your work?
Maureen Faye-Chauhan: Thank you! I am very excited it has finally come about.
The idea of "concurrence" relates of course to several things happening at the same time. One is the reoccurrence of certain patterns in nature and in art; two is having several bodies of work forming alongside of each other; and third is the emergence of different techniques. I have for the first time played with having work 3D printed and cast, which is so much fun!
Tell us about your interest in Asian culture and philosophy. Does it influence your work?
Maureen Faye-Chauhan: My father was a practicing Quaker, so I grew up with the idea of silent prayer. Then at university I studied Buddhism in art history and felt a connection with Zen philosophy and mindfulness. I later touched on the effect of Buddhism on contemporary western art in my master's thesis.
Janak was born in Mumbai, India, and grew up in a Hindu household; he is now a closet Taoist.
My in-laws are active Hindus, and I have spent the last 20 years attending family pujas (prayer ceremonies) with them. As you can imagine, merging an upbringing of silent prayer with singing and colorful ceremony is bound to create confusion!
Seriously, though, being a part of a dual-racial family has encouraged me and my partner to go out and explore culture in general. We have been lucky enough to visit several Asian countries, India included. During these travels, I have observed differing attitudes to making and pursuing life in the arts and this has had an effect on me, though I find it difficult to clarify exactly how. It probably comes most into play in how I conduct my daily life and my attitude to making.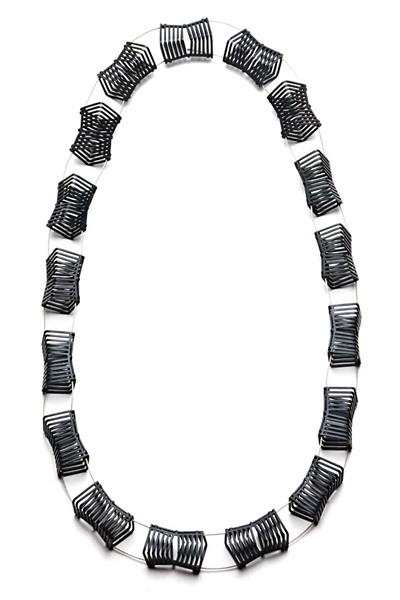 What's next on the horizon for you, and how do you see your work evolving? Are you exploring new forms, structures, or materials?
Maureen Faye-Chauhan: I am really just catching my breath after producing the work for the show.
Normally start the year with some up-skilling, often picking up where I left off in the last research phase. I am definitely interested in working with some niobium when I can get my hands on some, and some more 3D printing. One of the most unexpected outcomes from the Concurrence show occurred in the first piece in what I call the "flow series," where thin zigzagging lines across a mostly solid surface created a subtle but beautiful interplay of light and pattern I didn't expect. So more of that will probably be on the horizon.
Have you seen, read, or heard anything lately that excited you that you'd like to share with our readers?
Maureen Faye-Chauhan: In October I spent several days camping at and around Uluru (Ayers Rock) in central Australia, which is a beautiful red-earthed desert environment with an enormous red rock in the middle of it. I found that in the desert, life is really pared back to the essentials, everything has a purpose, and plants and animals have evolved to be as efficient as possible … it was all just so beautiful …