AJF asked the five young Artist Award finalists to give us their thoughts on the future of the field. Their work represents a group of outstanding pieces of contemporary jewelry. This is the fourth of five interviews, including one with Seulgi Kwon, the winner of this year's award.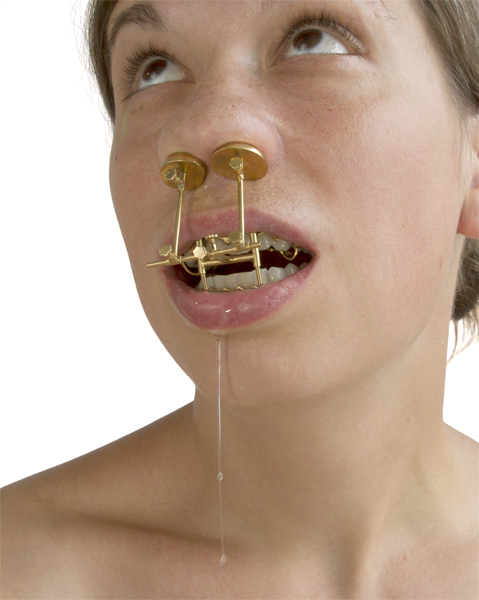 For this, the 14th annual AJF Artist Award, the jurors were Carin Reinders, director of CODA, Apeldoorn, Netherlands; Karen Rotenberg, founder and director of Alianza Contemporary Craft and collector of contemporary jewelry; and Sooyeon Kim, jeweler and recipient of the 2013 AJF Artist Award. Jurors met in October and selected the following five finalists for the 2014 AJF Artist Award: Attai Chen, Benedikt Fischer, Lauren Kalman, Heejoo Kim, and Seulgi Kwon. The choices were based on originality, depth of concept, and quality of craftsmanship. These artists are also all under the age of 35.
There will be a small show of the five finalists' work at Platina's booth in the International Trade Fair hall in Munich in the Frame area surrounding Schmuck.
AJF: Where do you think the art jewelry field is going?
Lauren Kalman: I hope and believe that the field is broadening.
What do you think about that direction?
Lauren Kalman: That said, my interest, and therefore the work I follow the most, lies with jewelry that considers the cultural contexts of wearable objects; work that considers how jewelry expresses identity, or represents historical conventions and power structures.
What excites you about it?
Lauren Kalman: I am also excited to see work that places jewelry in situ, through performance, photography, or installation. Specifically I am interested to see work that fully considers the site of the jewelry as an integral part of the work, not just as documentation. For me this is a necessary part of a dialogue about jewelry. It also leads, in many cases, to a more interdisciplinary approach to jewelry, where jewelry is the subject of the work in addition to, or instead of, the format of the work.
What frustrates you about it?
Lauren Kalman: I think my reservation about interdisciplinarity is that it is a popular buzzword, and therefore an attractive place to locate work.
What do you think your direction will be five years from now?
Lauren Kalman: It is my hope, with my own work and with that of others, that choosing an interdisciplinary method is as thoughtful and concept driving as choosing to work with a single medium. Within this context, I am interested in continuing to explore jewelry and adornment as the subject of my work and expect that metal will continue to be a main medium in conjunction with other materials and processes including photography, video, performance, and sculpture.