Kristen Baird, the winner of the 2017 Halstead Grant, hails from Savannah, Georgia. Her Southern upbringing and immersion in nature led to the organic flow in her jewelry collection, which incorporates ethically sourced gemstones and silver reticulation techniques. Winning the Halstead Grant helped Baird launch her new fine jewelry collection, a long-awaited dream. In this interview, we talk about her evolution as a jewelry designer and small business owner.
Olivia Shih: Congratulations, Kristen! As the recipient of the 2017 Halstead Grant, you were selected for your design passion and business strategy.
Kristen Baird: Thank you, Olivia!!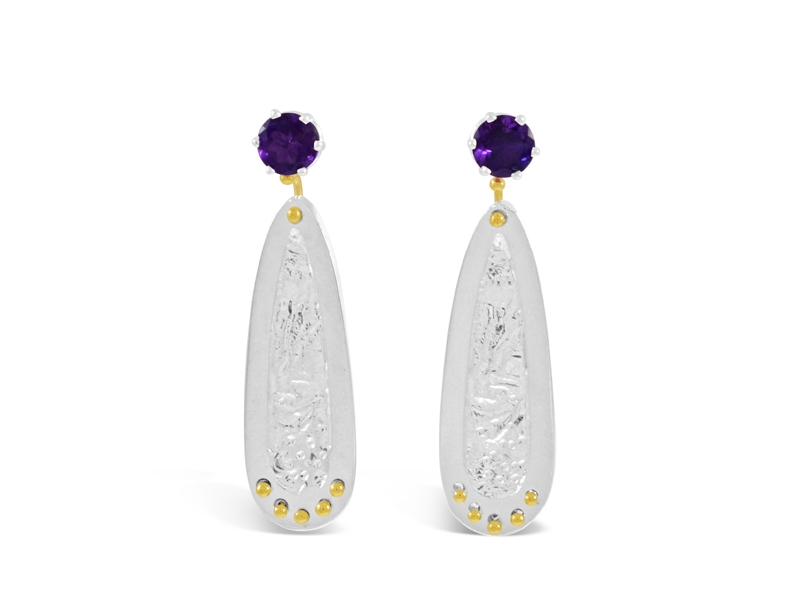 What led you to jewelry making in the first place?
Kristen Baird: As a kid, I dabbled in polymer clay creations and beaded jewelry. Little did I know that after three years of studying architecture and interior design at SCAD, I would try a metals and jewelry intro class and stumble upon that childhood love of handcrafted jewelry and jewelry design once again. I changed my major to jewelry design, graduated with a BFA, trained at New Approach School for Jewelers under Blaine Lewis, and then set out to start my business, Kristen Baird. It's been a whirlwind, but I LOVE jewelry and have no regrets!
You studied metals and jewelry at Savannah College of Art & Design and completed the Graduate Bench Jeweler Course at the New Approach School for Jewelry Design. Where did you learn about running a business?
Kristen Baird: Most of my business knowledge up until 2017 has been learned from a combination of trial and error and observing other people to see what works for them. I'm fortunate to have a lot of people in my circles who believe in me and have mentored me along the way. While that has been awesome, I recognized that I needed more help with the business to take it to the next level. Things like SEO, marketing, PR, content creation, communication, delegation, and team management skills were at the top of my "need to learn" list. In 2017, I joined the Flourish and Thrive Academy community in an effort to strengthen these areas moving forward. For 2017, I'm in the FTA Mastermind group, which has given me access to specialized and targeted coaching so I can elevate my business skills for the future. So much to learn, but taking it one step at a time!
What fuels your jewelry designs, specifically your collection in reticulation and ethically sourced gemstones?
Kristen Baird: One thing you'll notice across my collections is the natural feeling and the organic flow within my work. Drawing inspiration from my Southern upbringing—think summer days spent frolicking in the fields, working in the gardens with my Nanny, laughing until our sides hurt as we ran and played until the sun set and the lightning bugs came out—I inject my work with color and texture, juxtaposing forms both geometric and fluid, as though the designs might have sprung organically from the natural world. My clients tell me that my jewelry contains a "happiness and joy, a sense of nostalgia, a feeling of freedom." That makes me smile!
As a small jewelry business owner, you must have many roles to play in a single working day. What's a day in the studio like for you?
Kristen Baird: Every single day is so very different! Some days I don't even get to the bench, while other days I barely leave my microscope at the bench. Part of being a business owner is being flexible and able to adapt at a moment's notice. My ideal day is spent doing two hours of computer work (sending PR pitches, corresponding with customers about commission pieces, interacting on social media) three to four hours at the bench working on pieces in progress and preparing new designs, and two hours of networking/outreach/learning. That's idealistic … but one has to dream, right?!? Part of why I love working for myself is that each day is different, and the goal is always the same—grow the business and take one step forward every day!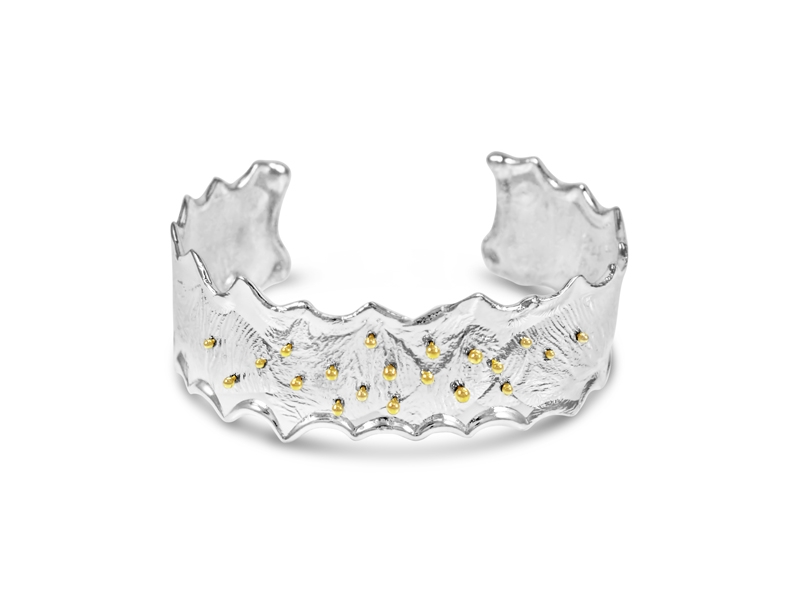 How do you plan on making the most out of the Halstead Grant, and has your business changed since being selected?
Kristen Baird: My biggest goal is to turn this award into a PR opportunity. I'm currently sending 10 or more pitches and intros to various magazines, blogs, TV stations, and my local media. It's incredibly time-consuming, yet rewarding when it actually happens and a story comes through! I'm also using this time to grow my collections and promote my brand both regionally and nationally. We just wrapped up shooting a video and I'm pumped to be getting that out there very soon!
Do you have any suggestions, whether in design or business strategy, for emerging jewelry artists?
Kristen Baird: Know your business. Accounting is not fun … neither are taxes … or break-even points, but it's VERY important to understand those things if you want to be in business and stay in business. Take business classes (SCORE is amazing and a great resource), network with other business owners across all industries (you'll learn a ton!), and find your tribe of business owners (mine happens to be an amazing tribe of #Girlbosses that inspire me on a daily basis).
Any exciting plans for your business in the near future?
Kristen Baird: My video launch is coming up and I can't wait for that. I'm also working on round 2 of my fine jewelry collection … bring on the earrings, necklaces, and bracelets. I'm focusing on online presence and website traffic, so I'm interested to see where I stand next year. Stay tuned!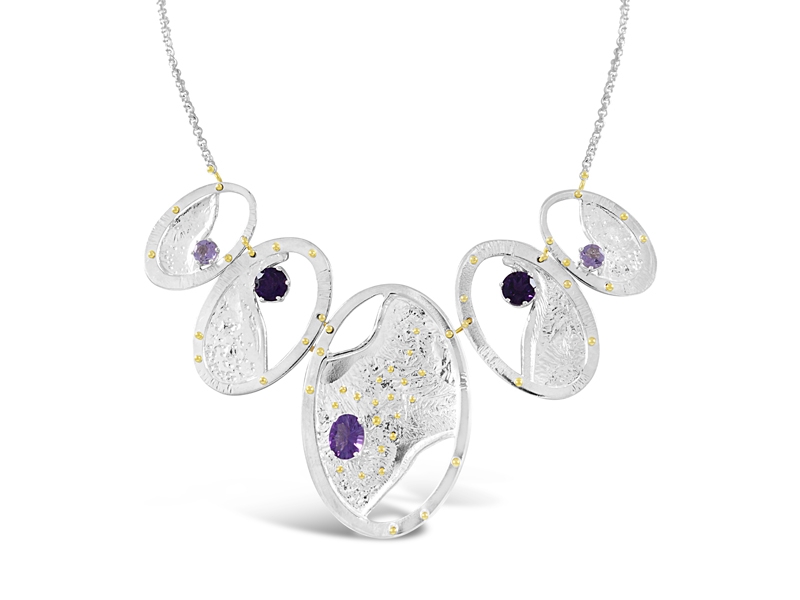 Have you read anything interesting recently that you would care to share with us?
Kristen Baird: I rarely have time to sit and read but at the encouragement of my assistant, I've gotten into podcasts and they are great. I follow the Flourish and Thrive Podcast, which is great for a small biz jewelry designer. So much good info! I also love things like Building a Story Brand with Donald Miller. My secret obsession is the TV shows The Profit with Marcus Lemonis and Shark Tank. So much can be learned from watching pitches, listening to business lingo, and seeing success stories. It's inspiring to me!
Thank you!
Marthe Le Van is a force of nature in the contemporary jewelry field. Not only did she found Mora, an award-winning boutique for contemporary jewelry in Asheville, North Carolina, but Le Van is an internationally recognized writer and editor. Hilary Halstead Scott, president of Halstead Bead, says, "Marthe brought invaluable insights to the judging committee. Her knowledge of the history of jewelry and the breadth of work on the contemporary scene brought new depth to our jurying process."
Olivia Shih: The Halstead Grant application requires jewelry business owners to showcase both design excellence and business acumen. What specific things were you looking for as a guest judge?
Marthe Le Van: It was important that the jeweler presented well-crafted work with an original point-of-view. That their collections illustrated this point-of-view progressing over a range of jewelry forms. Equally important was a practical strategy for the applicant to create a jewelry practice that was sustainable and scalable as a legitimate business.
What was one mistake that you saw jewelry designers making in their Halstead Grant applications?
Marthe Le Van: Most jewelers banked too heavily on traditional paths-to-market, such as the large wholesale shows. Though this route is perfectly fine, there are other ways a young designer can launch a line that ultimately might be a better fit for them and their jewelry.
What was the jurying process like? I've heard it can be intense and take days.
Marthe Le Van: The independent review and scoring of the business plans was the most intense part for me. Each application was a full-on binder of financial projections, distribution strategies, marketing plans, and each had to be thoughtfully assessed. Were the numbers reasonable, the path-to-market sound, and the goals attainable? The post-scoring group evaluation was much easier in comparison. Each juror brought so much to the table, and it was fascinating to listen to their views.
What impressed you the most about Kristen's application?
Marthe Le Van: A fiery ambition with the creative skills and business acumen to support it. She seemed true to herself and well on her way to establishing a powerhouse jewelry brand.
Thank you for your insight!