Bonnie Levine: You studied religion, anthropology, history, and native Maori language in college, followed by a serious career as a bass player in several well-known indie pop bands in New Zealand. With such a diverse background, how and why did you decide to become a jeweler, and how did you make that transition?
Jane Dodd: My career as a bass player was hardly serious—it was a fun thing to do with my friends. Although I have always been really passionate about music, it was, in truth, more a social activity for me (albeit exceedingly exciting) than a creative one. And it certainly never paid the bills!
A trip to Mexico in 1989 was a life-changing experience. There I was exposed to and excited by that culture's ubiquitous interaction with craft and aesthetics—an approach I realized was largely lacking in New Zealand. I returned determined to engage in the arts and applied to go to craft school. Originally I intended to study ceramics, but the very lively and productive jewelry department soon won me over.
Do you still play music today? What influence does it have on your jewelry?
Jane Dodd: Occasionally, but with little influence on my jewelry beyond being the background soundtrack of my workshop.
In the early part of your career as a maker, you spent 15 years in Auckland at Workshop 6, an all-female collective of makers, then moved home to Dunedin to establish a solo studio. What made you decide to "go home?" Working alone must have been quite different from having other makers around. How did it impact your work?
Jane Dodd: I moved home to Dunedin partly for family reasons, partly looking for a simpler life. Although I loved my time at Workshop 6, I was ready to work alone and to control my working environment a bit more. I think it has afforded me more opportunity to experiment with materials and processes. A lot of my current work is quite messy, stinky, noisy, and dusty, and I couldn't really do that in a shared space. In the last couple of years I have had the lovely and talented Octavia Cook (also formerly of Workshop 6) sharing my workshop a couple of days a week. So those nasty activities still need to be managed around her visits, but we work it out together. My current studio is attached to my home and I really enjoy that—an idea can come any time and I can action it immediately if I like. Or if I'm ever at a loose end there is always something to do in the workshop.
You have several different bodies of work—creatures, fairy tales, and land and nature—which seem to be about myth and storytelling. What inspires this work and what do you want audiences to take away from it?
Jane Dodd: I get inspiration from anywhere and everywhere: art, architecture, and craft seen in real life and in published form; the land, flora and fauna; novels, films, stories, histories. It all gets in, gets recorded in various ways (drawings, photos, photocopies, notes), gets mashed up together, and something comes back out. It's a very organic process, and I don't try to control or pre-think it too much. As I get older I seem to take a more intuitive approach to making, with much less planning than I used to do.
I don't have particular expectations of the audience but I am interested in the common experiences that connect people. Myths and stories can often operate as those links, but again I don't want to be too literal or strategic. I hope the audience is intrigued and that they enjoy the associations I make, my attention to craft, and the humor I try to bring to my work.
Your early work was mostly metal but now you're incorporating other materials. Can you tell us about that evolution?
Jane Dodd: Regardless of its amazing qualities, I was always a bit frustrated with metal—the weight, the expense, and the palette seemed to limit where I could go with it. I had started collecting woods, shells, and all sorts of miscellaneous material long before I had a vision or strategy for using them in my work. When I first came across Leuchterweibchens (a gothic German candelabra form usually incorporating animal shapes and antlers), it was as if a whole world suddenly opened up for me. I explored Leuchterweibchens as a device for jewelry for some time; the processes, materials, and themes subsequently led me in many new directions.
Your current show at Velvet da Vinci is called Rococo Revolution and was inspired by a recent tour of European museums, palaces, and treasure houses. What did you see and experience on that trip that inspired the pieces in this show?
Jane Dodd: Where to start?! I was looking for 18th-century carved ornament and particularly examples that engaged with folklore and storytelling. I found so much that astonished and amazed me, both in the technical achievements and in some bizarre concepts. Claydon House in Buckinghamshire (England) has the most outrageous virtuoso woodcarvings in its interiors, with a completely unique lightness and freshness. The Grünes Gewölbe in Dresden (Germany) houses the treasure amassed by Augustus the Strong in the early 18th century. The collection is far beyond anything I had experienced before, in terms of the wealth of materials used and the design and skill in the making. Also fascinating for me were the Spiegelkabinett (mirrored rooms) in many of the grand houses and palaces of Germany. Schloss Favorit, near Baden-Baden, both the Wurzberg and Munich Residenz, and the aforementioned Grünes Gewölbe all had exquisite examples that challenged one's spatial perception and created confusing layers of rich textures and fine objects. Coming from such a young country, where the oldest buildings are rarely much more than 100 years old, I found it an incredibly rare and rewarding experience to immerse myself in such cultural depth. I know I will be reaping the benefits for many years.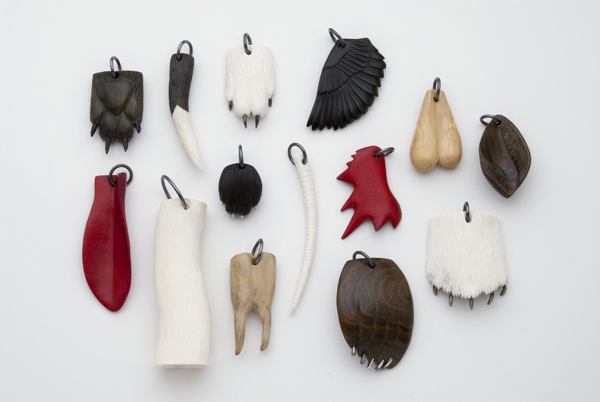 The work in the show doesn't look Rococo to me. How do you make the connection?
Jane Dodd: To my eyes, the brooches show the influence of Rococo; the drapery, the use of materials, an excessiveness, albeit mild by comparison to its inspiration. I allowed myself the freedom to push as far as I wanted in layering ornamentation and concept. While the pendants in the show are much more restrained, all the works are commentaries on the 18th-century attitude to the use of resources, animal and mineral, and to the skill and employment of craftspeople.
In addition, the installation of the exhibition utilized many elements to create an experience that I hoped resonated with a Rococo feel; cushions, mirrors, and ceramic devices were used to enrich the visual territory. The pursuit of magnificence was paramount in the Rococo age, and there was extreme competition between rulers to achieve this. The results are, by turns, repellent for their excesses and beguiling for their beauty and richness. While not wanting to upset or revolt my audience, I hope there is something of this dichotomy in Rococo Revolution.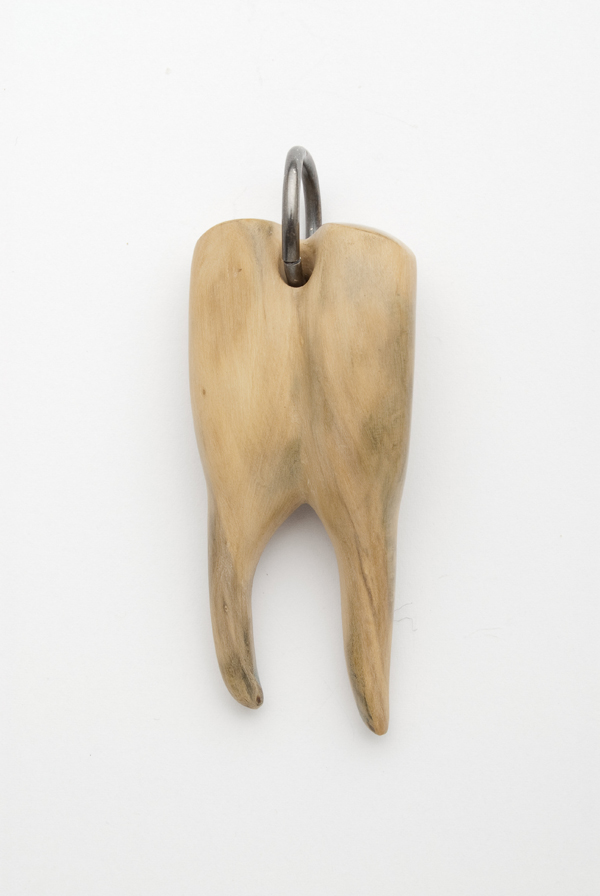 What have you seen, read, or heard lately that made an impression on you?
Jane Dodd: The Asian Art Museum in San Francisco; Evelyn Waugh's early novels; songs by Bill Callahan—all superb and surprising.
Thank you.