AJF asked this years five young Artist Award finalists to give us their thoughts on the future of the field. Their work represents a group of outstanding pieces of contemporary jewelry. This is the first of five interviews, including one with Seulgi Kwon, the winner of this year's prize.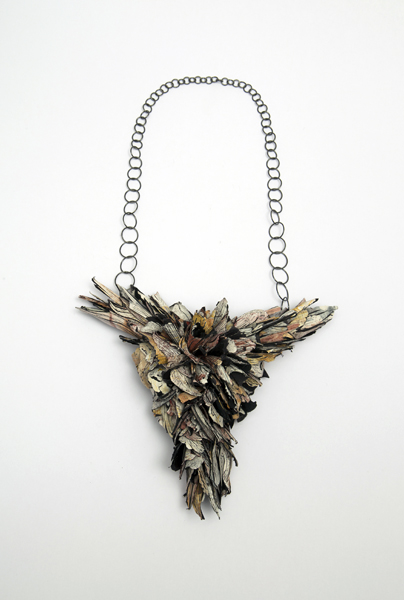 There will be a small show of the five finalists' work at Platina's booth in the International Trade Fair hall in Munich, in the Frame area surrounding Schmuck.
AJF: Where do you think the art jewelry field is going?
Attai Chen: In general, I am sure that it is going to continue to flourish, grow, and expand in other unexpected directions, reaching a wider audience and more cultures. It is an attractive field of art. In a sense, it is almost an untouched field of art compared to other fields. Besides its limitations regarding its relationship to the human body (ergonomically speaking), it is very flexible and rich in its variety of themes, shapes, and use of materials.
What do you think about that direction?
Attai Chen: I welcome this direction. I think that the art jewelry field will continue to expand and will enter new venues, and find other ways to expand.
What excites you about it?
Attai Chen: The thing that excites me the most about jewelry is that it is a branch of art that is investigated in a quite unique way. The relationship between a three-dimensional object and the human body is simultaneously a sculptural object that exists (and indeed has the right to exist) on its own, independently from the human body but still always must relate to it. However, it does become something else when it is integrated with the body of the wearer. This fact inflicts upon the maker a very special and exciting challenge.
What frustrates you about it?
Attai Chen: I wish that art jewelry could be more widely exhibited and would be more accepted as part of the art debate. It would be nice to see it getting the attention that it deserves as a very diverse, open, and fresh field of art. I would like to see it spread and be promoted to a much wider and more assorted audience.
What do you think your direction will be five years from now?
Attai Chen: I cannot say where I would be five years from now or what direction my work will take. I assume and I hope that I will continue making jewelry that deals with topics that intrigue me by investigating the relationship between materials, colors, and shapes, the jewelry as a wearable object.