Meet Jane Bowden, the owner of the newest member gallery here at AJF. She helped found and is now sole owner of Zu design, a gallery for contemporary jewelry located in Adelaide that has been in business for almost 22 years. Along with representing some 130 artists and creating her own designs at the gallery, Jane also has three additional benches there, which she rents to jewelers.
Barbara Paris Gifford: Jane, it's wonderful to be in conversation with you. Please tell our readers about yourself—your background, schooling, experiences, interests, etc.
Jane Bowden: I've been interested in crafts from a very early age. Having a very talented grandmother who could never keep her hands still, I learned to knit, crochet, tat, and sew. I loved making tiny things and took all my craft techniques to extremes. My father was a mathematics teacher who was always in the shed making with timber, and my mother is a passionate art teacher, so visiting exhibitions and having art in our lives was inevitable. I remember going on a family trip to Sydney and buying my first sterling silver ring. I was about 11 years old. From that moment I wanted to be a jeweler, and really everything led me to doing my bachelor of design, majoring in jewelry and metalsmithing, at the University of South Australia. I had fantastic lecturers and learned a huge number of skills. I love working in metal.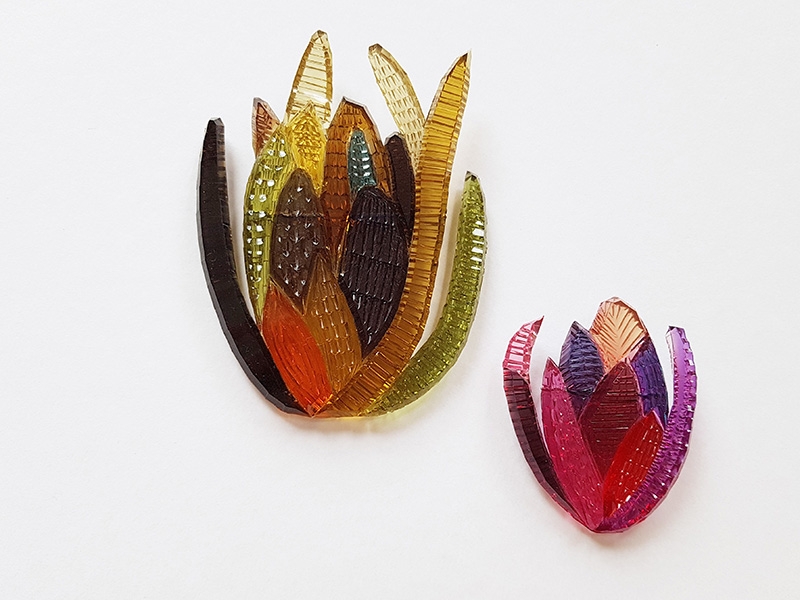 What's your definition of art jewelry, and how does that relate to your practice?
Jane Bowden: I love the term art jewelry, as I love the German word Schmuck. Art jewelry, to me, is an inclusive term that describes more creative one-off pieces, pieces that can be made of any imagined material from found to precious. For me the use of the term jewelry means that as outrageous as a piece can be, it should be able to interact with the body and be worn. Jewelry can be a beautiful stand-alone object in its own right, but once we wear it it takes on a different perspective.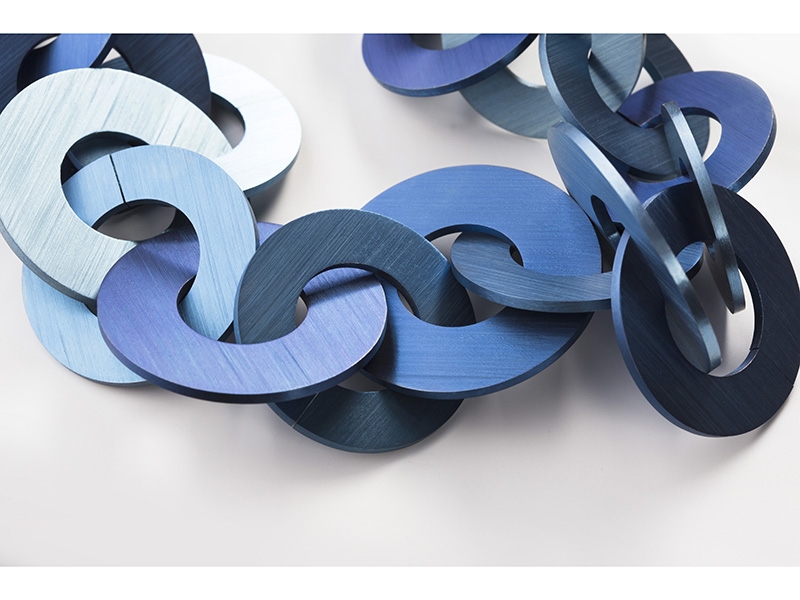 Could you give us a sense of the Adelaide contemporary jewelry scene?
Jane Bowden: The jewelry scene in Adelaide is very welcoming and supportive. We have a strong community of established makers here who are happy to mentor and support those beginning their careers. We have quite a few contemporary jewelers who come to Adelaide to work for two years in the metal studio associates program at the JamFactory. (The JamFactory has been an incubator for many designers/makers. It has four large studios: metal/jewelry, glass, ceramics, and furniture. There's also a large shop and three gallery spaces which showcase exhibitions year-round. The studios make product for the shop as well as for other clients who commission large-scale works.) Once here, many of those makers choose to stay. Adelaide has always been known for its vibrant artistic community, and the contemporary jewelers here are no different.
Most of our clients come from arts-related backgrounds, so many of them wear art jewelry. We have many architects, graphic designers, and clients from other arts backgrounds who purchase and wear contemporary jewelry. It's hard for me to comment whether Adelaide has more or less people interested in wearing art jewelry, because in the circles I mix in, they certainly do wear amazing pieces.
When did you open Zu design, and what was your mission? Also, what was the genesis of the name?
Jane Bowden: While I was at university, I had a dream to open a gallery, with the cooperation of the three other founding members. A quartet of emerging jewelers in Adelaide, we found the perfect space in Gay's Arcade and turned two spaces on the balcony level into our workshop with adjacent gallery. We brainstormed so many name ideas and decided on Zu design. I have a love of European contemporary jewelers (Frank Bauer, Giampaolo Babetto, Gijs Bakker, Otto Künzli, Tone Vigeland, Friedrich Becke, to name a few) and particularly a link with Germany, and I also love Japanese aesthetics. The name Zu design is a bit of a combination of both of my inspirations. Zu in German is the preposition "to," and in Japanese can be combined with other symbols to mean drawing, diagram, or design.
When we began Zu design we were only selling our own work in the gallery and having a series of solo exhibitions. We wanted a professional space that we could invite clients to who wanted to commission our pieces. We quickly realized that we couldn't keep the gallery full of just our own work while designing and making and working part-time to support our early making careers, so we began inviting contemporary jewelers to sell their work alongside ours in the gallery. This began the collection of artists we now represent, which is over 130.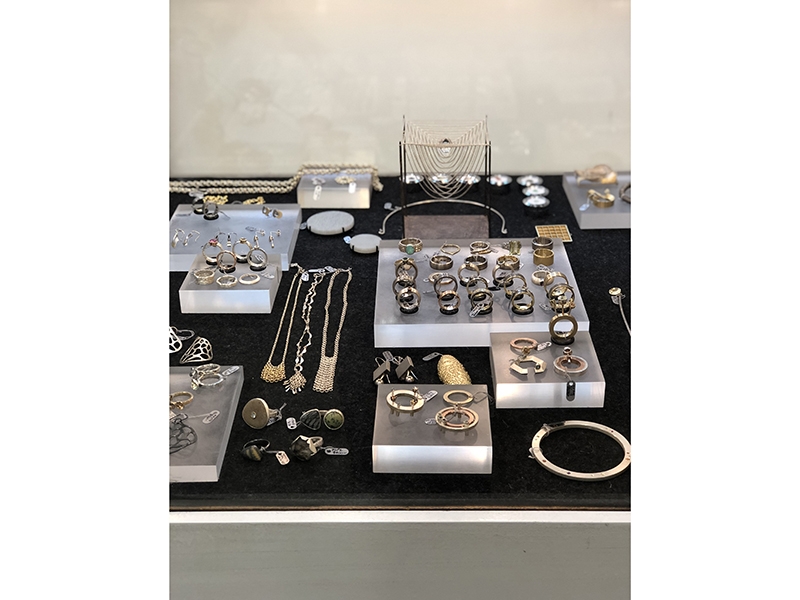 Explain to us the structure of your organization.
Jane Bowden: I run and manage every aspect of Zu design myself, from managing the artists we represent to making my own commissions and exhibition work, to the day-to-day aspects of owning a business—like book-keeping.
I have been the owner of Zu design for seven years now (the three other founding members left to pursue other careers) and I have three benches, besides my own, which I rent to contemporary jewelers. There are currently five people who share bench space working beside me. They all run their own practices from Zu design. We bounce ideas off each other and problem-solve together. It's great sharing space with like-minded makers.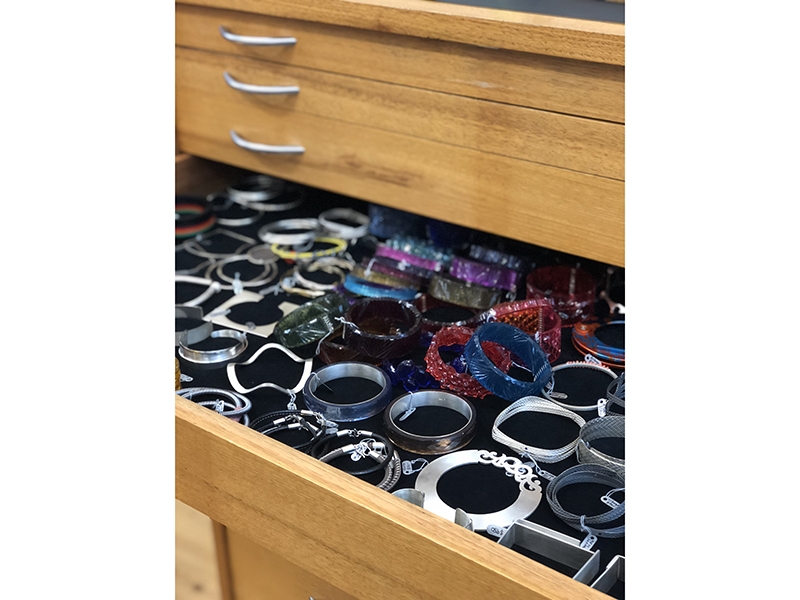 How do you select the jewelry artists that you represent at Zu design? Please give a sense of the diverse range of work you show.
Jane Bowden: In the beginning we asked people to exhibit with us. We had eight shows a year and from these exhibitions introduced new makers to the collection in our gallery. As we got busier with our own work, we reduced our exhibitions to between two and four per year. People contact us now to exhibit their work. I try to be inclusive, and if the work is inspiring and of high quality, I'm happy to represent the artist. We exhibit a range of pieces in every material you can imagine, from found objects to glass, resin, paper, and enameled pieces, to more classic materials like silver, gold, and gemstones.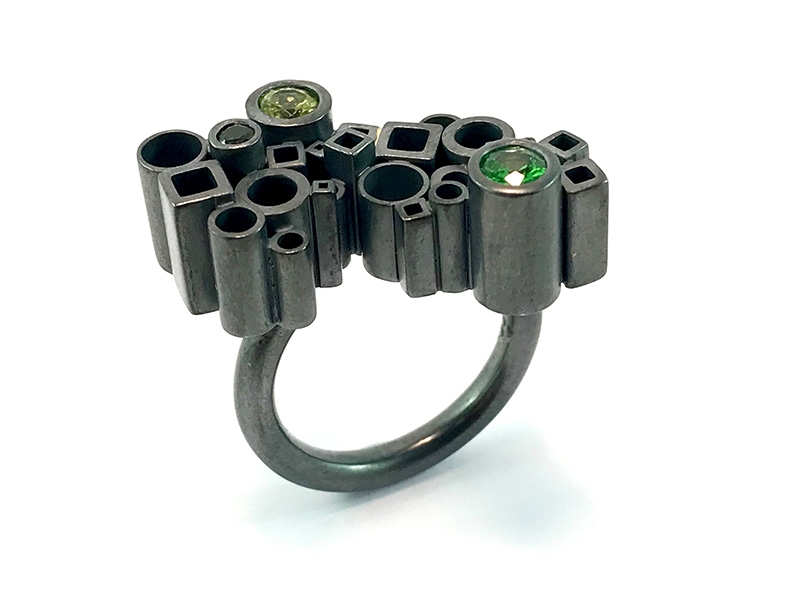 What do you feel are the advantages of being an artist-run gallery?
Jane Bowden: Because I'm a contemporary jeweler myself, I understand many of the difficulties faced as a self-employed maker, including valuing creativity and process. I love explaining to clients the techniques and concepts that go into the pieces. I try to educate them about hand-made pieces, and I think they appreciate our jewelry more when they can hear the stories and learn about the people behind the pieces.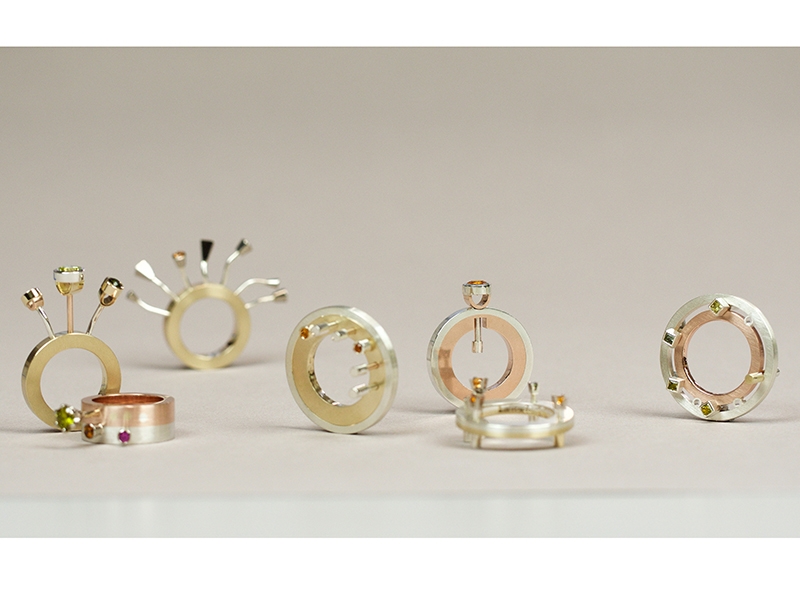 How familiar are your customers with art jewelry? How does Zu design align with their expectations about jewelry?
Jane Bowden: Over the nearly 22 years that Zu design has been operating, our clients are becoming more and more aware of how distinctive our pieces are and trusting us with developing their ideas into unique and personal pieces. Although we do make commissions in traditional materials, the results can differ greatly depending on a client's willingness for something different from the normal expectation of what jewelry is. Sometimes people are unsure of what they want, but they tend to know what they don't want.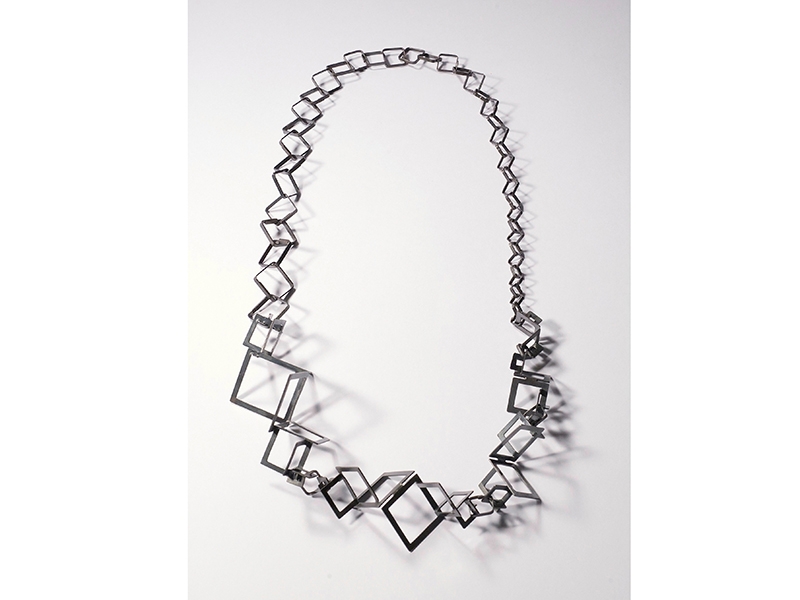 How many exhibitions do you have each year? What's your approach in deciding what work to show? Do you have a particular strategy in display design?
Jane Bowden: We initiate two group exhibitions a year. Our biggest show is at Christmas, when we invite makers to create new work. This year our exhibition Christmas Rocks showcases 46 makers, all with a variety of styles. Often they respond to the title of the show, sometimes playfully. This year we have pieces including gemstones, crystal forms cast in resin, planets in blown glass. We have work made from found rocks and we have enamel work simulating the rocks during lava flow. It's a diverse group of jewelry. I love working out how to display such a huge amount of work. There are neckpieces displayed on the walls of the gallery and smaller pieces in the showcases. We try to be creative with displays to suit each exhibition, without distracting from the work.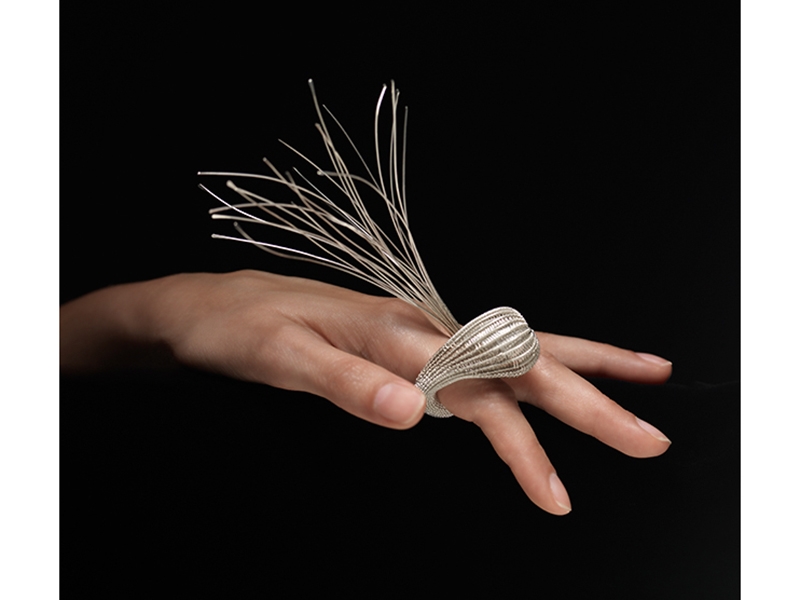 Have you read, seen, or heard anything lately that you think would be of interest to AJF's audience?
Jane Bowden: This is always an exciting time of year in Adelaide. We've just seen the University of SA graduate show with the newest jewelry graduates exhibiting their work. Coming up this week we'll see Generate, at the JamFactory, where the associates who have been working in the studios for two years will exhibit their pieces. At the Art Gallery of SA we have a fabulous private collection on show. Local collectors Truus and Joost Daalder have donated 161 pieces of jewelry (including four of my own pieces: a woven brooch, woven ring, paper neckpiece, and tea strainer) to the Art Gallery, and all are on show until the new year. It's interesting to see what has appealed to the Daalder's over the years they've been collecting, and it's great to have access to the collection through the book—To Have and to Hold—that has been produced through the Art Gallery of SA. The Daalders have been so encouraging of contemporary jewelers, and their support and generosity has been enjoyed by many of us in Adelaide.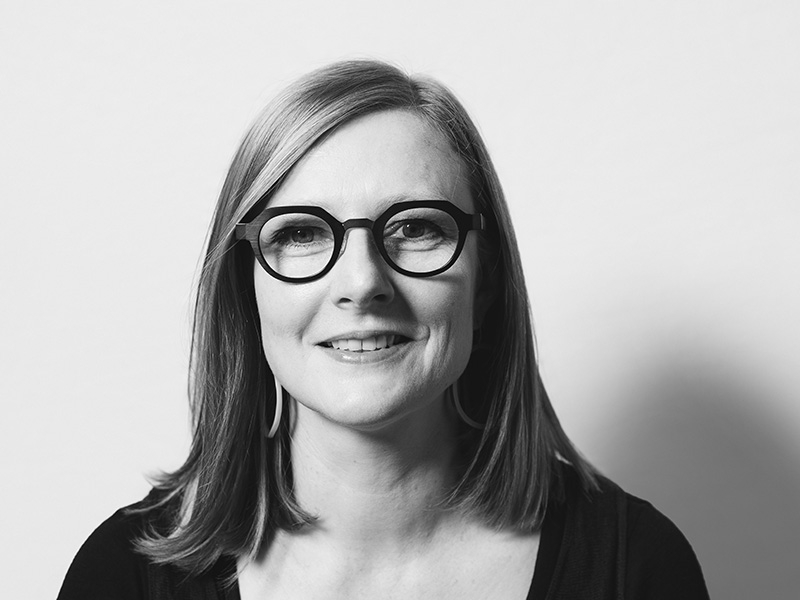 Wishing you a great end to 2018, and here's to another creative year for us all in 2019!