The Heard Museum aims to be the world's preeminent museum for the presentation, interpretation, and advancement of American Indian art, emphasizing its intersection with broader artistic and cultural themes. Founded in 1929, the institution presents the stories of American Indian people from a first-person perspective, collaborating with Native American artists and tribal communities to provide visitors with a distinctive perspective about the art of Indigenous people, and especially those from the Southwest. Diana Pardue, the chief curator at the Heard, took time to answer questions about the museum's jewelry collection and exhibitions.
Nathalie Mornu: Please tell us about your background. Do you curate all the jewelry exhibitions? How many of those are there per year? Do you curate every show at the Heard?
Diana Pardue: I earned a BA at the University of North Texas and an MA at Arizona State University. I have worked at the Heard since 1978 and have fulfilled the role of chief curator since 2017. I have had many wonderful opportunities to curate jewelry exhibitions at the Heard. The most recent two were Symmetry in Stone: The Jewelry of Richard I. Chavez (2017, accompanied by a publication) and Sonwai: The Jewelry of Verma Nequatewa (2018). I am currently working with Assistant Curator Velma Kee Craig to develop a jewelry exhibition from the Heard's permanent collection. It's titled Small Wonders; it will open on March 18, 2021, and feature works by many artists including Norbert Peshlakai and Shawn Bluejacket. I do work on other exhibitions and have had great opportunities to work with guest curators. Upcoming is collaborative work with Joe Baker on Leon Polk Smith: Hiding in Plain Sight. We have four other curators on staff, each of whom develops exhibitions independently or in collaboration with others. We have six original exhibitions currently planned for our calendar year, which is like a school year and covers Fall 2020 through Summer 2021. In some years there are even more exhibitions.
Please tell me about the jewelry that the Heard collects. How many jewelry pieces does the museum own? Is it from specific eras?
Diana Pardue: The Heard has an extensive permanent collection of jewelry and there are many key donations that form the strength of the collection. Some of note include the Fred Harvey Fine Art Collection, which includes more than 1,000 important jewelry works from the late 1800s through 1940; the C. G. Wallace Collection, which consists of more than 500 examples of jewelry, with most from Zuni Pueblo; a collection from the Graham Foundation for Advanced Studies in the Arts consists of more than 200 examples of historic jewelry; and the Mareen Allen Nichols Collection of contemporary jewelry totals more than 250 works.
In addition, collector Norman L. Sandfield has donated more than 200 silver seed pots, 250 bolo ties, and an important collection of 1930s–1940s silver and copper works by San Ildefonso artist Awa Tsireh. Other small collections and select purchases round out the jewelry collection at the Heard. Most of the examples are from the Southwest, which is an important center for jewelry creation and production.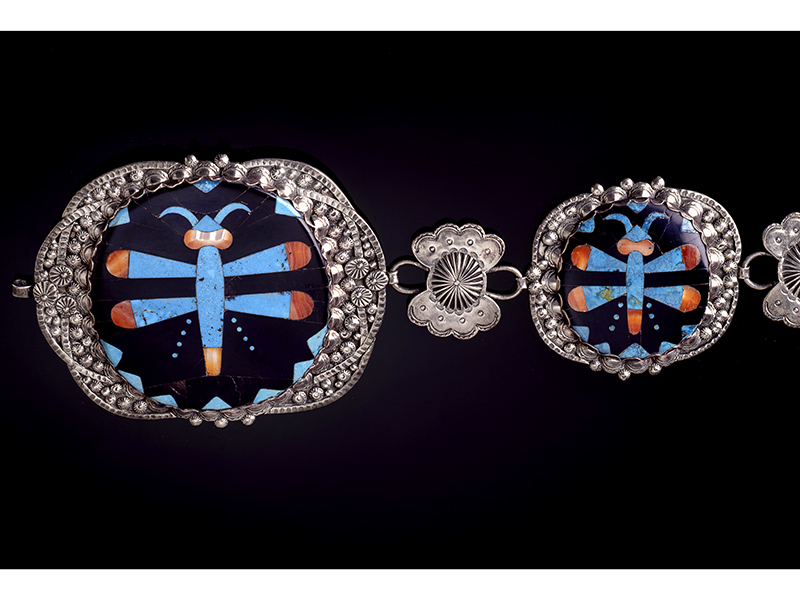 Please name a few pieces that you would consider among your most important holdings, and why.
Diana Pardue: The collection includes so many important works, making it difficult to single out just a few. Of note are the more than 80 works by leading contemporary jeweler Charles Loloma. Perhaps more than any other jeweler, Loloma changed the direction of jewelry by using a variety of fabrication techniques, introducing atypical stones and materials, and creating works with innovative designs. He incorporated inlaid stones on a ring interior in the 1960s, and followed that by adding complex inlay to other jewelry types, including the reverse of buckles, bracelets, and bolo ties. He changed the face of contemporary jewelry, and generations of Indigenous jewelers followed with the freedom to do whatever inspired them.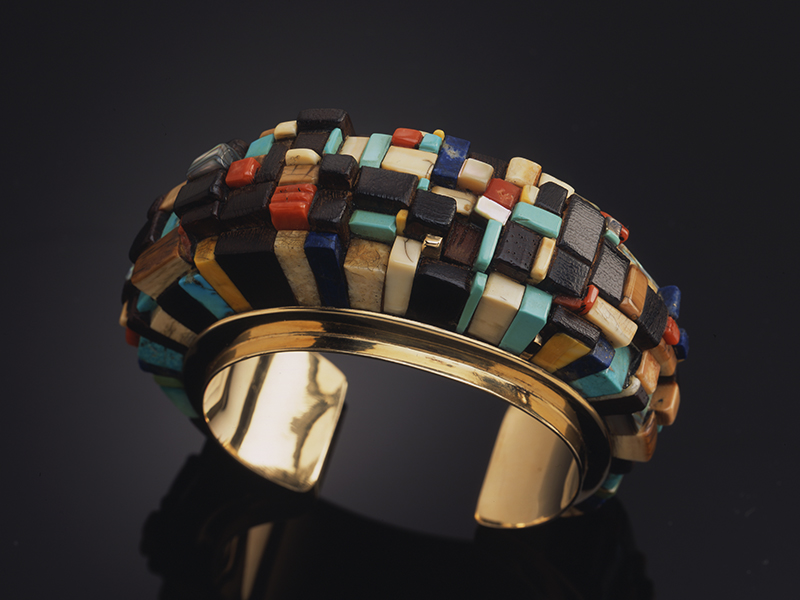 Can the jewelry in the Heard's collection be seen in an online catalog? If so, where?
Diana Pardue: We have some historic works online and a few contemporary works, if artists have given us permission to add them. Most of the permissions were acquired and images added through generous funding of a National Endowment for the Arts grant. There are also several books—many published by or with the Heard—that feature a great range of talented jewelers.
The online collections can be accessed through the Heard Museum digital library.[1] Books the museum has published about jewelry include:
Diana Pardue, Symmetry in Stone: The Jewelry of Richard I. Chavez (2018)
Diana Pardue with Norman L. Sandfield, Awa Tsireh: Pueblo Painter and Metalsmith (2017)
Diana F. Pardue, with Norman L. Sandfield, Native American Bolo Ties: Vintage to Contemporary Artistry (Museum of New Mexico Press, 2011)
Diana Pardue, Contemporary Southwestern Jewelry (Gibbs Smith, 2007)
Diana Pardue, Shared Images: The Innovative Jewelry of Yazzie Johnson and Gail Bird (Museum of New Mexico Press, 2007)
Diana Pardue, The Cutting Edge: Contemporary Southwestern Jewelry and Metalwork (1997)
Also, a book that includes information on vintage jewelry: Kathleen Howard and Diana F. Pardue. Over the Edge: Fred Harvey at the Grand Canyon and in the Great Southwest (Rio Nuevo Press, 2016).
Do you seek specific qualities in the jewelry you add to your collection? Are there recurring themes that the jewelry artists in the Heard's collection explore in their work? Who are some important jewelers to know?
Diana Pardue: We look for technical skill, quality materials, and innovative designs when adding jewelry. We try to add works by important mid-century artists, such as Kenneth Begay, and leading contemporary artists, including Charles Loloma.
There are so many excellent jewelers working today—we mentioned the exhibitions for Richard Chavez and Verma Nequatewa. In 2007, the Heard produced a retrospective exhibition and publication for Yazzie Johnson and Gail Bird. We had exhibitions for Jesse Monongye, we hosted an exhibition for Denise Wallace, and we had an exhibition called Young Jewelers that included works by Keri Ataumbi, Jarred Chavez, David Gaussoin, Wayne Gaussoin, Dylan Poblano, Maria Samora, Cody Sanderson, and Liz Wallace. We did a gold jewelry exhibition, All That Glitters, that featured a wonderful range of works by Larry Golsh, Victor Beck, James Little, and Duane Maktima, among others. We've been in conversations with Pat Pruitt about doing an exhibition of his work. We should also mention two other important jewelers, Perry Shorty and Colin Coonsis—I hope I have not overlooked anyone.
Can you share a few recent jewelry acquisitions at the Heard?
Diana Pardue: Norbert Peshlakai's prize-winning belt from the 2017 Heard Museum Guild Indian Fair & Market. The belt is titled Mr. and Mrs. Slim Cowboy Nature Walk. That was a Heard Museum purchase. The belt reveals so much about Norbert's sense of humor but also his technical skill. He has used the image of Cowboy Slim on silver seed pots and in other forms, but I did not know he was married until Mrs. Slim appeared on the belt. Cowboy Slim is composed of not one but several individual stamps that Norbert has made to create the character. Each concho has a different animal, each made from multiple stamps, and there are 19 different animals on the belt. Norbert's technical skill and accuracy is amazing.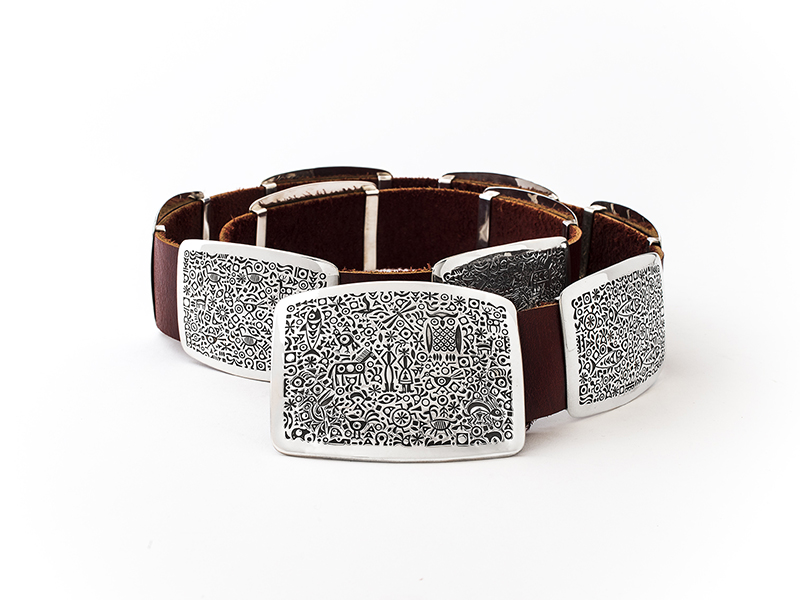 We received a necklace by Yazzie Johnson and Gail Bird as a gift of Jeanie Harlan. Denise Wallace's belt titled The Seal Hunting Belt was a bequest of Jeffrey and Maurine Kahn, and we received a shell and silver canteen by Lambert Homer Jr. and Roger Skeet as a gift of Robert Bauver.
Awa Tsireh's large, copper tray with parrot designs was a gift from Norman L. Sandfield. In addition, Norman donated about 40 other silver and copper works by the artist.
Please tell AJF's readers about past jewelry exhibitions, which have included Sonwai: The Jewelry of Verma Nequatewa (October 5, 2018–March 10, 2019); Symmetry in Stone: The Jewelry of Richard I. Chavez (February 2, 2018–August 5, 2018); and Loloma: Expressions in Metal, Ink and Clay (February 28, 2015–October 4, 2015).
Diana Pardue: The first two were retrospective exhibitions, as was the 2007 exhibition Shared Imagery: The Jewelry of Yazzie Johnson and Gail Bird. We were honored that each of these artists allowed us to exhibit the works from their important careers. The Loloma exhibition was an opportunity to show his creative endeavors in various media.
Do you center your jewelry exhibitions exclusively around your collection, or do you borrow work from other sources for your jewelry shows?
Diana Pardue: We do both. For All That Glitters and for Small Wonders, we feature the Heard Collection. For an artist retrospective, it's essential that we borrow works to show the range and depth of an artist's career.
Please tell us about the Heard Guild Indian Fair & Market and its Juried Competition.
Diana Pardue: This is a wonderful annual event that includes more than 600 artists at booths on the Heard's campus. The artists may enter works for the juried competition, and cash prizes are awarded, including a Best of Show Award. It always takes place the first weekend in March. There's a preview of winners on Friday night and the event happens on Saturday and Sunday. We'll be holding the event in 2021 but the plans will be somewhat different because of Covid-19.
Do you have any advice for someone who's new to collecting contemporary Native American jewelry? Any tips about what to look for or places to purchase?
Diana Pardue: I would suggest buy what you like, buy from a reliable source, and ask questions about materials and techniques. That could be asked directly of the artist, and an event like the Heard Fair & Market offers great opportunities to meet artists, talk with them about their work and learn more about their jewelry. Also, purchase from a reputable shop. The Heard Museum Shop has an outstanding selection of jewelry. In-shop and online purchases are options.
The Heard presents the stories of American Indian people from a first-person perspective. Can you speak more about that?
Diana Pardue: When we're working on a retrospective exhibition, it's a great opportunity for us to work directly with the artist to tell their story and to check facts and have wonderful comments from them. We have the artists review anything that is written and we try to include their voice as much as possible. When we're working on a group exhibition, we contact as many artists as possible with the same intent. When we're working with historic material or with the career of an artist who has passed, we rely upon Indigenous sources and relatives as much as possible. For some exhibitions, particularly those of longer duration or of a large scale, we assemble a panel of Indigenous consultants to advise on the exhibition concept and the didactics.
An exhibition named Small Wonders is planned for March 2021. The show will include small-format works, such as brooches, rings, and silver seed pots. Can you tell us more about that?
Diana Pardue: We're in the early planning stage, but I think photos tell a thousand words. The exhibition will include small format works such as rings and brooches but also a selection of silver seed pots and miniatures, such as a silver teapot with coral and a sugilite handle, by Darrell Jumbo, and a miniature silver table (with candelabra) and brightly painted chairs, by Shawn Bluejacket. Velma Craig and I have just begun to assemble the contents—we have both been working on other exhibitions—and we are having such a wonderful time looking at the range of works in these different categories. We have a large group of insect and animal-themed brooches and the materials and approaches are so unique and some of these are so beautifully crafted. The diversity of the silver seed pots is amazing. When Norman Sandfield began collecting, he would approach different artists to commission works and, with 200 examples, the result is a very diverse group both in technique and design.