Gijs Bakker is one of the most active and innovative jewelers working today. His constant desire to work on the technical and visual cutting edge of object making keeps him sharp. His show at Atelier Courbet introduces jewelry into the mix of other beautifully designed furniture and objects represented by this gallery.
Susan Cummins: At Atelier Courbet you are showing The Holes Collection of furniture with holes from 1989, as well as new work designed in conjunction with the Atelier. Along with your jewelry, have you continued to design furniture regularly since the days you were with Droog?
Gijs Bakker: Yes, I do. I keep exploring design in all forms and through all types of applications, scales, or functions. While working with Atelier Courbet in preparing the Holes project exhibition this spring, we explored and created three new design iterations as part of the Holes Collection. I'm constantly interested in thinking and exploring new design ideas.
Your jewelry collection at Atelier Courbet is mostly a nice grouping of older pieces also from the 1989 period. Was this thought of as an additional complement to the furniture?
Gijs Bakker: Rather the opposite, my collaboration with Atelier Courbet started around jewelry. We were interested in presenting jewelry pieces that are iconic representations of the design ideas I have long explored and that also highlight the informative relationship between the techniques, the craftsmanship, and these design ideas. I accepted to release some older pieces of reference from the studio's collection that I have had in Amsterdam to present a comprehensive palette of works at Atelier Courbet. The bracelet with Holes is the articulating piece between where our collaboration started with Melanie Courbet and the presentation of a design idea or a body of work that has indeed been informed by techniques, craftsmanship, and design applications.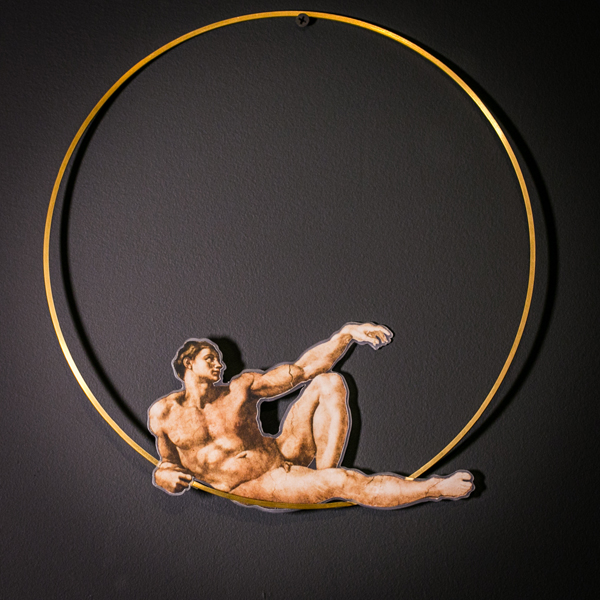 For much of your career you have worked as a contemporary jeweler in the design world. You created a company in 1996 called chp…? and invited both designers and art jewelers to produce designs for the line. Then you have a jeweler make multiples. Why did you start this company?
Gijs Bakker: I noticed that there was (and still is) a tremendous gap between the product design and jewelry design worlds—they are two communities that rarely communicate. Product or industrial design talents may perceive the jewelry application of a design idea as a specialized niche discipline, or maybe they look at it as creating a non-functional and decorative object and therefore don't venture naturally toward it. Maybe they are intimidated by the scale. I have been in contact with so many luminaries throughout my career, I was interested in presenting them with the challenge of thinking of designs in small scale and as decorative accessories that can carry a meaning, a statement, and can serve as mediums of expression both for the creator and the collector.
So after almost 20 years of the existence of chp…? can you answer a few questions for me? What has this experiment taught you about (sm)art jewelry? Who is interested in it?
Intelligent jewelry is more than just decorative. It is a hard struggle to convey the many layers and concepts at play, but we never give up; it's a rare segment of sophisticated collectors that want to adorn themselves in such a manner. Art jewelry has long touched a niche of virtuous and educated eyes that, like wordsmiths and poetry, can play with the linguistics of art or design and have fun with it. However, I also think that the nature of the object allows a younger collector to acquire a small-scale art piece that can be worn. The younger art and design enthusiasts' demographics among art jewelry followers have grown in recent years. Which is great and which I'll constantly try to encourage through some of my open or wide edition jewelry collections.
Has the audience changed for this work over time? How?
Absolutely. Our newest audiences are today involved with the design world and come across the jewelry at fairs and design events.
At one time you had collections based on ideas like Sense of Wonder, What's Luxury?, and Rituals. In a recent scan of the chp…? website, I noticed those collections were no longer there. How did that evolve?
Through these ideas, such as Sense of Wonder and What's Luxury?, I described the collection and it is then the designers' challenge to create, based on their reflections on a given statement. We chose to present the chp…? pieces all together now, only divided between a ready-to-wear and a haute couture collection. The origins of the pieces and the collections in which they were conceived are still on the website, under the About page. Some of the pieces produced have become design classics; Marc Newson's bracelet, in particular, remains popular. chp…? continues to invite new designers every three years and recently debuted the latest project, called Make it chp…? at the Salone del Mobile in Milan.
What issues do you think jewelry can or should be addressing today? What are the big themes of the moment?
3D printing and the new possibilities of production are the most interesting and relevant conversations at the moment. The most recent chp…? project that was shown in Milan at Salone del Mobile involves 3D printing. For $25, an individual may download a file that was designed specifically for this project and then print their own piece of jewelry at home. Younger audiences are excited to offer the gift of a file rather than of a material piece.
Thank you.