Adore | Adorn: The Elsie Michie Contemporary Jewelry Collection
Louisiana State University Museum of Art, Baton Rouge, LA, USA
June 27–October 6, 2019
The Louisiana State University Museum of Art is exhibiting 100 works of contemporary art jewelry from the collection of LSU College of Humanities and Social Sciences Associate Dean Dr. Elsie Michie. The exhibited works are made by artists working in the medium of jewelry. All works have a strong appeal as objects to be examined closely and handled, while also being functional and wearable. One of the exhibition plaques states that "Collector Elsie Michie values experimental and innovative designs over precious materials." Adore | Adorn is the first exhibition of Dr. Michie's collection.
Barbara Minor and Christopher Hentz: How and when were you introduced to contemporary art jewelry?
Elsie Michie: I was introduced to contemporary art jewelry in the 1980s through Thomas Mann Gallery I/O, in New Orleans. I loved his work, which I found quirky and visually appealing. Gallery I/O also held events that showcased the work of other important art jewelers. It was there that I first saw the work of Kranitzky & Overstreet and Laurie Hall. At that time, Lisa Glosserman worked in Thomas Mann's gallery. Her mother ran a gallery in Houston (now called High Gloss). I also talked extensively with Lisa about the jewelers her mother had exhibited, including the beadwork statues and jewelry of MacArthur Prize-winning artist Joyce Scott.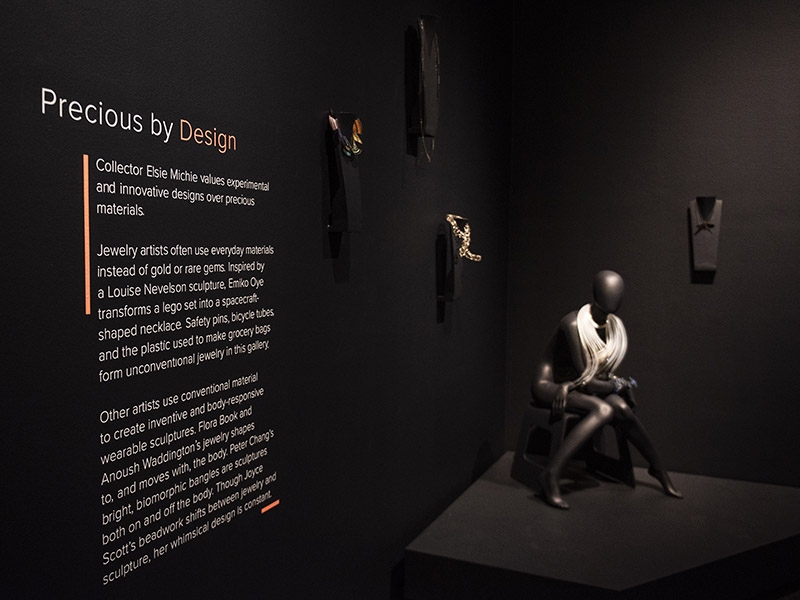 Early on, before your purchases were identified as part of "a collection," what was your primary reason for buying art jewelry?
Elsie Michie: I loved owning it and wearing it. When I wear something that embodies the artist's imagination, I invariably have fascinating conversations with people from all walks of life. I remember wearing the first big piece I bought, a dog box necklace by Thomas Mann, and waiting to go through the metal detector at the Sainte-Chapelle in Paris and having the gendarmes ask me about the necklace. (Who doesn't love a dog with a cat in its head, dice for eyes, and bones for the links of its chain?) I'm still entranced by the way I can talk to anyone about my jewelry, from supermarket checkout clerks to the artists who made it. Only last week, in a restaurant in New Orleans, the man who took my breakfast order wanted to touch the Floor Mommersteeg necklace of floating multicolored plastic lattices I was wearing because he had never seen anything like it.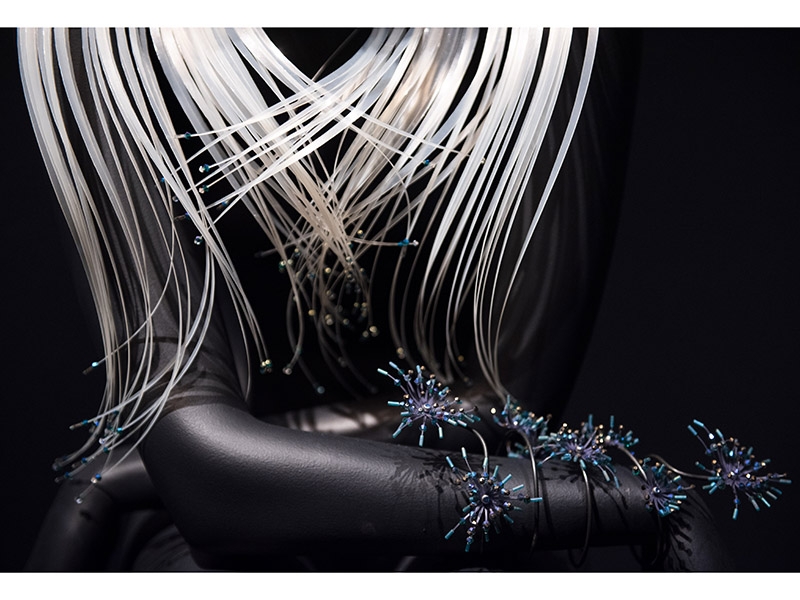 Did your "reasons" for buying art jewelry change once you identified yourself as a "collector"?
Elsie Michie: I didn't think of myself as a collector until the jewelry was exhibited in the LSU Museum of Art and they called it the Elsie Michie Collection. (I love it that on Art Jewelry Forum's website members are listed as enthusiasts. That seems right to me.) I simply followed my heart and acquired pieces because they gave me joy. My love for art jewelry grew from piece to piece, artist to artist, and material to material. Perhaps because I'm a professor and trained to do research, I began to study jewelry art, to learn about various jewelers, and to decide whose work I wanted to own and wear.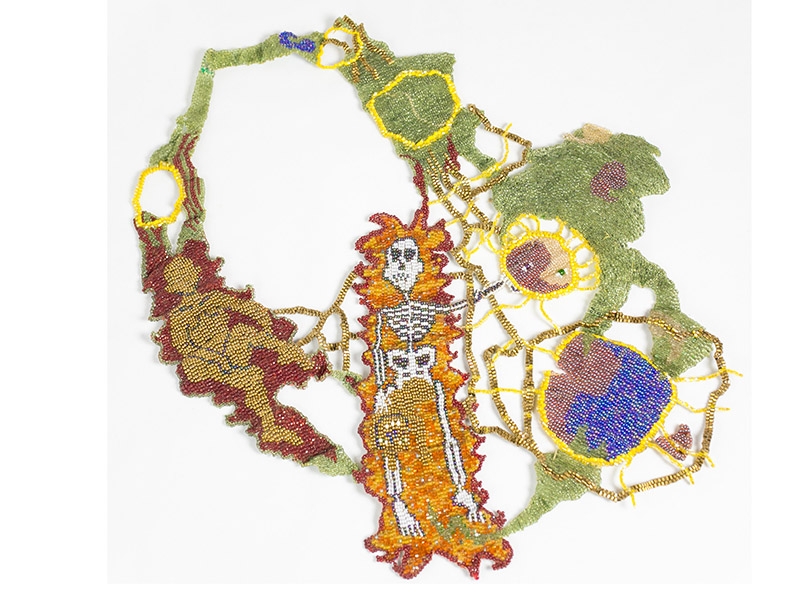 Please describe your influences and the motivation that led to your decision to create a serious and focused collection of art jewelry.
Elsie Michie: Again, I would say that it was never really a decision on my part. I've learned from everyone I met on the journey that has led to the collection being what it is today. I learned from the artists and talking to them about their work. I stood in the middle of the craziness that is the New Orleans Jazz and Heritage Festival and talked with Melinda Risk about the way she takes time out to come back and make jewelry again. I've learned from the people who run the galleries where I've bought jewelry. Jo Anne and Libby Cooper, of Mobilia Gallery, have talked to me about their own pleasures in establishing a gallery, about how they looked through myriad slides before they decided to open, and about how they fell in love with certain artists' work, like the feather necklaces of K. Lee Manuel. I have one of those necklaces, which I was able to acquire through Mobilia Gallery.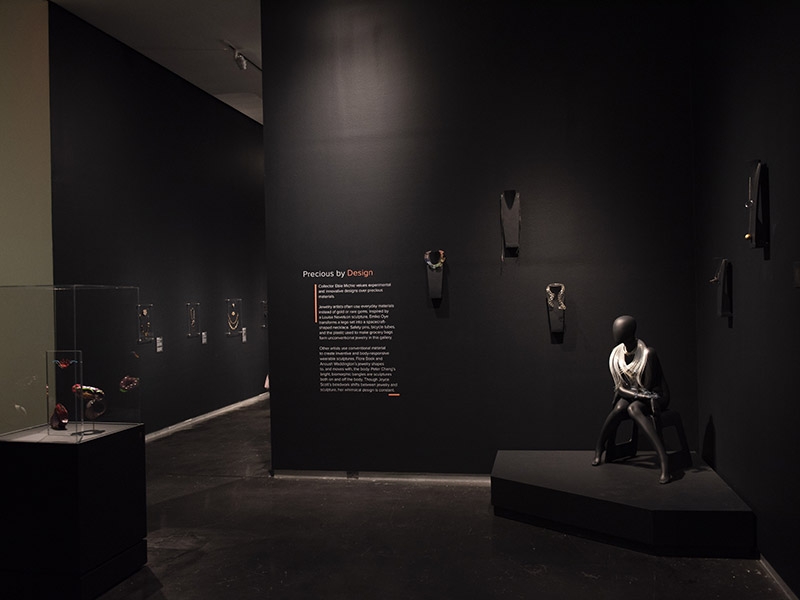 Please describe your collecting methods and choices, and how you determine which artists and pieces you decide to purchase for inclusion in your collection. Is there a theme, philosophy, overarching reason, or particular type of art jewelry style that creates the focus for your collection, that determines what you choose to collect, and that unites all the works in your collection?
Elsie Michie: I wasn't really aware of the themes that united my collection until I saw it displayed in the LSU Museum of Art. Then I could see that I value intricacy—almost all of the objects in the exhibit are made from myriad pieces—color, and non-linearity. Once I like a person's work I tend to collect more than one piece. I realized early on in collecting that I could either afford materials (gold and jewels) or design, and I opted for the latter. The rendering forth of the mind of the artist is really what interested me. And I'm proud to say that I've ended up with pieces the artists also love. I have a Mary Lee Hu bracelet and a Thomas Mann mermaid brooch that are on the cover of books about their art. I have a Ramona Solberg necklace that she's pictured wearing in the book that came out about her in 2001. And I've ended up being fascinated by the use of unusual materials. The Solberg necklace is on a stethoscope cord. I have a Kathy Buszkiewicz pendant made of shredded dollar bills and Kiff Slemmons's version of the Tara brooch that has a pencil and used erasers in place of jewels. And I also came to love the fact that so many of the major artists in the field of art jewelry are women.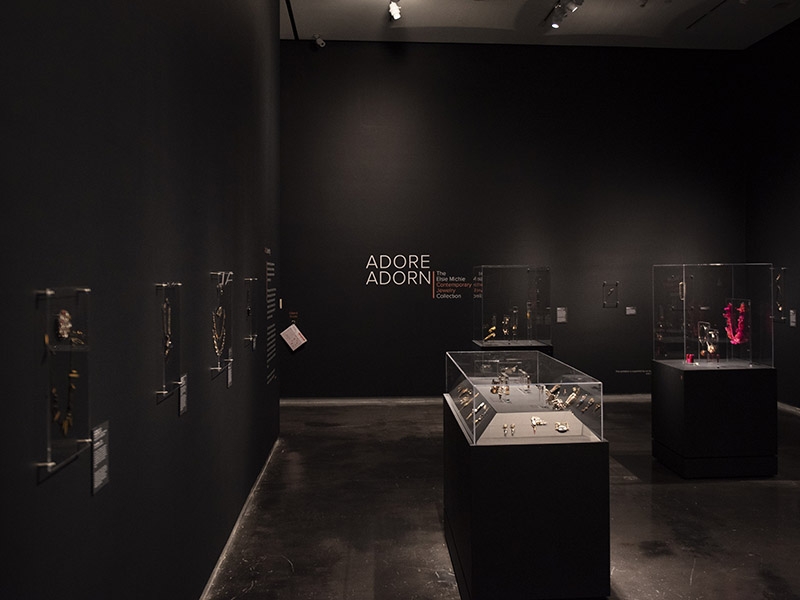 Do you seek advice on who or what to collect from other collectors, gallery directors, or artists? If so, what questions do you ask and what input have you received that made a difference in building your collection? If not, why?
Elsie Michie: I received lots of advice at the beginning, but over time I've found that it works best for me to follow my own instincts. I know what I like, sometimes just from seeing a piece on a website. The directors of the galleries I've worked with—Libby and Jo Anne Cooper at Mobilia, Karen Lorene at Facèré, Susan Cummins at her gallery, Esther Saks at the gallery in her apartment, Nancy Sachs Gallery in Saint Louis, Jennifer David through the David Collection, Charon Kransen through his gallery, and Amanda Game at The Scottish Gallery—they have all been brilliant at understanding, celebrating, educating, and expanding my taste. In the process, they've helped me to acquire amazing one-of-a-kind pieces of art like the Peter Chang bangles and the Wendy Ramshaw ringstand from the Room of Dreams exhibit that I purchased through The Scottish Gallery.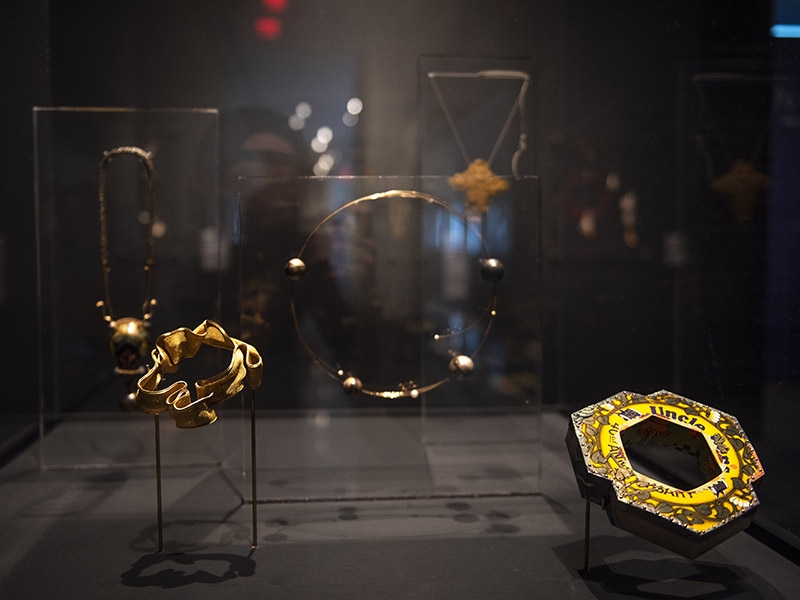 What's your process for researching prior to deciding which artists and art works to include in your collection?
Elsie Michie: My research process is haphazard. I go to art jewelry galleries whenever I travel to conferences to give papers. I study the Internet. Someone gave me a Sotheby's auction catalog and I found in it the William Harper necklace I now own. I subscribed to American Craft and Ornament and looked for their articles on jewelers. (I bought a Dave and Roberta Williamson fan-shaped brooch because I loved it on the cover of Ornament.) I saw an exhibit of narrative jewelry at the Contemporary Arts Center in New Orleans and researched all the artists exhibited there. I ended up buying books about contemporary art jewelry and looking through them to find artists and work that I liked.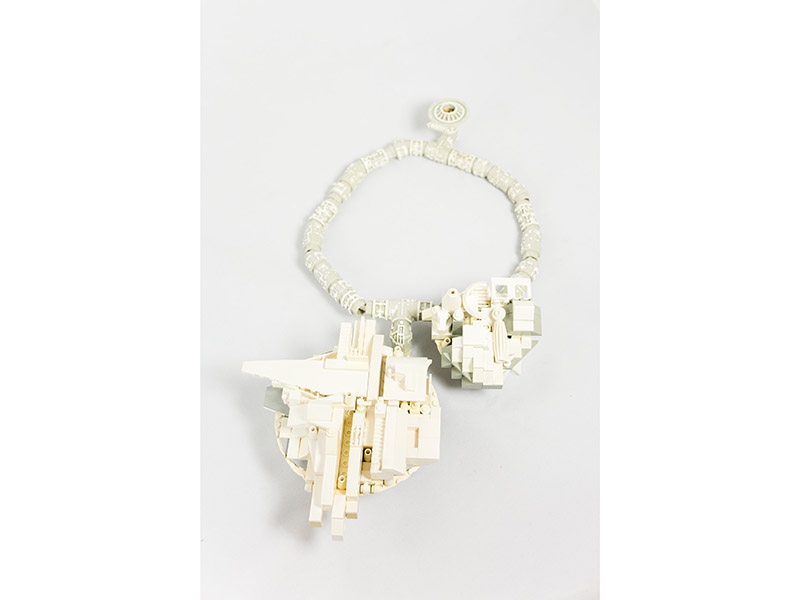 Is it important for you to meet the artists who have created the jewelry you choose to include in your collection?
Elsie Michie: I haven't met many of the artists who created the work in my collection (in part because I live in Louisiana, which is off the beaten track of major exhibits and openings.) But I've loved learning things about them from books and gallery directors. When I became chair of the English Department at LSU, the gift I gave myself was to go to the Smithsonian Craft Show, where I talked with many of the artists who created work I own. It was such a pleasure to tell emiko oye that I had bought her Lego necklace Dawning II, the blown-up photograph of which was exhibited at her booth, and to learn from Lisa and Scott Cylinder that the owl brooch I was buying was made from river stones that their son played with.
Do you document the lives, professional accomplishments, and thinking of the artists whose work you collect? If yes, how? Do you maintain an informational cataloging method for your collection?
Elsie Michie: Almost all the galleries I've bought work from have provided information about the artists: biographies, CVs, articles from American Craft and Ornament. I've kept all that material in accordion folders that are bursting with paper. But I didn't make a full inventory of the collection until the LSU Museum of Art began thinking about putting on the exhibition.
What have been the most significant and rewarding experiences that have surprised you as you built your collection of art jewelry?
Elsie Michie: Right now the most surprising and wonderful experience is the exhibit at the LSU Museum of Art. It feels as if that's the culmination of 30 years of small moments in which people talked to me about what I was wearing. Now for the first time they'll get to see much of the collection together, cleaned and dramatically lit, and I can't wait to hear their responses.
Many of my colleagues at LSU are not only visiting the show but sending their students to see it. My colleague in art history, Professor Darius Spieth, is sending 600 students from his art survey class, and they all have to write a short response paper about an object in the show. There are 100 objects, in materials from plastic to metal to Fimo clay to glass, little and big, from the scrimshaw work of Carolyn Morris Bach to pieces by Flora Book that you toss around your neck. I can't imagine that all those students won't find something there they can react to. The most rewarding thing for me about owning and wearing the lovely pieces in my collection is sharing them with others and having a moment where they laugh or marvel or dream about what someone else has created. My pieces have made my life so much bigger, and I think they do the same thing for those who see and understand them.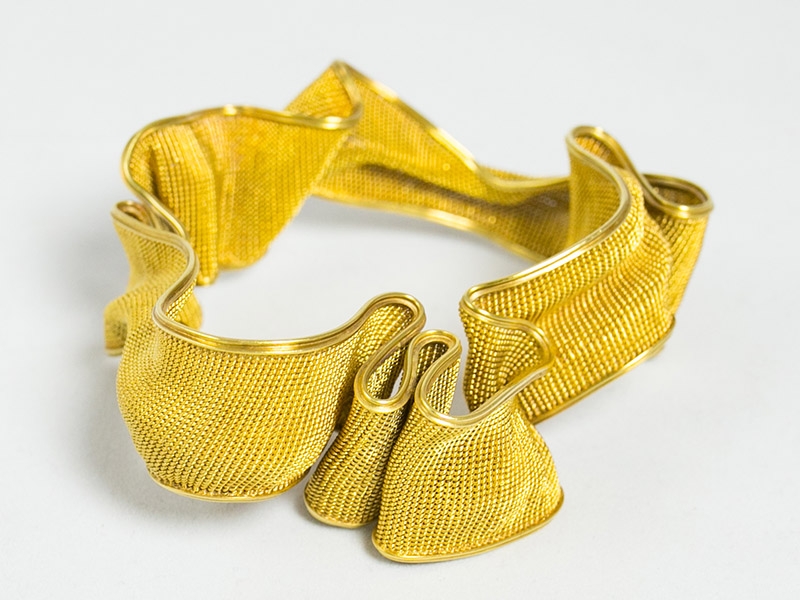 This is the first time you've exhibited your collection. Please tell us how this came to pass and a little about the process. What was most surprising and/or challenging about the process? How were the pieces exhibited chosen? What, if anything, did you learn about your collection in the process?
Elsie Michie: I love the story about how the exhibit happened. As an associate dean at LSU, I'm asked to attend administrative breakfasts at the Faculty Club. I was standing there wearing a Lisa and Scott Cylinder brooch made on a police whistle when Daniel Stetson, the director of the LSU Museum of Art, came up to me and said, "What an amazing piece that is." He told me later that his jaw dropped when he came to my house and saw, among more than a hundred other things, two beadwork statues by Joyce Scott, whose work he knows well. (Indeed, he has told me he'd like to include the statues in another exhibit he's planning for spring 2020.)
The museum's curator, Courtney Taylor, decided to mount the exhibit (even though it was going to be labor-intensive for them because they would have to build most of the stands). She took on a graduate student in art history, Olivia Johnson, who helped curate the exhibit, and Courtney traveled to New York, where she saw a jewelry exhibit at the Metropolitan Museum of Art that inspired her to display the jewelry on Lucite stands, which Jordan Hess built for many of the pieces.
I wasn't in Baton Rouge when the exhibit opened. Courtney sent me photographs, and its beauty stunned me. When I got back in town, my partner and I went to see it and it was like being in a fairy tale, like entering Aladdin's cave to see the museum with its walls painted black and the jewelry lit up like stars, hanging there behind the Lucite, gleaming in colors, like the pink, purple, and orange of the Arline Fisch crocheted necklace, or the gold and green of the Harriete Estel Berman bangle made of an Uncle Ben's Rice tin.
I love it that art jewelry enriches my life and the lives of everyone I encounter who responds to what I'm wearing.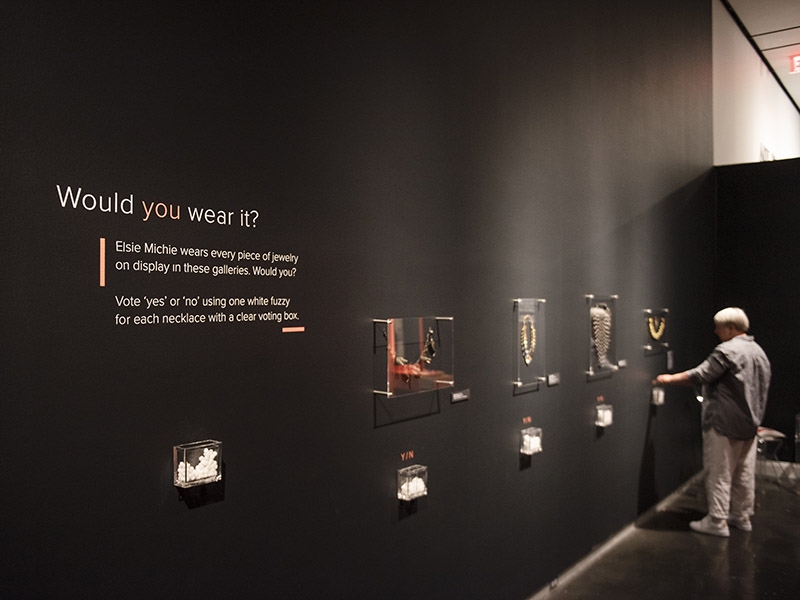 Do you wear the art jewelry you collect? When and where? Why?
Elsie Michie: I wear all the jewelry I own. Indeed, that's one of my collecting criteria: The piece must be wearable. I wear something every day and in almost every venue. (There's a famous story in the English department about a student who came in and didn't know my name but told them "You know, the one with the neckwear.") I stop as I drive into campus so that the woman confined to the parking booth can see what I'm wearing. But that's part of the joy for me: that everyone else gets to see whatever wonderful piece I have on. The LSU Museum of Art put up a lovely interactive exhibit that says "Elsie Michie wears every piece of jewelry on display in this exhibit. Would you?" Attendees vote with cotton balls. (Tina Fung Holder's necklace made of safety pins usually gets the most "yes" votes.)
How do you store or display your collection?
Elsie Michie: My partner (now husband), Phill Adams, who is a physics professor, told me I needed to display my jewelry. So I had small cases built by the carpenter who was working on our house (who made cases for his friends who were war veterans to display their medals). Then Phil put in track lighting so the pieces were illuminated. Then when the collection kept growing and we moved to our next house, a local art furniture maker designed bigger cases with slide-up fronts where I set up what I now realize is going to have to be a rotating display. Basically our entire house is decorated with jewelry cases. It's perfect for parties. All the people who find it difficult to socialize end up in what I think of as the hall of jewelry, looking at cases filled with necklaces on zippers and pins made of Victorian postcards.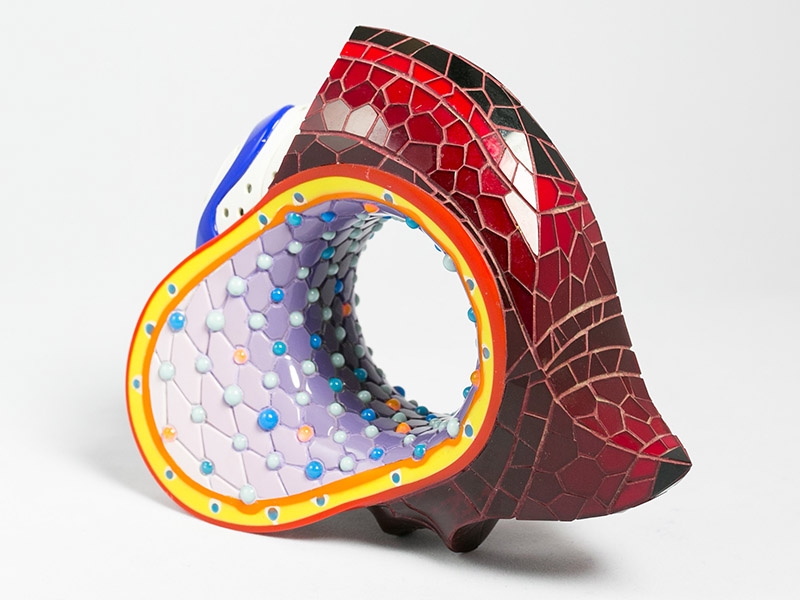 What are your ongoing goals in continuing to build your collection of art jewelry? What do you plan or hope for the future of your collection?
Elsie Michie: The exhibit in the LSU Museum of Art marks the completion of my more than 30 years of jewelry collecting. It inspired me to get three more pieces from jewelers whose work I love: necklaces by Albert Paley, Monica Cecchi, and Marjorie Schick. I'm getting ready to retire, and it feels as if my collection has all the artists I love in it, and I've been privileged to share their work with everyone I know in Baton Rouge. In many ways it feels as if the reception for the exhibit in the museum will be the best kind of retirement party I could have.
I don't know what the future of the collection is. I may end up leaving it to a museum, as it would be lovely for it to stay together and for people to be able to see it as a whole. I do know that I plan to wear pieces from my collection every day for the rest of my life.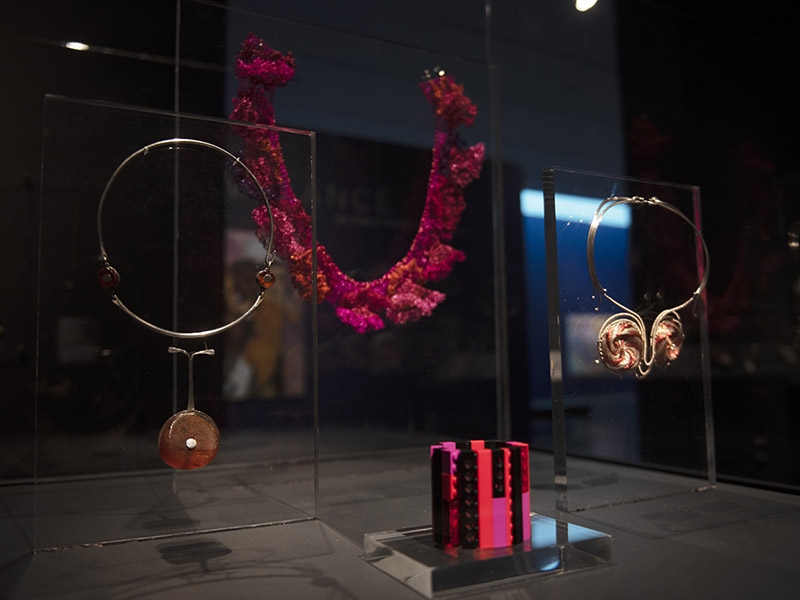 What advice do you have for someone who wants to begin collecting art jewelry?
Elsie Michie: Enjoy yourself. Follow your passion. Don't be afraid to buy pieces you like. Listen to everyone you meet. They'll know so much because they share your love of art jewelry.
Please share something you've seen, experienced, or read recently that has inspired you and that would be of interest to our readers.
Elsie Michie: I'll be giving a talk on the closing day of the exhibit, which is when we're holding the reception for it. When I was thinking about what I might say, I remembered a quotation from James Joyce that I used to give to my students when I taught at a Quaker boarding school in Pennsylvania. Joyce was "trying … to give people some kind of intellectual or spiritual enjoyment by converting the bread of everyday life into something that has a permanent artistic life of its own." The jewelry I've collected takes everyday objects and materials, like safety pins, crab claws, and Fimo clay, and gives them a permanent artistic life of their own. And it allows me to make my own everyday life into art, by letting me wear objects that inspire and amuse their beholders, leaving them to wonder at the amazing creations of the human mind.