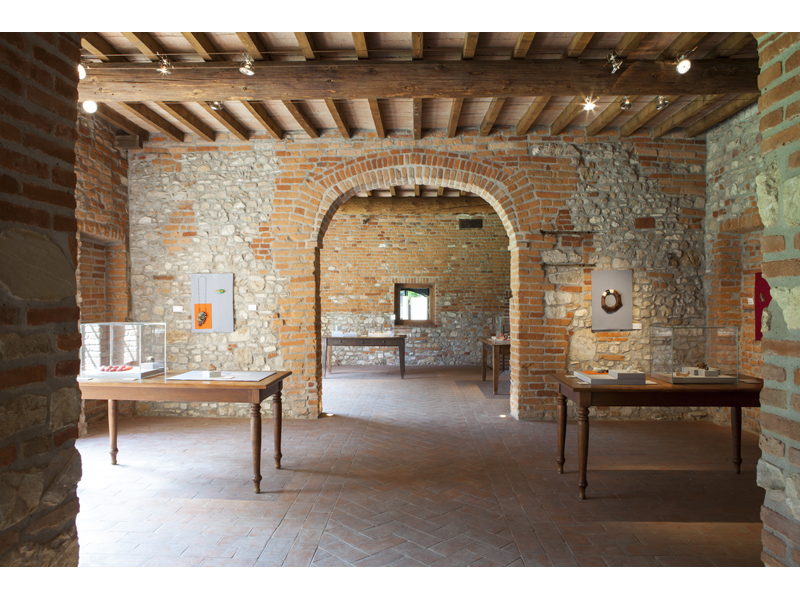 Passionate about both wine and contemporary jewelry, Eliana Negroni discusses the rise and rise of Gioielli in Fermento, an international jewelry competition whose brief seeks to marry wine with jewelry. Run out of Italy's wine hills, this project taps into the idea of fermentation as a metaphor that unites and binds both fields.
Vicki Mason: Tell us about your background and training. How did you come to contemporary jewelry?
Eliana Negroni: I am an industrial designer and maker based in Italy, born in Milan, working in the field of metalworking and tool-making for goldsmiths and silversmiths. My father was a master engraver on steel molds, and I grew up in a busy workshop with hammers and punches in my hands from childhood.
I graduated in 1990 from Milan State University, and worked in organization and decision support systems for seven years. But working in a big, traditional company was not my aim: My background was too different. So I quit a well-paid job in finance, and in 1998 I went back into the family workshop to work on various metal-engraving techniques. I experimented on my own aluminum jewelry design for more than 10 years. In 2009, I moved to the rural area of Emilia Romagna. Matching contemporary jewelry with what the Mediterranean region has to offer had become one of my primary objectives. I got in contact with a growing group of Italian goldsmiths and designers, became a member of AGC (the Italian association for contemporary jewelry), and after following various activities organized by that group, decided to dedicate my efforts to shaping a new project: That was Gioielli in Fermento (GiF), which started in 2011, and I have curated all its editions.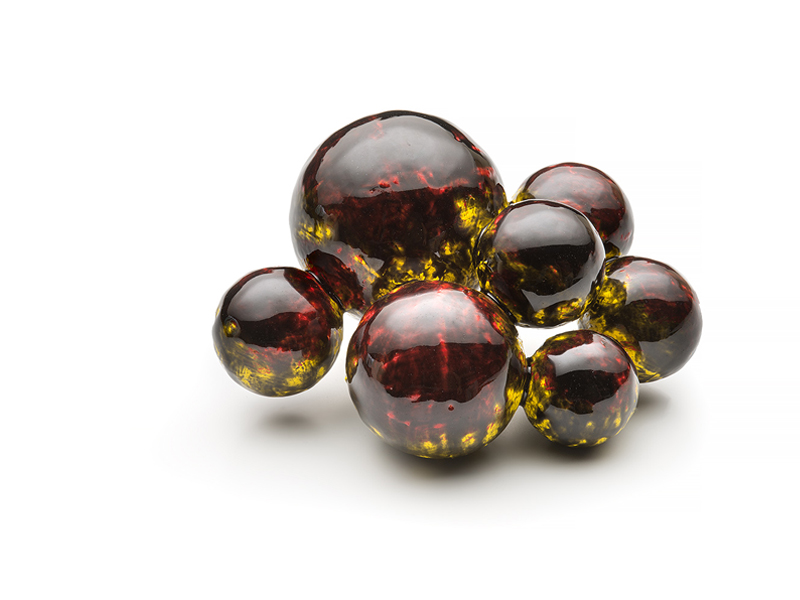 What was the genesis for the GiF competition? How did the two fields of wine and contemporary jewelry come to be placed together? Why not artisanal cheese or chocolate, for example?
Eliana Negroni: The idea of GiF came from a very personal aim to join two of my passions: the world of unconventional jewelry, which I discovered over the course of several years, and the world of wine, which I approached first as a passionate devotee and then as a sommelier.
I mean, it is not just a matter of drinking wine, but knowing that it belongs to the history of mankind. It has accompanied us from ancient Mediterranean cultures, was significant in myths, religion, legends, local traditions in every epoch since, and is a means, today, for young people to reboot the economic system via sustainable agriculture. Meanwhile wine is one of the finest ways of enjoying taste and conviviality—and a very democratic way, both a vehicle of simplicity and preciousness. It can be very simple and popular as well as precious and complex. Don't you think that applies to jewelry as well?
You could argue that art jewelry may often engage with uncomfortable issues, and the assumption is that wine does not. But I can tell you about young diehard wine-makers who are really engaged with natural elements and the technical challenges of doing research in a tough environment: They are often called heroic wine-makers…
Meanwhile, I found an open-minded partner to host the project: the owner of Torre Fornello, a fine winery on Emilia's hills, not far from my home and very close to Milan, too. And through the subsequent years our collaboration has grown successfully, basically because it was the right exhibit in the right place.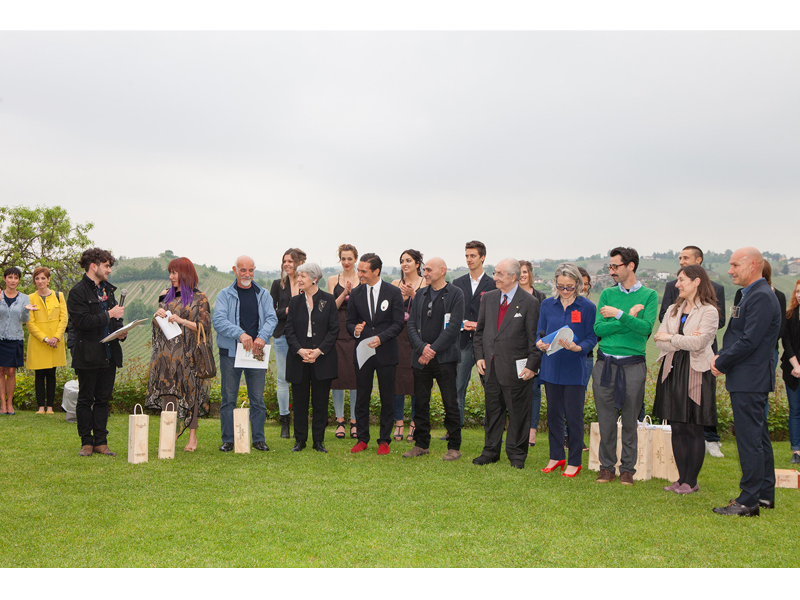 Can you tell us in a few words about how Gioielli in Fermento works? How do you set up the call for submission, how do you select work, how is the work exhibited?
Eliana Negroni: All the editions are announced by an open call published on the web. We started with the support of the AGC website, but we have had our own website since 2012. We publish announcements through Klimt02 and involve more and more people through art and craft networks, art and design schools, publishers in the jewelry field in Italy and Europe, and finally a wider audience overseas, thanks to social networks as well. An important ingredient to our success was setting the awards in connection with Joya Art Jewellery Fair and other international organizations. A jury committee is formed every year to select the winner and give the award: professionals in the art studio jewelry field together with opinion leaders from the art field.
For the last three editions, submissions have been selected not only through images, but with the actual pieces on site, accompanied by anonymized statements.
The exhibition of the selected pieces has been showcased in the ancient stables of the winery, which hosts the annual award (that right place I mentioned before). It is a very picturesque place, which requires a very careful and balanced setup, with different accents each year. It has been improving year after year … but remains quite a challenge.
Through the years, the day of the opening and celebration has become an appointment that gathers a cross-section of audience that comes from the region but also from abroad for the jewelry and the fine atmosphere we try to offer. In recent years, we have increased the presence of schools and galleries following our shows.
Benefits for the winners include acquisition of work and a solo participation in the Joya Art Jewellery Fair. The selected artists can also choose to participate in the GiF travelling exhibitions program organized through the year. The exhibition of student works is the area of biggest growth in the development of the project. We are preparing the next edition right now, and some details will change, but the attention is always focused on the artists and how to best highlight their works.
Our biggest challenge, common to many other projects, is fundraising to support the organization of all the awards' many steps. Too much is still left to voluntary work and self-sustained by application fees.
In writing about the project, you mention a desire to raise awareness amongst a broader audience for contemporary jewelry. By this do you mean the wine-drinking audience? What do the passionate aficionados of the wine-drinking community think of the work, and do you think awareness is extended beyond them? How can one even measure this?
Eliana Negroni: I need to stress again that it is not a matter of a "wine-drinking audience": I would rather be speaking of a "wine lovers audience."
Think of it as a way to invite people to a meeting: There will be people who love wine and enjoy a wine tasting and also enjoy how artists interpret—or are moved by—the same passion. It is a matter of enjoying time together, with a glass of wine in your hand and tasting the same sip that inspired this or that work, trying to let people know the story behind each piece. And this seems to work.
I think your question suggests a different perspective, and that confirms—I realized it just now—how tied this project is to our Mediterranean culture, where wine has always been part of our lives, coming from rural traditions and centuries-old history. That can appear odd if this tradition is not part of the culture you are reading this from.
The "wine-drinking audience" is not a restricted category, but a mixed audience which can appreciate fine art as well as pop statements, and get together through a common favorable element, the wine.
Part of this audience is "captive" because of their passion for wine, their interest in discovering new places where wine is reaching new peaks—because of the maker, the "philosophy" of the environment and its history, and the particular mix of tradition and contemporary experience. They love to travel all over regions like ours, to discover new places that offer a balance between art and gourmet food.
Interestingly, many artists and visitors involved in this project don't drink wine, but they are united by their interest in culture, history, nature, fine art, and extraordinary experiences. I think this may explain our success with that elusive "wider audience." Specialized wine journalists keep an eye on our experience, because I think they understand that wine-making and jewelry-making operate with similar standards of excellence: We are hosted by one of the most appreciated wineries of the region, and we introduce a select project that shows a qualified vision of the contemporary scene in jewelry, starting from Italy and gaining international consideration.
Recently, Torre Fornello winery has been awarded by one of the best Italian wine guidebooks[1] with a special prize for supporting GiF as an art project for eno-culture enhancement, in good company with some of the best and bigger renowned wineries. Most of their readers probably do not know of the existence of art jewelry … but maybe now they will.
I like to think of it as a virtuous circle: Inspired art jewelry enhances wine culture and vice-versa. I have no prejudice against either culture, as both strive for the highest level of achievement, and both have passionate supporters.
Today, for GiF, wine is a metaphor. The wine-based themes we choose each year are a way for artists to connect to inspiration, dedication, experience, research, innovation, observation, and choice, challenging themselves to turn what we find in materials, landscapes, and culture into something precious, using a very subjective perspective, exactly as a winemaker does to find his best wine.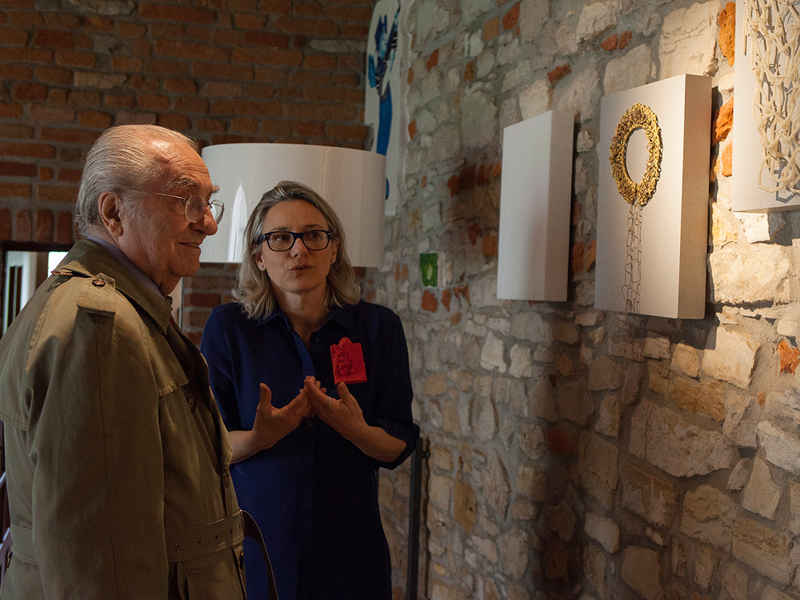 Both jewelry- and wine-making have roots in craft traditions but have challenged these traditions. Contemporary jewelers have embraced the language and structures of the contemporary art world, sometimes questioning the craft aspect of jewelry-making. Are there wine "artists," and what role does craft play today in wine-making?
Eliana Negroni: I think I started answering your question when I mentioned the "heroic wine makers" and themes related to sustainability, back-to-the-roots issues, or advanced research like biodynamics, biodiversities, etc… The debate on this issue really concerns "ferment," both figurative and literally speaking of wine. Especially in Italy and France, where many young wine makers have ushered wine-making into a new age.
There are two directors who have been observing this new stream for some years (guess what? They're also wine lovers!): Jonathan Nossiter (Mondovino, Resistenza Naturale) and, in Italy, Giulia Graglia, with two short films—really a couple of jewels in the independent cinema landscape: Senza Trucco and Il Re del Mosto.[2] Three ladies among the wine makers involved in these movies, Arianna Occhipinti, Elisabetta Foradori, and Elena Pantaleoni, are among the most referenced contemporary wine "artists" in Italy, but also abroad. (You can find out about them on the web.) They are the equivalent of those contemporary jewelers who are informed by tradition … but turn it on its head to define the new boundary in the craft experience of making wine.
Have you noticed jewelers gravitating to and responding to recurring themes as they investigate and explore the intersections of wine-making and jewelry?
Eliana Negroni: Looking at the works of artists who got involved and made works for different editions of GiF, what I do notice is a trend toward increased involvement, an ever-greater commitment to finding a harmony between the context and the theme of GiF and the artists' individual research, where their personal interpretation feeds the dialogue between their work and that inspirational wine tale.
As GiF is getting "older" and more established, I notice also how newcomers are influenced by what has already been presented and are stimulated to dig deep into their own, original interpretation of the theme. Meanwhile, in recent editions, established artists like Akis Goumas or Liana Pattihis have not hidden their excitement for developing a complete collection on the basis of the GiF theme of the year.[3]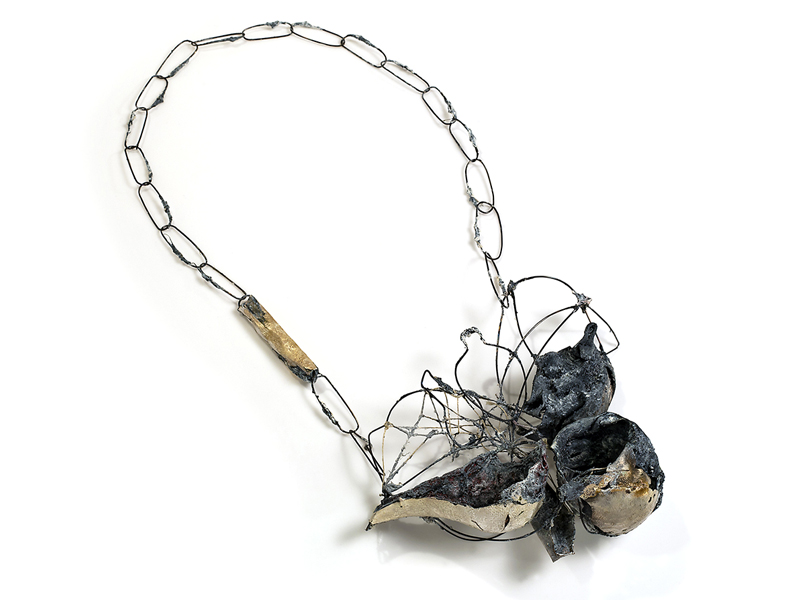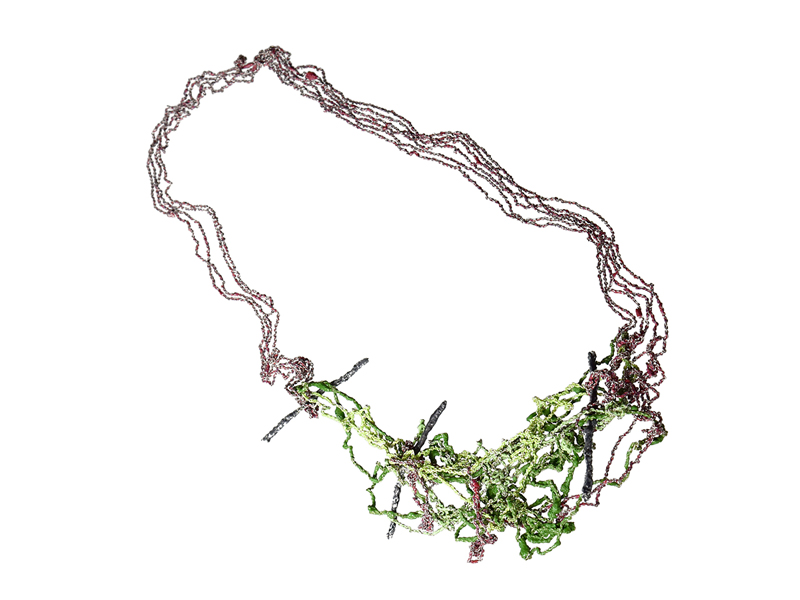 What surprises have the jewels selected for the competition revealed to you about wine and about jewelry?
Eliana Negroni: Pieces of jewelry inspired by our project have been often related to memories, the memory of an experience (Liana Pattihis, Emilia Necklace), the memory of a nice shared instant (Angelo Verga, Banquet Impressions in a Spot), the memory of a love (Alexandra Kusch, The Wine He Loved), the memory of a scent (Clara Del Papa, Convivium), the memory of youth (Corrado De Meo, The Colors of the Night), the memory of a human condition (Nicoletta Frigerio, Mediterranean Through), as if the pretext of wine encouraged us to fix some important moment in our lives as expressed through a piece of jewelry. Again, it makes me think of the power of wine, it makes me think this happens when we are living a convivial moment around a table or a fireplace, tasting our glasses of wine in good company: The air is warm and ready for confidence and meditation.
The most exciting surprise regarding jewelry happens every year when the deadline closes and pictures and packages arrive showing an amazing variety of expressions: That is the real power of art, giving shape to such different expressions by each artist who faced a theme, put her/his research in a well-defined context, and chose the appropriate medium or combination of media to give voice to her/his idea.
Have you considered asking artists to consider the differences and discords between wine- and jewelry-making?
Eliana Negroni: It could be an interesting point of view, a source for a new related theme. Indeed, in every edition there is someone who presents a work in antithesis to the main context, but sometimes that oppositional aspect is clearly a fundamental, critical element of the work, and we accept it. The main issue is to consider when the way of making a piece of contemporary jewelry is more or less predictable, more or less authentic, more or less strong in its intention.
Enrico Sgorbati, the owner of the winery Torre Fermento Fornello, is collecting some of the works. Can you tell us about how he engages, relates, and feels about these jewels? Does he wear any of them?
Eliana Negroni: Mr. Sgorbati encountered contemporary jewelry for the first time when I introduced him to the idea of the first exhibition. I knew he might be captivated by the subject as he was already a contemporary art collector. He proceeded to tell me that in his youth, before his inspiration shifted toward the art of making wine, he had hoped to become a goldsmith. Six years later, he has a clear vision of what he appreciates in contemporary jewelry. He loves to hear the jury's recommendations for the final award, and he is getting more and more involved in the work and the artists' statements. He is very proud of his GiF collection, which is often displayed in a dedicated space in the winery, for visitors to look at. He is even getting closer to the idea of wearing a few favorite pieces…
Over the last few years, Gioielli in Fermento has become ever more of an international event. Where do you see the competition in 10 years?
Eliana Negroni: Every project must evolve, and should always be treated as a work in progress. I would love to preserve and bring forward the spirit of Gioielli in Fermento, and in particular, what the term ferment points to: how the work channels the artists' inspiration and will to express themselves, how that inspiration is transferred to our visitors, letting the possibility of becoming a wearer slowly mature in their minds. 🙂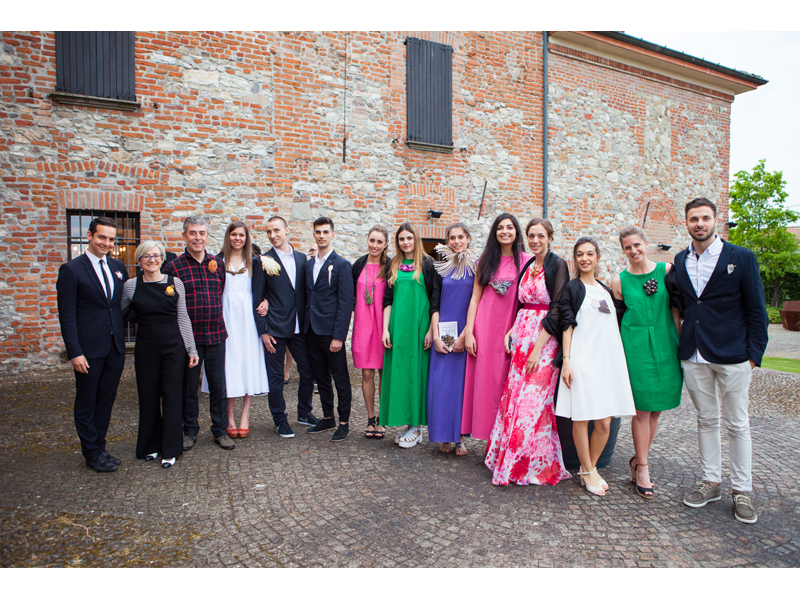 ---
[1] The Go Wine book is one of the leading guides for tourists interested in visiting wineries and discovering gastronomical excellence in Italy. Wine has become an increasing target of tourists coming from all over the world.