Crafting the Future (CTF) is an organization that sharpens the power that community fosters through relationships, shared inner and outward growth, communication, and communing. Exploring a future in action and practice, CTF morphs into the needs required by a given moment and individual. Its versatility is one of the awe-inspiring qualities of Crafting the Future, and also what allows the organization to touch so many lives and artistic practices. We interview its director, Corey Pemberton (he/him/his), and deputy director, Annie Evelyn (she/her/hers), discussing the origins and future of Crafting the Future and its importance to the craft community at large.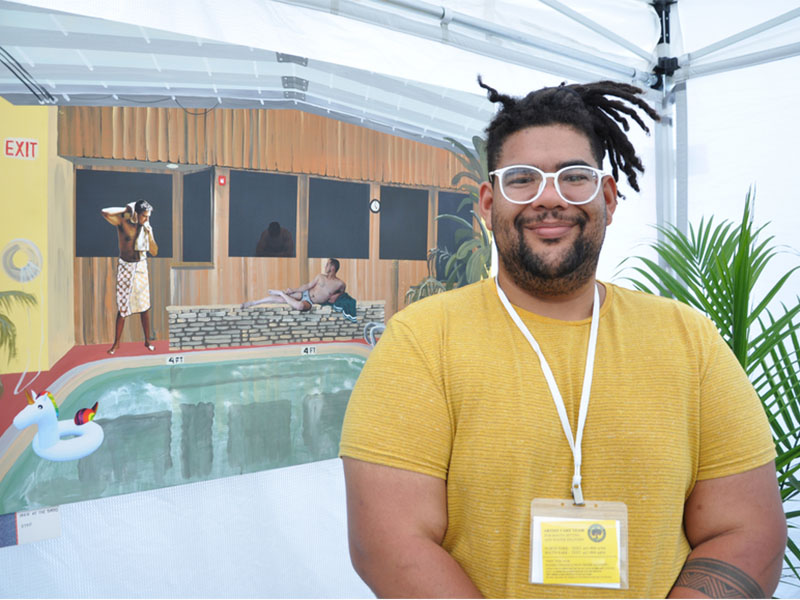 Chava Krivchenia: Crafting the Future facilitates both local and dispersed communities and opportunities of craft for makers of color. How does the organization approach its projects with consideration of both local and larger populations—for example, the organization of "crews"?
Corey Pemberton and Annie Evelyn: CTF was started by a small group of artists at Penland School of Craft. It started locally, but with the thought that if we shared this idea with our larger community, it would spread like wildfire. Craft is built off of community; techniques and processes develop by being passed down from generation to generation of new makers, evolving along the way. This is an idea that is instilled in practically every craftsperson I've ever known. Information is shared generously so that we can all grow together.
It's no surprise that our community had a collective frustration surrounding the lack of diversity in the field and that it would respond overwhelmingly to an opportunity to address it. We believe that you can't build a national or global network without establishing and connecting to preexisting local communities. And why would you want to? There are so many little pockets of people throughout the US who are already doing the work or are at least interested in getting involved with this sort of reimagining of the field's cultural fabric. We are simply connecting the dots. The dots between established youth arts organizations with diverse student bodies and craft schools offering transformative experiences. The dots between socially conscious makers and a larger platform. Artists around the country are forming crews that work more locally to grow our network and raise funds on our behalf. It helps us, but it also gives the individuals something to be a part of and look forward to and urges members to fold this sort of service-oriented work into their daily practices.
How does Crafting the Future nurture intergenerational relationships between craft makers of color? How does the variety of ages and points of career influence CTF's community?
Corey Pemberton and Annie Evelyn: It's no mystery that we need to lift and support young people, aspiring makers of color, if we are going to see a real change in the field and in our society. A big part of this is not just making the space for BIPOC artists but inspiring them and making them feel comfortable in that space. This means celebrating and supporting artists of color who are already established and further along in their careers. We need to provide examples of working, successful black and brown artists so that the young people can see themselves in the community they are considering joining.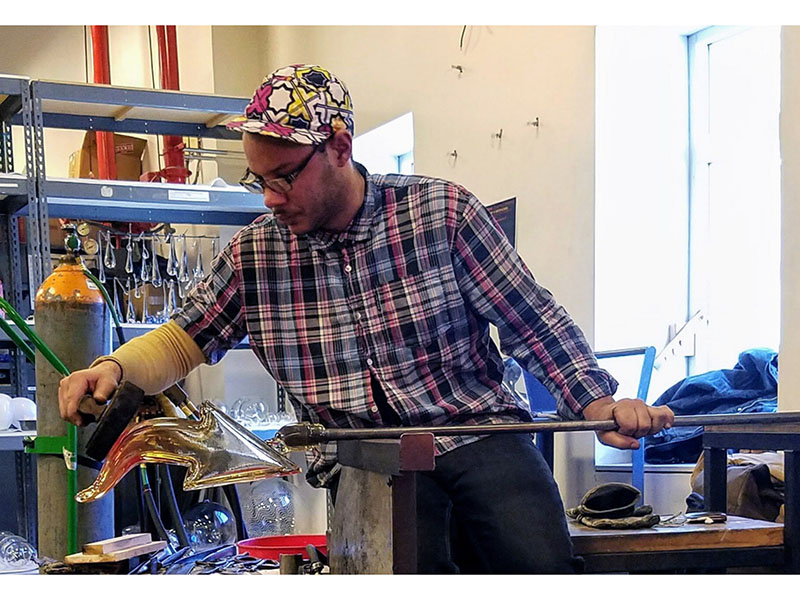 What are some examples of how educational institutions have partnered with CTF? What are some hopes or goals CTF has in terms of influencing craft educational communities?
Corey Pemberton and Annie Evelyn: Penland was the first major craft school to partner with CTF. They saw potential in what we were doing and offered to match the funds we raised to double the number of scholarships we could offer. They, like so many other schools in the network, have been equally concerned with equity and inclusion for years and found an obvious and powerful step toward that in our vision. Once other schools heard about this partnership, they all wanted to form similar relationships. Today we have nine partnering craft schools around the country who are all matching, or in some cases fully funding, scholarships for BIPOC students from our partnering youth arts organizations to attend workshops at their institutions. Our hope is that more and more institutions will follow suit and make a sustained effort to effect change for years to come. We want to advocate not just for space for BIPOC artists, but for continuing support for those artists once we've welcomed them into the field. We hope to eventually see people of color in higher-up positions at not just craft schools, but galleries, museums, and universities. Our partnering schools are already on the same page; we just need to make sure these conversations don't fade. And we need to offer support in any way that we can.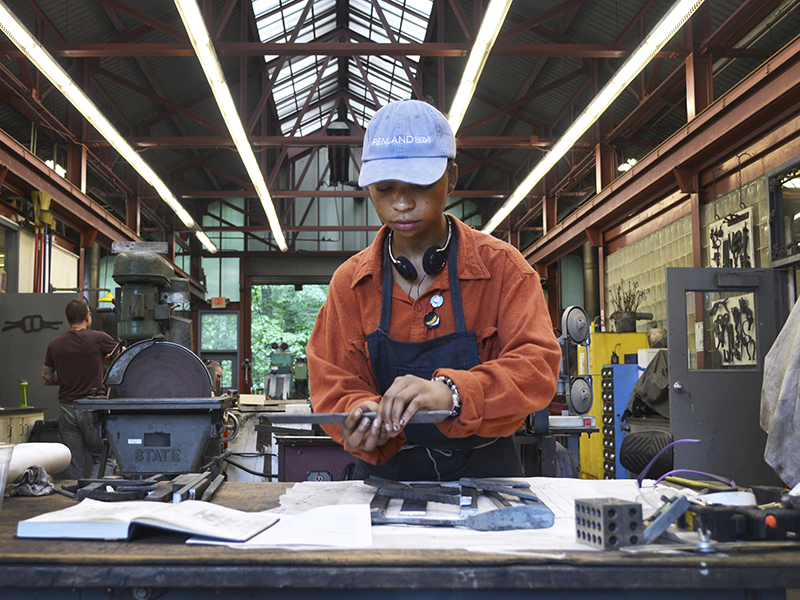 How have the events put on by CTF adapted to conditions during COVID? For example, the Better Together events?
Corey Pemberton and Annie Evelyn: COVID really threw a wrench in our plans for 2020 and even 2021. We were not able to send students for in-person programming, but we were able to come up with a few other ways to support our makers. We hosted several virtual workshops for the students of Yaya, our first youth arts partner, over Zoom. This allowed us to actually serve four times as many students as we would have otherwise, and the artists we got to teach were all world-class and black or brown. We also came up with a few grants and commissions to support other young makers, something we may not have arrived at so quickly without the pandemic forcing us to get creative. Better Together events are being postponed until further notice, but we did do a virtual Better Together on IG Live throughout the month of February. Again, we'll be able to reach many more people this way than we would with an in-person event. And we will be sending students to workshops this summer, but obviously with strict consideration for the COVID regulations of their home program and the craft school that they attend.
What are some goals for the future or future projects that Crafting the Future has on the horizon?
Corey Pemberton and Annie Evelyn: We have several things in the works that are very exciting for us. We are forming new partnerships that cater to both older and younger makers, expanding the age group of the people we serve. One of these partnerships is with an organization that works to provide BIPOC makers with tools and practices to develop their creative businesses. Obviously, the younger we can start inspiring people to join the field, the better. And we don't want to forget about that older generation that will help inspire and educate the young folks. We are also establishing multiple internship programs that will hopefully last for years to come. And we are in the process of curating a couple of exhibitions that we're very excited about. There's so much more as well. People can stay in the loop by becoming a member and joining our mailing list.[1]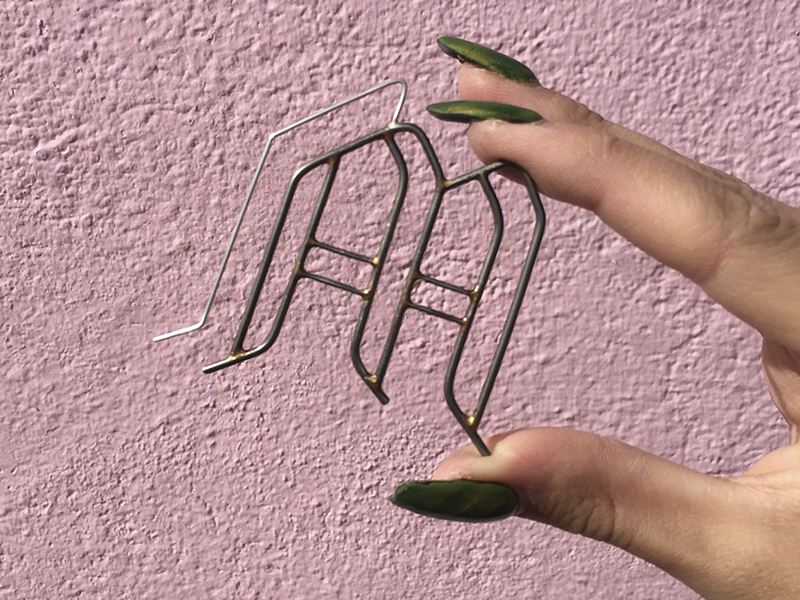 Devyn Vasquez and Tanya Crane are two exemplary artists who belong to the Crafting the Future community. Their work emanates the time and connection spent between artist and material. This relationship between time and material is one that is fostered and strengthened by the support of communities and the work of Crafting the Future. We spotlight Vasquez and Crane here.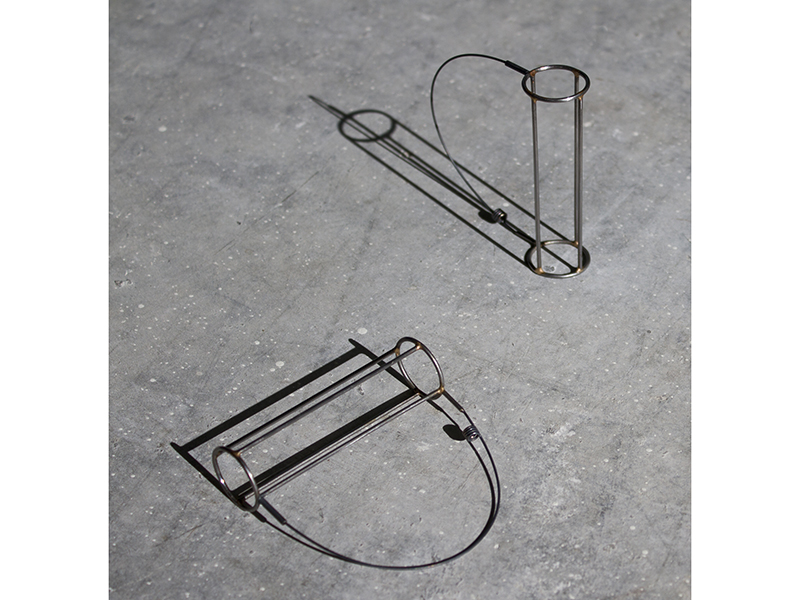 Currently based in Asheville, NC, US, Devyn Vasquez[2] is a maker in many realms. Having earned a BFA in studio art and a BS in art management from Appalachian State University, Vasquez continuously pursues collaborative projects and material explorations in her professional and personal life. Her in-home studio accommodates a multi-media practice that includes metalsmithing, woodworking, textiles, and more. Vasquez's metalwork most often takes the form of jewelry with consideration of movement and the body. Her jewelry includes lettering and geometric compositions. The work displays Vasquez's play with words, strikes a chord, and harmonizes with her meticulous and skillful handling of steel, brass, and silver.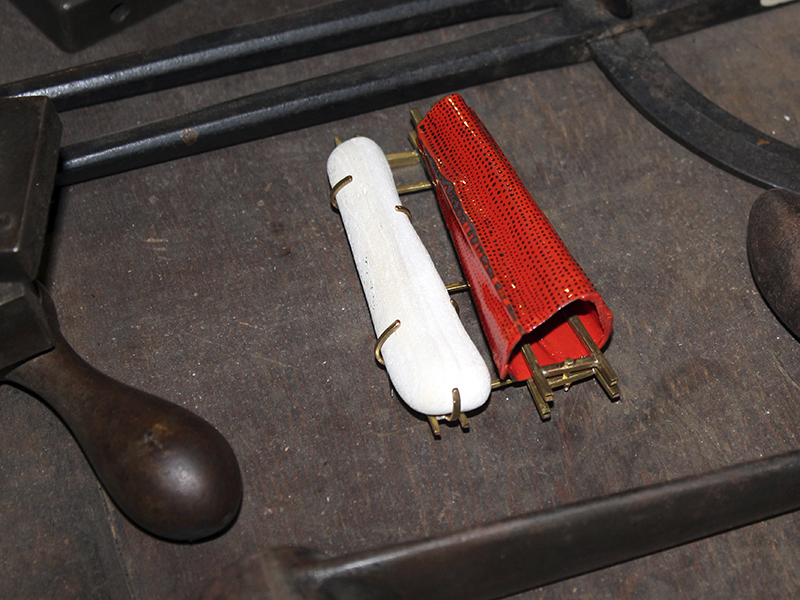 Tanya Crane[3] is an artist and educator currently teaching at the School Museum of Fine Arts at Tufts. She has exhibited her work in both solo and group exhibitions, including her solo exhibition, Tributaries: Polarity, Exposing the Tensity, at the Metal Museum, in Memphis, TN, US. She earned her MFA in metalsmithing + jewelry from the University of Wisconsin-Madison, and her BFA in metal from the State University of New York at New Paltz. Touch is felt on every surface and considered in every decision made surrounding her jewelry, which is composed of enamel coloration and mark-making.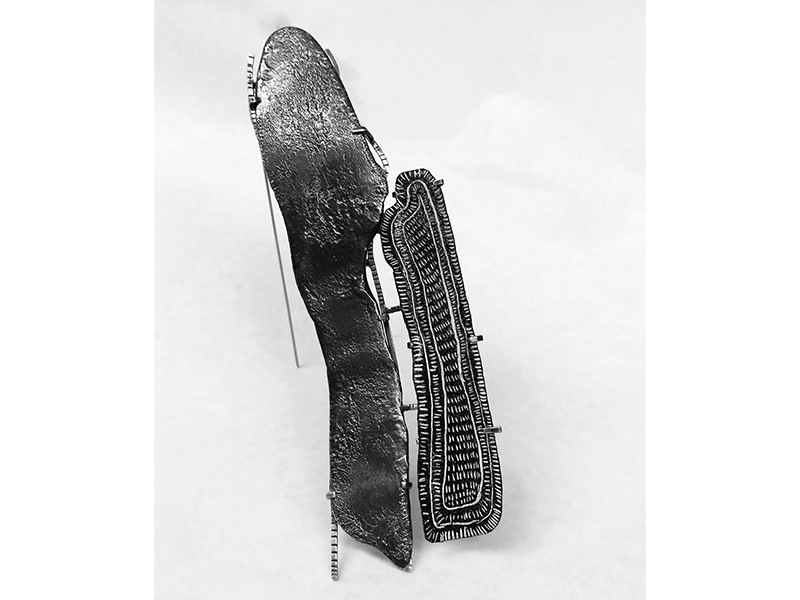 ---