The exhibition Divine Legacies in Black Jewelry is currently on view at the Metal Museum, in Memphis, TN, US, through September 12, 2021. It focuses on exploring and presenting histories and legacies in Black jewelry while working to introduce viewers to different names and personalities connected to the field. In this self-interview, exhibition curator LaMar Gayles, Jr., illuminates some of the contexts in which the exhibition is honed.
What kind of pieces are featured in this exhibition?
This exhibition focuses on showing works created by jewelers and jewelry artists who are connected to the Black Diaspora in the Americas, meaning it seeks to showcase artists who identify as Black in the Americas. Objects in the exhibition range from the early 20th century, circa 1930s, to now, in the 2020s. The artists all practice in varying techniques and a wide range of materials.
Is there a specific piece that you're most excited about featuring—whether because of its aesthetics, its history, or its artist?
I am really thrilled to present all the pieces from my personal jewelry collection, but also works borrowed directly from the artists and some private collections.
A piece from a private collection that I am excited about showing comes from the Museum of Arts and Design, in NYC. The piece is by Bob Jefferson, an artist working in the 1970s and 80s who was featured in California Black Craftsmen, the first exhibition highlighting contemporary craft work in the US. Curated by another Black jewelry artist named Evangeline "EJ" Montgomery, this 1970 exhibition was the first curatorial campaign at a museum that was organized by Black artists and centered their production in the field of studio crafts like ceramics, glass, jewelry, metals, wood, and mixed media. Montgomery herself is crucial to the Divine Legacies exhibition because California Black Craftsmen set the pathway for future (now current) scholars to build on her work to document Black craft artists. Jefferson's brooch showcases his unique interest in fine jewelry techniques, which he used to create biomorphic forms.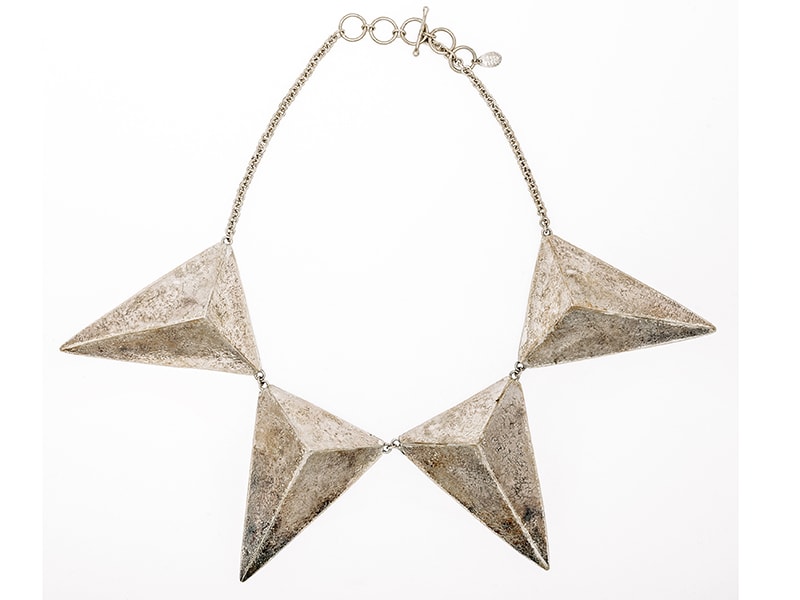 We were also able to borrow work from several major Black jewelry artists such as Charnelle Holloway, L'Merchie Frazier, and Sandy Baker, all of whose work I have been interested in for some time but have never had a chance to purchase.
Holloway's works are a trio of handmade metalcraft dolls, each made from different metals: nickel, brass, and copper. These dolls reference the concept of the fates from Greek mythology and, in my mind, represent the sophistication of the technical skills and techniques artists in the Diaspora use. Holloway is also a crucial artist to include because she chairs Spelman College's art department. Spelman is one of the few Historically Black Colleges and Universities to have several metalsmithing courses in its department.
Another crucial artist to include was L'Merchie Frazier, whose transnational art practice captures how some Black artists traveled to different parts of the world to acquire their metalsmithing skills or to add to them. Creating work towards the end of the 20th century, Frazier eventually went to South America to learn beadwork, which she integrated into her silversmithing, combining motifs from her personal background with imagery she encountered in the global Black Diaspora into her work. Today she continues to create visual work but in a variety of media ranging from jewelry to quilting to mixed media.
A major artist we borrowed from is Sandy Baker, who is referenced as one of the early pioneering jewelry designers of Black descent in the country. Her career took off in the 1980s and she continues to sell her work internationally today. Her work has gained international notoriety and she is positioned as a foremother in jewelry, paving ways for younger generations to join the field.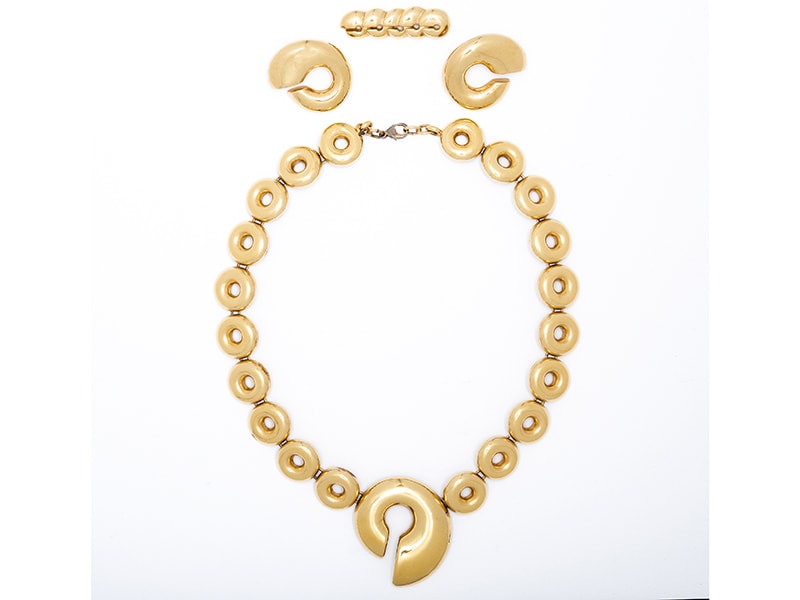 All three of these women are crucial to the narrative and legacy of Black-created jewelry in the Americas. Oftentimes when we think of the legacy and histories of jewelry, they are often very male-centered. For this exhibition, I knew it was important to show works by female artists of Black descent practicing in jewelry, especially because there was an abundance of representation.
As for the works from my personal collection, I am excited to bring to the public artists like Winifred Mason Chenet and JB Pericles, who both created work before and during the 1950s, which stretches the chronological scope of the exhibition to earlier parts of the 20th century.
Finally, I am excited to bring knowledge about artists working in specific regions and whose work has yet to be addressed or documented in any scholarship. While this exhibition is a survey, it doesn't showcase the work of every Black jeweler.
What kind of insight does this jewelry offer into the history of the Black Diaspora? In other words, what do you hope the public will gain from viewing this exhibition?
The main goal of this exhibition was to show the wide array of material interests, techniques, and artistic motivations. Black culture and artistic expression is not monolithic; the works are not identical across the board. Instead, members of the Black Diaspora create objects from an abundance of artistic, cultural, material, and technical interests. Black artistic production and more broadly Black culture are a pluralistic, flexible, and non-static set of practices that persons attribute to connecting to the history of the Black Diaspora. I hope that visitors learn new things about key persons in the legacy of Black jewelry and that some of the audience feels taken enough to continue building on this research.
Why the title of the exhibition?
The title references the Black cultural tradition of divination and more broadly Conjure and other religions such as Voodoo and Santeria, which are all diasporic descendants of historical African religions. In these varying spiritual and religious practices founded in cultures tied to the Black Diaspora, there is a consistent concept of the practice called "divination." The act of divination or divining calls on the practitioner (usually known as a diviner) to use the tools at their disposal to locate something. Often in this historical connotation, a person used divination to find water or lost objects or materials. In this context I adapted the phrasing to reference the process I went through to put together the exhibition. It felt like I was using the tools and resources I have to find information about the artists. Lastly, I think using "divine" was a powerful move for the title because as a curator I'm asserting that these beautiful objects made by persons of the Black Diaspora are indeed divine and transcendent.
What drew you to study the histories of Black jewelry makers? What about this history excites or inspires you?
When I was younger my great-grandmother collected jewelry and specifically had a great deal of jewelry she attributed to Black makers. The most prominent piece was a ruby and gold ring she states was made by a Black craftsman from the same town in Arkansas she left during the Great Migration in the 1930s at the age of 15. Hearing and learning the social historical significance of the jewelry she had in her collection pushed me to consider collecting jewelry made by Black creators.
Then, years later, while I was in undergraduate study in college, I triple-majored in three different areas: archaeology, art history, and ethnic studies. It was fascinating to me that art history, out of all of my disciplines, seemed the most closed off to jewelry studies. It seemed odd to me that the field that focuses exclusively on visual and material studies was closed off or almost opposed to exploring jewelry, especially jewelry from a different, non-Eurocentric canon. Seeing the pushback I received from some of my more traditional art historical peers, coupled with the legacy of my great-grandmother, urged me to continue generating knowledge around Black jewelry makers.