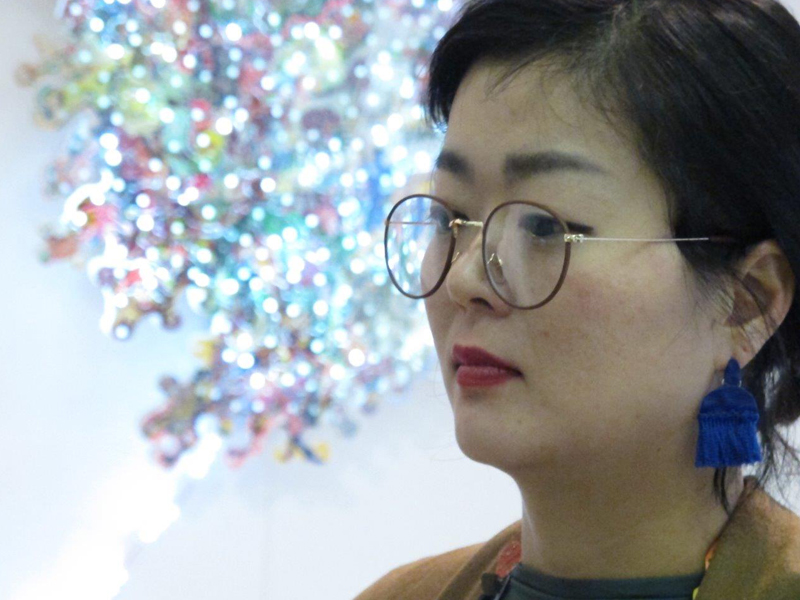 Coco Sung is a South Korean jewelry artist based in Berlin, Germany. With a background in Western painting, she creates jewelry through an intensive sketching process and integrates vibrant narratives into her work. In this interview, we talk about how Sung's experience living as an expatriate in Berlin influences her work.
Olivia Shih: Born and educated in South Korea, you now live and work in Berlin. Could you tell us more about your background and your transition from painting to contemporary jewelry?
Coco Sung: I majored in Western painting in South Korea, and one of my professors there had studied in Germany. So coming to Germany for study and work was not a very difficult decision to make. When I studied painting, I was already using various objects and materials. I used jewelry objects in my painting as one of the methods to express my ideas. Jewelry art fascinates me because it's touchable. Unlike the static painting exhibited on a wall, jewelry is something we can touch and wear. I saw great potential in using jewelry as art object for its intimacy with the human body.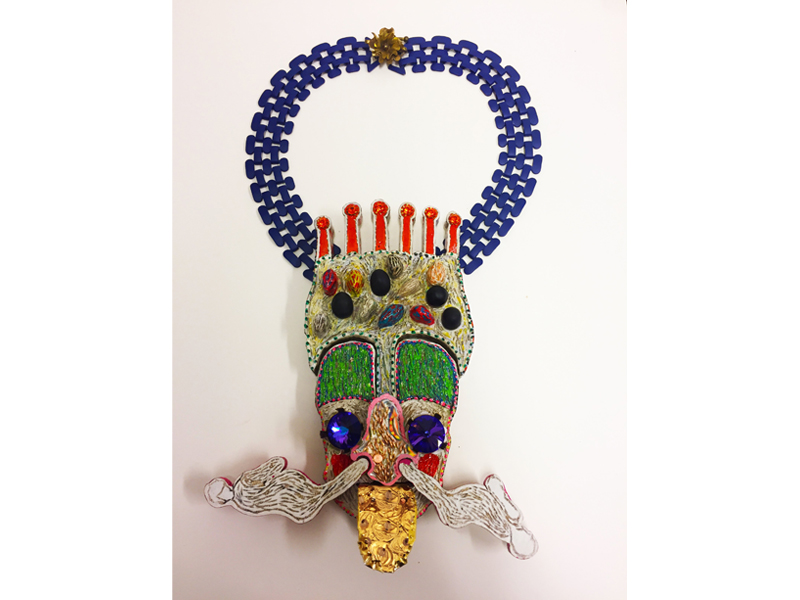 What was your experience like, studying under the nationally renowned Professor Daniel Kruger at the University for Art and Design in Halle?
Coco Sung: Daniel also studied painting, but he moved on to work with ceramic and contemporary jewelry. So did I. He inspired me with his creative use of elements and materials. I love how he uses colors. Even though he's a famous artist and professor, he's at work every day from 9 a.m. to 4 p.m. I have a great respect for such self-discipline and dedication.
Your jewelry combines a painterly aesthetic with vibrant narrative, and Monstranz, in particular, is reminiscent of traditional Korean or Balinese masks. Where did you draw inspiration from for this work?
Coco Sung: Actually, I took the shape of the monstrance (Monstranz, in German), an object used in the Catholic holy mass. It resembles sun rays. I also applied the muhansa seeds of the Buddhist prayer beads. Some people would consider my work as an amulet, others as a keepsake. For me personally, it's meant as an amulet because I was going through a tough time both career-wise and in my private life.
The exhibition is titled KARMA, in all-caps. What's the story behind the title?
Coco Sung: I have to mention my previous work Puzzle to explain the exhibition's title. Puzzle consists of individual brooches that can be sold piece by piece. People choose which brooch they'd like to take home based on their taste. They're buying a piece from the organic artwork, and they're also aware that these pieces sold all over the world could be reunited one day. Here, I wanted people to connect and feel they're interconnected in a very unique way. Individual brooches from my work represent individual people who are woven together in a puzzle. If a piece is missing, the entire puzzle is incomplete. I chose the title KARMA because our actions are connected in a cycle.
KARMA includes not only contemporary jewelry but also your sketches and installation pieces. One striking wall piece is Puzzle-Installation I, the piece you were just describing, which is comprised of 300 separate brooches that merge to form one organic, burgeoning mass. How did this work come into being?
Coco Sung: As an expatriate living in Berlin, I'm always longing for a connection. I wanted individuals who purchase pieces of the work Puzzle to be able to "exchange" with one another through this act of taking a piece from the puzzle. I wanted to create as many pieces as I could. I made 300 pieces to allow more people to be able to connect with one another. People are constantly online these days, but I wanted to allow people to literally connect offline through art. I even wish to give people a sense of belonging—the feeling of belonging to a project that involves 300 pieces being connected, separated, and reunited.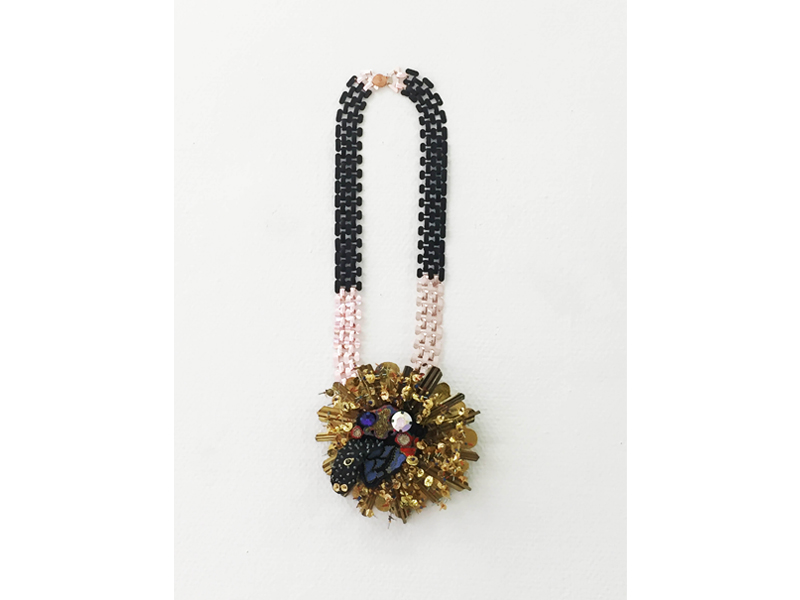 Your jewelry is woven together with a wide range of materials, including wood, Swarovski stones, acrylic, steel, and even muhansa seeds. What's the thought process behind your selection of materials?
Coco Sung: I don't actually emphasize the materials themselves. They're something I happen to choose for my work, and they're more like assistants, never the main figure. In my work process, I start with laying out my ideas. Various images come to my mind, and I sketch drawings. Then I choose materials and objects that are suitable for expressing my ideas. I guess this is how I decide on materials.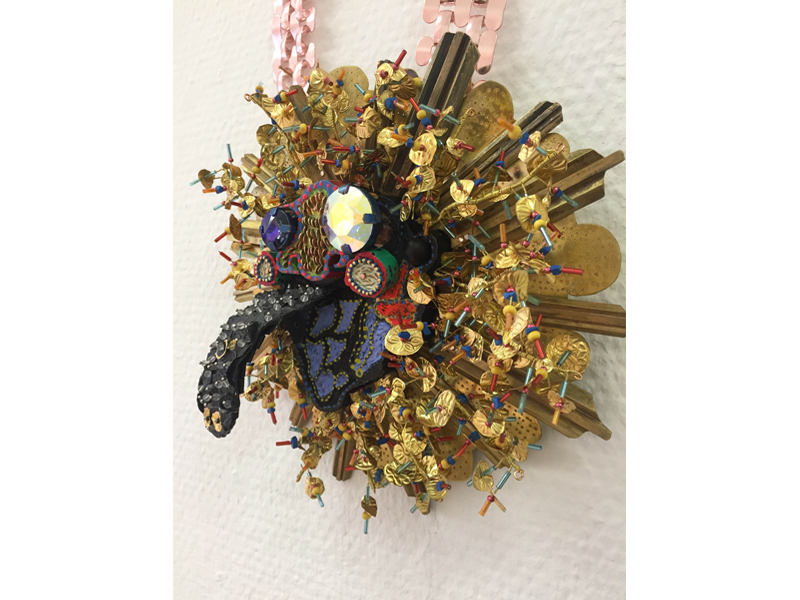 Do you have any advice for emerging jewelers who are looking to form their own unique voice and find gallery representation?
Coco Sung: I would suggest not focusing too much on the materials and the functionality of the jewelry. I think jewelry artists could also draw their inspiration from our current world and social issues, which is the norm for fine art. As I already mentioned, materials and objects are only the means in expressing one's ideas. Jewelry artists could also try to integrate other art forms.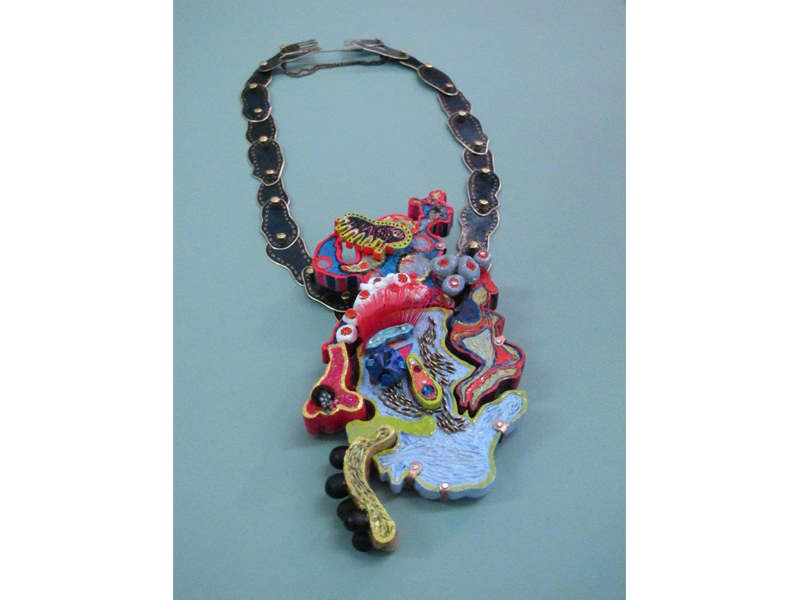 Are there any new projects on the horizon for you?
Coco Sung: I'm working on the "documentation" project for Puzzle. I aim to document who purchases which piece and where it's located for the next decades. I also plan to re-collect all the pieces by asking the individual buyers to participate in a "reunification" exhibition. At the same time, I'm working on another project in the Puzzle series. Moreover, I'm making more amulets along the lines of the ones in the Karma exhibition.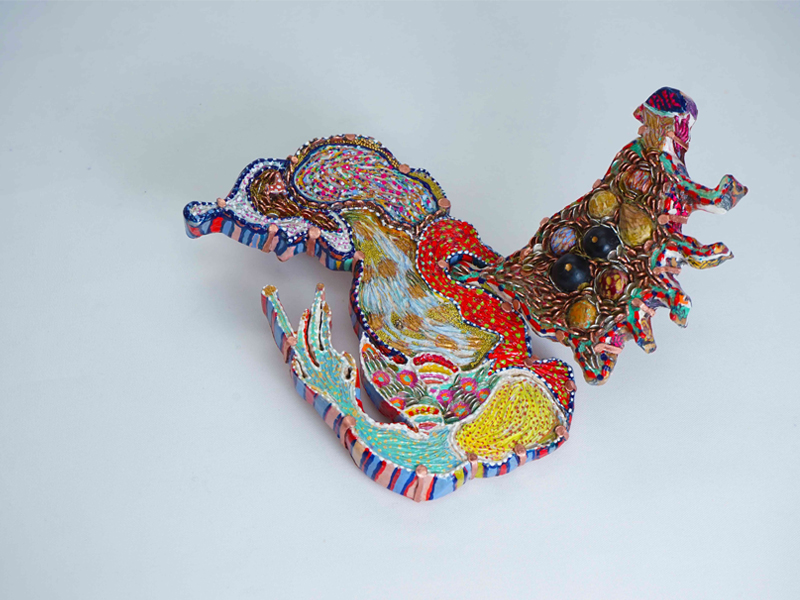 Have you seen or read anything inspiring recently?
Coco Sung: I liked Fantastic Beasts and Where to Find Them, the latest Harry Potter film. It gave me an inspiration for my amulet figures. Regarding books, I read Living, Thinking, Looking, by Siri Hustvedt, in German translation, which is quite interesting. I came to appreciate the ability to apply different perspectives in life.
Thank you.
The pieces in this exhibition range in price from US$700 to $3,620.