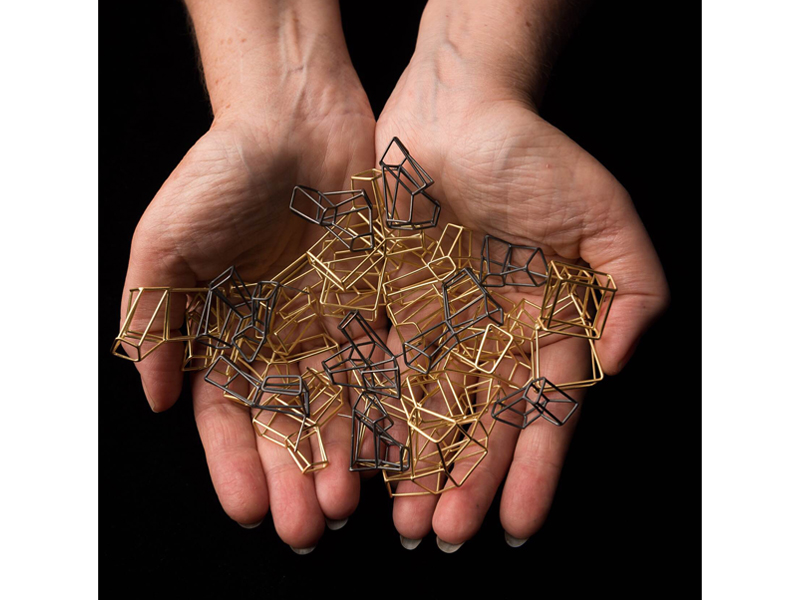 The visual presence of Carlier Makigawa's jewelry is situated comfortably between purely precise architectural constructions and organic geological formations. In this interview, the artist discusses her latest works, on view at Gallery Funaki, and her intuitive process for creating dynamic structural compositions in coordination with the body.
Adriane Dalton: How did your interest in jewelry originate? Where were you trained?
Carlier Makigawa: My mum's jewelry collection was really where it started for me. My mum was a 50s girl—brightly colored bangles and beads—and delving into her jewelry was like going into a lolly box. She had a huge drawer filled with jewelry boxes, and when I was five or six years old it was magical to be able to open these boxes and pull out this treasure, with my mother there beside me.
I studied for my undergraduate degree in fine arts/design at Curtin University in Perth, Western Australia, and my master's in fine art at RMIT University in Melbourne.
Tell us about your creative process. Where do you draw inspiration and how do you move from concept to realization?
Carlier Makigawa: My inspiration is the environment that surrounds me. That is an inner city/urban environment. I've had an interest in architecture from an early age. My father was an architect and, when visiting his studio/office, I was fascinated by his drawings, plans, and sketches and that these lines on paper became large-scale structures to house and enclose. I tend to think of my objects/jewelry as three-dimensional drawings that when placed on the body express another energy. My process is about building and often making forms directly with the body. Sometimes I cannot define the structure in a drawing, it begins on paper and then develops on the body. As I chop and change, the form keeps moving in a natural way, arranging itself into a previously unthought-of structure.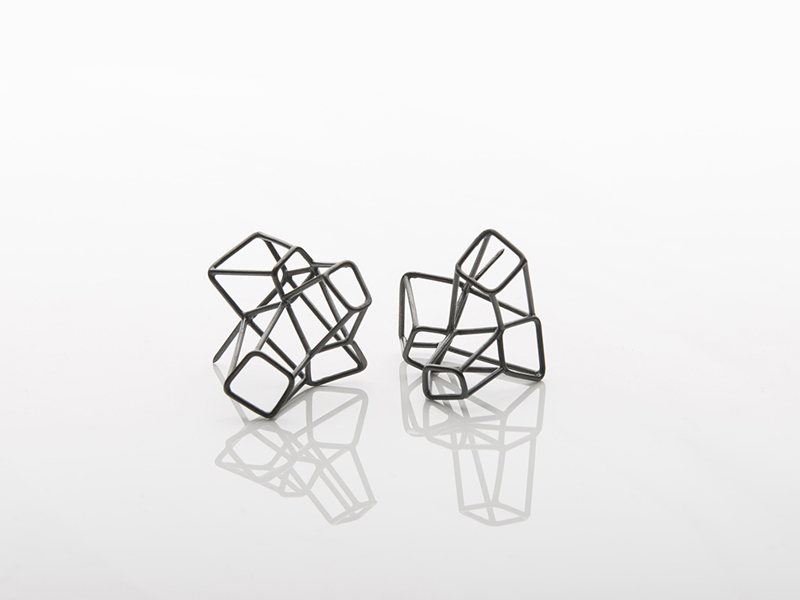 Your jewelry is largely comprised of wire constructions akin to scaffolds and spatial enclosures. Can you talk about the formal qualities of your work and how these have evolved or persisted over time?
Carlier Makigawa: Lines define volumes and transparencies that explore movements and space. The geometry of nature and architecture form this world. Fragile structures project and expand in unplanned growth. I find myself searching for the essence of a life and, through making, trying to visualize something else not there but still present. As beauty itself is this realization of simultaneous emptiness and form, it is as much about what is not there as what is.
Your current show, on view at Gallery Funaki in Melbourne, is titled Morphology. What is the meaning of this title in relation to the works presented?
Carlier Makigawa: "Morphology" as a term is about growth and structure, and I think of my pieces as growing and evolving in a quite organic way. They become something animated, not just static—by the process of their coming into being, they have a quality of movement. As well as being a beautiful word, morphology applies to all kinds of fields of inquiry—biology, archaeology, even linguistics—as a term for how things (organisms, objects, sentences) are formed. This is at the very root of my work—my pieces are each a close study of structural form and the process by which they are formed is very important.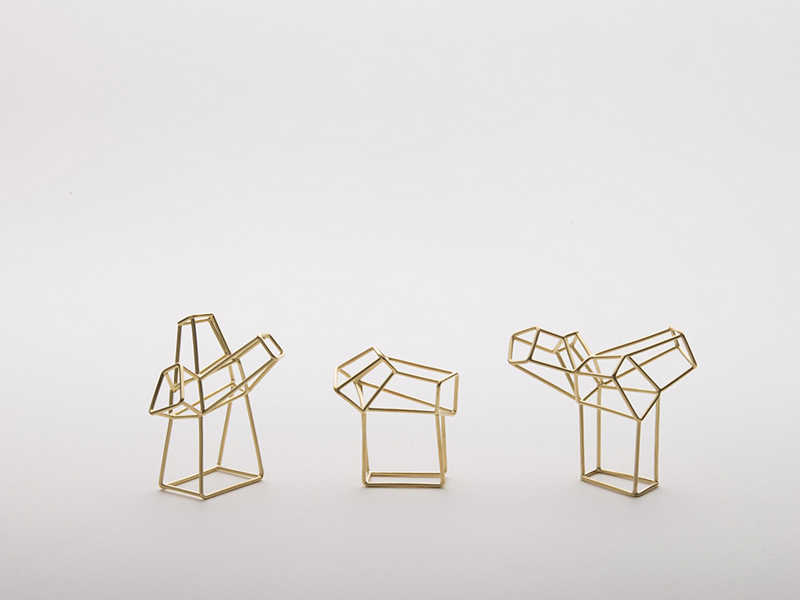 Given the aesthetic similarities that run throughout your work, how do you maintain a sense of continuity rather than repetition?
Carlier Makigawa: I trust my instincts and follow my own process.
Your pieces resemble wire frames, for example the skeletal drawing that is used in CAD/CAM to model three-dimensional objects. This encourages the notion that they are somehow placeholders for something fleshier, about to coalesce on the finger, or that they serve to solidify movements of the body in space. Are these effects intentional?
Carlier Makigawa: I find these kinds of readings really interesting, but they aren't necessarily there for me. My works can be about negative space and the absence or presence of something, but in a spiritual sense, not in a literal sense. They are space-frames, they do define a space and within that space there is energy.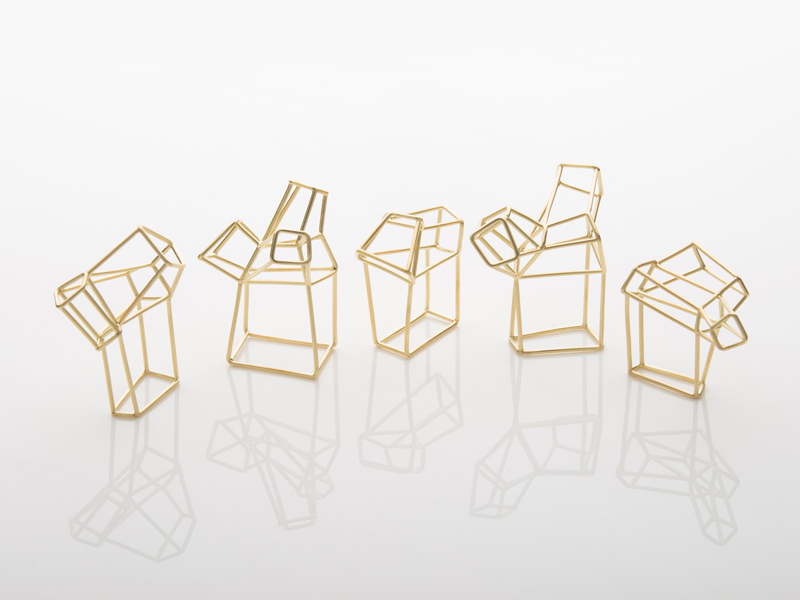 When seen in a photograph, the wearability of your work might seem to be secondary to the form. In the press release for Morphology, gallery director Katie Scott addressed this quite succinctly, stating, "On the body they have a cool reserve and a paradoxical, peculiar generosity…" When creating these pieces, how do you approach the corporeal relationship between the object and the wearer?
Carlier Makigawa: I make my work very specifically to be worn. Though it has a distinct autonomy in an exhibition setting, once you put a piece on, it follows the form of the body very deliberately. It's comfortable and easy to wear. A lot of this work I actually make on the body, as I test them on my own at every stage of the making process. The body is central to my thinking about jewelry, but this doesn't always read when the pieces are on display. That's why photographs have always been important in showing my work.
Three very arresting photographs accompany the gallery's press release, each one of them showcasing hands belonging to a specific demographic—a musician, an artist, a craftsperson—either laterally or latently in the act of performing something creative. Are you trying to appeal to or define a target audience?
Carlier Makigawa: No, not at all. Historically, there has been an interesting dynamic in representations of my work worn by people, of male/female and the ambiguity in between. A lot of my pieces have been worn by men. I think the time when the work looked more "feminine" was when I was using more curvilinear forms, the clusters, in the mid 2000s, but I've never thought of my pieces as being aimed at men or women in particular.
In the early 90s, I made huge black and white photographs of the work on bodies, with the heads cropped out—they were females, but they were body builders and there was a real ambiguity about their gender. I loved that ambiguity. I loved that they were strong bodies freed to some extent of gender assumptions. This time, obviously, there's no ambiguity—in Fred Kroh's images, these are men wearing the pieces, but I'm not trying to say the rings are made for anyone in particular. It's just an act of contextualization that I hope offers something less predictable. There is a clear counterpoint between the solidity of the body and the lightness of the jewelry forms.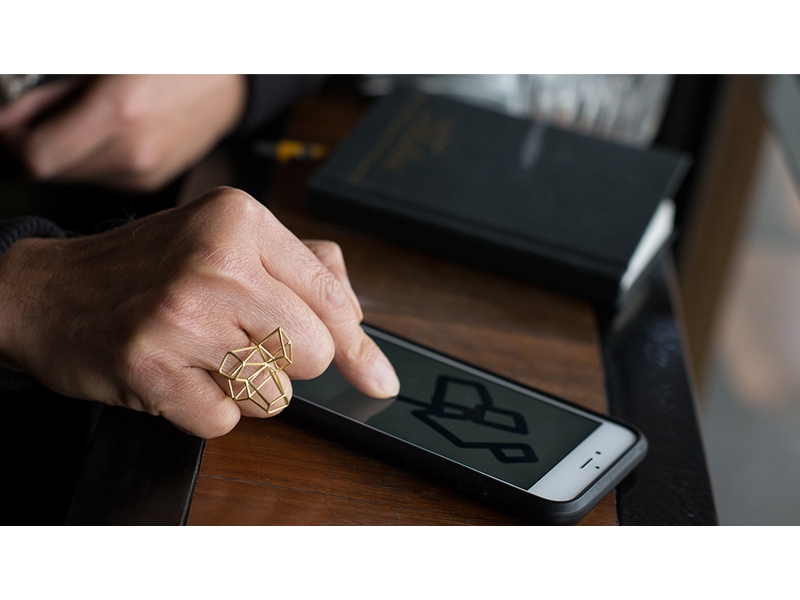 Your oeuvre has included jewelry as well as small sculptural objects. Are you still creating small sculptural works? How do you decide whether an idea should be executed as something wearable rather than sculpture?
Carlier Makigawa: My work has always been about sculptural objects that are worn. I was often told in the early days that the pieces would work well at a larger scale. When I'm working so intensely on them, they are much larger in my mind—when you're drawn into the microcosm that is a jeweler's scale, the pieces can seem to be gigantic. I used to make larger objects before making the jewelry; these objects were like maquettes for the jewelry. On that scale, the materials and ideas were much easier to manipulate. If the object was a success at that scale, I would then reduce it.
Some years ago I was commissioned to make large sculptural lighting for the Westin Hotel in Melbourne. These lights were drawn from my ideas for pendants and became sculptures that were four meters tall. I must admit that working on this huge scale was exciting.
What are you reading?
Carlier Makigawa: I just purchased Daniel Kruger's book, Between Nature and Artifice. What an amazing journey he has made through his work!
Who are some of the artists you find compelling?
Carlier Makigawa: Giacometti, Donald Judd, Richard Deacon, Tony Cragg, and Martin Puryear.
What advice do you have for jewelers in the early stages of their careers?
Carlier Makigawa: Be curious. Listen to criticism, but believe in yourself. Be aware of imitation. Persevere and try to exhibit your work.