A provocative exhibition by the Dutch artist Rian de Jong tackles the hot-button issue of guns. Making inventive use of materials such as paraffin wax, plastic foam, and twigs, de Jong has created jewelry and objects in the shape of guns that express her shock and outrage over the prevalence of gun violence in the United States. The exhibition, at Gallery Loupe, in Montclair, NJ, closes May 21, 2022.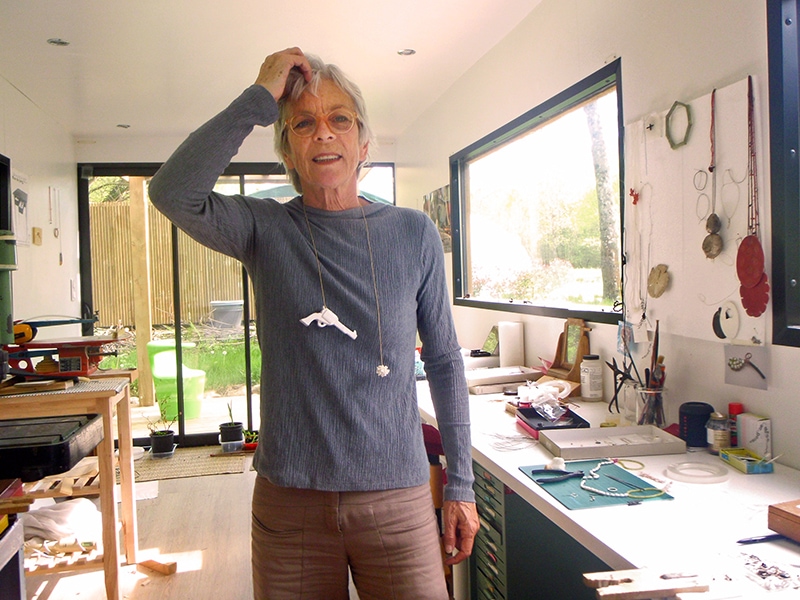 Jennifer Altmann: You first explored the issue of guns for the exhibition One World, presented by Gallery Loupe, which asked 40 international jewelers in the spring of 2020 to create a pendant in response to COVID. You made a necklace called Hey Guys, Shoot That Damn Thing, with a gun constructed from cardboard on one side and a piece of coral that represented COVID on the other. You also made some gun-shaped brooches. After that, why did you stay with the theme of guns?
Rian de Jong: I couldn't come loose from the topic—I was in the grip of those pistols for the One World exhibition. It was COVID, and we were living in France at our house in the Pyrénées, which is in the style of Frank Lloyd Wright. And there was this astonishing news about a run on arms sales in the US. And then a photo from Lansing, MI, from a demonstration against the lockdown, of people carrying weapons on their chests. It was in every newspaper in Europe. I couldn't believe it, just walking the streets with such a military weapon. I was surprised that guns were allowed in a crowd like this. And that it is apparently normal in the US. In Europe, we can't understand it. Guns are highly regulated. So that was the start.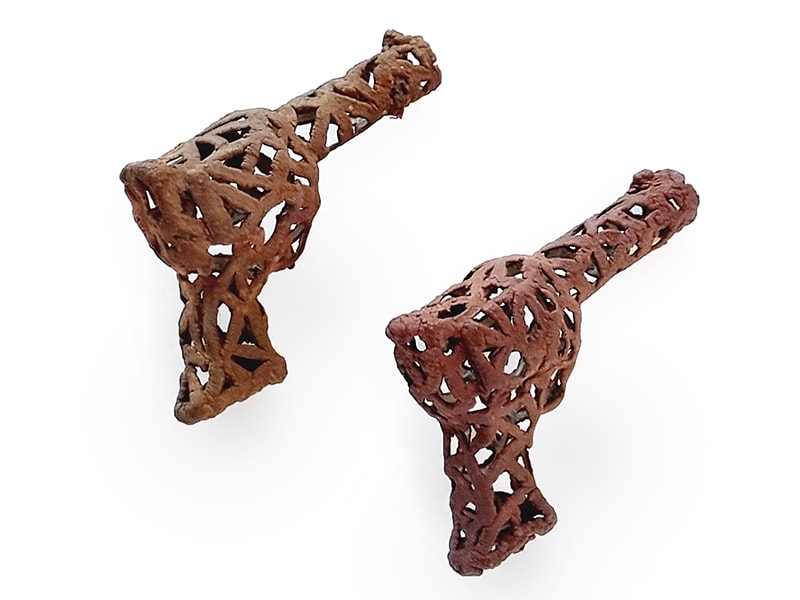 You spent 14 years living on a 50-foot boat with your husband, Herman, visiting dozens of countries and engaging with cultures that are very different from The Netherlands. Your perspective as an outsider brings a fresh view to those of us who live in the US and who may have just accepted the epidemic of gun violence as something we can't fix.  
Rian de Jong: Yes, the cultural differences get me thinking. For this project, I asked, what does defending yourself with a weapon mean? Are you protecting yourself, or inciting violence and hatred? Is it to prove you have power? Why is it so important to have a gun in your car, beside your bed?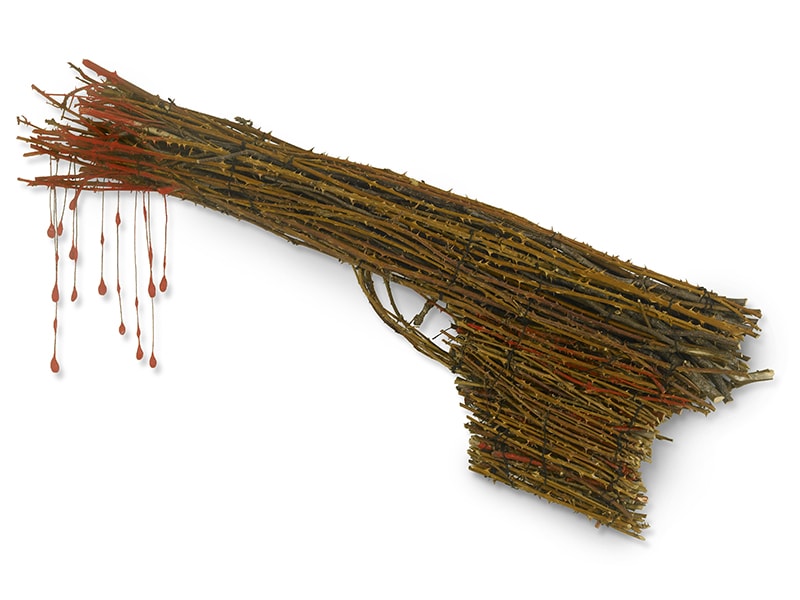 The most dramatic piece in the exhibition is an object called Blackberry, a two-foot-long gun made from blackberry branches. How did you create it?
Rian de Jong: We have many blackberry bushes growing on our land in France. When I trim them, the thorns prick me. I get scratches. And I thought: I have to make a gun from them. I dried the branches and sewed the twigs together using crochet stitches. I want someone to think, "If I pick that gun up, I will get pricked." I want you to imagine the pain of taking the weapon in your hands, the thorns that sting your skin. There are threads hanging from the front of the gun, and from the threads are drops of modeling clay painted red that drip down. The red speaks for itself.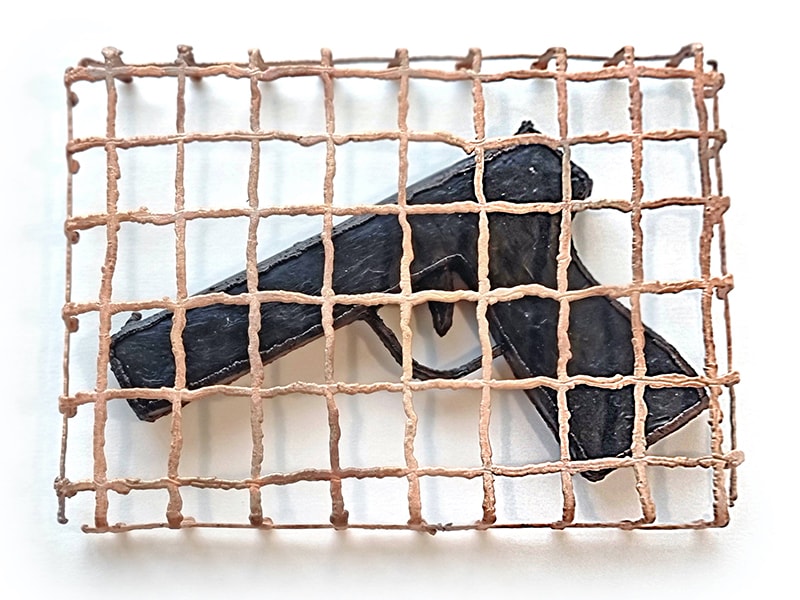 Several of the gun-shaped objects are made from paraffin wax. Why did you use wax?
Rian de Jong: Wax is about fragility. For the object Behind Bars, I used black wax, which is very soft, for the gun. The contours of the gun are copper and cold enamel, which I made by electroforming. The gun is imprisoned. It's caged. Wax makes the gun vulnerable. Normally, a gun is very strong, but this one would melt with heat, so it's not a gun. It's an illusion. If it melts, the contour of the gun will remain.
You've adorned some objects with Swarovski crystals. What prompted you to add these colorful, sparkly stones?
Rian de Jong: I was thinking about historical weapons, those that sultans and kings have. I also wanted to bring some humor, to not make it all too serious. It's still a gun, it's still dangerous, but you can also make fun of it.
The objects are both jewelry and object for me. You wear it. You hold it in your hand. You stick it between your waistline and your skin. It might evoke humor, a smile, a question, a thought, and possibly also responsibility. Through imagination, you may be able to make people realize that they don't want to have anything to do with the power and murderous qualities of weapons.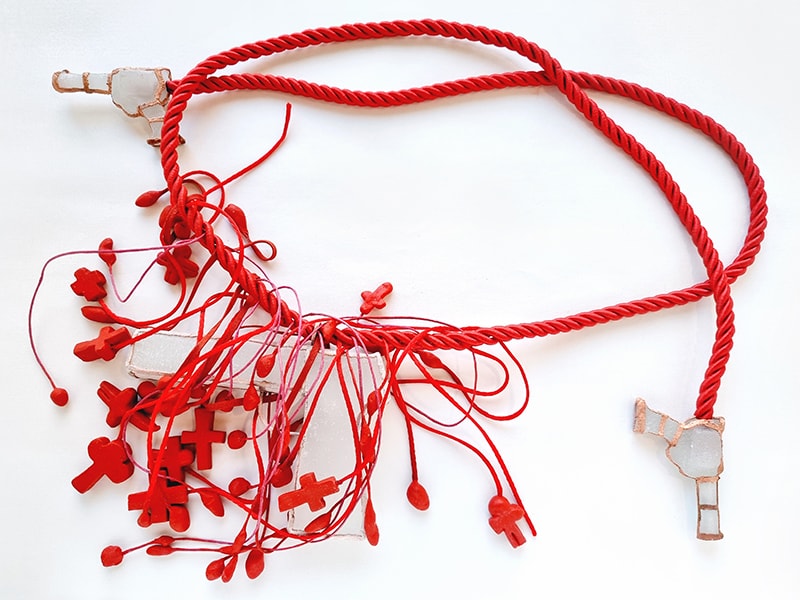 Did you worry that the exhibition would be too controversial?
Rian de Jong: Yes, of course. But I had to do it, because it haunted me. This work is intense, I realize that, but art has to make a statement. For Americans, it might be a bit confronting. I hope that Americans are confronted by this. What I would like is for people to wear one of my pieces, or have one at home, and have it start a discussion.
Tell me about Blue, a pendant necklace with a small upside-down gun made of wrapped copper wire that's painted blue.
Rian de Jong: Friends who came to the studio were looking at this necklace, and at first they didn't know what they were seeing, and then at one moment they saw that it was a gun. And I like that. You don't see it at first glance, but upon a second look.
The pendant hangs from a narrow brown rope.
Rian de Jong: The way a piece connects to the body, I like that to be as humble as possible, so I used rope. It shows that you can make striking things with humble materials.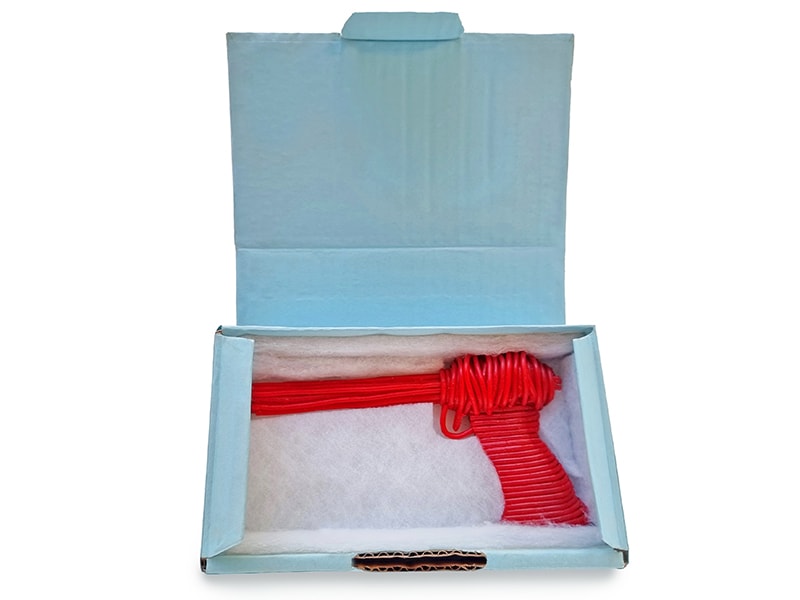 Red—a gun made from red wax sticks—sits in a light-blue cardboard box, and on top of the box you put a map with red dots marking all the sites of mass shootings in the United States. What do you hope it gets people thinking about?
Rian de Jong: People don't realize how many shootings there have been. When you see it on the map, you realize the number is enormous. The gun is a bit playful. It looks like licorice. You want to bite it.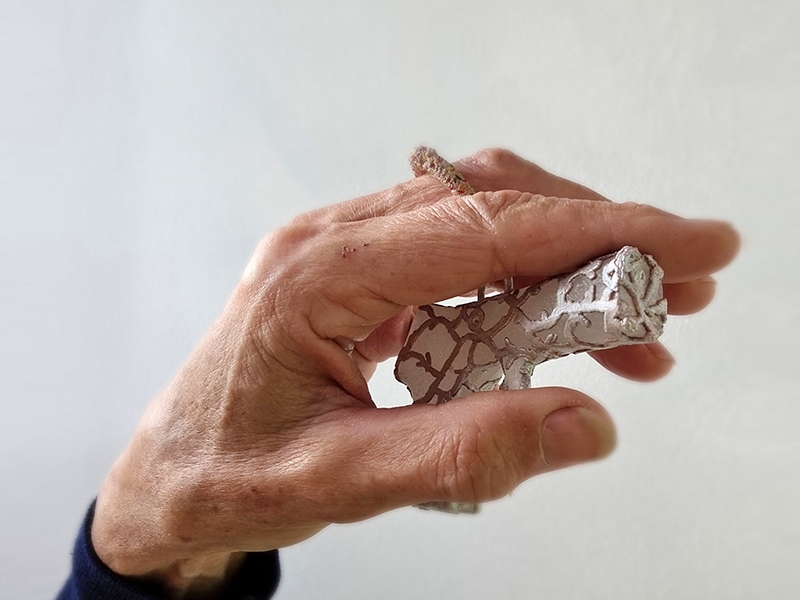 Ring Gun is a three-inch paraffin gun covered in a vine-like pattern of silver cold enamel. It's attached to a ring, which fits over the finger, while the gun is tucked in the hand.
Rian de Jong: I like that you can hold it, you can feel it, you can show it. It is a bit naughty.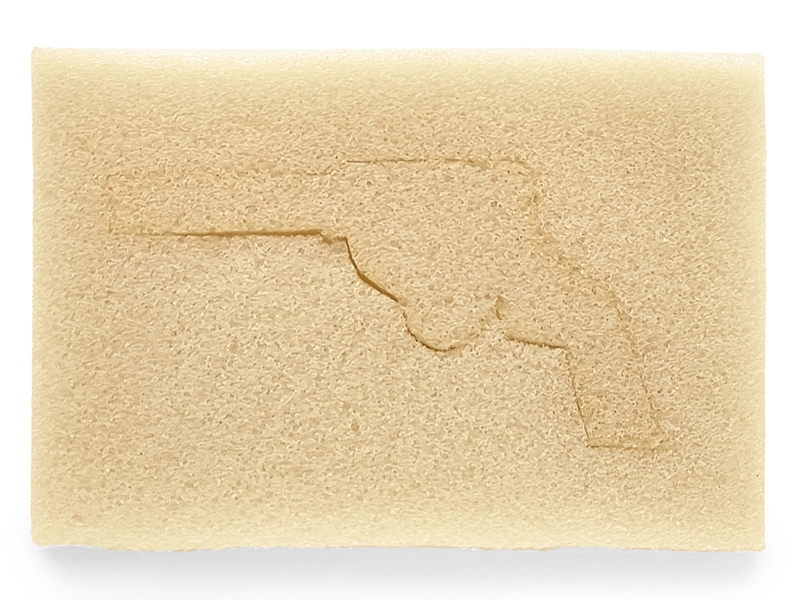 Your life of travel has often inspired your work. This collection was made during the pandemic, when travel was restricted. How did staying put in France affect this work?
Rian de Jong: We used to be on land half the year and on our boat the other half. That stopped with COVID. But you still have the memory of traveling, that's always with you. Sometimes I don't feel the inspiration for work at the moment we are traveling, but it comes later, often much later. It just comes.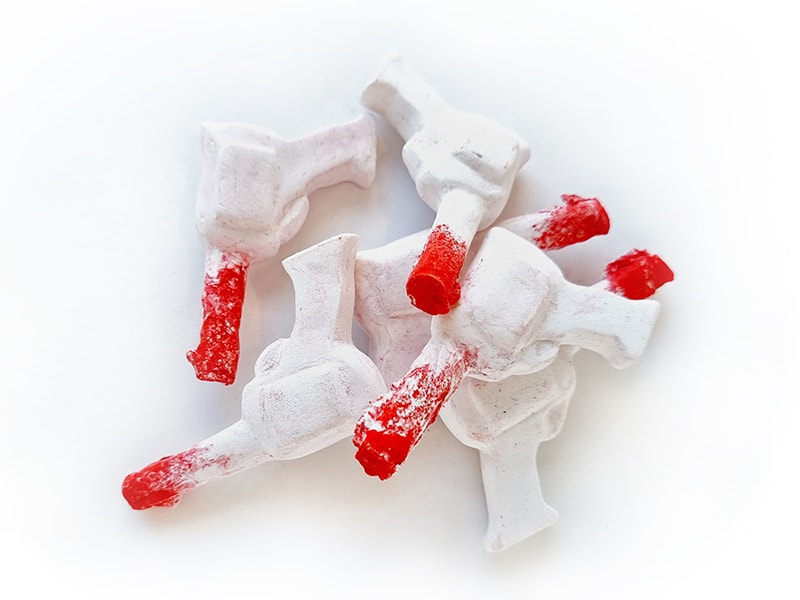 What inspires you to keep creating jewelry?
Rian de Jong: I love that you wear it on your body, that it shows who you are. It's part of your being. It's what you love. It's who you are.
To learn more about the pieces in this show, check out the exhibition page, here.