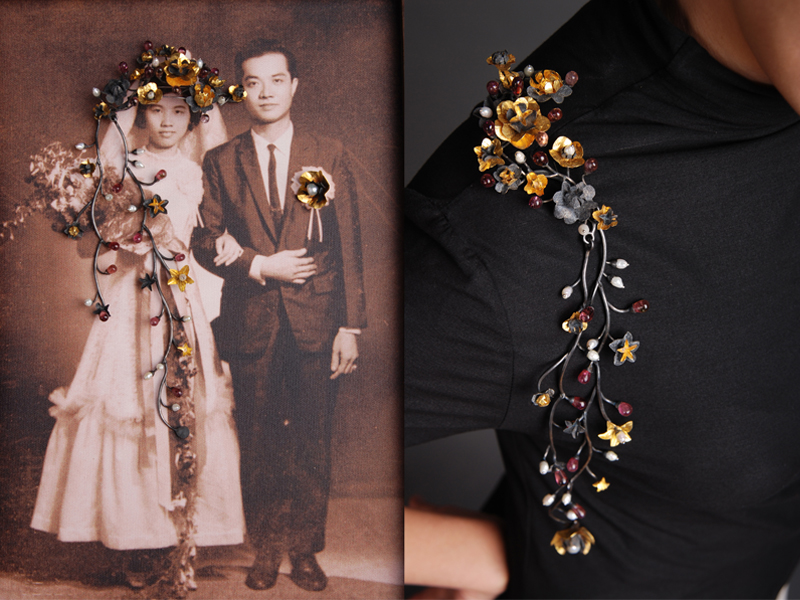 Apinya Boonprakob is a Thai jewelry artist who holds a PhD from the Royal College of Art, London, and exhibits internationally. She now works as a professor at Chulalongkorn University, Thailand. Her current collection of work carefully contemplates the relationship between wearer and jewelry.
Olivia Shih: You hold a bachelor's in industrial design and a master's in metal crafts and jewelry. How do the two fields overlap—or not—in your view?
Apinya Boonprakob: I believe these two fields share a common basic knowledge. However, there are also monumental differences in approaching the work. With jewelry, a journey starts inside myself and then bridges to the outside world, whereas the process of industrial design flows in the opposite direction.
Do you think of metal crafts and jewelry in terms of design or art? Or in a space between the two?
Apinya Boonprakob: I make jewelry. I have never intended to put it in any category, either art or design. I just focus on my own topic and work on one after the other. Is it possible to move beyond the limitation of terminologies, and just consider a work as jewelry?
You state that the photographs of women who serve as backdrops to your work "act as a house of jewellery." Where do you find these photographs, and how do you select them?
Apinya Boonprakob: I accidentally found these photographs in a second-hand market in Bangkok. It surprised me that some of them resembled a friend, a relative, or someone else I knew. For me, it felt like finding my past life, and this is the first reason I bought them. However, the five selected photographs of women in this collection are not intended to be a personal portrait. Rather, they are a universal representation of the woman and her roles in life: as a cherished daughter, a dear friend, a lover, a wife, and a respected mother.
As your jewelry moves from the photographed wearer to a real-life wearer, hairpins become brooches, and brooches become earrings. What inspired you to create jewelry that traverses scale, space, and time simultaneously?
Apinya Boonprakob: From reading an interview column about jewelry in a women's magazine, I found that the owners usually talk about various stories about only one piece of jewelry. This was because that one piece was passed on from generation to generation. Some stories not only mentioned their personal relationship with jewelry, but also included comments from the viewers in their lives. The illustrations showed the changing style according to each owner in each period. That inspired me to make a collection that can whisper the relationship among jewelry, wearer, and, of course, the viewer.
In your exhibition, Something about Jewellery and a Woman, your work awakens feelings of intimacy and deep, personal value. Outside of monetary value, why do you think people choose to place value in jewelry?
Apinya Boonprakob: Perhaps there is a magical quality in jewelry that—once it belongs to you—can bring you back to the past … like a hypnotic effect or a sentimental value. There is one assignment in my jewelry appreciation class (for students whose major is not jewelry design/art) in which I ask my students to present their favorite jewelry and explain why the pieces are meaningful to them. Their stories are always about the relationship between the giver and the receiver, the occasion upon which they received or bought their pieces, or how their jewelry relates to their beliefs. The reasons are always personal and intimate.
In the past few years, the art jewelry scene in Thailand has been gaining momentum and attracting a larger audience. What are your thoughts on art jewelry in Thailand?
Apinya Boonprakob: I am glad to hear that, but honestly I think it is still rather a niche audience. However, everyone involved in the jewelry sector—gallerists, curators, educators, and artists—works hard to promote and catalyze the enthusiasm of the audience and younger generation by providing exhibitions, workshops, competitions, and seminars. There are also collaboration activities with other art fields, which I think is a sign of progress. ATTA gallery has just participated in Photo Bangkok 2015. All in all, I think everything seems to be positive.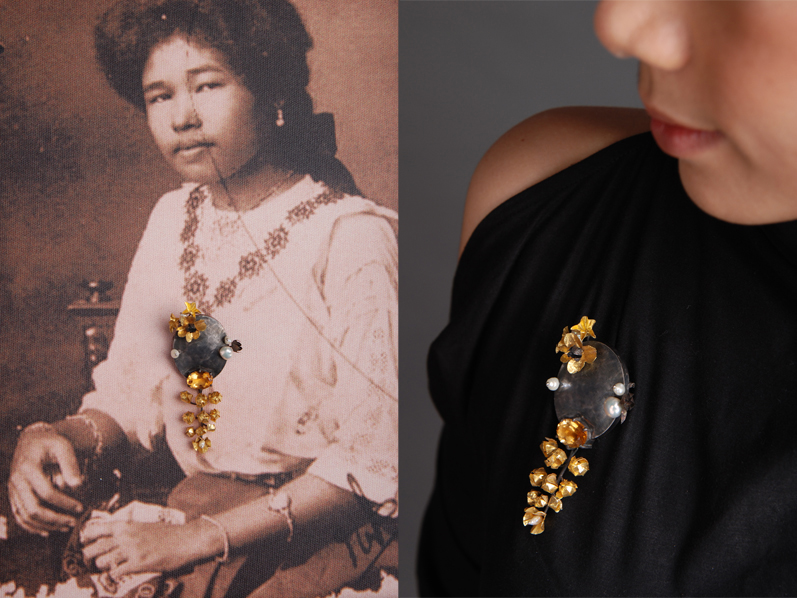 Could you name three Thai jewelry artists whose works inspire you?
Apinya Boonprakob: I would rather say that I appreciate works by Tataroschong Sreekullkorn (the head of the department of jewelry design at Silpakorn University), not in terms of artwork but of her work as an educator who has devoted herself to jewelry education in Thailand since 1997. In my opinion, this kind of work is the most beautiful contribution to the jewelry field in Thailand.
I admire Supavee Sirinkraporn for her regular work on research in jewelry and community. Her research is not only a good resource for the jewelry field but also a benefit to her chosen community.
And I also fell for Prayut Sirikul's jewelry, which is made using a traditional Thai embroidery technique.
Have you seen, heard, or read anything of interest lately?
Apinya Boonprakob: Forest Trees of Southern Thailand, a book by Simon Gardner, Pindar Sidisunthorn, and Kongkanda Chayamarit. I genuinely admire their hard work in collecting and analyzing species of the plants in the southern part of Thailand.
Also, I recently watched the Japanese film Little Forest, by Junichi Mori, and it makes me want to try brewing rice wine by myself … very inspiring.
Thank you.
Index Image: Apinya Boonprakob, photo: Borvol Hongprapasr