Does the sentimentality behind antique hair jewelry simply fade away over time? While the original owners of these objects are deceased and we typically do not know whom the locks of hair belonged to, with some historical context perhaps we can reconnect with some of those feelings. These pieces were initially worn to commemorate a loved one who had passed, but also served as a bond between close relations.
First seen in the 16th century, memento mori jewelry featured imagery such as skulls, coffins, and skeletons that served as an ominous warning of death's inevitability. In the 17th century, these motifs reappeared in mourning jewelry, but in a less morbid context—as affectionate reminders of cherished relationships. Hair became a popular material for this type of jewelry, and it was initially kept private: It was often hidden under metal, crystal, or glass. Wearing a lock of another individual's hair inspired an intimate bond that promised a reunion in the afterlife.
Rings were frequently worn as a memorial to the deceased, and they often included hair in their design. This 1772 Georgian Mourning Ring depicts an ancient graveyard scene encircled by weeping willow trees. Sepia ink was used on ivory to render the imagery, and brown hair was crushed into tiny bits and attached with adhesive to the surface. At this time, hair was properly sanitized, and then manipulated into flat images using tools such as tweezers, knives, and curling irons.
In the early 19th century, hair became more of a design focal point, rather than simply remaining hidden behind glass. A lock of hair could function as a mourning piece, a token of love or friendship, or to signify a successful business relationship. In the 1830s, hair began to be shaped into three-dimensional forms using methods similar to those employed in lacemaking. It was pulled downward by spools into a hole in the center of a table, where it was woven or plaited into patterns. Hollow motifs were also realized by wrapping hair around a brass or wooden core, and then boiling it in water. Metal fittings were then added, which helped transform the hair into a piece of jewelry.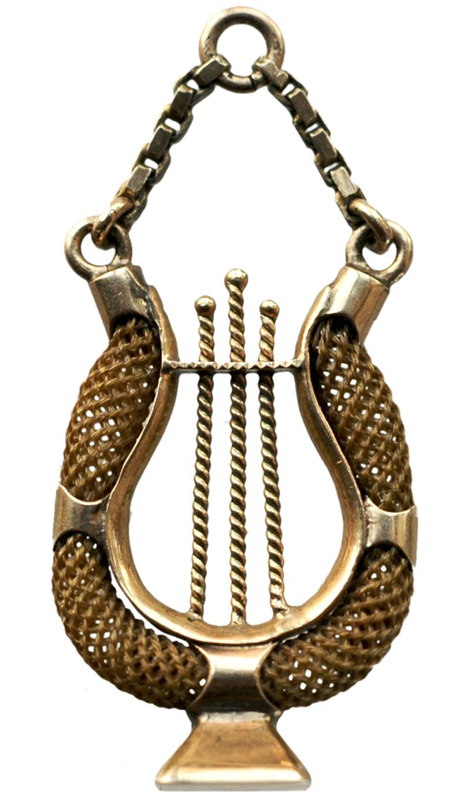 Hair as a component of jewelry reached the height of its popularity in 1861, after Queen Victoria's husband, Prince Albert, passed away. She mourned his death until the day she died, and even attempted to communicate with him through séances. At least eight pieces of jewelry were commissioned by Victoria that incorporated Albert's hair. Victoria's extended display of mourning launched the mid-Victorian or Grand Period, and set the stage for many pieces of art, clothing, and jewelry through about 1880.
An 1880s Hair Work Lyre Pendant demonstrates an interest in reviving archeological designs by using a neoclassical motif—that of a Greek lyre. The pendant renders this musical instrument using three strings of twisted gold wire and a convex body made up of woven brown hair. Since the instrument is hollow, it is particularly delicate and lightweight.
The obsession with death and the afterlife that Victorians engaged in ended with the Great War. Their relationship with death changed, as it was often moved into sterile hospitals—it had been common for Victorians to die at home. Many families did not even receive their loved one's body to bury, and no longer wished to retain physical reminders of the deceased. Life was bleak, and belief in the afterlife dwindled along with the exchange of locks of hair.
A few contemporary jewelers, such as Melanie Bilenker, have revived the art of hair jewelry. She frequently uses her own hair, various metals, and resin to create self-portraits on jewelry. Each design stems from a photograph that records an intimate moment in her daily routine. Antique hair jewelry was first seen as a reminder of the deceased, and was then adopted for more lighthearted design purposes—but in all cases an affectionate bond with the owner was retained. Meanwhile, the connection Bilenker encourages with wearers is voyeuristic rather than sentimental, which marks a more self-expressive phase in the use of hair in jewelry.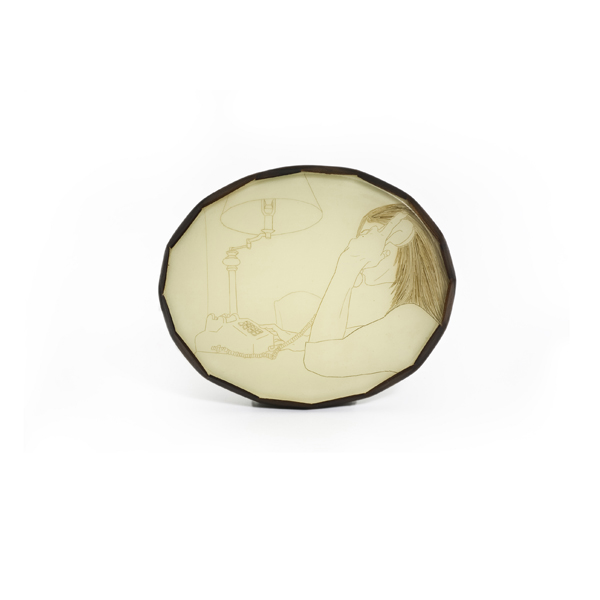 Index Image: sumos, Scissors in use
***
2015年9月14日
装飾品になった毛髪
ヘア・ジュエリー小史
クリスティー・ローゼン
アンティークのヘア・ジュエリーに込められた思いは、時がたてば消えてしまうのだろうか。たしかに元の持ち主は他界しているし、普通はその毛髪が誰のものだったのかわからない。だが、愛する故人を偲び、身近な人々のとの絆の証として身に付けられたという歴史的背景を知れば、ひょっとすると、私たちにも、これらの品々に込められた思いのいくばくかを感じ取れるのではないだろうか。
16世紀に登場したメメント・モリ(死を思え)のジュエリーは、頭蓋骨や棺、骨のイメージを特徴とし、不気味な姿で避け難い死を警告する役割を果たした。これらのモチーフは17世紀になって返り咲きを果たすが、このときは陰鬱なメッセージは鳴りをひそめ、大事な人の忘れ形見であるモーニング・ジュエリー(哀悼のジュエリー)に用いられた。その素材として人気を博したのが髪の毛で、当初は金属や水晶、ガラスの裏にこっそりと隠されることが多かった。他人の毛髪を身に着けるということは、死後の再会を約束するほどの絆の深さを示唆するものであった。
死者の哀悼に身に着けられることが多かったのは指輪で、デザインの一部に毛髪が使われることも多かった。ここで紹介する1772年のジョージ王朝時代のモーニング・リングは、枝垂れ柳に囲われた古い墓が描かれている。これは象牙にセピア色のインクで描画したところに、茶色い髪を細かく切ったものが表面に接着されたものだ。この髪は制作の工程で適切な消毒処理が施されており、その後ピンセットやナイフ、ヘアアイロンなどの道具で加工されて平面のイメージへと仕立てられた。
19世紀になると、髪の毛はガラスの裏の秘密の存在たることをやめ、デザイン上の中心モチーフとして扱われるようになり、哀悼の品、愛や友情、仕事上の友好な人間関係の証の役割を果たすまでに至った。1830年代になると、髪を巻きつけた複数の糸巻きをテーブルの中央に開けた穴から垂らし、織り模様や編み模様を作るというレースの制作技法に近い方法で立体的に造形されるようになった。ほかにも、真鍮や木でできた核に髪を巻きつけた後にゆで上げるという方法で中空の造形が作られた。これらの品は、最後に取り付けられる金属金具によって、単なる髪の毛からジュエリーへの変貌を果たした。
1861年にヴィクトリア女王の夫アルバートが没すると、ジュエリーの素材としての毛髪の人気が最高潮に達した。女王は、自らが身罷るその日まで喪に服し続けたといわれ、降霊による夫との交信まで試みている。ヴィクトリアはアルバートの髪を使ったジュエリーを少なくとも8点発注している。女王の長期間の服喪はグランド・ピリオドと呼ばれるヴィクトリア中期の到来を告げるもので、1880年前後まで数多くの美術品や衣服、宝飾品に影響を与え続けた。
1880年代の髪細工による竪琴のペンダントは、ギリシャの竪琴という新古典主義的なモチーフから、考古学的なデザインの復興への関心がうかがえる。このペンダントでは、金線を撚って作った3本の棒と、茶色い髪の毛を織って作られた弓なりの本体で竪琴が表現されており、とりわけ繊細で軽量な中空構造で仕上げられている。
ヴィクトリア時代の死と死後の世界への熱中は、第一次大戦の終焉ともに幕を閉じた。自宅で死を迎えるのが一般的だったヴィクトリア時代に比べ、衛生的な病院で最期を迎える人が増え、死への向き合い方が変わったのだ。愛する者の遺体を引き取って埋葬しない家庭も多く、物質的な品を通して死者を偲ぶ風潮もすたれた。人生とは空しいものであり、死後の世界への信仰も、髪を交換する風習の風化にともなって下火になっていった。
一部のコンテンポラリージュエリー作家は、このヘア・ジュエリーの芸術をよみがえらせている。その1人がメラニー・ビレンカーだ。彼女は自分の髪と複数種の金属、樹脂を使って、ジュエリーにセルフポートレートを描き出す。どの作品も、彼女の日常生活のひとこまを記録した私的な写真を元にデザインされている。アンティークのヘア・ジュエリーについては、故人の形見からより気軽なデザインモチーフへと変遷を遂げたとはいえ、どれも毛髪の持ち主との結びつきを体現するものであることに変わりはなかった。だが、ビレンカーが促す装着者との繋がりは、感傷的というよりは窃視症的な面が強く、その点でジュエリーに用いられる髪が持つ自己表現としての一面を示しているのである。
クリスティー・ローゼン:ニューヨークを拠点に宝飾史家およびデザイナーとして活動。パーソンズにて装飾芸術史とデザイン史の修士号を取得。19世紀と20世紀のジュエリーを専門としている。