This essay first appeared in Metalsmith magazine, published by the Society of North American Goldsmiths (SNAG).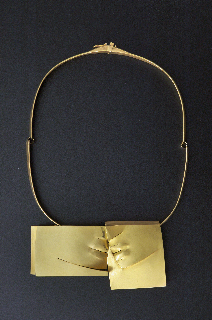 Lois Boardman didn't acknowledge herself as a collector until recently, even though she had gathered more than 300 significant pieces of contemporary jewelry. Fond of referring to herself as an 'accumulator,' Boardman had to accept that she was labeled a 'serious collector' in a field that was be­ing revalued in the art world, claiming new converts within the museum community and welcoming other enthusiastic supporters and collectors. Her epiphany was sparked by several key events, including the development of the AJF collectors' group over the past decade, the Museum of Fine Arts, Boston's acquisition and 2007 exhibition of the Daphne Farago jewelry collection, and the announced plans to tour the current exhibition of the Helen Williams Drutt Collection of contemporary jewelry by the Museum of Fine Arts, Houston. Boardman now realized it was time to admit to her 'serious folly' and start the daunting process of documenting her accumulations, cataloguing works that have been clos­eted from the field, some for more than 20 years. In this effort, she looked to the advice and example of her mentor, friend and confidante, Helen Drutt.
'Follow your nose. Like it, wear it, lend it. Either you get it, or you don't.'– Lois Boardman
 Boardman and Drutt have a shared history in the arts dating back to the early 1980s, when both served as volunteers of the National Task Force in the Crafts, a team of 32 volunteers enlisted by Eudorah Moore, then craft coordinator of the National Endowment for the Arts. The volunteers were trained to gather pertinent information about crafts from every region in the United States.
During the one-year term, Boardman and Drutt were frequently paired as roommates. Hailing from Southern California, Boardman had studied ceramics under Ralph Bacerra at Chouinard Art Institute, directed programs for the Pasadena Art Museum and assumed the directorship of the California Design Exhibition Series, replacing Moore. Drutt founded the Helen Drutt Gallery in Philadelphia in 1974, spe­cializing in the crafts and became recognized as an expert and activist in the field. Their pairing was portentous and serendipitous. Boardman remembers: 'Helen was, at all times, wearing an intriguing piece of jewelry; a clever way to initiate conversation. Helen felt that as long as she was selling it, she had an obligation to be its best promoter. Her avant-garde taste in jewelryand commitment to wearing it, her vast knowledge of the field and her close relationships with jewelers from every continent piqued my interest and eventually led me down the ruinous path of collecting. I am indebted to Helen for expos­ing me to the field of contemporary jewelry, and for all the fun and wonder I've had pursuing this adven­ture.'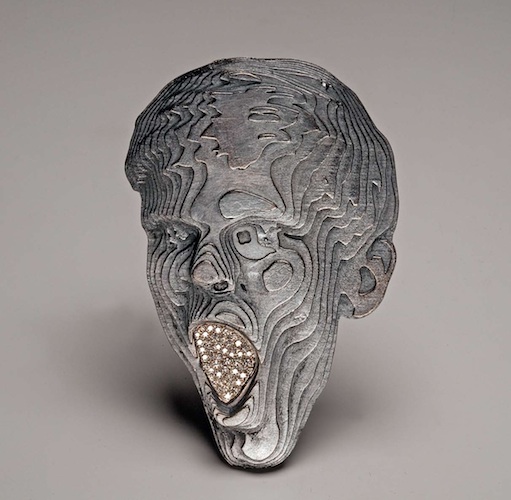 And thus began a lifelong friendship, a kinship bound by their mutual appreciation, dedication and abso­lute pursuit of acquiring and collecting jewelry of their time. Since then, Boardman has learned about the field from Drutt and other esteemed dealers. She has joined support groups and attended conferences to advance her connoisseurship, and has sought out artists in their studios and attended their exhibitions to stay nimble and informed. She tries not to buy into labels or succumb to status or copycat acquisitions. Instead, she relies on her 'trained eyes' to judge a piece on its own merits rather than looking to others for validation. Further, she has vowed to follow her nose, sniffing out the unusual, the edgy, the experi­mental and frequently, the disturbing. Consider Elizabeth Kadre Defner's 1983 neckpiece, Rat's Skull, featuring a golden cast of a rodent's cranium; Sebastian Buescher's 2006 brooch, Pregnant Tree Boy, which encapsulates black widow spiders under glass; Georg Dobler's outrageous 1999 necklace sport­ing oversized cast silver scarabs clustered around a huge gemstone (which Boardman insists she has worn to Costco); Susie Ganch's 1999 headdress, Static Orbital Model #3 (Menorah), which encircles the wearer's head with an orbiting candelabrum; and Nancy Worden's 2001 neckpiece, Gilding the Past, a not-so-classic commentary on the brutalities of war, comprised of gilded cast chicken bones. And then there are the pieces that reflect Boardman's quirky sense of humor; for example, Karl Fritsch's 2005 Ring, which looks like exploding prisms ready to launch into space from Boardman's finger. These pieces best convey Boardman's vision and guts in building her collection: she dares to take risks, even if it means risking a mistake.
 But it would be misleading to imply that Boardman doesn't prize pure beauty and wearability. Boardman willingly admits that her favorite material is gold and her collection contains several stunning examples that are elegant and scaled for wearing. Recently, Italian jewelers of the Padua school, with their con­temporary and experimental approach to using gold, have caught Boardman's eye. She has newly ac­quired a gold brooch by Graziano Visintin and a gold and silver brooch by Stefano Marchetti. She in­tends to collect at least one piece from every artist connected with the school.
'Contemporary jewelry communicates. It starts up a dialogue between the wearer and the maker.'– Lois Boardman
Over 25 years, Boardman has assembled a sophisticated collection of exemplary pieces, representing a broad base of key American and international jewelers, with a concentration of works from a select group of artists whom Boardman collects in depth. To date, the artists in Boardman's collection who are represented by more than five pieces include: Peter Chang, Breon O'Casey and Wendy Ramshaw (British); Sharon Church, Helen Shirk and Nancy Worden (American); and Georg Dobler, Mi­chael Becker and Karl Fritsch (German). Taut, personal and vital, this collection speaks about the jewelers of our time: the search for an expressive language that reflects both individual knowledge and universal experience; the cultural movements and changing zeitgeist; and the arc of technology and advances in materials and processes. In essence, these works are a currency of our contempo­rary culture and offer the potential to increase awareness and understanding of the creative development of individ­ual jewelers, as well as the evolving history of the studio-jewelry movement as it transitions from adolescence to maturity.
From a curatorial point of view, the Boardman Family Collection has all the hallmarks of a considerable public collection. The range and diversity of the objects confirm long-term commitment and expansive reach, the thoughtful accumulation of works over time – often representing early, middle and late periods of an artist's oeuvre – provides depth and the strategic inclusion of works that correspond to the defining moments of an epoch, render this collection of contemporary works aesthetically sound, historically sig­nificant and worthy of attention.
In the interest of history, Boardman is ready to fling the doors wide and bring the Boardman Family Col­lection from its private domain into the public arena. As a dedicated collector, Boardman delights in car­ing for and preserving these objects and lending them to important exhibitions. And most importantly, by daring to wear pieces from her collection at any occasion, Boardman has helped to raise awareness and appreciation of contemporary jewelry.