Never Ever
If you were raised in Mexico, you were most likely taught the very sacred art of not being un desperdiciado (a spendthrift). Through your parents and immediate family, you learned that toys, food, clothes, shoes, or money were invaluable assets which should be worshipped solely for the practical reason that replacing them was not feasible in the near future. This is how you learned that if your toy broke, you had to trust your dad to repair it and if the task was unattainable, then maybe your beloved toy could end up living as a beautiful flowerpot in your mother's garden, but never, ever, in the trash.
The act of finding new purposes and functions for ordinary, everyday objects has been, for generations, in the blood of people who learned to live a life in scarcity for many different reasons, such as life during or after war or because of your country's poor economy. It is a stage of resilience and flexibility attained by the human brain that can be as primitive as survival.
In my teaching practice and in my work as a jeweler, I advocate for and explore the transformative potential that lies underneath these useless and disregarded objects and materials that are so embedded in our materialistic culture, and I ponder what they can bring to the critical dialogue when they deliberately embody an object of adornment. How does it impact our perspective of beauty, preciousness, and value when we use egg trays or cereal boxes in lieu of gold, silver, or precious stones?
The Hunter-Gatherer
There are two essential roles that the designer student must perform as part of the creative process of transforming waste into a piece of art.
The first one is related to the act of collecting and gathering objects or materials from our near and far surroundings. Students are challenged to actively observe and document their daily habits regarding the disposable objects around them.
Do you indulge in a regular cup of coffee from your favorite coffee shop? Do you order takeout food that involves plastic containers frequently? One might discover that plastic or paper are more present than glass or aluminum depending on the products we use and discard on a regular basis.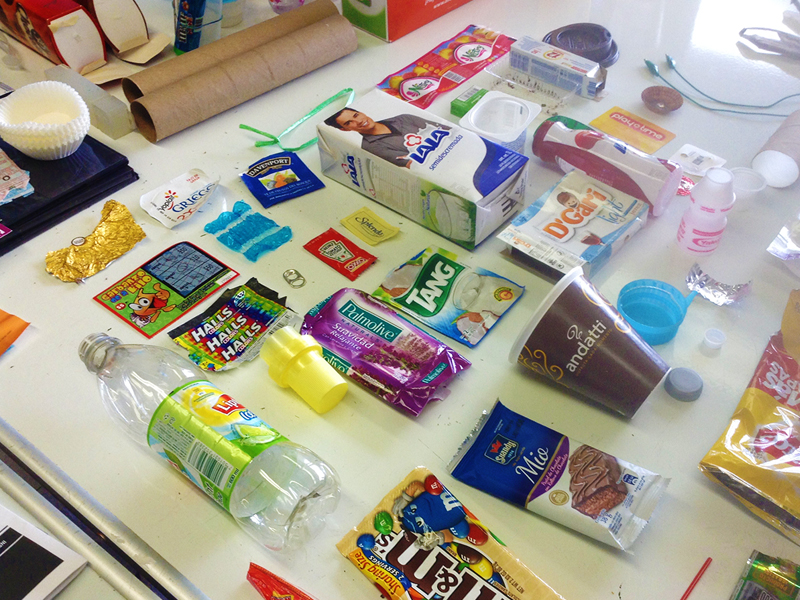 A second part of the hunt involves going out of your comfort zone and expanding your scope by collecting objects from unusual places such as the junkyard or a factory. Very often, they can lead us to interesting and surprising findings as to which materials are more abundant or rare; an old keyboard, the basin of an abandoned washing machine, or a stack of old currency hidden under your grandfather's mattress can become a valuable asset during the creative process.
It is important to bear in mind that, in small Mexican cities, recycling habits are not yet encouraged by the sanitation department. It therefore comes down to each person's concern to engage actively, and, for us makers, creatively.
The Toilet Paper Roll
Cardboard toilet paper rolls … such a humble object, often ignored and hidden beneath hundreds of soft sheets of tissue paper. When we hear the word toilet paper it frequently comes associated with phrases like "great value," "ultra strong," or "extra soft."
But do we ever envision it as a suitable material in the realm of art? Can the inner cardboard roll that provides support to our soft yet strong tissue paper become something precious just like gold?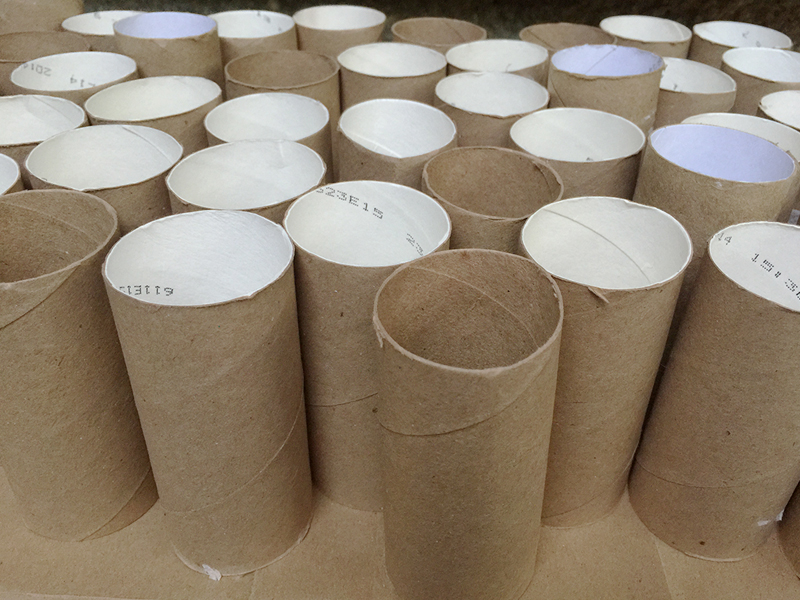 These apparently useless yet essential objects can be almost disgusting, but are most importantly a-b-u-n-d-a-n-t. Fast Company revealed in one of its articles that 17 billion of them are discarded every year. Constructed from two fused layers of cardboard, they are oftentimes white on the inside, while others are brown on both sides. The layers are glued on the diagonal with the intention of providing strength to a not-so-sturdy material. One interesting thing about them is the 17-digit serial number that is printed inside for quality-control purposes.
The life of an artist is sometimes a life of scarcity. Finding ways of making art in times of resource shortage can be envisioned as a window for multiple possibilities. Made from paper, this friendly material bears an inherent plasticity that becomes almost an invitation for play and transformation.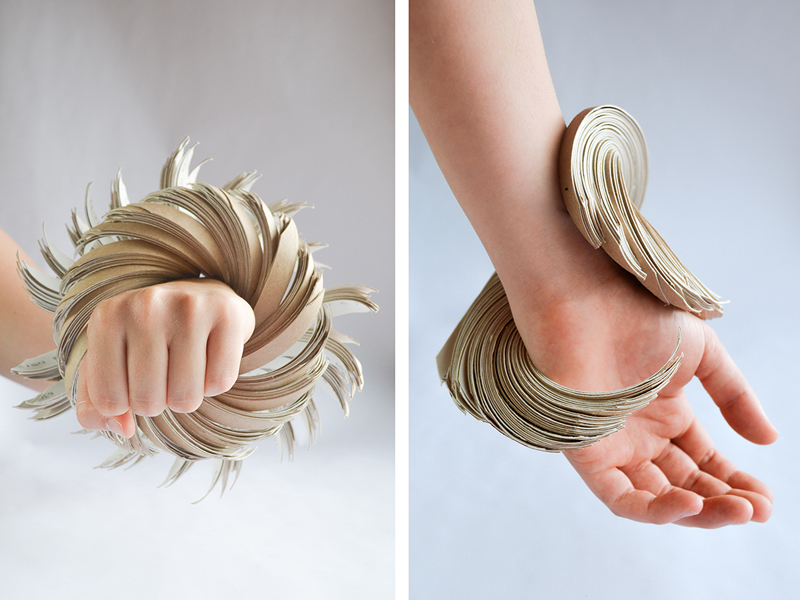 Of Coffee Cups and Precious Things …
Four … that is exactly the amount of objects involved in buying a cup of coffee from your local store. First comes the polyethylene-paper cup, then a plastic lid followed by a paper sleeve—because we don't want to burn our hands while walking with our paper cups. Furthermore, to avoid all possible accidents in the tightrope act of balancing one's way through life with a hot beverage, there is a beautifully designed plastic stopper that's inserted in the drinking aperture.
Multiply this by 50 million a week, and you have Starbucks' weekly worldwide sales. Now pause and think about the effect of mass consumption on our environment and for a few seconds we raise concerns regarding our behavior.
However, when one nurtures the habit of collecting one's trash, such as Starbucks cups, objects mutate into something different than ordinary waste. They are cleaned and stored properly. They become treasured objects just like jewelry as they stockpile into a collection of memories. They become historical records of a specific brew drunk by a specific person. They have coffee stains, and sometimes lipstick marks.
Looking at 700 used cups altogether, collected through the course of five years, raises new questions beyond the evident concerns about mass consumption. Time has passed by these objects, a life has been lived through them as they become precious to the eye of the unorthodox collector-maker.
4.85 Pounds a Day
As humans we live in a world full of "things." There are so many objects surrounding us that overshadow our sense of uniqueness and our ability to marvel at the world as it vanishes in our everyday humdrum.
However, when you pick an ordinary object, such as a water bottle—that you drink and discard on a daily basis with no regard whatsoever—with the intention of immersing yourself in the intensive study of its form, something will shift permanently in the way you envision your existence. You will wonder at things like the creases and folds on a paper cup, or the different textures, forms, and colors on a PET bottle. It is the little things that count. If we can see the unnoticed in our world and bring it from the ordinary to an extraordinary level through diving into a transformational process along with it, we will suddenly find potential in every object and/or material. Garbage will be elevated from the trashcan to new levels where it no longer is useless. Everything will have a new purpose and the weight of our mass consumption habits will take a more mindful, functional, and conscious approach.
If education is the foundation of all change, we need to reconsider our notions of usability in regards to the objects we encounter in our everyday. The way governments are conducting their "recycling" practices is not working—if there is in fact a recycling plan in the cities we live in. You, dear reader, are probably producing an average of 4.85 pounds of waste per day. Most of it is going to the landfill.[1]
While they waste time worrying that making sustainability a political problem will hurt them in the polls, we can contribute by making jewelry out of garbage.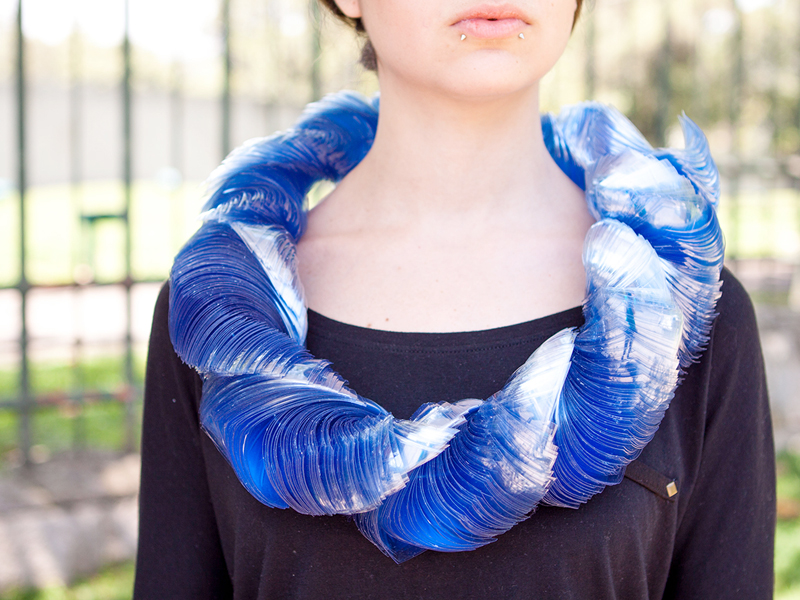 INDEX IMAGE: Mariana Acosta, Fertilizer Neckpiece from the series When Life Gives You Shit, Use It as Fertilizer, 2014, cardboard toilet paper rolls, 300 x 300 x 90 mm, photo: artist
***
Cuando la Vida te da Mierda, Utilízala como Fertilizante
Nunca Jamás
Si creciste en México, muy probablemente, fuiste instruido en el arte sagrado de no ser- un desperdiciado. A través de tus padres y familia inmediata aprendiste que los juguetes, la comida, los zapatos o el dinero eran bienes invaluables, los cuales debían ser valorados como algo precioso por la simple razón de que reemplazarlos no era algo muy factible en un futuro cercano.
El acto de encontrar nuevas funciones y usos para los objetos ordinarios ha permanecido por generaciones en la sangre de aquellos que han aprendido a vivir una vida de carencia por diversas razones, ya sea la vida durante o después de la guerra o por la precaria economía del país en que se vive. Es un estado de resiliencia y flexibilidad alcanzado por el cerebro humano que puede compararse con un instinto tan primitivo como el de la supervivencia.
En mi práctica como docente y trabajo como artista de joyería contemporánea me visualizo como una defensora y exploradora del potencial transformativo que yace internamente en estos objetos; que una vez cumplida su vida útil son ignorados y están tan grabados en nuestra cultura material que me cuestiono ¿Cuál sería su aportación al diálogo crítico cuando personifican deliberadamente un objeto de adorno para el cuerpo? ¿Qué impacto tiene sobre nuestro significado de belleza, valía y preciosidad cuando utilizamos cartón de huevo o cajas de cereal en lugar de oro, plata o piedras preciosas?
El Cazador-Coleccionista
Existen dos papeles esenciales que el diseñador-estudiante debe personificar como parte del proceso creativo de transformar desechos en una obra de arte.
El primero está relacionado con el acto de recolectar o juntar objetos y/o materiales tanto dentro como fuera de su zona de confort. El estudiante es estimulado para observar y documentar de manera activa y diaria sus hábitos en relación a los desechos generados en su entorno.
¿Te das un gusto todos los días al comprar un café para llevar en tu lugar favorito? ¿Acostumbras pedir comida a domicilio frecuentemente que viene en empaques de plástico? Uno puede descubrir cosas interesantes como que el plástico o el papel son más abundantes que el vidrio o el aluminio dependiendo de los productos que compramos y desechamos diariamente.
Una segunda parte de la "caza" tiene que ver con salir de tu zona de confort y expandir tu espectro de recolección al buscar objetos en lugares inusuales como pudieran ser, por ejemplo, un tiradero de basura o una fábrica. Esta práctica, muy a menudo, puede conducirnos a descubrimientos interesantes o sorpresivos en cuanto a los materiales que abundan con mayor frecuencia o son más escasos; un teclado viejo, la tina de una lavadora descompuesta, o un fajo de billetes antiguos escondidos debajo del colchón de tu abuelo fallecido. Todos estos pueden convertirse en objetos valiosos durante el proceso creativo.
Es importante tener en cuenta que, en la mayoría de las ciudades de México, los hábitos de reciclaje no son fomentados por las dependencias gubernamentales del medio ambiente. Finalmente todo queda en la conciencia de cada habitante al decidir involucrarse o no en el reciclado y separación de su propia basura; y para nosotros los creadores, existe la oportunidad de involucrarnos de manera innovadora.
El Papel de Baño
El rollo de cartón del papel de baño… un objeto tan insignificante, comúnmente ignorado y escondido detrás de cientos de suaves hojas de papel. Cuando escuchamos la palabra "papel de baño" comúnmente viene asociada con frases como "más valor por tu dinero", "super resistente" o "ultra suave".
Pero, ¿Alguna vez lo hemos considerado como un posible material en el ámbito del arte? ¿Sería posible, que los rollos de cartón que proveen de soporte a nuestro papel de baño, ultra suave y super resistente, pudieran convertirse en algo tan preciado como el oro?
Estos rollos, que parecieran insignificantes pero son esenciales por su funcionalidad efímera, pueden llegar a causar asco a primera vista pero, lo más importante es que son A-B-U-N-D-A-N-T-E-S. Fast Company reveló en uno de sus artículos que 17 millones de ellos son desechados cada año. Están construidos de dos capas adheridas de cartón. Comúnmente son blancos por dentro, mientras otros son de color café por ambos lados. Las capas son unidas con adhesivos en una forma diagonal por una máquina con la intención de proveer de fuerza a un material que de otra manera no sería tan resistente. Un dato interesante acerca de ellos es el número de serie de 17 dígitos que llevan impresa en su interior y que se usa para controlar la calidad de la producción.
La vida de un artista puede ser, en ocasiones, una vida de carencias. Encontrar recursos para crear arte en tiempos de escasez económica puede convertirse en una ventana a un mundo de posibilidades creadoras infinitas. Estos objetos, fabricados en papel, se convierten en un recurso amigable que posee tal plasticidad que pareciera ser una invitación para el juego y la transformación.
Hablando de Vasos de Café y Objetos Preciosos
Cuatro es la cantidad exacta de objetos involucrados en la compra de un café para llevar en algunas tiendas de autoservicio. Primeramente está el vaso, hecho de una combinación de papel y polietileno. Después viene la tapa de plástico y la manga de cartón para que no te quemes mientras caminas con tu café por la calle. Adicionalmente, para evitar cualquier posibilidad de accidentes en el arriesgado acto de malabarismo que representa el andar por la vida con un vaso de café ardiente, está un hermoso objeto de plástico que es insertado en la boquilla de tu vaso.
Multiplicando esto por 50 millones de vasos a la semana obtendremos las ventas semanales internacionales de Starbucks, la compañía de bebidas de café más grande del mundo. Detengámonos por un momento y pensemos en el efecto que el consumo masivo produce en el medio ambiente y por unos segundos podremos sentir las consecuencias de nuestro comportamiento como consumidores.
Sin embargo cuando uno cultiva el hábito de coleccionar su basura, como los vasos de Starbucks, los objetos mutan y se transforman en algo muy diferente al desperdicio ordinario. Son limpiados y guardados adecuadamente, se convierten en objetos atesorados, al igual que una joya, a medida que se acumulan en una colección de recuerdos. Su valía radica ahora, en ser prueba de un registro histórico de una infusión bebida por una persona en específico en algún momento en el tiempo. Han adquirido marcas de café y a veces de labial.
Mirar 700 vasos de café juntos en un sólo lugar, recolectados durante el transcurso de cinco años, provoca cuestionamientos más allá del evidente consumo en masa. El tiempo ha pasado por estos objetos, una vida ha sido vivida a través de ellos a medida que se convierten en algo precioso para el ojo del -poco ortodoxo- creador/coleccionista.
2 kilogramos al Día
Como seres humanos vivimos en un mundo lleno de "cosas". Hay tantos objetos a nuestro alrededor que eclipsan nuestra capacidad de percibir lo único, así como nuestra habilidad para maravillarnos ante un mundo que se desvanece en nuestro quehacer diario.
No obstante cuando uno toma un objeto ordinario, como una botella de agua (que bebes y tiras a diario sin consideración alguna) con la intención de sumergirse en el estudio intensivo de sus formas, algo cambiará para siempre la manera de percibir la existencia. Uno se maravilla ante las cosas irrelevantes como los dobleces y marcas en un vaso de papel, o las diferentes texturas, formas y colores que posee una botella de PET. Son esos pequeños detalles los que cuentan para el creativo. Si somos capaces de percibir lo imperceptible del mundo y llevarlo de lo ordinario a lo extraordinario sumergiéndonos, simultáneamente, en un proceso de transformación, encontraremos repentinamente potencial en cada objeto y/o material. Lo que en un momento fue considerado como basura se elevará del basurero a un nivel donde dejará de ser algo inútil. Todo tendrá una nueva utilidad y el peso de nuestros hábitos de consumo masivo tomará un enfoque mucho más consciente y funcional.
Si la educación es la base de todo cambio, necesitamos reconsiderar nuestras nociones de usabilidad en función de los objetos que encontramos en lo cotidiano. La manera en que los gobiernos conducen sus prácticas de "reciclaje" no es del todo funcional, eso, si es que existe un plan para la separación de basura y reciclado en nuestra ciudad. Tu, mi estimado lector, estás produciendo un promedio de 2 kg de basura al día y la mayoría de eso terminará en algún tiradero de basura en tu ciudad.[2]
Mientras el gobierno se preocupa por hacer de la sustentabilidad un tema político en las encuestas, nosotros, los artistas, podemos contribuir al crear joyería con nuestra propia basura.
Translated from English by Mariana Acosta with assistance from reader Barbara Magaña.
Índice de imágenes: Mariana Acosta, collar "Fertilizer" de la serie "Cuando la Vida te da Mierda, Utilízala como Fertilizante", 2014, carton de rollos de papel de baño, 300 x 300 x 90 mm, foto: por la artista.
---
[1] See for example What a Waste: A Global Review of Solid Waste Management, Urban Development series, Knowledge Papers, The World Bank, 2012, http://go.worldbank.org/BCQEP0TMO0.
[2] Vease por ejemplo What a Waste: A Global Review of Solid Waste Management, Urban development series, Knowledge Papers, The World Bank, 2012, http://go.worldbank.org/BCQEP0TMO0.