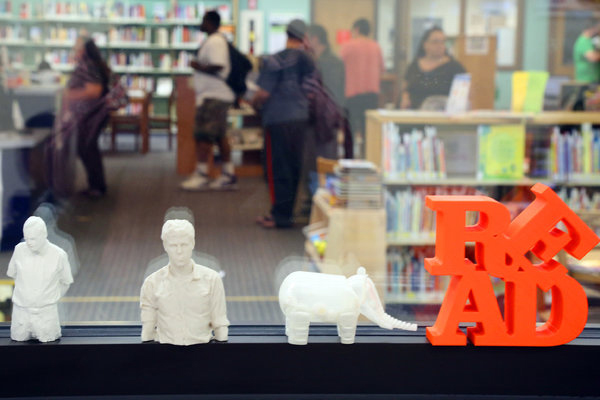 On a recent trip to visit family, this writer was privileged to attend the grand opening of a new local library. While reviewing the map to locate where my nephew could meet Curious George in person, my sister-in-law noted that the new library featured a "Maker's Lab" room containing a 3D printer.
My brother and sister-in-law agreed that a publicly available 3D printer was "cool." "But what do you print with it?" my brother asked.
"Jewelry!" I proclaimed. "And … uuhhhh … toys, I guess, like little figurine things … and I think they can print organs or something …"
I can't tell if my immediate association of jewelry with 3D printing technology is colored by my line of research, or if the only clear use of a consumer-level 3D printer is to print one's own dice, finger puppets, or jewelry at home. Either way, public libraries in the US are embracing the technology, making 3D printing equipment available as a community resource.
In fact, as Patricia Leigh Brown notes in her recent article for the New York Times, there is currently "a broad cultural shift" in how American libraries view themselves and their role in the community—rebranding themselves as "hands-on creative hubs, where people can learn new crafts and experiment with technology like 3-D printers." Noticeably, 3D printers and 3D printing are referred to at least four times in the article.
As libraries continue to transform into community maker-spaces, making technology freely available to all members of the public, what will this mean for the next generation of makers? When my nephew outgrows Curious George, will he move on to 3D printing bracelets and brooches (or, maybe in a few years, hearts and gallbladders)? Will future jewelers get their earliest training at the public library?
For those who wish to research jewelry, the AJF website is your online library. But if you want to make your own jewelry, check out your local IRL (In Real Life) library!