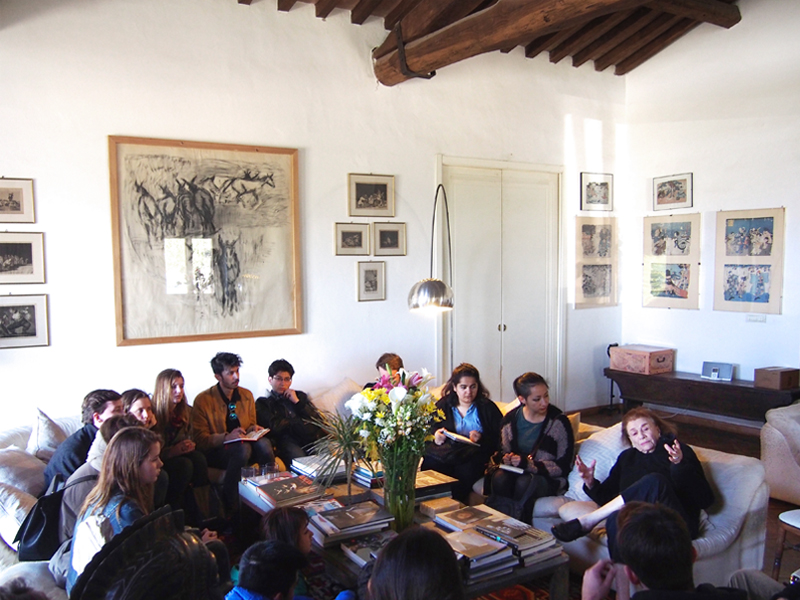 American sculptor Beverly Pepper speaks to Rhode Island School of Design students at her home in Umbria, Italy.
One by one the students were asked to introduce themselves by their department and to talk a bit about their work—some are painters or architects, others jewelers or industrial designers, the latter group being the most relatable to Beverly Pepper, seeing as her creative path began at Pratt, an art and design school in NYC, in the 1930s. Beverly is currently ninety-three. She still works with an unmatched ambition and is as sharp as ever, and that's not just for her age. Her openness and curiosity with the students reflect this. Beverly still gets big commissions worldwide. She still draws every day, always thinking big. But she attributes it all to luck. "The trick is really and truly trying to recognize your luck," she says to one of the students. Another student asks what her work tends to be about. "Do I have a subject? No. Form and shape," Beverly says, as though she's giving those listening permission to think just a little less, in a good way. "The most important quality for an artist to have is courage … but you also need to be informed," no matter what kind of work one makes. "Remember, you're a dictator when you make art, there is no democracy."
"Lessons" tracks a small roster of AJF contributors as they look, shoot, and reflect on what they see. Our first guest reporter is Kellie Riggs, who finds inspiration in meeting artists, hearing them talk, and, in one instance, discussing the watch of their dreams.