Susan Cummins: Theresa and Jim, I understand that you worked together to curate this show. Can you walk me through how that worked? Who thought of the idea for the show, and how were the artists chosen?
Jim Cotter: I have been working with wood for many years now and recently made a collection of work that included a number of wood pieces. When looking at other contemporary jewelers, emerging and established, I feel that there are a lot of interesting things being made in the medium of wood. The artists we chose show a real range of visual style, process, and wearability.
Theresa Hauser: Being located in the Rocky Mountains, it is hard not to be inspired by our surroundings. Our visitors understand the natural and visual role of trees in our lives and maybe are even seeing them transformed into sculptures, but to have a pieces of jewelry made of wood often causes people to look twice. As Jim said, we have had his wood jewelry in our galleries, and these pieces have always elicited interesting reactions from our clients. Having a range of work with one material in common is a great way to communicate to our clients and guests the possibilities within the field of contemporary metalsmithing.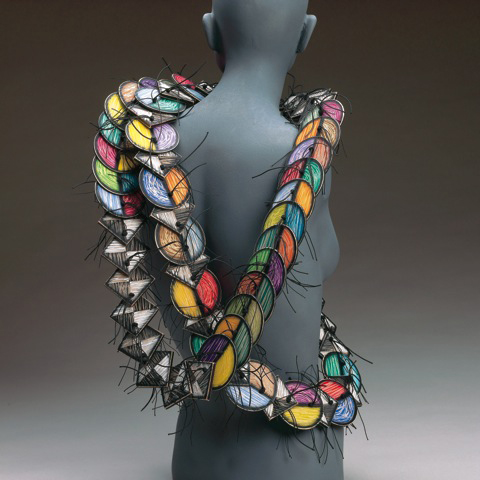 Theresa Hauser: Again, we aim to bring a collection together with many different processes and aesthetics. A variety of color treatments, stone and/or metal details, and formats are on display. While researching artists in the field who excel in this material, we definitely found a trend in the reuse of wood objects and fragments, basically upcycling. This topic is being considered more and more in the metalsmithing field and in society as a whole. I think people feel good indulging in something when it is beautiful and sustainable.
What qualities of wood make it so appealing as a material for jewelry?
Jim Cotter: The appealing nature of wood, to me, is the different textures and colors that different types of wood provide. The number of ways this material can be manipulated and utilized is just astonishing to me. Everything from architecture down to a simple toothpick is viewed and used in our lives on a daily basis.
Theresa Hauser: In the context of jewelry, I love the weight of the pieces made from wood. You can have a gigantic necklace that is sure to be the talking point in any room that weighs no more than a pound. The reactions in the gallery to the size of some of the work gives me the opportunity to put these statement pieces in their hands and see their astonishment at the feather-light weight. A lot of our clients are enthusiastic about this affect in earrings, as they can comfortably wear larger styles. Comfort is a huge consideration when buying a piece of jewelry, and these wood pieces retain that aspect while also being a little bolder.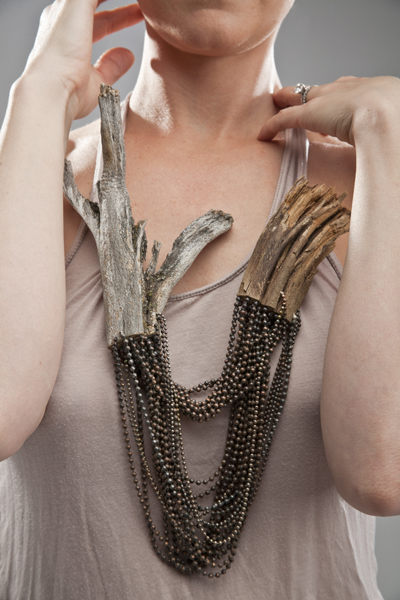 Theresa Hauser: Humans have been ornamenting their bodies throughout history, examples of which can be found in museums around the world. Wood, being a natural resource, has been available throughout time to various cultures. In addition to its prevalence, it is a lightweight and pliable material. For the same reasons it appeals to contemporary makers, this material was used as adornment among various cultures. A few of these developed processes that are still used today, such as the Japanese use of lacquer over wood or the bold size and patterns seen in African work. The artists included in this show are undoubtedly referencing both the styles and processes developed throughout the course of human development.
Can you describe the different processes used on the jewelry in the show? Can you be specific and use some examples?
Theresa Hauser: There are many different processes on display in this exhibition. Applications of color, alterations of shape, and composition are all decisions by the artists that set each apart.
Tara Locklear cuts pieces out of used skateboards and pairs those with other pieces of wood to make her components. From there, color is added and they are assembled with very clean and precise oxidized sterling silver elements and sometimes even involve unique stones.
In contrast, Christine J. Brandt is hand carving exotic natural woods to a smooth, refined finish accented with hard, rough, natural stones and minerals. These pieces represent the natural elements these components come from and are an ode to the natural world.
Margherita Marchioni simply collects her materials after they are discarded from their first life. Cutting and composing layouts of these scraps, she creates playful pieces that are simultaneously a comment on consumerism and modern society.
Kate Furman is also collecting some of her materials. While on walks in the woods, she gathers pieces that have been rejected from the trees they were once a part of. With leather and metal, Furman is transforming these wood fragments into pieces that relate to the human body in many formats, but most dramatically in double brooches and epaulettes.
You mentioned in your press release that the wood jewelry is installed in steel cases. Did you design these cases specifically for this show?
Jim Cotter: The steel cases were designed by me to display work during exhibitions we're hosting or to showcase and highlight specific artists from our galleries throughout the year.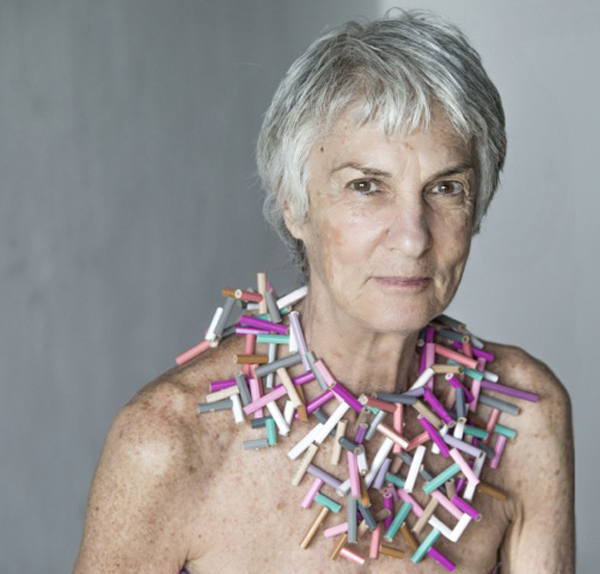 Theresa Hauser: These steel wall displays have been working beautifully. They draw attention and provide us with unlimited options for arranging the work. We are using magnets against the steel to prop or hang jewelry. For this specific show, we are using cylinder shapes to drape necklaces over and to house rings, brooches, and earrings. The matte, monotone black background of these cases has really allowed the work in this exhibition to pop.
Do you think Vail, Colorado, is a particularly good place for people to wear wood jewelry? Why?
Jim Cotter: I feel any place is a good place to wear wood jewelry. As proven by the interest we've had so far, Vail is a great place to introduce new work to an international group of clients and collectors.
Theresa Hauser: When people come to Vail, they are spending a lot of time outside. Located in such a beautiful and serene part of the country, nature is greatly admired and appreciated in the Vail Valley. Bridging the gap between the mountains and the galleries by displaying pieces of wearable art made from a natural material has been very positive.
What are you seeing, hearing, or reading that you can recommend?
Jim Cotter: I can only recommend that you process everything you're seeing, hearing, and reading on a daily basis, and let it translate through your hands into works of art.
Theresa Hauser: We're in the final stages of publishing a catalogue on this exhibition, which I think will be an excellent read!
Thank you.
Thank you, Susan!