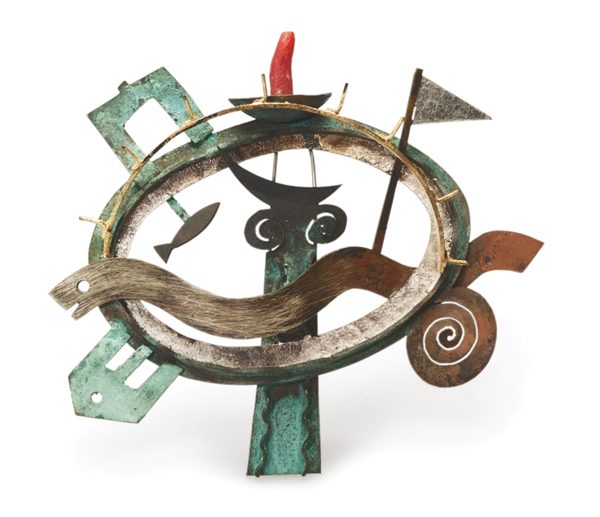 Susan Cummins: Noel, please tell us about Jocelyne Gobeil and why you wanted to have a show about her.
Noel Guyomarc'h: Jocelyne Gobeil ran the first gallery dedicated to contemporary jewelry in Montreal, Canada, from 1987 to 1994. She introduced the local audience to the new movements in the jewelry field. She was a forerunner. Her gallery was already closed when I opened mine, but she came a few times to my gallery to discuss and exchange ideas about jewelry. She was very supportive to me. I knew the artists she had represented, and I was really impressed. A few years ago, her daughter Julie Anne Tremblay came to me with a project including a catalogue and an exhibition. It was clear to me that I should do it.
Why is the show called Laissez-moi rêver?
Noel Guyomarc'h: This title came from Julie Anne. Translated, it means, "Let me dream." I think that it is a perfect title. Her mother worked hard to make her dream of showing contemporary jewelry in the context of art come true. She was completely dedicated to establishing contemporary jewelry as an art form. And as she did it, she shared it with the artists she was working with.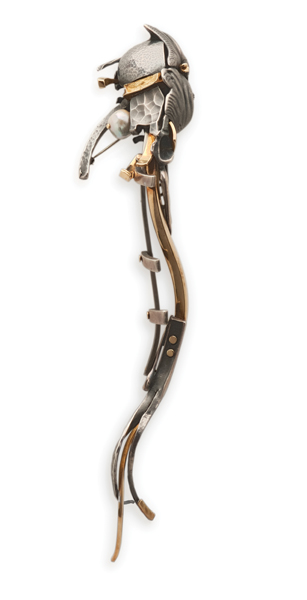 The exhibit features a number of European as well as Canadian jewelers. Are these pieces part of her personal collection or left over from her gallery collection?
Noel Guyomarc'h: All the pieces are from her personal collection. She collected during the time she ran her gallery and even after the gallery closed, up until 2005. She also acquired some pieces from galleries when she was traveling in the US and Europe. She was aware that she was gathering important work.
How did you decide to have this exhibit at your gallery? How did it happen?
Noel Guyomarc'h: Julie Anne Tremblay came to me in 2009. She wanted to exhibit and to produce a catalogue about her mother's jewelry collection. She invited me to write a text on her mother's gallery and on the collection. I was lucky to have a look at these amazing pieces. It became clear to me that as a gallery owner, an educator, a curator, and promoter, I had to have this exhibition. It is a tribute to the outstanding work of this devoted woman to a new art form. Quite a number of the artists are still active and pursuing significant careers.
Do you feel that the gallery is playing the role of an historian or a museum in some way with this exhibit?
Noel Guyomarc'h: In this project, these two aspects are included. Contemporary jewelry as an artistic discipline is not very well known. As the owner of such a specialized gallery, I feel that education becomes an important aspect of running the business. The opportunity to exhibit works of an important period of this field is rare, except in a museum setting. I want to share this event with the local community and with my clientele and collectors. To have this exhibit is a big job for me. I will have to explain why each work is included in the collection and why none of the pieces are for sale. So for the duration of the show, the gallery will be acting like a museum.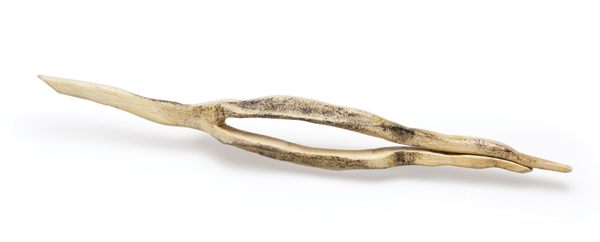 You said you have produced a catalogue. Who are the writers featured? How can someone find it?
Noel Guyomarc'h: Julie Anne Tremblay produced a catalogue from this collection. This catalogue is very well conceived. It shows the pieces plus a short curriculum vita of each artist and of the gallery. I wrote the introduction "Escapade." Also, there is some handwritten correspondence with the artists from the days before email was used. Only 100 copies are available. It is possible to reserve a copy, and the profit of the sales will go to the Jardin botanique de Montreal (Montreal Botanical Garden) and to Ovaire Espoir, a support group for women with ovarian cancer founded by Jocelyne Gobeil and Josée Ann Maurais in 2004. The cost is $50.00 Canadian dollars. The catalogue is in French and available at the gallery.
Thank you.