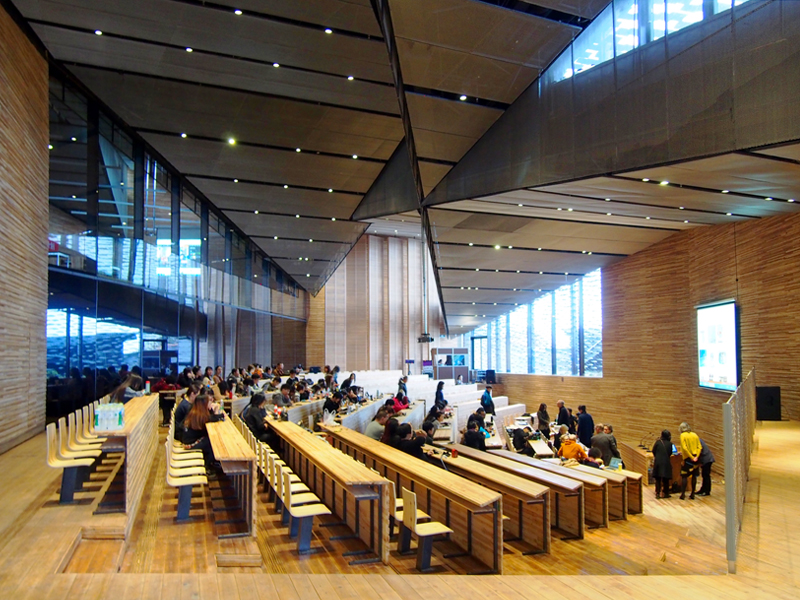 Photos by Kellie Riggs, taken during the Hangzhou Contemporary International Jewelry and Metal Arts Triennial 2015—China Academy of Art
The Body Alchemy seminar was held in this conference room on the top floor of China Academy of Art's brand new Crafts Museum, located at their Xiangshan campus. Renowned Japanese architect Kengo Kuma designed the building, which opened on September 20 of last year. For an art school to give such importance and appreciation to craft is quite remarkable. It shows that art and craft are aligned; there is no hierarchy between them, at least in China, anyway. So what a fitting place to host a seminar about contemporary jewelry, one which also attempted to bring the East and West a bit closer, to find common ground between contemporary jewelry practice and thought.
But is contemporary jewelry—or Contemporary Jewelry, rather—too Eurocentric to be relevant in a place like this? Is "Eurocentric" part of contemporary jewelry's unwritten definition? And just whose definition is it? As contemporary jewelry's primary place of birth is Europe (Netherlands, Germany, etc.), there's a tendency to only use language that supports the idea that it is only a Western phenomenon. But this tendency can be patronizing, or create a sense of otherness especially when used outside the comfortable bounds the field is used to.
During a discussion between speakers, Professor Xin Guo, head of the jewelry and metals studio in the College of Fine Arts at Shanghai University, said Chinese contemporary jewelry might be considered young in relation to Europe's idea of the field, but not in emotion, idea, and intent. A student in the audience echoed this by stating that European contemporary jewelry feels far away from them. He said that modes of communication should change in order to better relate one to the other, and that in the eyes of local practitioners, China already has a long contemporary jewelry tradition. But is that really true? This is a contentious argument, since most Chinese programs have developed relatively recently and as a result of professors having studied abroad. As such, it begs the following question: Is the definition of "contemporary jewelry" actually more academic than it is cultural? How do we feel about this?