Art Jewelry Forum is pleased to share the news that members of our community find noteworthy. Is something missing? The success of this compilation of compelling events, exhibitions, and items of interest to the jewelry community depends on your participation. If you're a member of AJF, you can add news and ideas to the monthly report by going here. If you aren't a member, but would like to become one, join AJF by making a donation. Listings gathered with assistance from Carrie Yodanis.
EVENTS
ARTIST TALK—ONLINE
Join the Baltimore Jewelry Center, July 8, 2021, 7 p.m. EST, for a free artist talk with Jessica Andersen. Andersen's exhibition i found you is on view in the BJC gallery through July 10, 2021. In it she asks, "What can be seen in the objects we keep? What can be said of the objects we discard?" Andersen sourced materials from estate sales, auctions, garage sales, and junk drawers. Her interests address "Thing Theory," a study of the world of material things: their functions, semiotics, and symbolic and commercial value in regards to their current cultural understanding. She's concerned with the effect of objects and defined notions of waste in relation to ideas of collection. Her work showcases the form and appeal of everyday detritus in the construction and presentation of jewelry. More info. Register here.
CURATOR TALK—ONLINE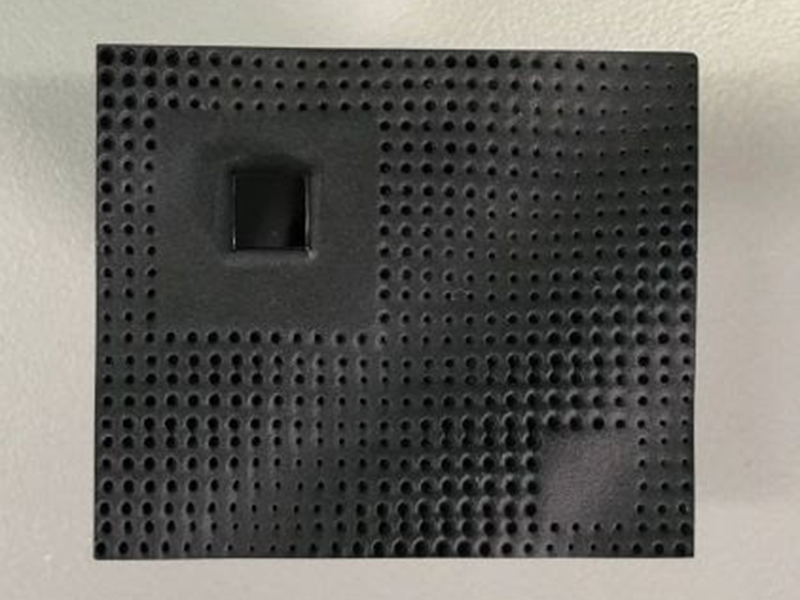 Art with Friends, July 7, 2021, at 6 p.m. EST. Curators Alexandra Ward and John Stuart Gordon, from the Yale University Art Gallery, will share highlights from the Susan Grant Lewin Collection, an important forthcoming gift to the institution that will be installed in spring 2022. Register here.
LECTURE—ONLINE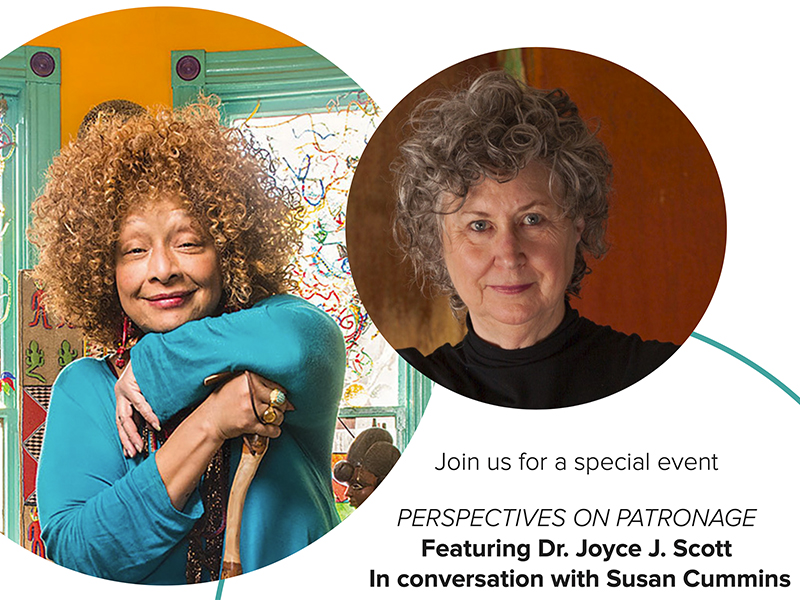 Perspectives On Patronage, featuring Dr. Joyce J. Scott in conversation with Susan Cummins, July 15, 7–8 p.m. EST. US $20. This intimate gathering, presented by the Washington Project for the Arts, will explore patronage and the artist-patron relationship, offering new perspectives on an age-old concept. Capacity is limited; RSVP to [email protected].
COLLOQUIUM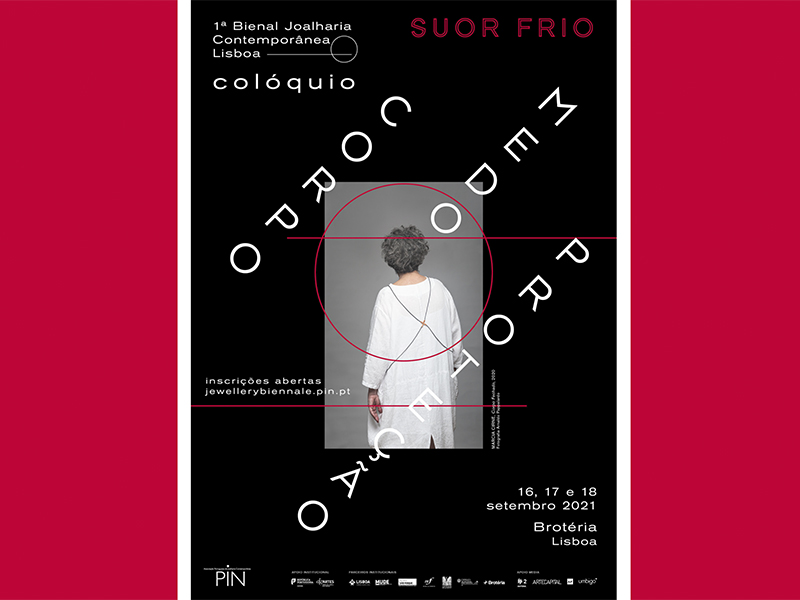 Body, Fear and Protection, in Lisbon, Portugal, September 16–18, 2021. The first Biennial of Contemporary Jewelry in Lisbon has invited 12 international researchers to reflect on body, fear, and protection in the context of the pandemic, underlining the importance that art has in our daily lives. More information.
JEWELRY WEEK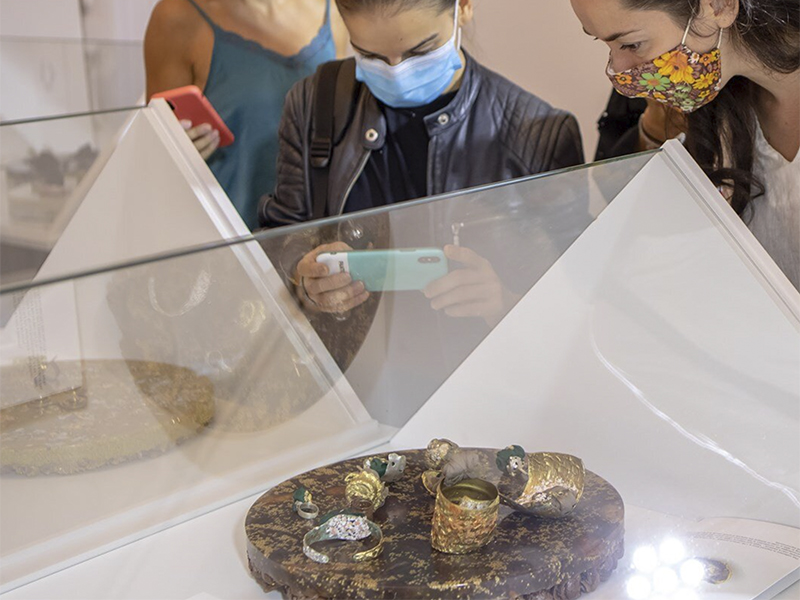 Romanian Jewelry Week 2.0 will take place September 30–October 3, 2021—mark your calendars and buy your plane tickets!
BIENNIAL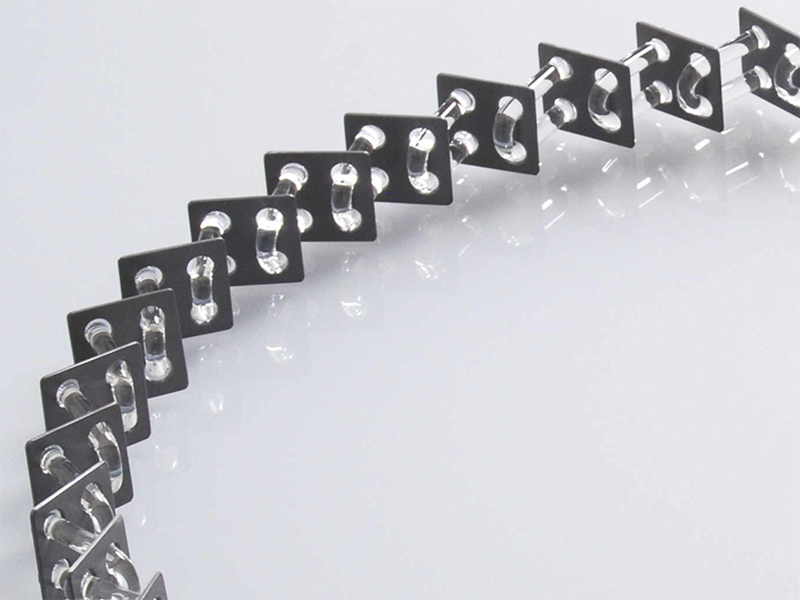 Value Chains Reset, the Jewellers and Metalsmiths Group of Australia, between August 17 and October 10, 2021, $30. Due to the pandemic, sessions that would normally be in one location over two days will be distributed across time and space. Simon Cottrell, Hannah Jago, Andrew Last, Kevin Murray, Mel Young and Mark Edgoose will present. Info and schedule.
SALE—INDIGENOUS JEWELRY
The Santa Fe Indian Market is a 99-year-old Native art market—the largest and most prestigious juried Native arts show in the world and the largest cultural event in the Southwest. Over 1,100 Native artists from the US and Canada sell their artwork. Indian Market attracts 150,000 visitors to Santa Fe, NM, US, to take advantage of the opportunity to buy directly from the artists. For many visitors, this is a rare opportunity to meet the artists and learn about contemporary Indian arts and cultures. The yearly event will be held August 21–22, 2021.
EXHIBITIONS—NORTH AMERICA
MUSEUM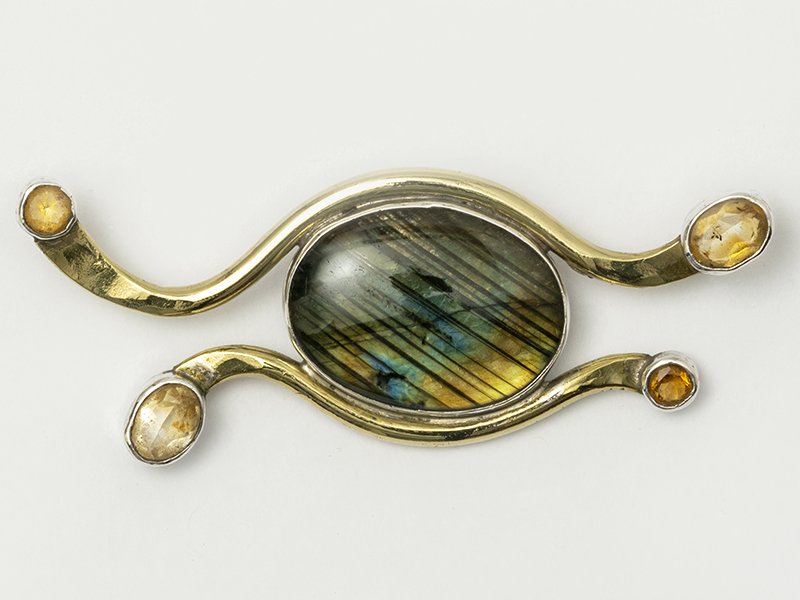 Divine Legacies in Black Jewelry, at the Metal Museum, in Memphis, TN, July 17–September 11, 2021. Black American jewelers take center stage in an exhibition curated by 2019 SNAG Emerging Curator Grant recipient LaMar R. Gayles, Jr. Surveying works created by Black jewelers from the 1940s to the present day, the exhibition includes 60+ works of jewelry and archival photographs, explores notions of cultural identity in the African diaspora, and contextualizes the practices of Black makers within the larger metalsmithing field.
MUSEUM
Tributaries: Tiff Massey | Everyday Arsenal, at the Metal Museum, in Memphis, TN, July 25–September 24, 2021. Interdisciplinary artist Tiff Massey draws on contemporary observances of class and race through the lens of an African diaspora to create a site-specific installation. Massey creates work inspired by African standards of economic vitality, including both large-scale and wearable sculptures, music, and performance. She won AJF's 2019 Susan Beech Mid-Career Artist Grant.
MUSEUM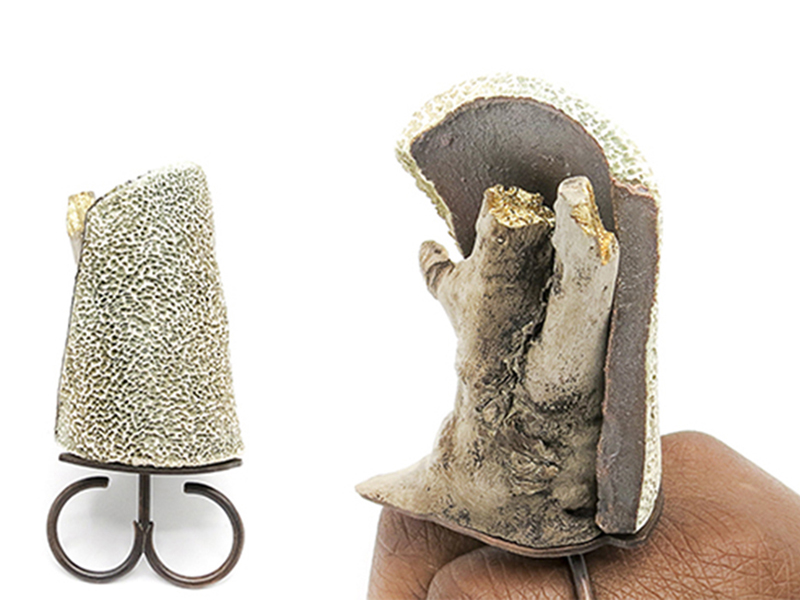 Wood + Body: Expressions of Contemporary Jewelry, at the Center for Art in Wood, Philadelphia, PA, through November 7, 2021. Presents aspirational works of contemporary jewelry by leading international artists who have dedicated their practices to exploring the relationship between the warm, changing, and living material of wood and the human body.
MUSEUM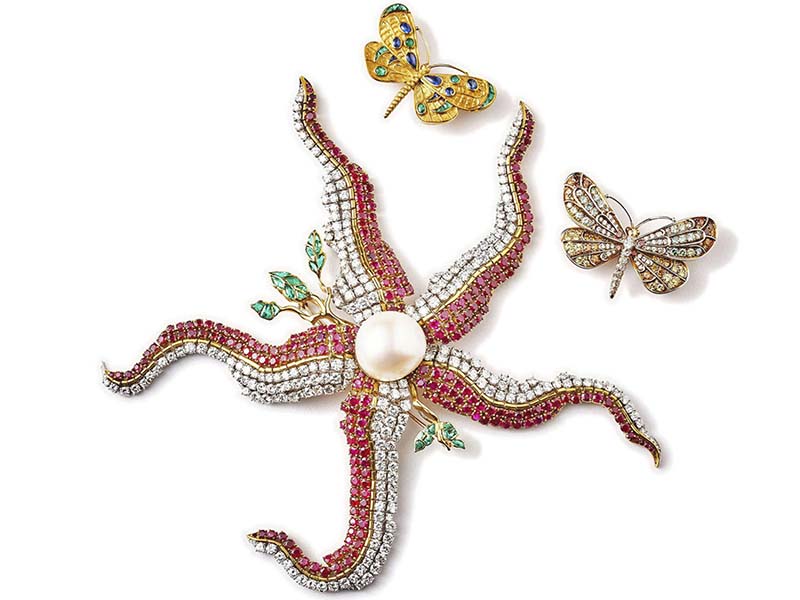 Beautiful Creatures: Jewelry Inspired by the Animal Kingdom, at the American Museum of Natural History, in NYC, through September 19, 2021. Discover some of the world's most spectacular jewelry pieces in a new exhibition that presents more than 100 animal-themed precious jewels created by the world's great jewelry houses and artisans, from Cartier's iconic panthers to Suzanne Belperron's butterflies.
MUSEUM—PERMANENT
45 Stories in Jewelry: 1947 to Now, at the Museum of Art and Design, in NYC, permanent exhibition. This show contextualizes the bold experimental practices of the field's most compelling artists within the key historical moments that ultimately broadened the scope and reach of art as a wearable medium. Selected by an advisory committee, the featured pieces showcase jewelry artists for whom anything can serve as inspiration. Unlike costume and precious jewelry, the concept takes center stage in these works.
MUSEUM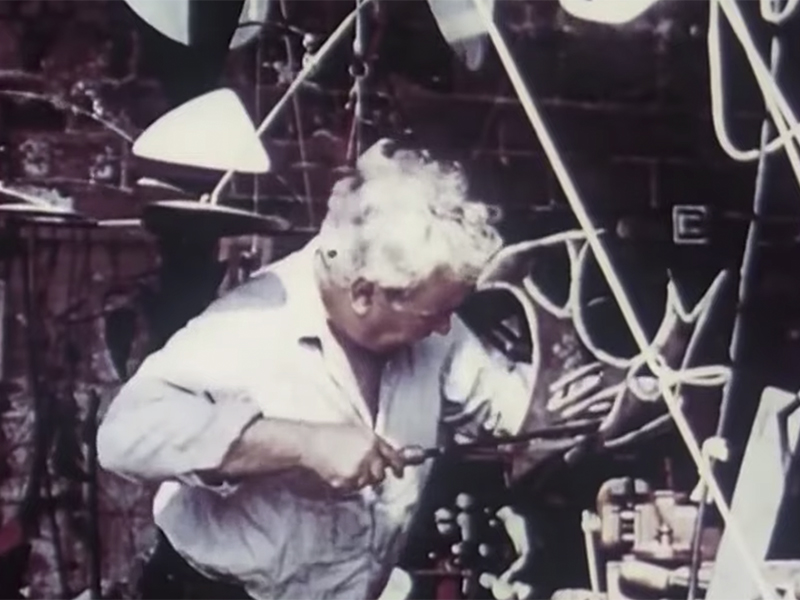 Alexander Calder, Modern from the Start, at MoMA, in NYC, through August 7, 2021. This exhibit brings together Calder's wire sculptures, metal sculptures, mobiles, and jewelry to showcase a vast career of creativity. Parts of the exhibit can be viewed virtually.
GALLERY—CLOSING SOON
Les Espaces-Satellites, at Galerie Noel Guyomarc'h, through July 10, 2021. Quebec artist Gabrielle Desmarais presents her first solo exhibition. The gallery has been transformed into an immersive landscape in which 40+ works are displayed, all of which were created as maquettes of familiar or imagined places. In a metaphorical way, the artist proposes a series of objects-souvenirs representing these places, which only exist in the floating space of our mind once we have left them.
GALLERY
Cities of Steel Cities of Rust, at Baltimore Jewelry Center, in Baltimore, MD, July 17–August 28, 2021; opening reception July 17, 6–9 p.m. This exhibition pairs artists from BJC's Peer Group and the Allegheny Metals Collective. Each artist chose a local site with personal or iconic significance and started a piece referencing it; they then swapped and completed work made by an artist in the other city. Exchanging partially realized pieces helped break through assumptions.
GALLERY—CLOSING SOON
i found you, BJC Gallery, through July 10, 2021. In this solo exhibition, Jessica Andersen asks what can be seen in the objects we keep. What can be said of the objects we discard? Andersen sourced materials from estate sales, auctions, garage sales, and junk drawers. Objects found and stories collected; some invented, inherited, or bought. A favorite spoon, a paddle, an old toy. What new stories do they have to tell?
GALLERY—CLOSING SOON
Aaron Decker: it's (not) all fun and games and Samuel Gassman: The Dowery of the Faerie Queen, at Ornamentum, in Hudson, NY, through July 18, 2021. Decker's wearables include monster faces or toothy grins juxtaposed cartoonishly with medieval weapon imagery and adorned with colorful patterns. Gassman, meanwhile, is an outsider artist in contemporary jewelry who makes curious compositions of fabric, metal, and collected historical ephemera housed in hand-made boxes that are intrinsic to the works.
GALLERY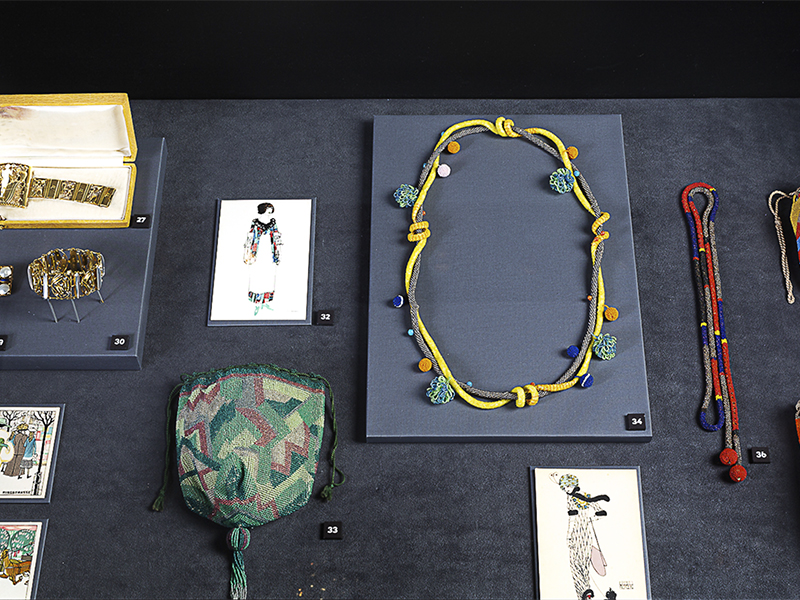 Wiener Werkstätte Fashion and Accessories, at Neue Galerie, NYC, through September 5, 2021. The Wiener Werkstätte artists and craftsmen collective launched in 1903. At its outset, the firm focused on metalwork, including jewelry. This exhibition includes a group of rare and mostly unique designs by Josef Hoffmann and Koloman Moser, as well as others who later joined the firm, including Carl Otto Czeschka and Dagobert Peche.
SCHOOL GALLERY—CLOSING SOON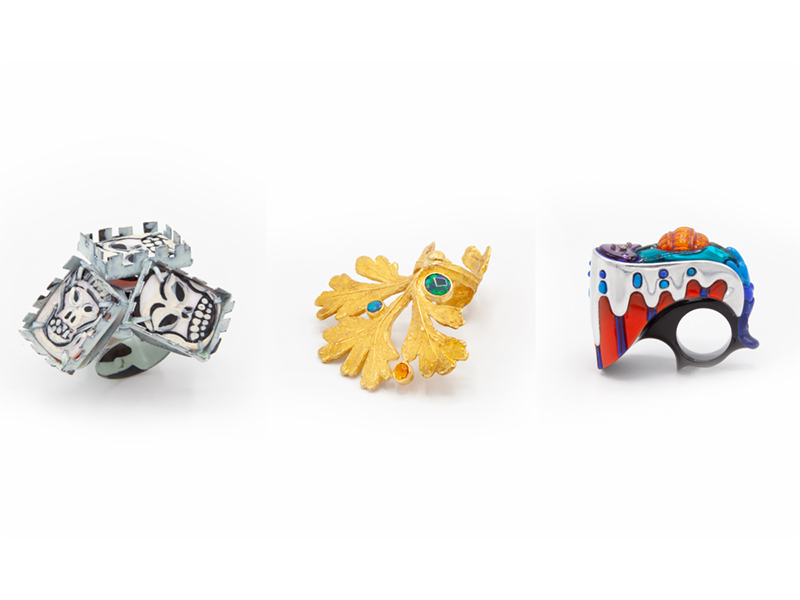 Rings!, at Moore College of Art & Design, in Philadelphia, PA, through July 17, 2021. From signifying one's marital status to protecting the wearer from evil, rings have served practical, symbolic, and decorative purposes throughout history and across cultures. 100+ rings from artists around the globe offer a glimpse into the boundless creative freedom revealed within the form. The rings on view offer a new examination of the cultural, political, and personal meanings of the ring itself. See the virtual exhibition.
EXHIBITIONS—EUROPE
CRAFT CENTER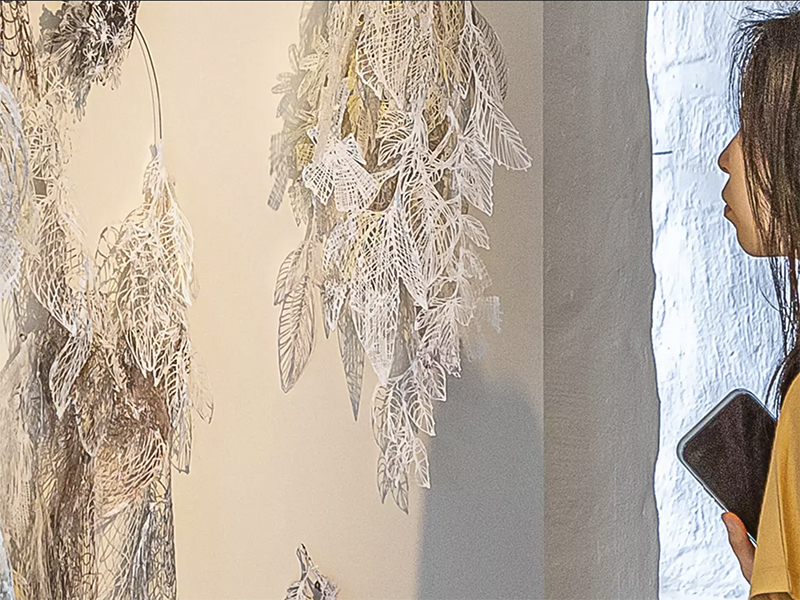 Landscapes, at Bornholms Center for Crafts, in Hasle, Denmark, through September 5, 2021. Sofia Björkman shows jewelry and three-dimensional objects that move between body-related works, installations, drawings, and paintings. The work is based on different aspects of landscapes: the natural landscape, human behavior in nature and also the social landscape, the relationship between people and society. The human body can be seen as a landscape for jewellery, the exhibition space as the environment for the exhibited objects; together they form a larger landscape.
MUSEUM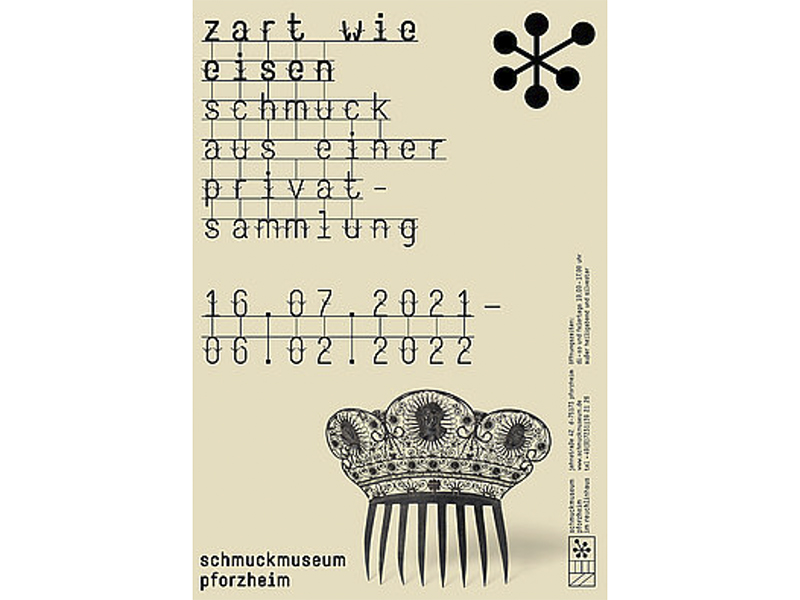 Delicate Like Iron: Jewellery from a Private Collection, at Shmuckmuseum Pforzheim, Germany, through February 6, 2022. From the end of the 18th to the middle of the 19th century, so-called iron jewelry was popular: necklaces, bracelets, earrings, brooches, and rings filigreed like lace, but cast from iron. The simple material, clear design language, and somewhat brittle character reflect the values of that society: consistency, modesty and restraint. The items are from the Klaus-Peter and Judith Thomé collection.
MUSEUM
Proudly African: Jewellery Affairs, through August 6, 2021, at Villa Bengel, in Idar-Oberstein, Germany. This exhibition—part of a collection put together by Martina Dempf—shows works by African jewelry artists from different countries and reflects the extraordinary cultural diversity of the continent as well as the simultaneity of tradition and modernity. Complemented by works by European artists who are inspired by the jewelry culture of Africa. Photographs show the jewelry in everyday African life and at festivals.
MUSEUM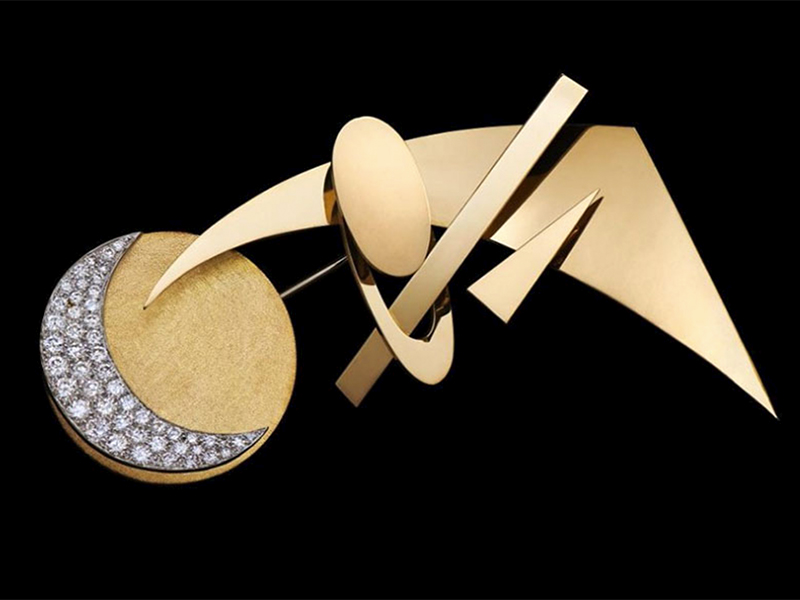 Suprematism Vision: Space Motifs in the Graphic Works and Jewellery Designs of Nadia Léger, at Moscow Kremlin Museums, through September 1, 2021. The oeuvre of the French painter and graphic artist Nadia Léger was the amalgam and reinterpretation of the major artistic trends of the 20th century: Cubism, Suprematism, Purism, and Socialist Realism. In 1970, Léger created a series of "cosmic" suprematism jewelry in gold, platinum, and diamonds.
MUSEUM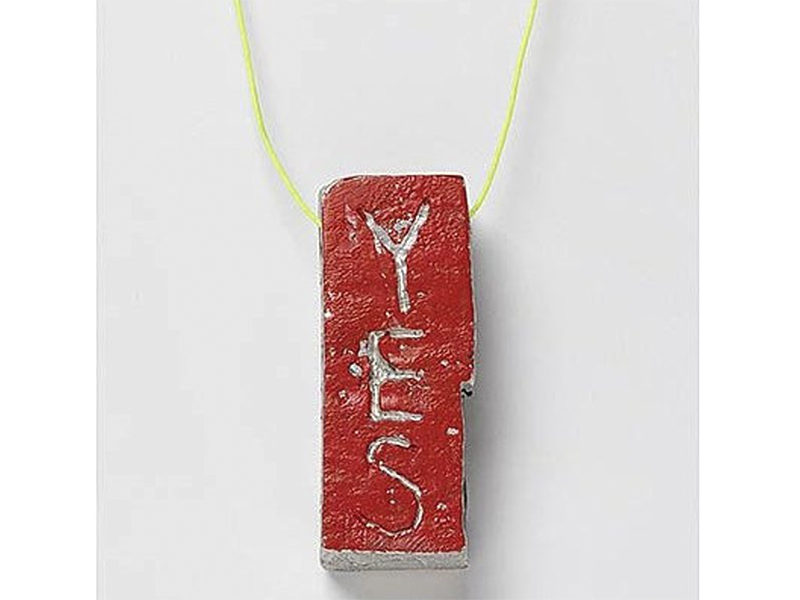 MUC/Schmuck. Perspectives on a Private Munich Jewelry Collection, at the Münchner Stadtmuseum, in Munich, through September 26, 2021. Since the end of the 19th century, goldsmithing has become an important craft in Munich due to the jewelry courses offered by the Academy of Fine Arts Munich. The Münchner Stadtmuseum joined forces with students from the Academy and Karen Pontoppidan, their professor, to mount an exhibition of its holdings, offering visitors insights into these historical works and their backgrounds. Also showcases today's budding jewelry artists, their academic approaches, and creative works.
MUSEUM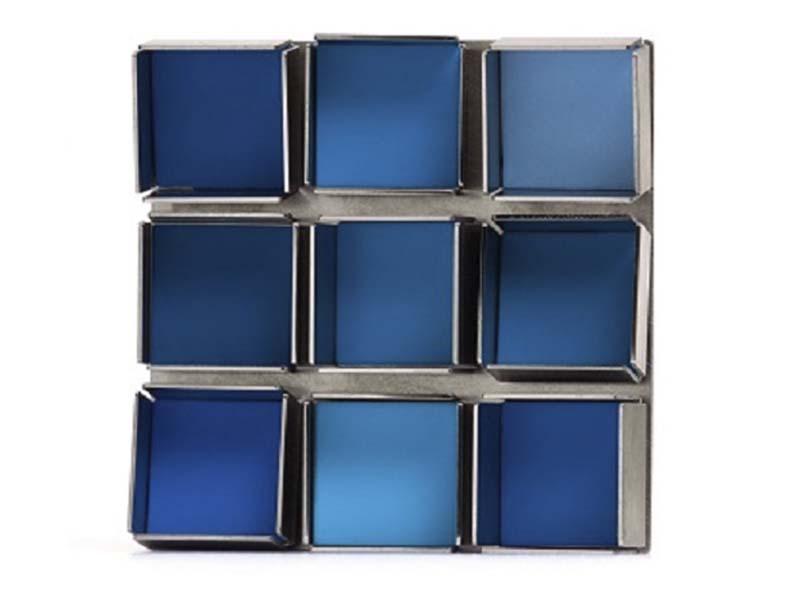 The Appeal of the Minimal: Carl Dau. Jewellery. Objects, at Deutsches Goldschmiedehaus Hanau, Germany, through September 1, 2021. See both jewelry and large-format objects by Carl Dau, who trained as a goldsmith and studied design at the University of Fine Arts in Berlin. Dau significantly influenced the development of modern metal design in Germany and is one of the pioneers of serial stainless-steel jewelry. He continues to use the material consistently to this day, mixing it with gold and precious stones, and sometimes lacquer.
MUSEUM
Pas de Deux: Jewelry by Sylke Alma Klopsch and Helen Friesacher, at Deutsches Goldschmiedehaus Hanau, Germany, through September 29, 2021. Selected pieces by the former Pforzheim lecturer, Klopsch, and her former student. With combinations of metal, plastic, amber, organic material, and other found objects, Klopsch puts free, playful forms in the foreground. Friesacher's works, with their geometric shapes, circles, squares, and rectangles, are of minimalist clarity. The juxtaposition allows for comparisons and offers new perspectives.
MUSEUM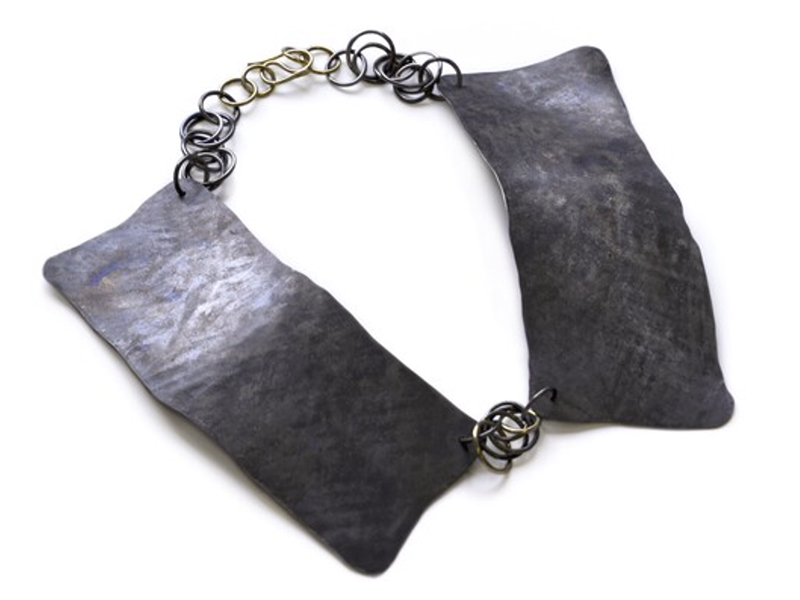 Ornament & Sculpture, at CODA Museum, through August 28, 2021. Dorothea Prühl's jewelry is without exception monumental, sculptural, and technically executed with great precision and craftsmanship. Wood, titanium, gold, silver, stainless steel, and aluminum are her preferred materials. Pure, vulnerable, and monumental at the same time, Prühl's jewelry speaks a language all its own.
MUSEUM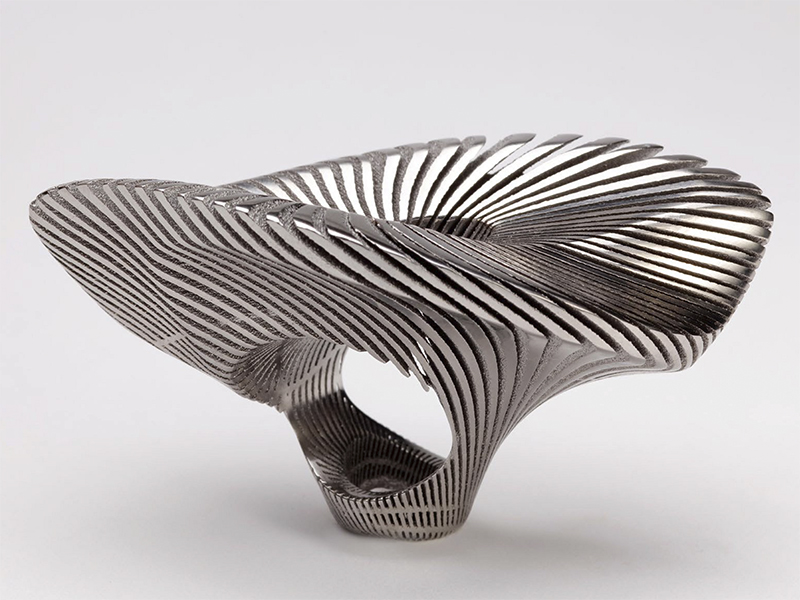 Collect/Connect, at the Musée des Arts Décoratifs, in Paris, through October 3, 2021. Presents original pieces from jewelry designers Julie Decubber and Stefania Lucchetta. Decubber immerses her work in the eclectic world of contemporary ceramics, using rejected waste as materials. Lucchetta, meanwhile, is a pioneer in the use of 3D modeling software and prototyping machines in jewelry. Titanium allows her to combine lightness and expressivity.
MUSEUM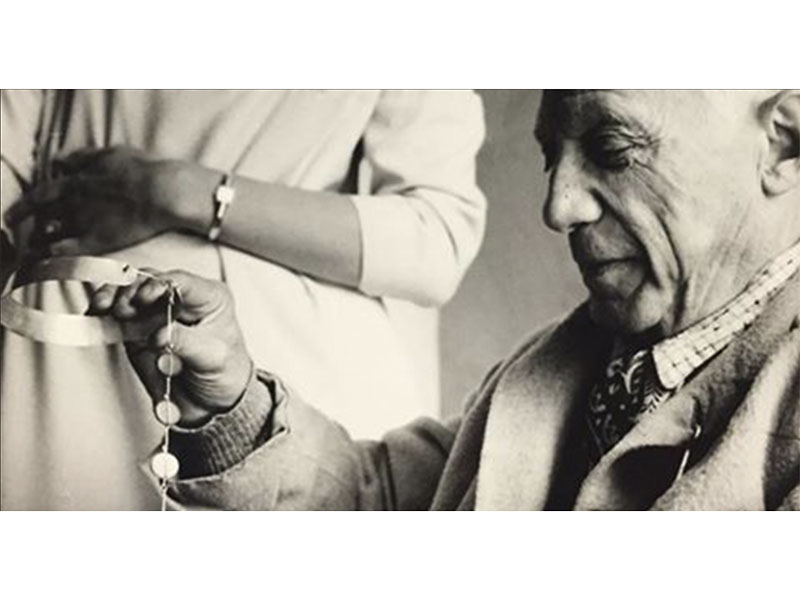 Picasso and the Artist's Jewellery, at the Museu Picasso, in Barcelona, through September 26, 2021. Painting, sculpture, ceramics, decoration, poetry—Picasso experimented with so many artistic practices. From shell necklaces made for one of his earliest muses to goldsmith work from the 1960s to ceramic pieces modeled in Madoura's workshop, jewelry was Picasso's umpteenth field. Indeed, it was his most personal way of expressing himself. These were treasures that he refused to reproduce in large quantities or even exhibit.
MUSEUM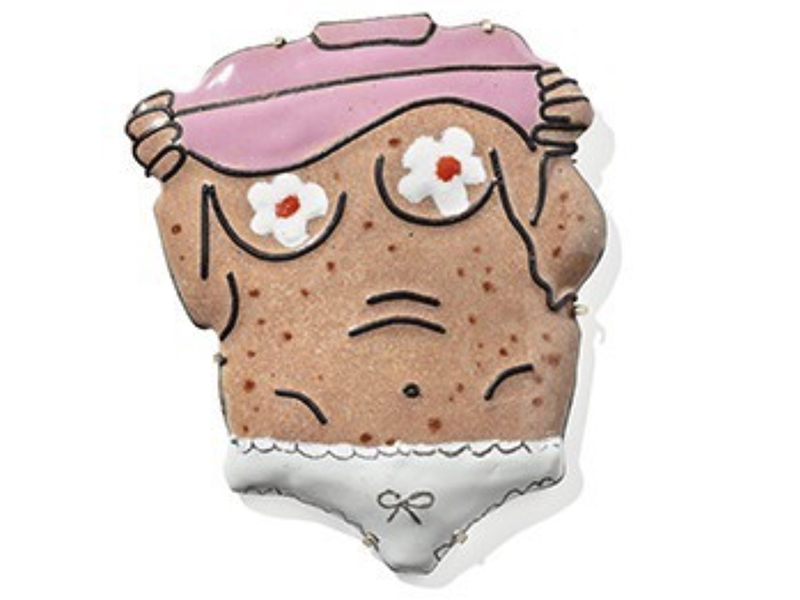 Danish Jewellery Box, at MAKK, in Cologne, Germany, through August 1, 2021. With around 200 selected works, this show offers insight into 50 years of contemporary jewelry design from Denmark. The presentation plays with thematic juxtapositions such as "Body and Jewelry" or "Identity and Diversity" to highlight the complexity and development of Danish jewelry design. In addition, around 30 examples from the Museum fur Angewandte Kunst's jewelry collection are integrated into the exhibition as a dialogical discourse.
MUSEUM—PERMANENT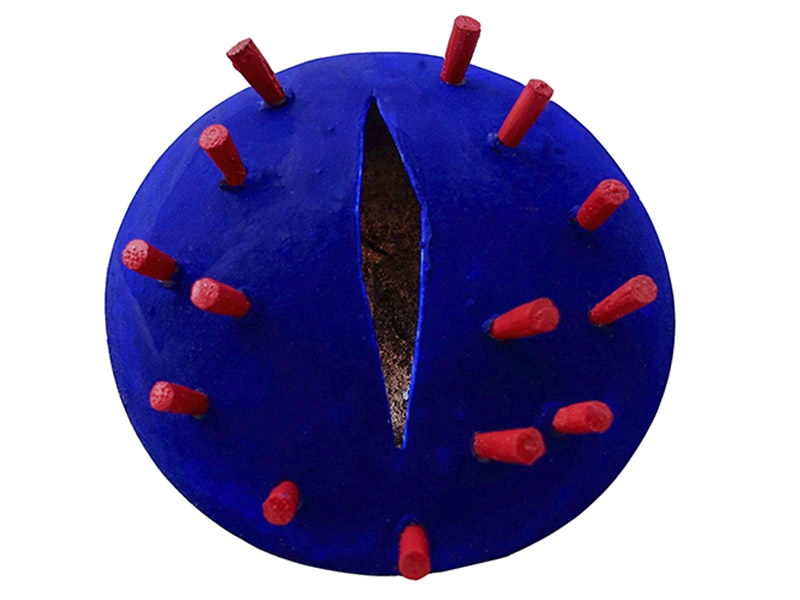 IV Edition, at the Museo del Gioiello, in Vicenza, Italy, through 2030. This fourth offering from the museum is dedicated to the jewelry production of both large fashion houses and small and medium-sized companies in the Italy's goldsmithing districts. Viewable online, the nine rooms in the museum focus on the themes of Symbol, Magic, Function, Beauty, Art, Fashion, Design, Icons, the Future, and Director's Choice.
MUSEUM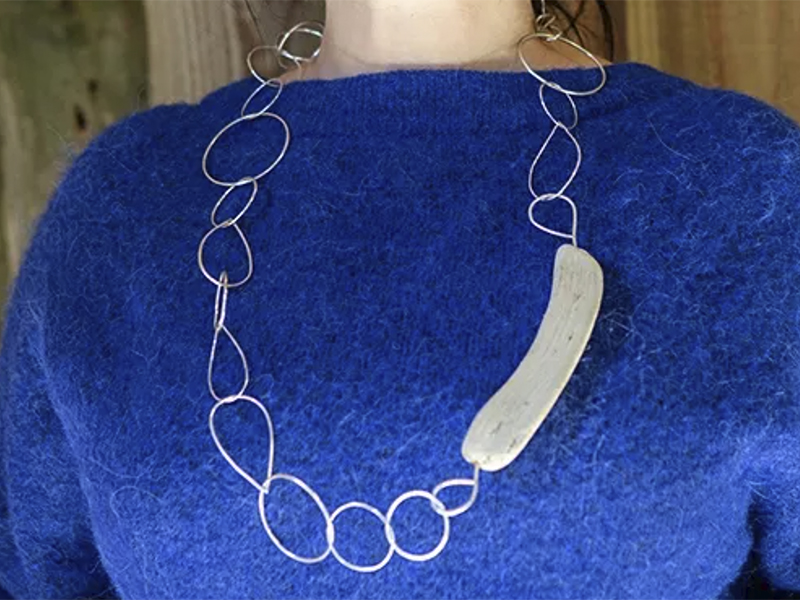 Time-Lapse, at Royal Cornwall Museum, Truro, Cornwall, UK, through August 1, 2021. The Design Nation collective, from Cornwall and Devon, presents craft work made in response to the COVID-19 lockdowns, including jewelry and works in other media.
GALLERY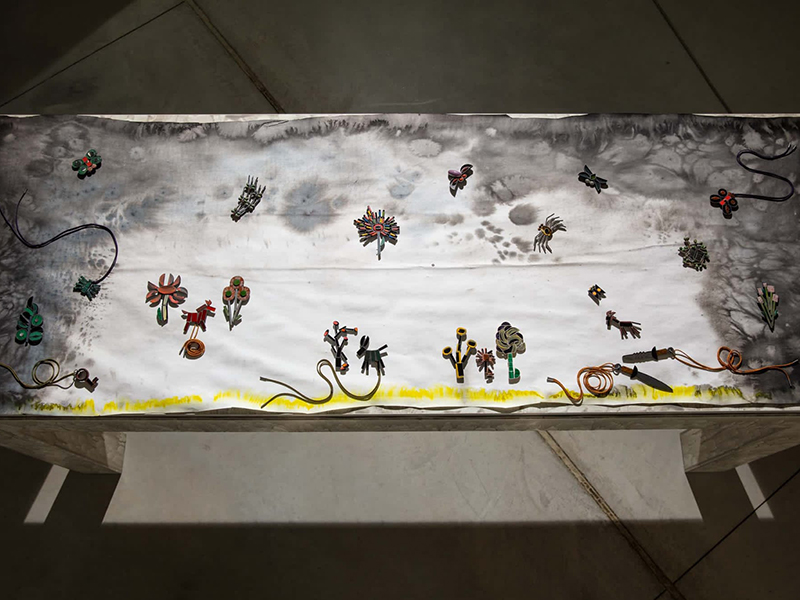 Helen Britton: The Dark Garden, through September 15, 2021, at Galleria Antonella Villanova, in Foiano della Chiana, Italy. Helen Britton created a garden made of pendants and pins representing trees, flowers, insects, and a few knives. With its articulated presentation of drawings, sculptures, and jewelry, the exhibition embodies the constant questions that characterize our experience of this time, during which the world and the everyday demanded our attention.
SCHOOL GALLERY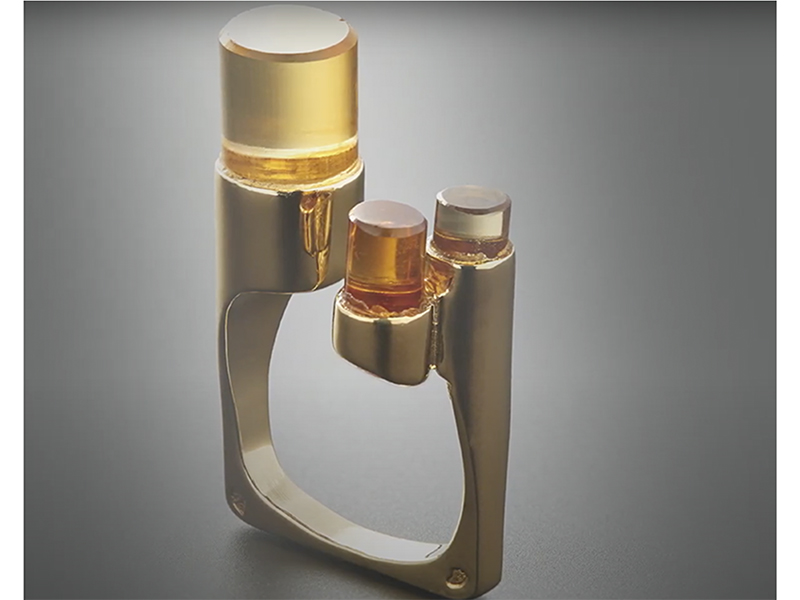 Jean Vendome, Artist Jeweler, at L'École, School of Jewelry Arts, in Paris, through August 28, 2021. The avant-garde designer Jean Vendome merged the art of sculpture and jewelry during 67 years of creative effervescence. L'École's website features two videos. One is a guided tour that lets you discover the exhibition as if you were there with Marie-Laure Cassius-Duranton, a gemologist art historian and teacher at the school, or you can watch the video Jean Vendome, a Jeweler at the Heart of the Avant-Gardes.
EXHIBITIONS—AUSTRALIA
GALLERY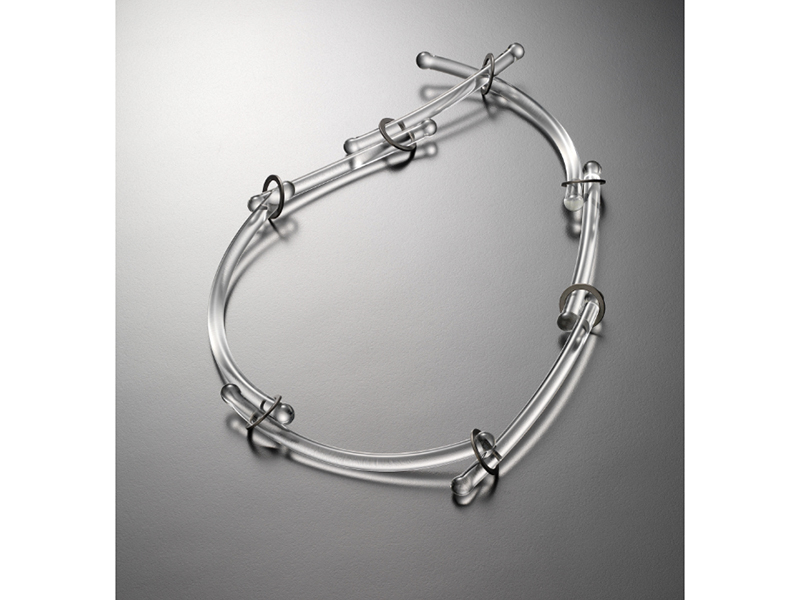 Blanche Tilden: Ripple Effect, at Geelong Gallery, Geelong, Australia, through August 1, 2021. Tilden has a unique approach to her materials, in particular glass, which she explores both as a material for jewelry making and deploys as a metaphor for the connections between making, industry, the wearable object, and the body. This first comprehensive survey of her career includes historical and contemporary works loaned from numerous public and private collections.
GALLERY—CLOSING SOON
The Neck, at Craft ACT, in Canberra, Australia, through July 17, 2021. The neck, often seen as a sensual part of the body, a site of vulnerability, is also a site of strength, supporting the heavy head, and a conduit to heart, lungs, and stomach. At a time when our planet and humanity seem to be suffocating on many fronts, Bridget Kennedy invited selected artists to explore the neck as a vehicle for political, social, and environmental critique.
GALLERY—CLOSING SOON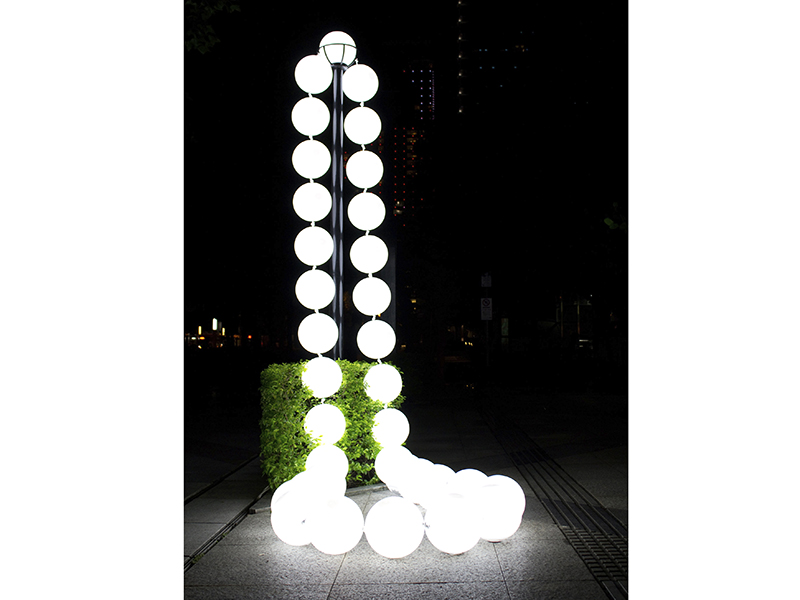 Body Layer: Semblance and Self, at Craft ACT, in Canberra, Australia, through July 17, 2021. Eleven significant international artists push beyond the constraints of conventional physical jewelry formats and toward outcomes aligned with the specific communicative possibilities of jewelry. Each of these works hint that conveying one's true self through jewelry can be a means of heightening compassionate understandings of each other.
GALLERY—CLOSING SOON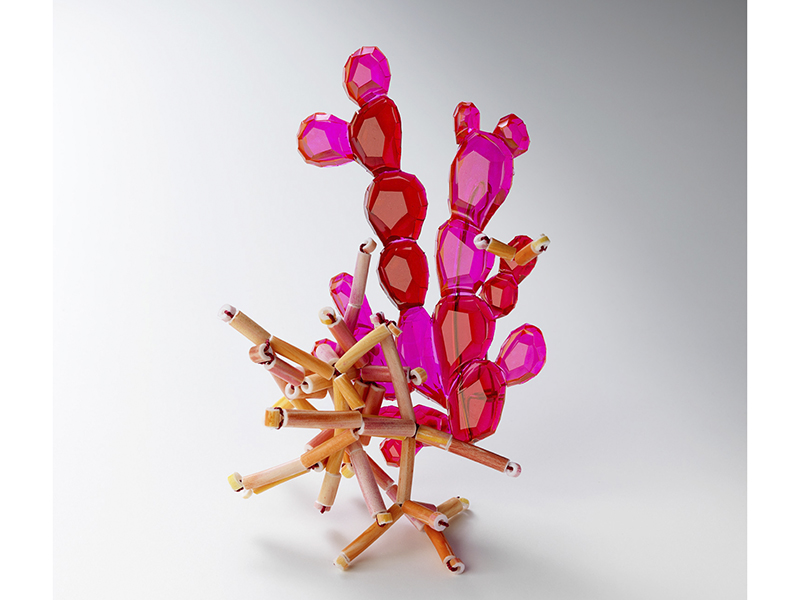 Small Connections, at Craft ACT, in Canberra, Australia, through July 17, 2021. The show centers around the concept of connectivity and communication that jewelry offers the giver, receiver, and wearer. The relationship people have with jewelry they collect and wear is unlike any other form of art, as it can be carried as a token wherever the possessor wishes. Signifying love, faith, status, and connection, jewelry is significant in how it links people to each other.
EXHIBITIONS—ISRAEL
MUSEUM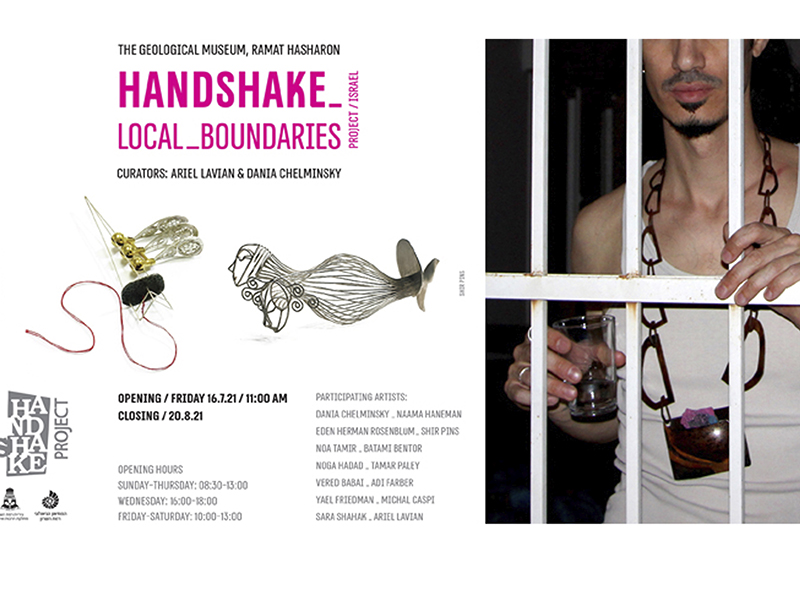 Handshake Project_Israel – Local Boundaries, Israel Geological Museum, Ramat Hasharon, July 21–August 20, 2021. Fourteen local jewelers were divided into seven pairs. Each pair designed its working process and communication practice in a project designed to create cooperation, active dialogue, and a multigenerational work process that connects veteran artists and young ones. Working side by side generates a bi-directional learning process. Cooperation between artists can limit an independent creator accustomed to working alone through most of the work process. Therefore, the first step in the collaborative process is agreeing on a structure of exchange that gives each participant space and promotes productivity in an unfamiliar situation.
OPPORTUNITIES
JOB OPENING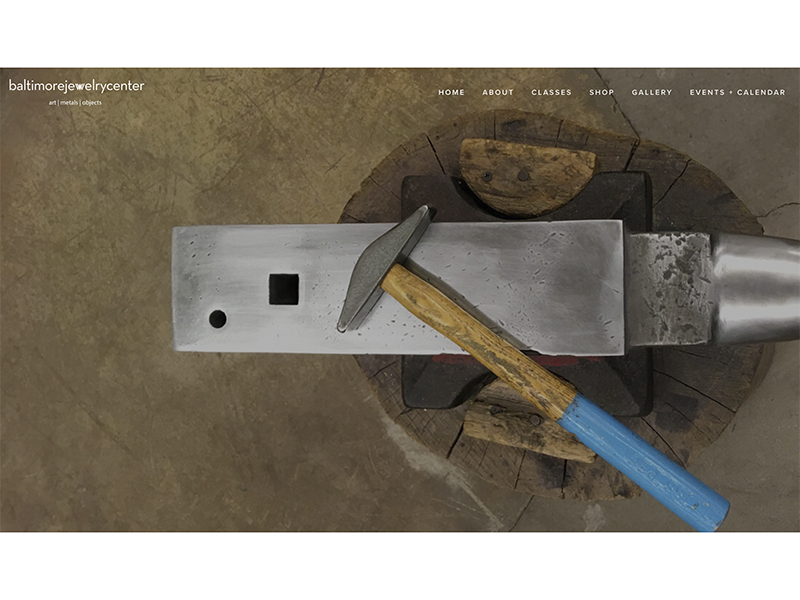 The Baltimore Jewelry Center seeks a Studio and Program Manager who is passionate about metalsmithing, art jewelry, craft education, and art education. The ideal candidate enjoys engaging with people in a variety of settings, from the studio to community events, conferences, and more; and is an excellent communicator who enjoys supporting users of BJC's space with the ultimate goal of leading everyone toward an independent studio practice. Focused on the programming and daily management of the art nonprofit, BJC's Studio and Program Managers are a primary representative of the organization for the community. Application deadline: July 15, 2021. Get info.
JOB OPENING
The Baltimore Jewelry Center seeks a Program and Administrative Coordinator. Administrative position, full-time, reports directly to the Director. The ideal candidate is passionate about working in a collaborative environment and eager to help sustain and grow an arts nonprofit; an excellent communicator who takes initiative and possesses a growth mindset; enjoys thinking analytically and systematically; serves as a main point of contact and representative of the studio for students, renters, residents, exhibiting artists, and more; is confident in executing both big-picture thinking as well as daily administrative tasks; has superlative verbal and written communication skills, organizational skills, and enjoy helping others. Application deadline: August 15, 2021. More information.
INTERNS WANTED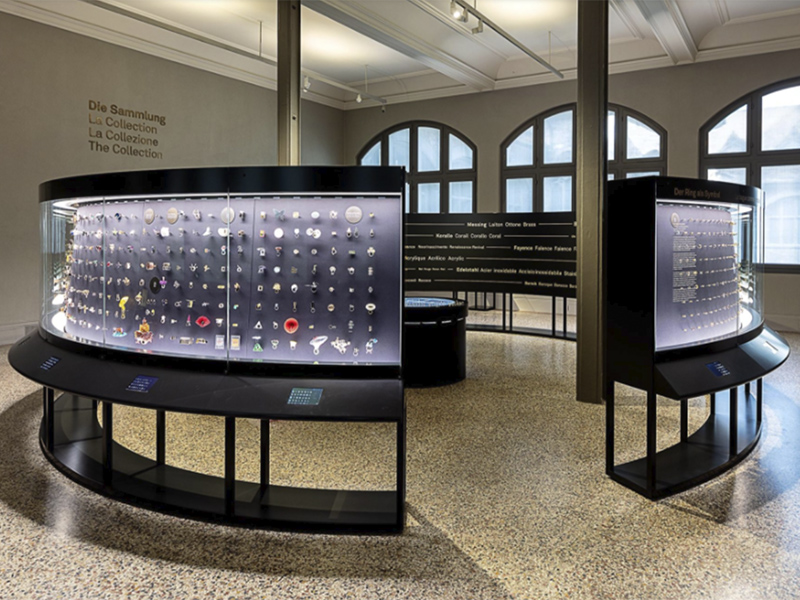 NYC Jewelry Week seeks interns: social, editorial, production. Must love jewelry. Opportunities are available now through November. Direct message @nycjewelryweek.
AWARDS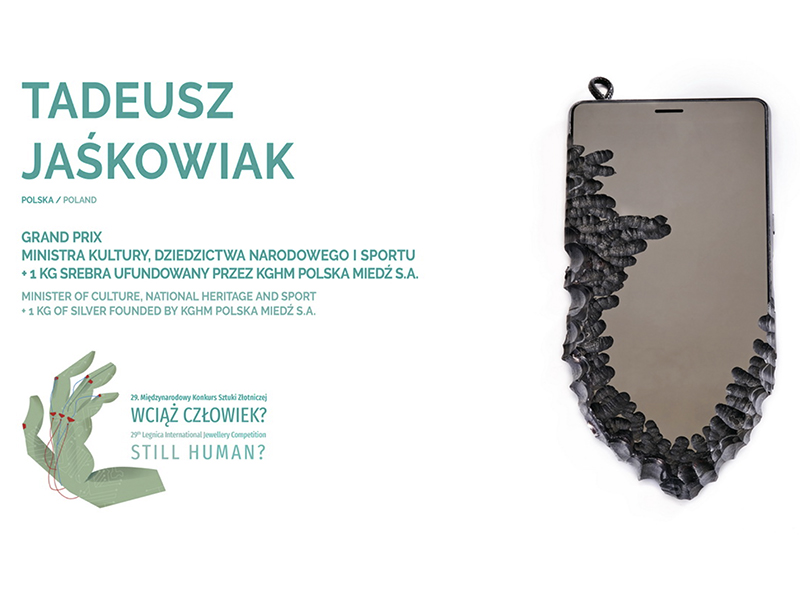 Legnica Jewellery Festival SILVER has announced the results of the 29th International Jewellery Competition Still Human? The jury consisted of Caroline Broadhead, Georg Dobler, Darijus Gerlikas, Maria Magdalena Kwiatkiewicz, and Sławomir Fijałkowski. 186 artists from 35 countries submitted 357 works. See the winners. Polish jeweler Tadeusz Jaśkowiak took the Grand Prix of the Minister of Culture, National Heritage and Sport. His Stone Age Smartphone Pendant combined the techniques of the Stone Age and the era of digital media. Mariana Bilbao Gonzalez-Dueñas won the 2nd Award of the Mayor of the City of Legnica for her brooch Forget Your Name. Miroslava Veselá received the 3rd Award of the Minister of Culture, National Heritage and Sport for her object Hope. Kirsten Plank won the Art Gallery Award for Face 1, a necklace-puzzle. The Silver Spur, awarded for creative courage and uncompromising, innovative, or witty creative expression, went to Tieke Sheerlinck, who submitted a work presenting a jewelry image of a boat full of refugees, with the meaningful title Precious People. Other awardees: Esther Heite (distinction of Lost in Jewellery magazine); Annarita Bianco (distinction of Rome's Mydaybyday gallery); Tieke Sheerlinck (award of Casting Services company); Alexander Blank (honorary distinction of the Director of the Art Gallery in Legnica); Ruudt Peters (honorary mention of the Association of Goldsmiths); Silvia Bellia (International Amber Association award); Ji Young Kim (Inhorgenta Fair Munich award); Michalina Owczarek-Siwak (Hopea company award); Małgorzata Kalińska and Zofia and Witold Kozubscy (YES Gallery awards). Hats off to all the winners!