Each month, THE REPORT will feature news, events, and opportunities of note in the field, as submitted by the international community of donors who make everything AJF does possible. Providing a place for our supporters to share what's important to them is one way AJF is celebrating our 20th anniversary year. We believe our donors, as dedicated jewelry aficionados, have a unique outlook on the world, and we hope you're interested in the items that they consider noteworthy.
If you're a donor to AJF, you can add news and ideas to the monthly report by going to artjewelryforum.org/news. If you aren't a donor, but would like to be, go to artjewelryforum.org/donate. We'd love for you to be a part of our community!
MUSEUM NEWS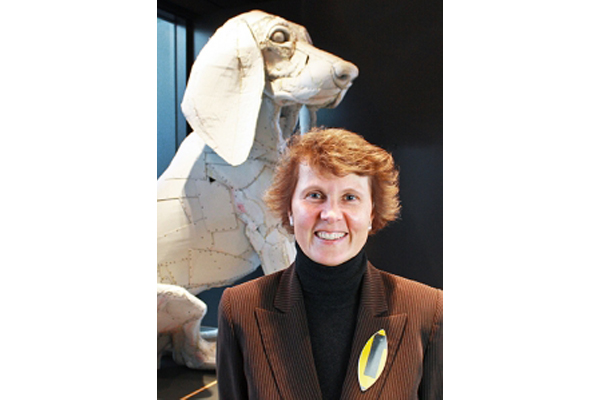 The former head of the Tacoma Art Museum, Stephanie Stebich, has been appointed director of the Smithsonian American Art Museum, the Smithsonian announced Tuesday. Stebich succeeds Betsy Broun, who retired last year after serving as director since 1989. Stebich starts April 3. "This is a dream position," Stebich said. "This is an institution I've always admired, one of the jewels in the Smithsonian crown." Stebich, 50, became the leader of the Tacoma Art Museum in 2005. During her 12-year tenure, she oversaw a renovation that doubled the museum's exhibition space, added 2,000 items to its 4,500-piece collection, and raised $37 million for a capital campaign that had an original goal of $17 million. Art AIDS America and Edvard Munch and the Sea were among the more than 100 exhibitions that opened during her tenure.
---
MUSEUM EXHIBITION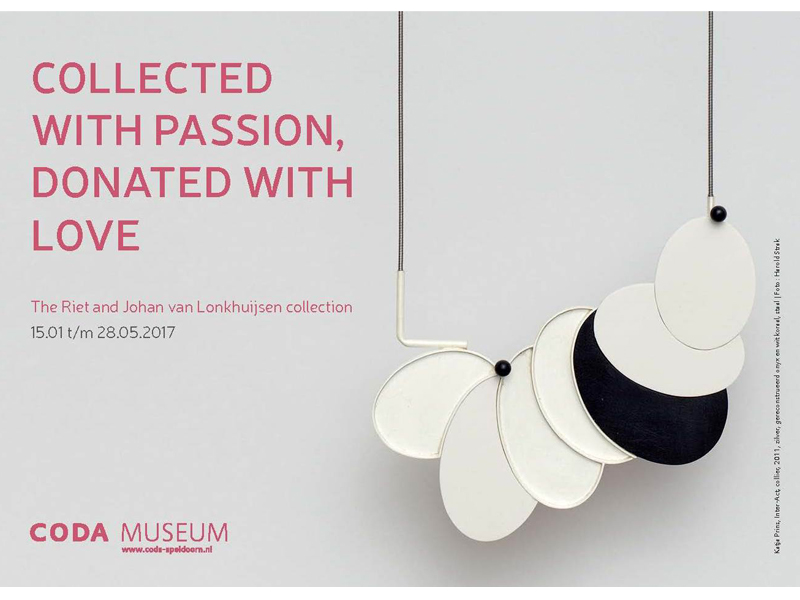 Earlier this year, CODA Museum received an extraordinary private donation: the jewelry collection of Riet and Johan van Lonkhuijsen. This collection consists of more than 150 objects made by over 50 artists and designers. Riet and Johan van Lonkhuijsen built up their collection with passion and dedication. They decided that their collection would go to CODA after their deaths. This decision was motivated by CODA's large existing collection of artist jewelry, the museum's collection policy regarding artist jewelry, and its willingness to accept donations. Moreover, CODA's active exhibition policy guaranteed that their beloved collection would continue to be displayed, which meant that their passion for jewelry would remain visible and tangible. From January 15 to May 28, 2017, CODA presents an overview of this unique private collection with Collected with Passion, Donated with Love.
---
MUSEUM EXHIBITION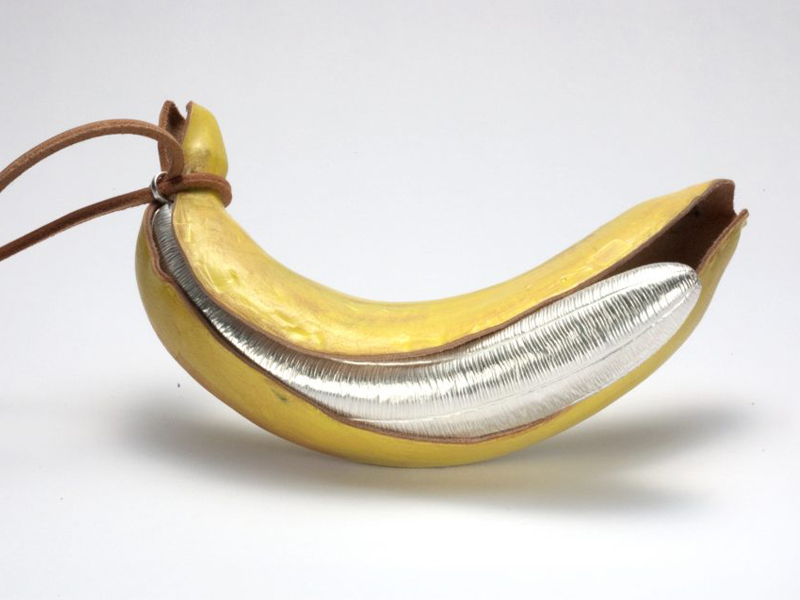 Carte Blanche to David Bielander is on view at Mudac in Lausanne, Switzerland, from February 8 to April 30, 2017. Bielander, a Swiss designer living in Munich, translates everyday objects into jewelry. The elements of a chair are thus transformed into a sausage necklace, drawing pins into the scales of a koi carp, and disposable lighter hoods into flying insects. Bielander's practice shows a close attention to objects and materials alike: The artist talks of only "revealing" that which is already there.
---
MUSEUM EXHIBITION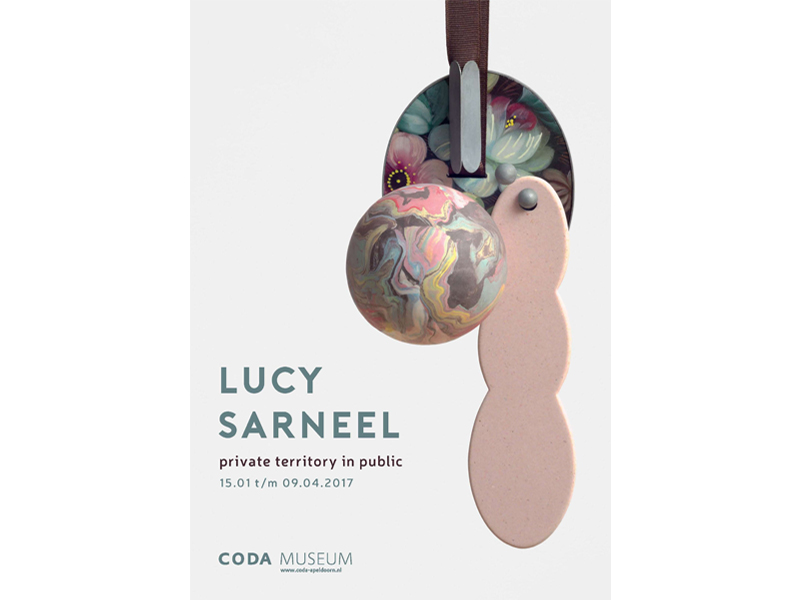 From January 15 to April 9, 2017, CODA Museum offers a mid-career retrospective of the work of Lucy Sarneel with the exhibition Private Territory in Public. The interplay between the private and the public for both the maker and the spectator forms its leitmotiv. Sarneel considers jewelry as the starting point of communication, as a medium that encompasses both the sacred and the profane, as a reflection of traditions and customs, our desires and interpretations, and of the things we consider to be important. Moreover, Private Territory in Public beautifully exhibits Sarneel's jewelry as autonomous art and miniature-sized sculptures.
---
JEWELRY EXHIBITION
In conjunction with the Perth International Arts Festival, The Lawrence Wilson Art Gallery at the University of Western Australia presents a new exhibition showcasing 25 years of work from renowned Australian artist and one of the world's leading contemporary jewelers, Helen Britton. Born in Australia and now residing in Munich, Britton has developed an international reputation for her innovative practice as a contemporary artist working in the fields of jewellery, drawing and installation. Britton meticulously constructs her work from metals, glass, precious stones and sourced components. Pieces can now be found in the permanent collections of the Metropolitan Museum of Art in New York, National Gallery of Victoria in Melbourne, The National Gallery of Australia, the Pinakothek der Modern in Munich, the Stedelijk Museum in Amsterdam, The Art Gallery of Western Australia, and many more galleries and museums around the world. UWA Chief Cultural Officer, Professor Ted Snell writes, "Britton is herself 'in between', rooted in both Germany and Australia. Her work is a meditation on her own history as she engages with artefacts and environments that act as powerful triggers.'
HELEN BRITTON – INTERSTICES
; February 11 – April 15, 2017
---
JEWELRY EXHIBITION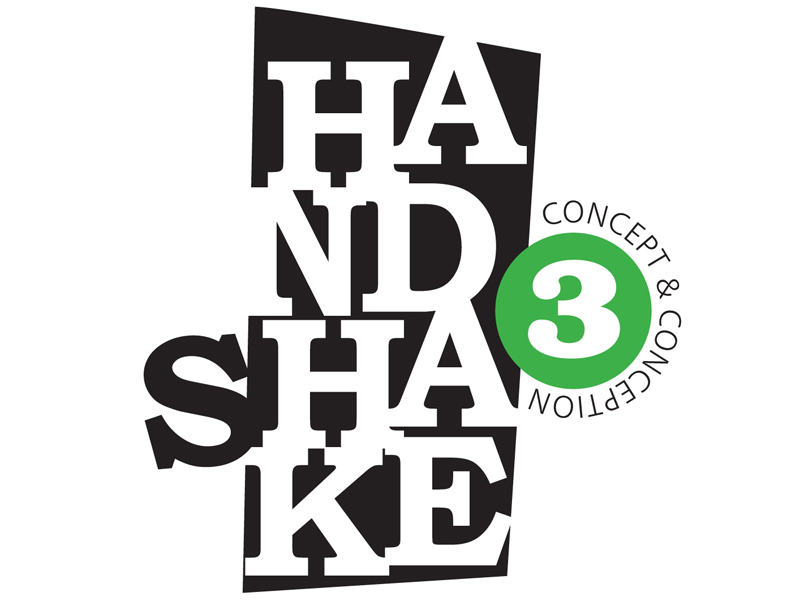 The New Zealand HANDSHAKE project is a mentoring, exhibition, and development package unique to the contemporary art world. It's a space where established artists hand over some of their quality knowledge to those asking for a hand. It's also a two-way project that encourages symbiosis and give and take. There will be three events related to the HANDSHAKE3 project during Munich Jewelry Week, including an exhibition as part of FRAME at the Messe called Concept and Conception, with work selected by a team of curators consisting of Liesbeth den Besten, Sofia Björkman, and Peter Deckers; a meeting of HANDSHAKE and Dialogue Collective on the Messe Stage; and an exhibition of the collaboration between HANDSHAKE and Dialogue Collective at LOT62 in Munich. Find out more at this link.
---
MAJOR AWARD & RECOGNITION
Three jewelers were recognized with awards as part of the Surface Design Association's recent open call Crafting Community. Surface Design Association's Inaugural International Exhibition in Print received 412 entries from 13 countries, revealing the global reach of the SDA community. Jurors Mark Newport and Marci Rae McDade selected 40 artists in honor of SDA's upcoming 40th anniversary, eight of whom were award winners. The artists featured in the journal offer a wonderful variety of material exploration and concepts–a showcase of this contemporary moment in fibers, textile media, and surface design.
---
CALL FOR ENTRY: WRITING
The Journal of Jewellery Research (JJR) is the first peer-reviewed online and open-access publication that focuses on the design, theory, and praxis of jewelry studies. It currently has an open call for full papers, with a submission deadline of June 30, 2017.
The journal promotes jewelry research into materials, techniques, technologies, methodologies, processes, concepts, and aesthetics. It provides an interdisciplinary arena for the discussion and analysis of jewelry. This spans conceptual, practical, pedagogical, and cultural contexts across both contemporary and historical timeframes and at the intersections between jewelry and other disciplines. JJR aims to publish original papers that have demonstrable research and a clear contribution to existing knowledge–to this end it fosters submissions from practitioners, researchers, theorists, curators, and historians. JJR publishes original papers in two forms of academic paper: Conventional and Visual/Textual. Please see descriptions of each form, formatting requirements, and contact information on the official website.
---
CALL FOR ENTRY: WRITING
Art Jewelry Forum, the world's foremost platform for critical thinking about contemporary jewelry, is now accepting proposals for articles and reviews to be published on our website. What have you seen/heard/experienced that drove you to put pen to paper, or fingers to keyboard? AJF wants to know, AND we want to share your writing with an audience dedicated to all things related to jewelry.
Pitch us your ideas, send us your abstracts, tell us what you've been thinking about—loosely related to all things jewelry, of course. The next deadline is March 15, 2017.
---
CALL FOR ENTRY: RESIDENCY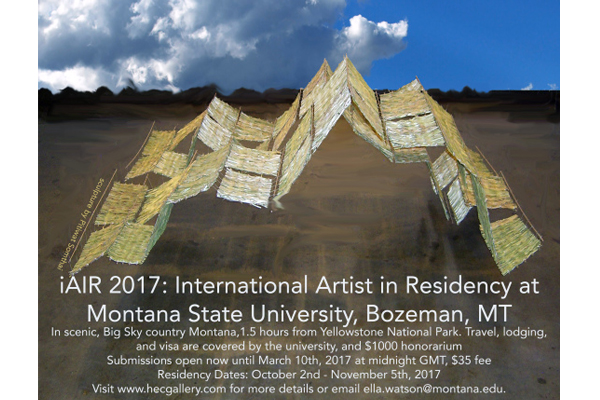 iAIR 2017: The Montana State University School of Art International Artist in Residence call is now open! The iAIR program runs for five weeks, from October 2 to November 5, 2017, and is a multidisciplinary residency open to all forms of visual arts and design. A peer review panel of six to eight members will select residents. Applications are open to emerging, mid-career, and established national and international artists, and should be submitted by Friday, March 10, 2017 at 6 p.m. MDT (midnight GMT). Current undergraduate and graduate students are not eligible to apply for this program. Please visit their website for more detailed information.
---
CALL FOR ENTRY: JEWELRY
Nature Morte is the theme for the Amber Trip 2017 amber and jewelry fair in Vilnius, Lithuania, from March 8–11, 2017. The deadline for entry is March 1, 2017. Find out more details at this link.
Nature morte, or still life, a genre commonly associated with painting, has been present in art from the earliest times. Contemporary artists still explore the topic with all its symbolic tradition, as well as new connotations in different media. Nevertheless, there are very few works of contemporary art jewelry associated with nature morte. It may mean that such a subject is not an easy one for makers, but it certainly is an interesting and inspiring one. Equally, amber, the recommended material (though not obligatory) for the fair, fits well into the topic as it often contains the fossilized remains of ancient life—and could be called a natural nature morte.
---
CALL FOR ENTRY: JEWELRY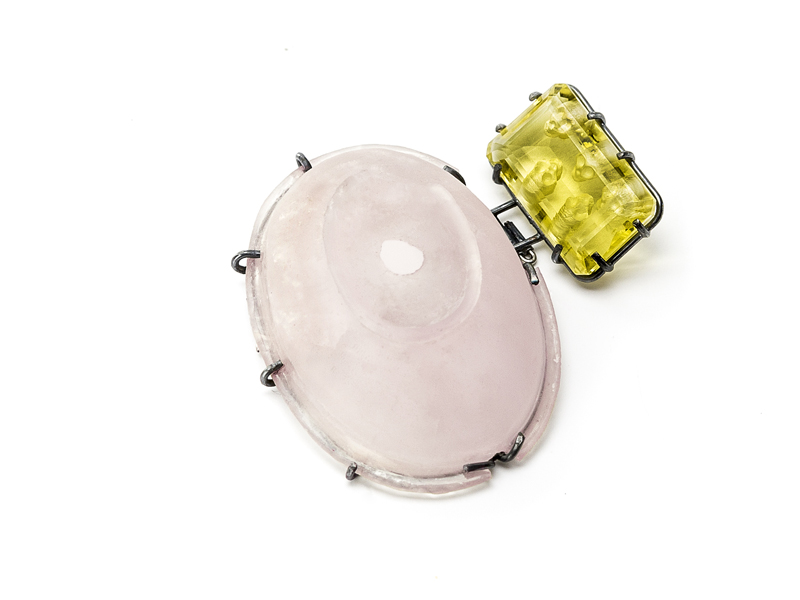 Following the success of and interest in New Necklaces: 400 Designs in Contemporary Jewellery, New Earrings: 500+ Designs from around the World, and New Rings: 500+ Designs from around the World, and its recent revised edition, author Nicolas Estrada would like to invite you to submit work to be considered for inclusion in the fourth book of this collection, titled New Brooches: 500+ Designs in Contemporary Jewellery. Find out everything you need to know about the call for submissions at this link.
---
JEWLERY PUBLICATION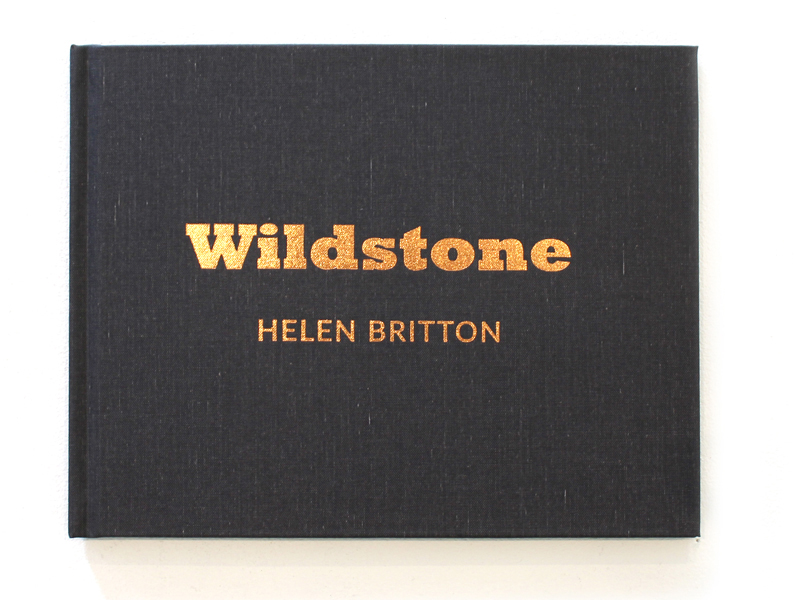 A new catalog includes essays and images from Helen Britton's recent body of work, Wildstone. Hardcover, 64 pages. Signed limited edition of 250. $45 Please contact Sienna Patti for puchase.
---
GENERAL INTEREST
As we consider our political climate and what role art can play in raising important–and painful–issues, Kerry James Marshall's current exhibition, Mastry, at The Metropolitan Museum of Art, is powerful in its ability to do just that. His use of the jewelry format in his prints points to implicit power and social inheritance.
---
GENERAL INTEREST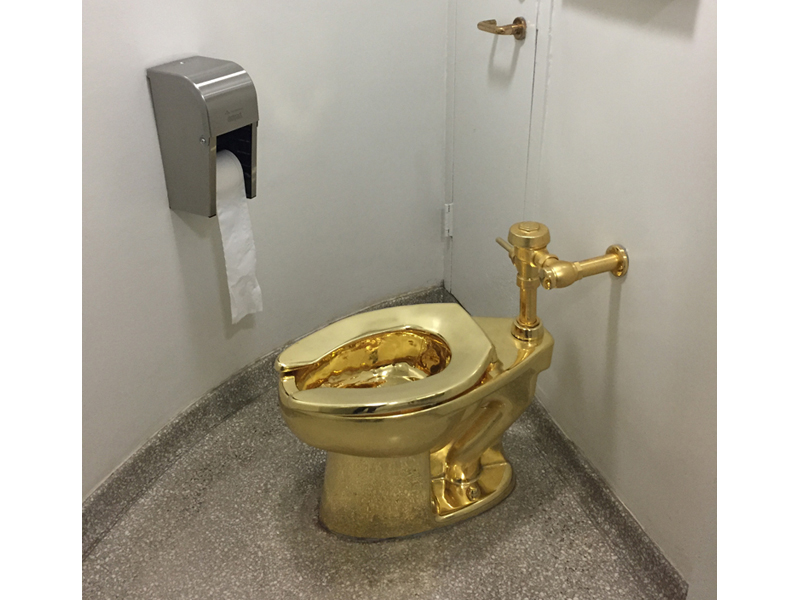 This piece by Maurizio Cattelan was recently seen at the Guggenheim by one of AJF's supporters. It specifically brought up memories of Lisa Gralnick's Gold Standard work. The effect of the gold is incredible in person–cold and smooth and so "yellow." It's a lot of material–solid–and probably the only time anyone will be around that much gold. $2.5 million has been quoted as the piece's value. It evokes a visceral response: Gold is something we want to handle, touch, press, even put in our mouths, but having it as a public toilet upends everything. Who would have ever thought a solid-gold toilet could produce so much content from Art Jewelry Forum, Hyperallergic, The New Yorker, and even a selfie stream on ArtNetNews?
---
GENERAL INTEREST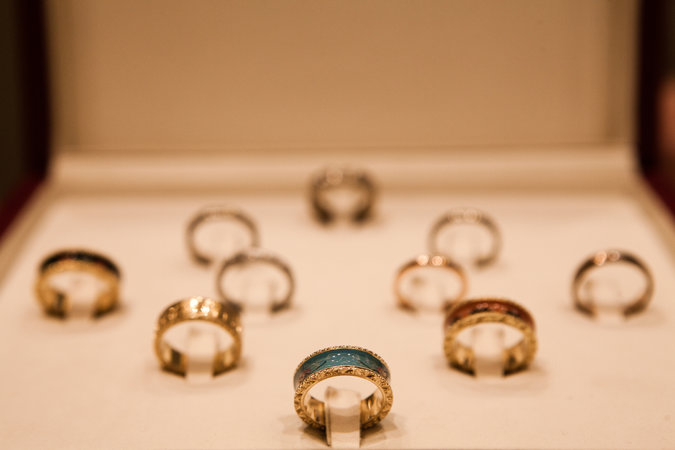 An article about the last jewelry studio on the Ponte de Vecchio in Florence, Italy, was recently published in the New York Times. AJF's recent trip to Italy (see Sara Sant'Ambrogio's description of it) found many fantastic jewelers present in Florence—perhaps they've just relocated?
---
GENERAL INTEREST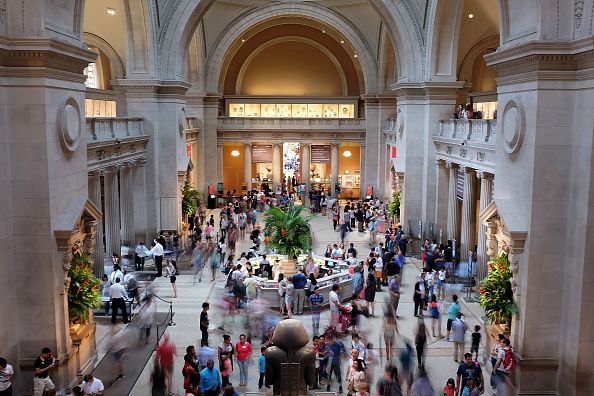 Donating art to museums, like MoMA, involves questions of copyright, care … and a few headaches. In this article in Observer, several art advisers and art lawyers talk shop. Given the upcoming donation of Susan Grant Lewin's collection to the Cooper Hewitt, Lois Boardman's recent donation of a jewelry collection to LACMA, and past donations to other institutions (like Helen Drutt's collection to The Museum of Fine Arts, Houston), perhaps we should all take notes.