The Jaw Bone mouthpiece is modeled after the jaw of jeweler Shaun Leane, and was created for Alexander McQueen's untitled spring/summer collection of 1998 (originally called The Golden Shower until a sponsor found out its pornographic meaning and threatened to back out). Hooks around the ears and inside the mouth are used to fasten Jaw Bone as close to the wearer's face as possible. The piece covers the lower jaw, and is as troublesome and disfiguring as examples of primitive, reconstructive surgery from World War I. Made in polished aluminum, with a set of irregular, broken teeth, it is a haunting thing because it looks so real and bare, like a direct cast from a skull. The cool metal recalls medical devices, while the hooks that go inside the mouth turn it into an instrument of torture.
The piece reminds me of Lauren Kalman's uneasy mouthpieces from the Hard Wear series (2006): those gold-plated or electroformed balls and bits, such as Oral Rims or Pedestal, worn in the mouth. Short videos show how the body reacts to her pieces by slavering, while the viewer cannot suppress a shiver running down her spine. Does Leane's Jaw Bone provoke the same reaction when worn? The hooks don't look very comfortable. Were the male models on the catwalk hindered by this accessory? Did they slobber? Probably not; it would have ruined the clothing and the show. Bodily fluids are not desired in fashion.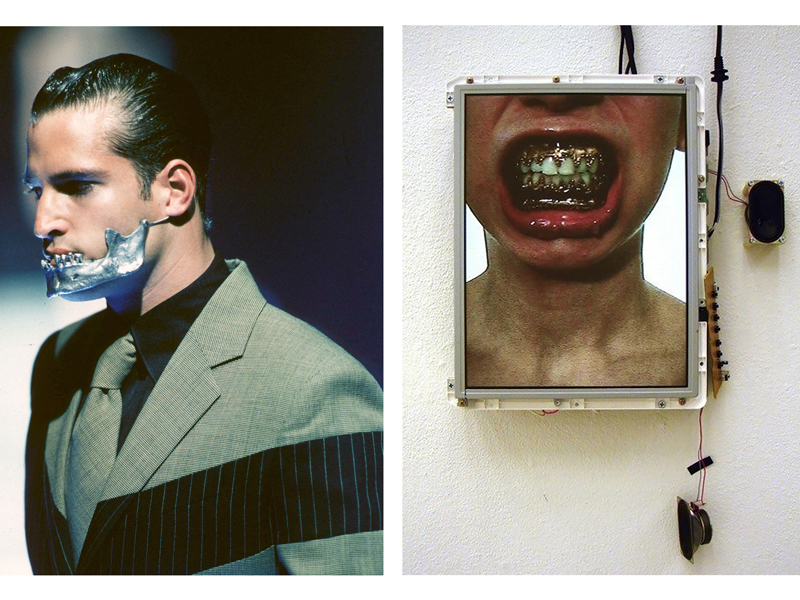 The mouthpiece is now displayed in the Cabinet of Curiosities as part of the Alexander McQueen: Savage Beauty retrospective exhibition at the V&A in London (until August 2, 2015). Fashion designer Alexander McQueen (1969–2010) had provocative ideas about accessories: "I like the accessory for its sadomasochistic aspect," he said, and, "I find beauty in the grotesque."[1]Jewelry, shoes, and head ornaments have always been important components in his shows. He worked together with outstanding craftsmen such as Leane, who he met while they studied at Central Saint Martins. As a traditionally trained goldsmith, McQueen challenged Leane to experiment; Jaw Bone is one of the pieces he came up with.
Considering Jaw Bone and the Hard Wear series next to each other, what they are is a mystery. Although they seem closest to jewelry because of their material properties and because they are designed to be worn, both resist jewelry's adorning function. In fact, they are a blot on the wearer, making him/her unattractive, even loathsome. Both aim at an effect, and both are like props in a theater, but that is where similarities stop. Jaw Bone is a runway piece, part of a grandiose spectacle. There were other striking examples of corporeal accessories, around mouth, head, and chin, in the show. Together with an aluminum spine corset ending in a curved tail, they underscored McQueen's interest in anatomy, sexuality, and the animalistic. Watching the video, it appears that Jaw Bone plays just a minor role in the spectacle: It is worn by three models during a couple of seconds while walking up and down the catwalk. That's a humble moment of fame for a piece of handcrafted jewelry. The life of Lauren Kalman's Hard Wear pieces is longer, each of them being part of a performance staged for the purpose of being recorded on film and camera, to confront the audience with bodily aspects that we usually try to ignore.
Jaw Bone, however, can be interpreted as a memento mori, a sign of the ephemeral nature of beauty, and a reminder of the vulnerability of flesh. All along his career, McQueen was fascinated by death, mortality, and Victorian Gothic—that raises Jaw Bone from the level of a fashion accessory to a symbol: "vanity of vanities; all is vanity."[2]